I can linger at the fish monger. It can all be quite a bit to take in. I forget what species are sustainable and "good" to buy. And I dither about how to cook them. Recently, though, I decided to mount my monger meandering and learn a little more about what which fish to buy, and will now share my uncoverings here.
I've called on my friends at Greenpeace and Arabella Forge to join me. Arabella is a Melbourne dietician whose book Frugavore is a flippin' excellent resource and cookbook for anyone wanting to cook real and mindfully.
She's also the President of the Melbourne chapter of Weston A Price. So if that means something to you, you'll very much like her work! Pam Allen who runs the sustainable seafood campaign at the Australian Marine Conservation Society has also weighed in. Plus I've thrown in some of my own findings, like…
1. Look out for salmon tails. I sometimes see these at my fish mongers. They're the tail end of the fillet and often get tossed out. They have lots of lovely skin on them (the most nutritious bit of the fish…please don't discard!!). They're half the price of the rest of the fillet and cook up beautifully. And while we're talking salmon…
2. Eat wild-caught instead of farmed salmon. Farmed salmon just isn't sustainable. There are problems with the use of antibiotics and waste ending up in the natural environment. These might one day be overcome with very strict (and expensive) management to prevent any release into the ecosystem, but no one is getting it right here yet. Often wild-caught comes frozen, which is fine.
3. Favour herbivorous fish. This from Greenpeace: Most carnivorous species need to be fed a lot in order to be fattened, and this is having a significant impact on smaller species. For example, anywhere from three to over five kilograms of wild-caught fish is used to make the feed to produce one kilo of farmed salmon. Even if this feed is from sustainably managed species, it's not an efficient ratio. The fish used to feed the salmon would be better used feeding humans.
4. Avoid anything on the red list. Pam: Some species on the sustainable fish "red list" (you can get hold of the list here) that are a big no-no are Southern Bluefin tuna, sharks (sold as flake in many fish and chip shops), striped marlin, swordfish. These are all predators at the top of food chains, and are long-lived and late to reproduce. They are chronically overfished around the world and in Australia. Because these fish are top predators, they often have many chemicals built up in their bodies, including high levels of mercury.
5. Try some Mahi mahi. Also called dorado in the Indian ocean or dolphin fish, it's abundant and fast-growing.  It's often the bycatch of tuna fisheries, whether purse seine or longlined, and is often retained as it is considered good eating even if it isn't well marketed. It's found widely in tropical and subtropical waters.
Pam: Some species that are even better and are probably more common in fish markets are bream, Australian bonito, and whiting. They are all on the green list (you can get hold of the list here).
6. Short-lived is usually a good choice. Greenpeace: Smaller fast-growing species can replenish more quickly if their stocks are affected. Pam: Low on the food chain is better for our oceans and for your health.
7. Make a chowder. Arabella: A chowder is great because you can use a wide variety of inexpensive, sustainably-sourced fish. It's also very nutrient-dense; it's rich in gelatin and marine-sourced minerals. The long, slow gentle cooking makes the fish softer and easier to digest. It also uses fish stock as a base which is mineral-rich and super cheap to make.
Bermuda Fish Chowder
2 onions
3 garlic cloves
8 small/medium potatoes (equivalent to 800g)
6 medium carrots
1 stalk celery
2 teaspoons whole peppercorns
1 heaped teaspoon whole cloves
4 litres fish stock (see recipe below)
6 bay leaves
1 tablespoon fresh thyme, finely chopped
2kg ripe tomatoes OR 4 x 450g tinned tomatoes
2 tablespoons tomato paste
2 tablespoons worcestershire sauce
¼ cup rum
750g fish fillets (see buying tips)
flat leaf parsley, finely chopped, to garnish
Finely chop the onion and crush and finely chop the garlic. Peel and dice the potatoes and carrots and thinly slice the celery. Grind the peppercorns and cloves with a mortar and pestle.
In a large pot, combine the stock, bay leaves, onions, garlic, celery carrots, potatoes, thyme, tomatoes, tomato paste and Worcestershire sauce. Bring the liquid to a boil. Add the ground peppercorns and cloves and reduce the heat so that the stock simmers and gurgles. Let it simmer, partially covered, for 45-50 minutes.
Cut the fish fillets into bite-sized pieces and add them to the pot together with the rum. Simmer, partially covered for a further hour, or until the stock is thick and gelatinous and the vegetables are tender and soft. Season to taste and serve in individual bowls with a generous sprinkling of parsley and a good dash of olive oil.
8. Don't eat species that live at the bottom of the sea. These need to be bottom-trawled, which damages the seabed.  This means orange roughy is a definite no; unfortunately this also means limiting your intake of prawns.
9. Sardines. Have you ever bought them fresh? Seriously, they're DIRT CHEAP, stupidly good for you, sustainable and a great breakfast food. I cook them on a sheet of foil under the grill and eat on toast with some homemade mayo. Or I make up my sardine boats. You'll find the recipe in my I Quit Sugar Cookbook.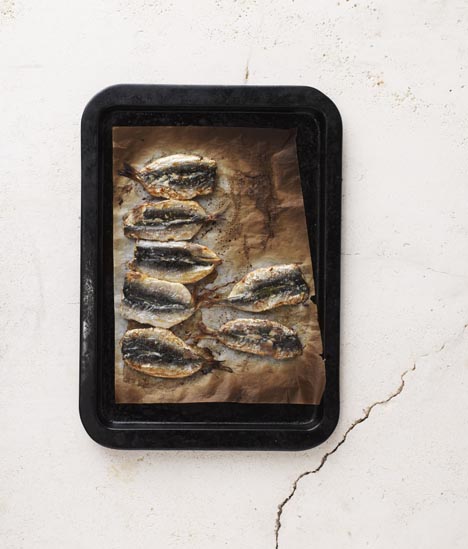 Greenpeace: South Australian sardines are pretty well managed. They are strict with their quota and care about their fishery, they use purse seine nets on free-swimming schools and have reduced their impact on dolphins, which has been a moderate problem in the past.  Trawl fisheries in other parts of Australia are likely to have some bycatch.
10. Go for white-fleshed fish. Arabella: These tend to be sustainable and they are usually well-priced and inexpensive, depending on seasonal availability. Sometimes there is confusion as to the different varieties of fish. Wild Trevally, Mahi Mahi, Mullet, Whiting or Leatherjacket are good choices.
11. Favour small-scale over large-scale.  Not all fisheries based on small boats are better than those based on industrial fishing, but they usually are.  Small, locally-based operations generally have more interest in preserving the area they operate in, particularly if it's local.
12. Download Australia's Sustainable Seafood Guide as a phone app. I've mentioned this a few times…the Australian Marine Conservation Society has a great iphone app that rates various fish – there's over 100 different types of seafood, including those from wild-caught fisheries, fish farms and imported species…Or you can access the info via their site.
13. Check out Sustainable Table's Switch the Fish guide. Here's a new resource to make shopping for more sustainable seafood choices super easy. You can click on the link to download and keep a copy in your wallet.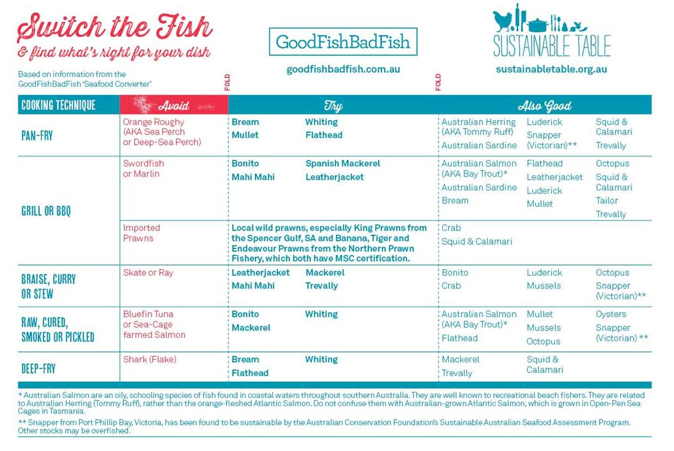 14. Buy pole and line tinned tuna. Always opt for pole and line, as this will steer you to the most sustainable choice.  I've outlined why here. And this handy tinned tuna guide from Greenpeace will help you when you're standing in the grocery store. In Australia, go for Safcol.
15. Try Australian or New Zealand handline-caught Albacore tuna. It's still the second most robust tuna species after skipjack. (And the guys fishing handline locally would love the support.)
16. Make your own fish stock.  Fish stock is one of the most frugal and nutritious staples that you can keep in your kitchen. It's also a great way to reduce food waste. Made with a base of fish heads and carcasses, it is a beaut source of trace minerals, calcium and iodine. It can be used as a base for soups, stews or sauces, or drunk on its own as a nourishing broth. Fish heads are sold cheaply at markets, or given away for free by friendly shop keepers (they otherwise tend to be thrown out).
Fish Stock
1 kg fish carcasses, heads, tales bones or off-cuts of white-fleshed fish (don't use Atlantic or pink-fleshed Salmon as it will smell terribly during cooking)
¼ cup apple cider or wine vinegar
1 handful fresh/dried herbs such as rosemary and thyme
1 large leek or onion
2-3 celery sticks
2 large carrots
dash of white wine
knob of ginger
Place all ingredients in a large stockpot and fill with cold water. Slowly bring to a boil, then reduce to a gentle simmer. Cook partially covered for 30-40 minutes and skim any surface scum that rises to the top. The liquid should be thick and rich at the end of cooking. If necessary, keep it on the stove top for an extra 20-30 minutes.
Drain the liquid from the solid ingredients and store in a fridge or freezer. Stock keeps well in the fridge for up to 5 days, and will last in the freezer for up to several months.
Do you buy and eat cheap fish? Any ideas you'd like to share?