As I mentioned last week I'm currently devouring Michael Pollan's Cooked, A Natural History of Transformation with a fork, spoon, knife, splade and shovel. The opening chapter (in fact, the first quarter of the book) is devoted to the art of making barbequed pulled pork. Or "barbeque" as it's called down South (of the States).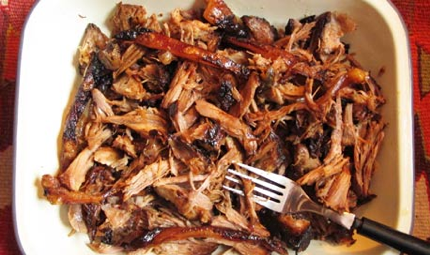 Anyone familiar with the art of making "barbeque" knows a fair whack of sugar is used at some point in the process (there are different processes for different regions of the US) and that it generally involves smoking the meat. Both factors, of course, are simply beyond the scope of what I do.
Therein, a challenge was laid out for me: to create a version of barbequed pulled pork that incorporated my cooking vibe and flow. I spent a morning playing with the idea, reading up on the different methods of cooking pulled pork.
And concocted a mock version that can be plonked effortlessly in a slow cooker (press go and leave for the day), doesn't require sugar to get the cured effect, has a barbeque flavor without requiring the smoke and is sustainable and economical. Phew! You'll be pleased to know it worked, too! Here's what I did:
I rubbed the pork in fennel and salt. The traditional way is to rub the meat in a cure of equal parts sugar and salt and leave it to cure in the fridge for a few hours before cooking. This draws off moisture, then sinks the flavour and moisture back in again. I touched on this phenomenon here. After the pork is cooked and "pulled", a mountain of (sweet) barbeque sauce is added. I, instead, decided to flavour things with barbeque from the outset (with various spices derived from my barbeque sauce recipe in my I Quit Sugar book) and used ground fennel and salt to cure things, the fennel providing the sweetness. A rather clever solution, I thought!!
I used "smoked" sweet paprika. This took the place of the smokey barbeque effect. It's quite easy to buy this stuff – it's smoked in oak. I bought a Herbie's one from the supermarket.
I cooked things up in a little apple cider vinegar and mustard. This added some extra "southern effect" and acidity to cut through the pork fat. Again, clever, no?
I seared the meat. I don't always do this. But in this case, the browning added a caramelisation to build on the barbeque effect.
Slowcooked Barbeque Pulled Pork with Beetroot + Daikon Relish
I made this meal to take to my mate Kerry's place the other night. She's moving house and I figured she'd like to be cooked for. We used up two serves and I portioned out the remaining 5-6 serves into containers and froze…I'll report back on how I reinvented these into new meals down the track.
The beetroot accompaniment emerged by accident. The only other food I had in the house was a beetroot and a daikon (don't you have one at the back of your fridge?!). Kerry, for her part, was keen for me to use up the limited stuff in her fridge. I found half an apple and some bottled pickled onions at the back of hers…and voila, a "relish".
The Pork
Serves 6-8
1-1.5kg piece of pork neck or pork shoulder (preferably bone in)*
3 teaspoons smoked sweet paprika (plain sweet paprika is fine, too)
3 teaspoons sea salt
1 1/2 teaspoon whole black peppercorns
2 teaspoons whole fennel seeds
1 teaspoon each ground cumin and all spice (or cinnamon)
2 teaspoons ground chilli
2 tablespoons olive oil or coconut oil
2 bay leaves
1/2 cup red wine or stock
1/3 cup apple cider vinegar
¼ tin whole peeled tomatoes (chopped), with some of the liquid
2 cloves garlic, minced
2 tablespoons rice malt syrup
Grind the fennel and peppercorns with a mortar and peste (or blender). Add the salt and other spices (not the bay leaves) and mix. Then rub the lot over the meat, rubbing well into the fatty bits. Really get your fingers into the meat, massaging it all over. Leave covered on the bench or in the fridge for at least 2 hours (for a stronger flavour I reckon you could leave it overnight).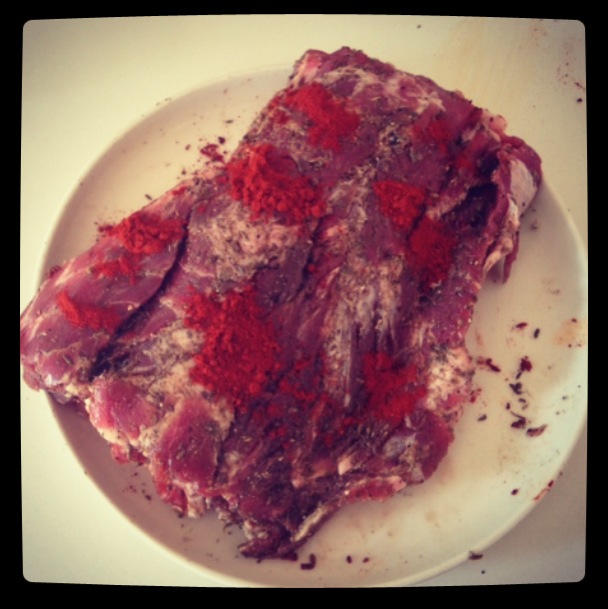 Rub a little oil into the meat then sear in a hot frying pan until brown all over. Whack in the slow cooker and add the rest of the ingredients. Cook on low for 8 hours or high for 5 hours. Take out the pork and place in a dish and use a fork to "pull the meat" apart into shreds. Put the shreds back in the slow cooker for another 20 minutes, with the sauce (uncovered on high) and heat through.
Serve with burritos, yoghurt, beetroot and daikon relish, greens, cauliflower cream.
Note: Another method would be to rub in salt only and cook in 3/4 cup of stock only. Then toss the shredded meat through 1 cup of my sugar-free homemade barbeque sauce (from my I Quit Sugar book).
* The traditional cut for pulled pork is the shoulder, a fatty, secondary slab of meat that is perfect for slow cooking. This is a big piece of meat, however, and it doesn't fit in standard (4.5L) slow cooker. Ask your butcher to cut you off the bone-in end. Or use neck (often called scotch or "butt" in America). It's more expensive, but smaller.
Beetroot + Daikon Relish
Serves 4
1 beetroot
1 daikon (Asian turnip…use swede or turnip if you can't find one, or simply omit)
½ apple
½ cup of pickled onions, sliced finely
½ teaspoon stevia granules
Grate the beetroot, daikon and apple. Place in a small saucepan with the onions and stevia and a little of the vinegar from the onions (or add a tablespoon of apple cider vinegar) and "sweat" over a low heat, covered, for about 15 minutes.
How do you use your pulled pork…I'm looking for ideas. Also, how many of you have decided to invest in a slowcooker? Has it been worthwhile? I'd love to know.