Hello there, excuse me. Can I have three minutes of your time? OK. The day has come. Iquitsugar.com is officially Gawn Live. We here at the I Quit Sugar office are bursting with pride, excitement (and bloody relief!).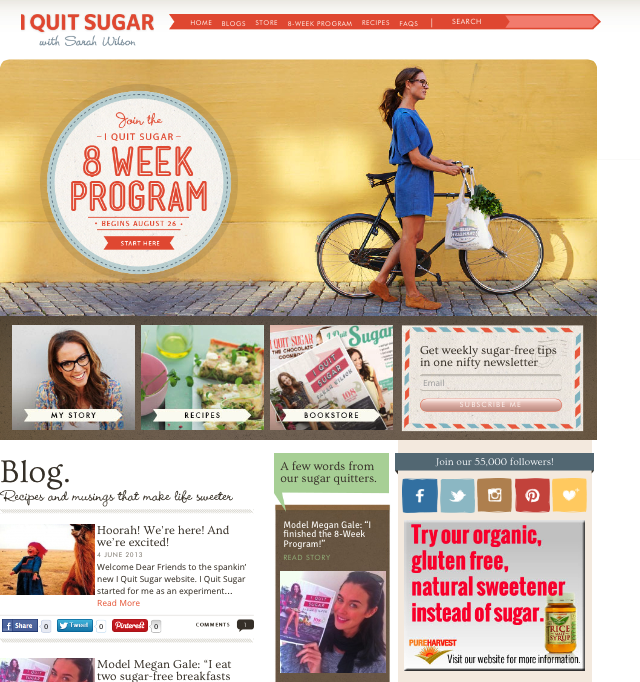 The I Quit Sugar adventure has taken on a life of its own over the past year or two. When I first launched the I Quit Sugar: an 8-Week Program ebook, I never expected it to take off like it did. Honest. It was all just a personal experiment. But for some reason it became one that a lot of people wanted to join me on. The first ebook came about from repeated requests to have the tips and techniques I was sharing in various blog posts set out in an all-in-one package.
Next came the I Quit Sugar Cookbook with all the recipes I was posting on my blog over time. Again, your requests to have them all in one spot were responsible! Next, the printed edition of I Quit Sugar earlier this year. More than 200,000 have now done the program. Which freaks me out when I think about it for too long.
And now it's time to grow again…once more, because you've asked for it. And I largely have everyone here on this site to thank for giving me the confidence to take it this far. I Quit Sugar now has its own online home… Iquitsugar.com
And the I Quit Sugar Program can now be done as part of an online community.
Click over to Iquitsugar.com and check things out…There are a stack of features to help more people quit sugar and realise real wellness. But perhaps I can just highlight a few bits here:
1. So, first up, the online 8-Week Program explained…
In essence, it's my comprehensive program, structured so that you can do as part of a community, getting real time support from myself and a bunch of IQS nutritionists, dieticians and mentors. You'll be able to sign up and get week-by-week instructions, as well as:
a daily eating plan
over 200+ recipes
supportive forums
product samples and giveaways
practical tips for eating out, reading labels, feeding your kids etc.
You can sign up for our first round, which starts August 26, here or simply click on the button below. 

A little bonus: the first 500 people who sign up, Vital is giving each of you a sachet of their Vital Protein Green Coffee Powder made from 100% pure pea protein, with decaffeinated green coffee. Note: this giveaway is only valid within Australia.
2. Plus this: The University of Sydney are partnering with us to do a research study.
If you live in Sydney and sign up to The Program, you'll be eligible to join a study that will track your health throughout the program. The team at the University of Sydney will track your risk of metabolic diseases such as cardiovascular disease (CVD) and type 2 diabetes (T2D), among various health conditions that you might be concerned about/interested in. We'll also be able to tell you your cellular age, and whether quitting sugar adds more years to your life or not. In my experience it does!
The team will also analyse your current food habits and other behavioural factors like memory for you. It's an exciting study that's never been done before, and is a great opportunity for you to get some really unique feedback on the state of your wellness. From all angles.
If you're keen to sign up for the study, we'll be sending Sydney siders more details once you've joined the program. You can sign up here.
3. The I Quit Sugar blog.
Iquitsugar.com will also have its own blog where we'll be sharing:
Really interesting posts about the latest sugar facts and news.
Pretty damn sweet recipes.
Guest posts from contributors and experts I've met along the way. They know stuff!
Inspiring stories from our favourite sugar quitters: actors, models, personal trainers…
The latest sugar-related factoids and science. Fun, interesting, empowering stuff.
4. Follow I Quit Sugar on social media.
And remember, you can join the I Quit Sugar community via social media:
We'd love to interact with you there. And don't forget to hashtag #IQS whenever you think of it.
5. And what about this site?
Over here on sarahwilson.com.au I will continue to share the stuff that gets me fired up: my spiritual stuff, my political musings, my life detox efforts, my travel adventures and, well, whatever I get into next. I'll be tweaking this site, too. When I get my breath back.
Enough from me, without further ado, I'd like to present: Iquitsugar.com! Please do share your feedback here or over at the new home. Again, thank you to all the loyal readers here who have prodded me along the way to take things ever further. I'm so very grateful…