One of my favourite things to do when travelling is try out yoga classes. Especially in big cities. And especially when I'm frazzled. And one of my favourite I've tried is yoga teacher to the stars Tara Stiles' vinyasa class at her Soho studio Strala. I was there last Wednesday.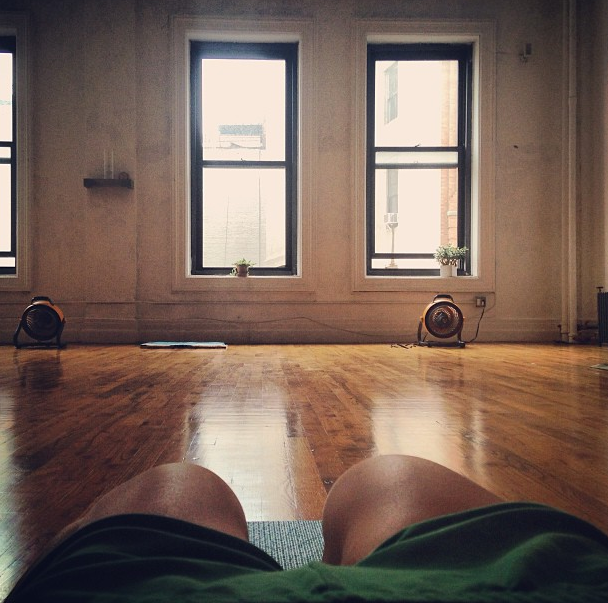 Tara's class is a dance. And a wholly impressive exercise in gentleness.
There I was in crow pose to the strains of Red Hot Chilli Pepper. There I was holding Warrior #2 for five minutes to Run DMC. And there was Tara purring her encouragement in her mesmerising lilt, skipping around the class to adjust and touch us on the ankles, chuckling like a little girl. She chuckles the whole time.
But this is what is truly lovely. Throughout the class, when inviting us to take a pose further, she repeats this:
"It's just something to do"
You know, no other purpose. No big aim. No mandate. Just to try it.
She follows with something a few of my yoga and meditation teachers have shared over the years:
"Nowhere to go, nothing to do."
 My God! There isn't, is there.
The joy of her invitation – to take crow into side crow or to grab your ankle in half pigeon for no real reason – strikes me just as I try to do exactly that. I realise that everything can be done, you know, just for kicks. Because there is nowhere to go, nothing to do. Ever. It's in the very applying yourself to this mindset, that joy floods in.
To do something with no end-point, no mandate, no carrot (no external reference) you must come in close and focus (internally) on what exists when there is no grand aim. And you know what's there?
My goodness, it's gentle joy!
Each time Tara issued the invite I sank further into The Big Fat Whateverness of it all.
We all need more of these invites, don't you think?