So many of you have been asking me for a rundown of How to Eat Well in New York. I've just been there for two weeks and I ate health-fully every meal. It's supremely easy to do so in a big city – there's so much choice. Actually, too much. A few pointers from me, and then a rundown of places drawn from advice pinged my way on Twitter, Instagram and on this blog. Plus my own finds. Feel free to cut 'n' keep.
FYI: I mostly eat Paleo when I travel. By avoiding all grains, I avoid sugar and it steers me to denser nutrients. Also, the Paleo community are great sharers of information.
How to eat well in New York:
* Eat at "classic" breakfast joints. They do good portions of eggs. But just avoid the grits and hashes and toasts. And add kale.
* Add kale. Did I mention add kale. Every menu seems to have it as a side. Just order it wherever you go, for added fibre and nutrients. Failing that, Brussels sprouts. They're the cruciferous rage here right now.
* Avoid vegan and raw joints for breakfast. I know, I know…it sounds healthy. And at dinner time these places can be great for a mindful vegetable fix. But the sugar content in most of the breakfasts is out of control. Even if it's re-labelled coconut sugar or maple syrup or…agave!
* New York is obsessed with paddock/farm-to-table/plate. There are countless places doing this style of eating. And if they do, you can mostly count on it being clean and green and good.
* Salad bars: they're pretty good these days and there are so many pertaining to be "natural"…even if they're not organic, they seem to be rather clean. Go for: oven roasted or steamed vegetables, roast meats or steamed fish.
* But avoid the salads. Americans love a salad….drenched in dressing…drenched in sugar.
* Avoid yoghurt and cereal. Americans love theirs low-fat and, ergo, full of sugar.
* Share. Most things are oversized here and you can get away with half a meal.
* Doggy-bag it. This is something Australians need to do more – unshamefully take their leftovers home. Here it's totally cool – encouraged even.
Where to eat in New York:
* Gramercy Tavern (local, seasonal): I ate here with my agent. No bookings. Fun, lively and an honest, approachable menu. I ate a "barely touched vegetables plate" with amazing dipping sauces. And various meat dishes.
* Spotted Pig.  I ate here with Dan Buettner from Blue Zones. We ate pigs ears and some wonderful vegetable dishes. Hard to get into…it's part-owned by Jay-Z.
* Balaboosta. Recommended by my smart, caring mate Faustina Agolley (you'd know her from The Voice, and Video Hits). All the food is locally grown, with a focus on great meat and vegetables. Abundant serves and wonderful middle Eastern flavours. I want to go back for the spare ribs breakfast!
* The Meatball Shop, Chelsea. There are a few of these around town. I fixated on the one near The HIghline Hotel and ate there a few times. A) it's cheap B) they do paleo, gluten free meatballs with a pesto sauce on top of a stack of broccoli with a fried egg on top for under $15. Yes, indeed. C) The atmosphere is fun and lively and unpretentious. A surprise find.
* Sohha Savoury Yoghurt, Chelsea Market. What a fabulous concept – full-fat, local, organic yoghurt (from Hudson Valley Fresh) served in the style of a crappy yoghurt bar, but instead of marshmallow and skittles and oreo chunks, you can top your soft stuff with Himalayan salts, infused sea salts, fruit and veggies (all sourced from urban farms in Brooklyn and Hudson Valley), extra virgin olive oil and nuts.
* Foragers, Chelsea. A restaurant, grocer and meal bar – like Whole Foods, but they use organic veggies, pasture-fed and local meat and no canola oil (unlike Wholefoods). I took to getting a few slices of their roast of the day with some roast vegetables.
* The Butchers Daughter. Juice bar, breakfast, lunch, mostly vegetarian and robust and a lovely place to sit.
* The East Pole, Upper East Side. Farm-to-table restaurant. Head chef Nick Wilber says diners seeking less sugar are now part of the broader locavore trend in which consumers aim to know the origins of their food. Hurrah!
* NoMad.
* The Crosby Bar. Part of the hotel I stayed at for my first few nights in New York. Their menu is fantastic.
* GustOrganics (6th and 14th) only organic foods. Basement Jacs on Facebook.
* Mast Bros Chocolate (raw, made with cacoa butter…good stuff…and free tastings).
* Peter Luger. Tim Manton recommended this one.
* Al di la. Also recommended by Faustina. I went with her friend Xavier and it was wonderful. I had tripe, followed by rabbit. No one cared it was summer…the vegetables were seasonal though.
* Egg, in Williamsburg. I went for brunch. The owners bring in eggs from their own farm.
* Hu Kitchen (78 5th Ave). I fell in love with this place. The ultimate Paleo joint – no grains, no sugar, pasture-fed meat etc. I ate a Sloppy Joe atop a raw salad with a side of oven roasted brussel sprouts. The also have a Mush Up bar – where you can mush together a breakfast of yoghurt, nut butter, coconut etc.
* Eataly.  It's an Italian food court…on speed. Amazing heirloom tomatoes. I ate here with Gala Darling at the fish section.
* Public, in Nolita. This is run by a Kiwi…which means a lot of the wine is from New Zealand and Australia, which apparently is a good thing. Less carbon miles are consumed from wine coming from Australia than from California. Fact! The food was lovely and fresh…one Michelin star…but not expensive.
* Blue Dog Cafe (green juices and killer smoothies).
* Brooklyn Wine Room. You can pop in for samplers. They do "orange" wines, too, which are the most natural styles on the planet. Amazingly peaceful place.
* Eleven Madison Park run by Daniel Humm. This one was recommended by my publicist in Sydney, Charlotte.
* Smorgasburg (Williamsburg) flea food markets on Saturdays.  This place is so much fun. It's Pulled Pork heaven. Bring your appetite and a hat.
* Bare Burger (various locations) – organic grass fed sustainable meat and huge variety of gluten-free buns etc. Recommended by lots of you!
* Spring Street Natural in Soho (sugar/gluten/dairy free). Recommended by Alex Hill and Jane Dunn.
* Eat Cafe (Greenpoint) seasonal, local, organic. Recommended by Natalie Shukur.
* Buvette Gastrotheque (42 Grove st, West Village).
* Market Table (West Village). Recommended by Corinne Grove.
* Robertas in Brooklyn (organic, grow own ingredients). Recommended by Karlea Tabone.
* Union Square markets. Very earnest locavore action. Check out the fermented sauerkraut drink…I bought a kimchi one…energy through a straw!
* Hampton Chutney Co, SoHo. Dosas, uttapas and rice and soup options. Faustina says: Gluten free, healthy, lovely staff. There's a girl that works there called Brianna who looks like Alicia Keys but with an afro. Astounding.xx
* Rosemarys (on 10th st, East Village). They cook with the ingredients they grow on their roof in the middle of Greenwich Village. Get the radishes with whipped butter and thyme.
Here's a nifty little map of the North Williamsburg favourites I've mentioned (from the ever helpful Faustina):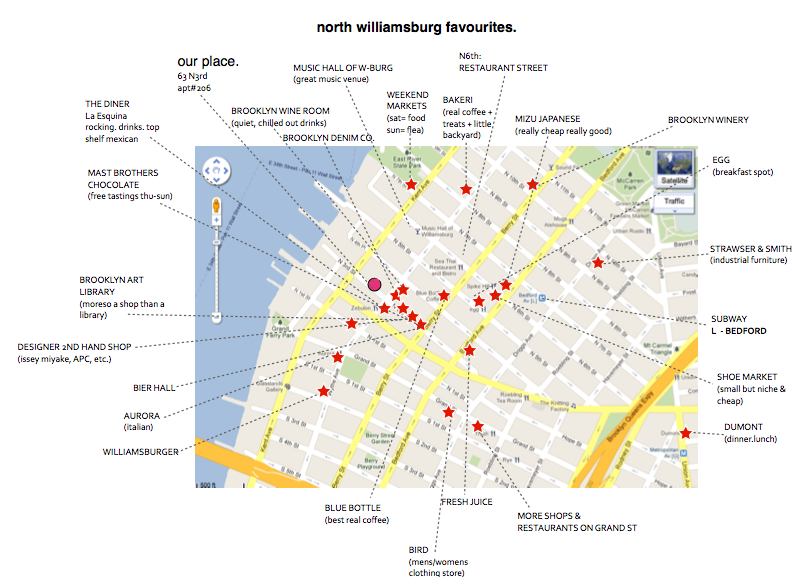 Faustina also recommended these spots, for good coffee:
Ground Support, SoHo. 399 West Broadway nr Cnr of Spring Street
Cafe Grumpy.
Laughing Man Coffee & Tea in Tribeca. It's Hugh Jackman's cafe, and 100% of the profit goes to charity.
I found a good decaf coffee at Blue Bottle. Made by hipsters.
These recommendations come from Heather at Eat Real Food NYC:
* Blue Hill at Stone Barns. There is nothing better than dining at a restaurant on the farm where the food came from. You can't get more farm to table than that! There are no menus so you just tell your server what you do and don't eat et voila! A 5-7 course degustation menu is created just for you. You have to call at least a month in advance to get a reservation but I promise you it is well worth the wait.
* Fat Radish. Sourcing local food and creating delicious dishes this little LES restaurant is not to be missed. Uber hip with great food to match. Try the Deviled Brussel Sprouts or the Kale Ceaser Salad (minus the bacon for me).
* Siggys. Don't be fooled by the hippy dippy vibe at this super casual Noho restaurant, the food here is amazing! I can't decide if the Quinoa Spinach Cakes or the Wild King Salmon dinner is my fave.
These recommendations come from Lucy Travers:
* ABC Kitchen. A longstanding stalwart in the farm-to-table and slow food movement, ABC Kitchen is one of my favourite foodie restaurants in Manhattan. The menu here is totally free of pesticides, antibiotics, hormones and GMOs, and all produce is also sustainably and humanely sourced from local farmers. In addition, the restaurant is well known for keeping up with environmental standards. I crave ABC's roast carrot and avocado salad, but their fresh, wild seafood is also to die for!
* Beyond Sushi. Offering a fresh approach to sushi, Beyond Sushi presents a 100% vegan, ethical and all natural menu. Using only forbidden black rice or 6-grain rice, the rolls are compiled by pairing locally grown fresh ingredients together to create a delicious, healthy and light meal. The sides here are also great. I love the seaweed salad and the house-made kimchee.
Here's a list of green dining options.
Also, MindBodyGreen's New York Guide is rather helpful.
This post also has some great suggestions.
New Yorkers! Ideas where to eat out: Top 5 Paleo-Friendly Restaurants in your City: The Paleo Penny Pincher http://t.co/SEzukgEe5Z
Well that's a start! Any extra Must Visit eateries to add to the list?!