I do my best work on planes in economy seats. I do my best thinking waiting in the line at the post office. We all Get More Done in unexpected places, where the contrast flicks us into inspired action.
Which is why it was pretty cool to be in New York for two weeks finishing my next book. Which, by the way, is a follow-up to I Quit Sugar – let's call it IQS#2 for now.  I was in New York, by the way, to sign a book deal with an American publisher – let's say it will be coming out in May 2014 for now.
I didn't shop, I didn't sight-see. Most days – when I wasn't shlepping between publishing houses with my agent Laurie – I was in my hotel writing. I kind of loved that right outside there was so much going on that I was missing out on. The contrast spurred me on. It's like being in Paris when all your belongings have been stolen. Or in the best croissant bakery in the world with a gluten intolerance. (I've done both.)
I found the rhythms of the hotel comforting. I felt like The Major in Faulty Towers. And I got work done, happily and calmly.
New York – in fact, most big cities – are places where working solo in public places is a really comforting and comfortable thing to do. Paris has a legacy of it with the existentialist philosophers doing all their best work in cafes. Have you read JPS's The Waiter? British writers went to Milan at various points in history and sat in the aperitivo bars to work. The focus can quieten the freneticness. The absorption can bring you in closer to yourself. For in big cities it's very easy to lose yourself. Again, contrasts.
Anyway, I thought I'd share some of the places where I wrote and got close.
A Writer's Guide to NYC
* The Highline. This is a great writing hotel. But also a great eco hotel. And a quiet hotel. Oh, and a great slow foodie hotel. Thus ticking off the four points I look for in a joint.
On my recent New York trip to do pre-publicity for the US edition of I Quit Sugar I stayed here for almost a week. The building is epic – taking up an entire block in a quiet pocket in the meat packing district…just under the High Line, which in Summer is one of the best places to hang in NYC (they have music and deck chairs and food and wine).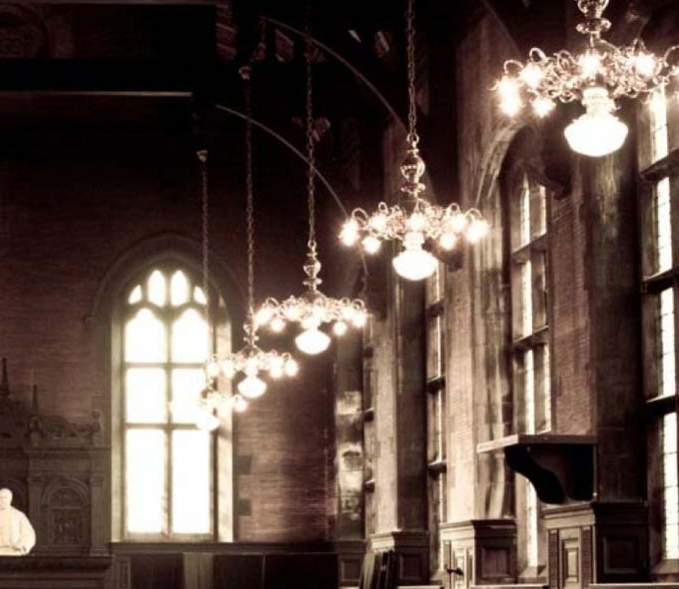 The 240-year-old building used to be the private estate of some rich admiral and later turned into a Episcopalian seminary. One wing still operates as such, adding a kooky back-story and holy atmosphere. I actually got invited to a big party (the "official launch"), held in the towering refectory. The priests were invited, too. Totally surreal.  Which was a phrase one of the priests told me, as we shared a red wine and crash-tackled the hors d'eouvres waitress, he'd "just posted on Facebook". Yeah, surreal.
I'm going to cut to things with some bullets. Feel free to ask me further questions below:
It's quiet: The place is a seminary. It radiates "silent retreat". Ask for a room facing the courtyard – whisper quiet (by NYC standards). There's no noisy air-con. Bliss! Rare!
The eco bit: they don't bother with having an inhouse gym or kitchen, see below. Which I think is a wise non-use of resources. These things matter to me.
It's a writing oasis: quiet, reflective, calm and each room has a unique, antique writer's desk front and centre. The décor is smart and calm.
The gym: There's no gym. But better – you get a free 3-day pass to the Equinox down the road. Try one of the whacky classes there.
The unique bit: there's no front reception. Lovely hipster-ish types with the skinniest legs and jeans in Christendom greet you at the door with ipads to check you in and sort you out.
The food: There's no room service. This is a good thing. Instead, cult coffee company Intelligentsia has installed a café in the "foyer" area, as well as a caravan outside in the front garden. And well-regarded, paddock-to-plate restaurant The Cookshop is across the road. I sat at the bar and ate Hudson Valley pork on first night.
The local inclusion: I love to travel and feel like I'm experiencing the city as the locals do. The best thing about having an inhouse café: locals in the area come to the hotel for the coffee. Some cross Manhattan for it (it's the only NYC outlet). In the morning it's so lovely to head downstairs and be amongst it. They do filter coffee in lovely cups with beans that have an African heritage (very Portlandia).
The bike angle: you can hire one for free. Three gears. Cute baskets. Very hipster and comically Portlandia.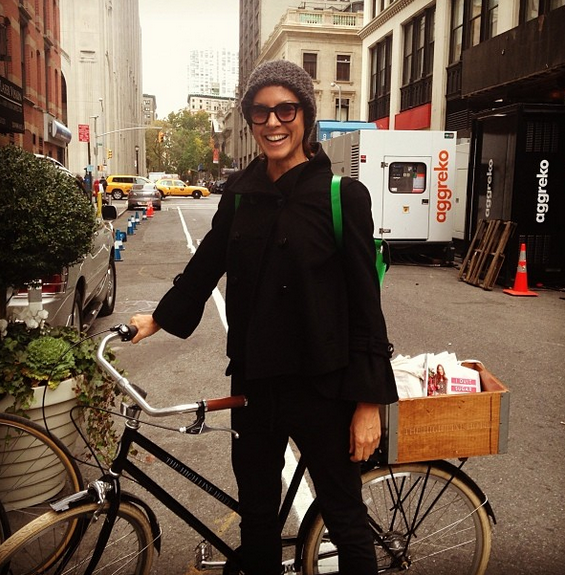 * Bryant Park. Has free wifi, a "reading room", chairs with little work benches attached (like a school desk) and, often, live music playing.
* The New York Public Library. Adjacent to Bryant Park. This is where Ghostbusters was filmed …and many writers have based themselves to get their work done. Majestic, heavy, quiet.
* The Crosby Hotel. This was my first stop-off. It's smack-bang right in the thick of Soho, so you can feel like you're part of something here. Lots of people coming and going, including locals who eat at the Really Very Good Crosby Bar. The outdoor courtyard and the lounge are fresh and bright and fun and artsy. And check out this for an open, heart-inspiring outlook!!
Note: The Crosby is a MrandMrsSmith hotel and as an ambassador, I got a premium room at a standard price.
The room service is from the Bar – and very reasonably priced – and comes with a bowl of beautiful flowers.
There are several gyms and yoga studios and Soul Cycle within skipping distance. Balthazar is across the road. And, oh, if you're after cool and accessible, this is the place to be.
Also good for: couples wanting inner city action, and shoppers.
* McNally Jackson bookshop. My favourite bookshop. And the cafe is a lovely peaceful spot to get some thinking work done. Lots of like-minded folk pass through and read the various periodicals (without paying for them). I had study breaks to the tune of The Atlantic.
* The Library Hotel. The name says it all. It's one block from Bryant park and is full of books. Every room works to a different theme. I wound up in the "Journalism" room – the shelves were full of books on the history of CBN etc.
It also has a Reading Room and a rooftop terrace set up for good word creation. Plus – and this is the best bit – the whole vibe is very communal. Everyone eats breakfast together and from 5-8pm every evening there's wine and cheese in the Reading Room. It's all very cosy and perfect for someone locked up in their own head.
Also good for: mum and daughter get-aways and gallery and theatre types.
* Coffee shops almost advertise themselves as writer hangs. I like Bakeri in Williamsburg. Check out this guide and this one too.
* Hotel on Rivington. Just about every musician, photographer, artist I've spoken to seems to have stayed here. My mate (photographer) Marija did…and came down in the lift with Jessica Alba one morning. It's that kind of place. Two band tour groups were checking out when I arrived…as in, old-timer blues crews.
Note: The Hotel on Rivington is a MrandMrsSmith hotel and as an ambassador, I stayed gratis this visit.
The place is buzzy, but quiet. It's in the very atmospheric Lower East Side area with some of the best cafes, vintage shops and bars nearby. But, again, there's a community vibe about the place. The foyer area looks out over Rivington St and there's free wine and coffee available all day. And a pool table. Breakfast is in the restaurant downstairs. I came and went and felt I was part of something. And really enjoyed being in the area. Freeman's is nearby (down an alleyway, full of mooseheads), so is The Fat Radish and Butcher's Daughter (both organic, paddock-to-plate joints) and the Essex Street Markets is 50m away (buy the kimchi from the biodynamic Japanese stand, tacos from the boys who use pasture-fed meat and anything Greek from the Greek lady).
And did I mention the view??
Please feel free to add your own suggestions here. I know lots of you were asking about NYC ideas…I'm sure everyone would enjoy tip sharing!