Happy World Food Day! I hope you celebrate by eating your leftovers, choosing a secondary cut of meat, getting smart with your food scraps and using up all your leftover herbs.
Food sustainability is my number one passion right now. And, just to give you a sneaky head's up (hopefully my publisher's not reading this!) my next book, out in March, is pretty much a vehicle for weaving this message into things. In a fun, colourful, nourishing way.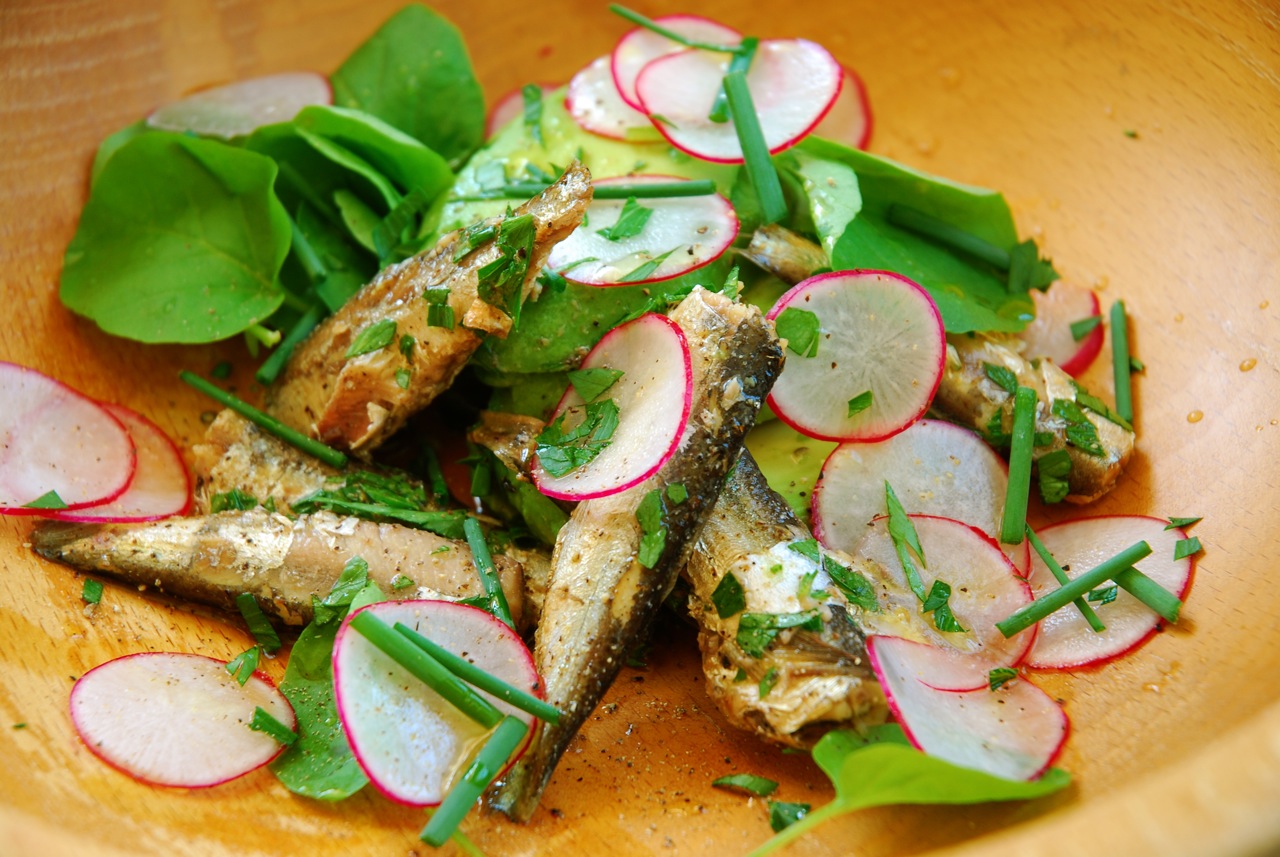 But for today, let's turn to my love of sardines. Sardines are the best fish. Period. They're super high in DHA, their edible bones are brimful of minerals, they are low in mercury and, this is the relevant bit right now:
Sardines are the most sustainable option at the monger.
They're currently not over-fished, there's little or no by-catch and you can eat the whole thing, heads, tails, bones and all (nose to tail, right there!). Oh, and they're dirt-cheap. Sardines are the future, I tell you.
This first recipe below is a one-pan-wonder-for-one, easily expandable to serve more. I recommend solo cookers cook up a bunch and then setting aside to eat as below.
Oh, and know this: studies show oven-baking is the best way to preserve sardine's healthy oils.
Oh, and sorry to interrupt again, you can buy sardines whole and fillet them yourself by cutting from just beneath the head down the belly and removing the gills and insides. Wash under running water and rub to remove blood and scales. Pat dry. (I personally eat the heads and tails, the best bit, ask any Italian.) Squeamish?  Get the monger to do it for you so you emerge with butterflied fillets.
One-Pan Sardines n Roots
Serves 1
1-2 cups pumpkin, potato (parboiled for 5 minutes) or sweet potato, cut in 1/2cm slices, skin on
1 tablespoon olive oil
4 sardines (16 if you're going to save some for the variations below)
½ red onion, thinly sliced
2 cloves of garlic, smashed but skin on
1 lemon (1/2 cut into wedges, 1/2 reserved)
couple of sprigs of thyme or oregano or rosemary, chopped
a pinch chilli flakes
sea salt, black pepper (to taste, but be generous)
Pre-heat oven to 200C. Arrange the roots in an even layer on a greased ovenproof dish or tray, season and drizzle with half the olive oil and bake for 35-40 minutes.
Place the sardines over and scatter the onion, garlic, herbs, chilli, plenty of pepper and salt and the lemon wedges around. Squeeze the juice of half a lemon over and the rest of the oil. Return to oven and roast for 10 more minutes until the sardines are just cooked.
If you're cooking extra sardines, set these next to your roots, or place on another lightly greased tray, insides facing up, sprinkle with extra herbs, chilli flakes, pepper and salt and oil over the top and cook at the same time (also for 10 minutes). You can mash then freeze the sardines in single-serve batches, although some of the health oils do deteriorate from the reheating or thawing. I prefer to eat mine the next day.
Seven Extra Sardine-y Things
1. You might also like to check out my Sardine Witlof Boats from my first I Quit Sugar cookbook.
2. I love this recipe for sardine, avocado and radish salad that you do with fresh or tinned sardines.
3. Here's a great rundown of seven things you can do with tinned sardines. The peanuts are very interesting!!
4. I also like to make a simple sardine omelette by mixing tinned sardines (drained and crumbled) through the egg mixture before tossing in the pan.
5. Here's one for sardine and onion tart.
6. And the kitchn does this lovely salad http://www.thekitchn.com/recipe-sardine-salad-with-chic-82946
7. And apparently this "sardico" sandwich is well-known in foodie traps.
What do you do with your sardies? And what are you doing for World Food Day?