Broccoli is good stuff. I don't need to spell it out much more than that.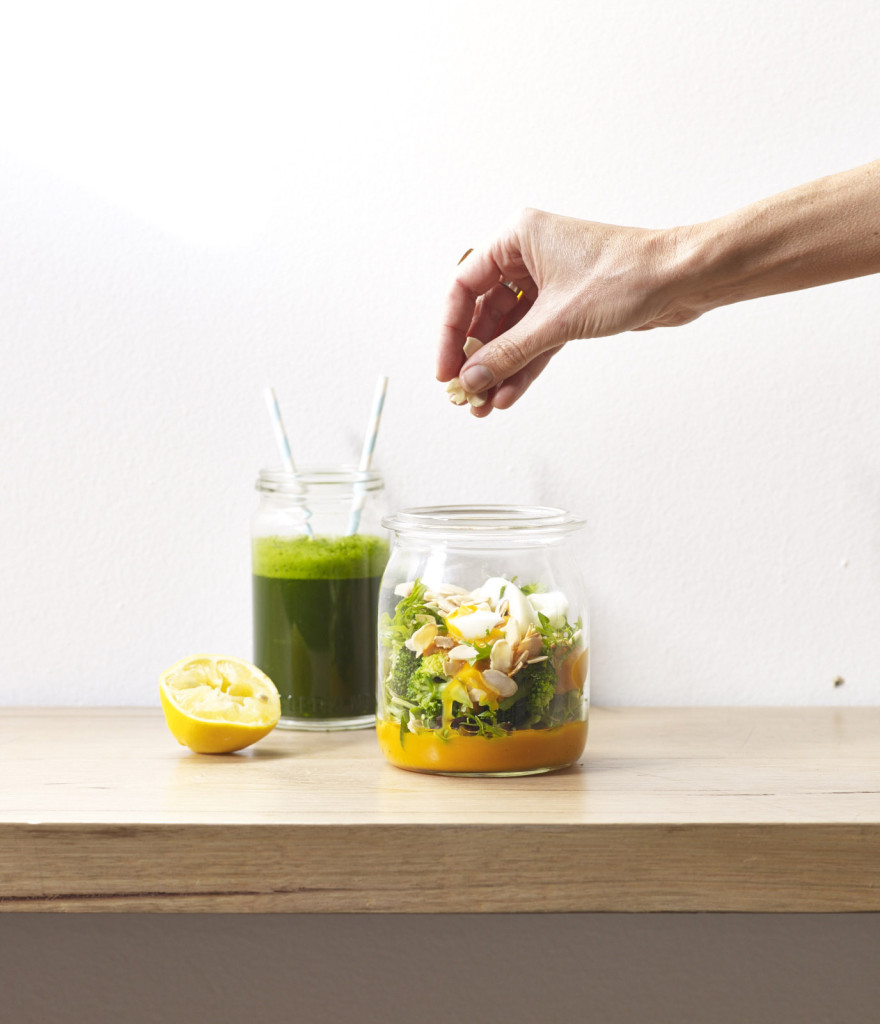 Why don't I share a few clever things to do with it instead.
I like to par-cook and freeze mine. I do this as soon as I buy a head. Or two. I simply cook it 60% (in a steamer), let it cool, then store in 1/2 cup serves in zip-look bags in the freezer. It's ready to then toss through pasta or stirfry or to put in a salad (it will keep things cool until lunch).
I put some in my green smoothie in the morning. Yep. A couple of par-cooked and frozen florets totally up the green factor and create a lovely thickness to things.
In a similar vein, I sometimes puree the par-cooked and frozen florets, freeze in an ice cube tray, ready to add to my smoothie.
I also like to make a pesto out of it…there's a recipe in I Quit Sugar.
And I like to eat it for breakfast, mostly as an Eggy Muggin or in my Egg and Bacon cupcakes, both of which you can find in I Quit Sugar.
Plus I like to indulge in the following:
1. Broc Bites
2–3 cups cooked broccoli, chopped
1½ cups grated cheddar (or any other hard cheese)
3 eggs
1 cup almond meal
1 teaspoon dried oregano
sea salt, to taste
Preheat the oven to 190°C and line a baking tray with baking paper. Combine all the ingredients in a bowl then roll bite-sized pieces of the mixture into balls. Place the balls on the prepared baking tray and bake for 25 minutes or until browned. Now, eat.
2. Coconut Roasted
Toss a chopped head (slice the florets into 1cm slices) in 2 tablespoons coconut oil and lots of salt. Roast on a baking paper-lined tray at  230C until browned (about 10-15 mins) stirring and flipping. Serve with a tahini sauce – whisk tahini, lemon juice and garlic and stir through some yoghurt.
3 Broccoli, Pumpkin + Harissa Mish Mash Salad in a Jar
This is a great one for those of us who keep par-cooked and frozen veggies in our freezer. The frozen broccoli will keep the salad cool until lunch! PS, if you eat your salad straight from the jar, put the puree on top (last).
½ cup pumpkin purée
½  teaspoon harissa paste, or to taste
½ cup par-cooked-and-frozen broccoli
small handful of mixed salad greens
1 tablespoon almond flakes or 1 teaspoon sesame seeds, lightly toasted
½ tablespoon olive oil
squeeze of lemon juice
2 poached or peeled soft-boiled eggs
1 tablespoon chopped coriander or flat-leaf parsley
pinch each of salt and pepper
Mix the pumpkin purée with the harissa paste and put in a layer on the bottom of a large, broad glass jar. Toss in the broccoli, mixed salad greens and almonds or sesame seeds then drizzle with the olive oil and lemon juice. Top with the poached eggs and sprinkle with the chopped herbs. Season with salt and pepper.
4. Stem Slaw
Here's a great way to use the bits many reject. Toss finely cut stems (or use of those crazy "Mouli" shredders) with finely cut red capsicum, chopped mint and coriander leaves and a dressing of oil, sesame oil, chilli flakes, dijon mustard and lime juice. Top with sesame seeds.
5. Apple Cider + Sesame Cured
Toss a chopped head through a teaspoon each of sesame oil, apple cider vinegar and cumin seeds (cooked in a pan with some garlic and olive oil), plus a pinch of chilli flakes. Cure overnight in the fridge.
6. Stem Pickles
The New York Times shares another way to use the stems…it's a pickle recipe that doesn't use sugar.
For some bonus ideas, check out:
Minced meat and broccoli stir-fry (4 ingredients only!).
One-pan salmon and super slaw.
How do you cook your broc? Love you to share…