I've shared how to make plain kombucha, how to make a fructose-free Chai flavoured version and how to get carbonation. But my experimenting continues. Feel free to follow along and get just as obsessed by this very healthy addition to your gut-giving regime.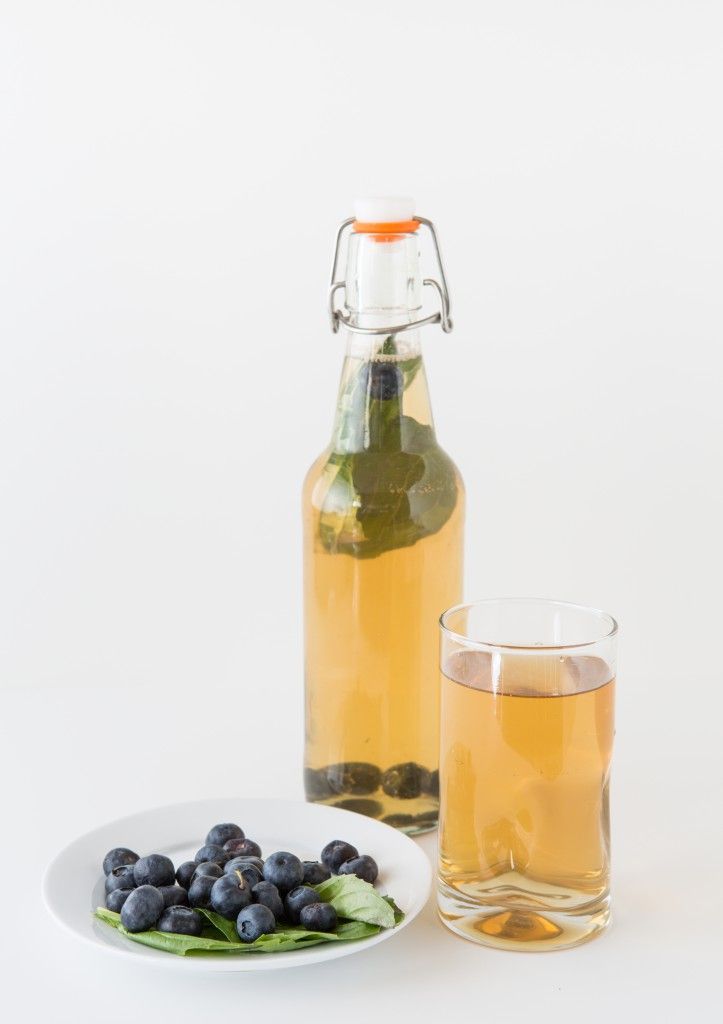 1. Add fruit.
Once the initial fermentation period is done and the SCOBY removed feel free to add fresh or frozen fruit – berries, stone fruit work best – or some lemon or lime juice.
For a kombucha base of about 3 cups, use about 1/3 cup of fruit or juice.
Remember, when fruit is added the sugar feeds the yeast in the second ferment, so again, very little sugar remains.
2. Add herbs and spices and all things nice.
In addition to the fruit, feel free to thrown in some flavourings, like vanilla, almond, lemon and orange extracts or fresh herbs or spices. To flavor kombucha with an extract, brew and ferment according to the basic recipe.
For a kombucha base of about 3 cups, use about ¼-1/2 teaspoon of extract.
For a kombucha base of about 3 cups, use about 3cm fresh ginger cut into matchsticks or grated (you might need to add extra sugar if only using ginger and you're after fizz).
3. Add apple cider vinegar.
Jenny at Nourished Kitchen shares this: "In my favourite wintertime version of kombucha, I flavour it with sweet spices and a touch of sweet apple cider that provides enough carbohydrate to give the kombucha fuel for its much-needed fizz."
4. Make green tea kombucha. Simply substitute organic green tea bags…but don't use teas flavoured with oils (eg Earl Grey).
5. Use old Grolsch beer bottles. These are perfect for kombucha making (due to flip-liddage).
6. Combine the flavouring and carbonating in one. Rather than strain from a mason jar into a bottle, do the whole lot in the bottle. It just means you might get some random strawberries
7. Add medicinal herbs.
Dori Oliver (writing for Weston A. Price org)  says this: My favourite medicinal herbs to include in kombucha are calendula, chrysanthemum, dandelion greens, ginger, jasmine, lemon verbena, nettle, mint, red clover, sassafras bark, St. John's wort, white tea and yarrow. Many of these herbs have been used in fermentation historically and traditionally; think of yarrow ale, ginger ale and root beer (made with sassafras bark).
To make herbal kombucha, first reduce the amount of tea used by one-half. If you are using dried leafy herbs and/or dried flowers, add 2-5 times as much herbs as tea. Intensely flavored, finely-grated, dried barks and roots can be added in proportions equal to the tea. I suggest using a muslin spice bag to simultaneously brew the tea and herbs. Ferment and bottle the kombucha according to the basic method. Herbalists may enjoy creating personalized blends that please palates and constitutions. Remember to keep detailed notes of which herbs you include and the proportions or amounts.
8. Eat your SCOBY bits. Since the kombucha will continue to ferment (even in the fridge), some small immature SCOBYs or stringy brown yeast particles can develop. As Kate Callaghan wrote on her Instagram recently: "…chock full of beneficial bacteria that is going to improve your digestive health and hence, overall health and wellbeing. As Hippocrates said: "all disease begins in the gut", so go on and eat your slimy, stringy balls of goodness!"
9. Make a kombucha vinaigrette. Jenny from Nourished kitchen has a great recipe for this here.
10. Experiment with flavours. Here's a bunch I've come across…
Blueberries and cinnamon
Strawberries and ginger
Cherries and almond extract
Peaches and coconut extract
Lemon juice and ginger
Pumpkin pie spice
11. Add kombucha to your vodka and soda to liven things up. 
MJM suggested this on last week's post. She says: I started brewing kombucha just before Christmas and have found it an ideal mixer to liven up a boring old vodka and soda. 50% kombucha, 50% soda really makes the drink a bit more appealing.
Next week I'll be sharing my recipe for strawberry kombucha – stay tuned!
Do you do anything else to pimp your kombucha? Feel free to share below.