This is a nice quick post, to be told mostly in pictures. I like to eat and hike, both mindfully. Both ground and enliven me. Thus, I devote a lot of my energies heading off to explore (often) far-flung places in the bush/country/wilds that are also peppered with surprising real and whole foodie finds. If you, too, like to do this, you might want to check out my previous trips here. Or follow my hashtags on Instagram #bushhike #bushexcursion.
This trip I went west on a road trip to the Mudgee Region. It's about 3 1/2 hours from Sydney, over the Blue Mountains, past Mount Victoria at the top and then inland to dead-set farming territory. The area, though, is also surrounded by wonderful National Parks with a good variety of moderate walks. There I am above at Castle Rock in the Munghorn Gap Park, about 40 minutes out of Mudgee, showing off/terrifying my friends. This was an 8km return hike.
We left Sydney at 3pm and got into Mudgee in time for dinner. Night one we ate country food at Market Street Cafe. There are only three (locally sourced) items on the menu (chicken, steak, pork) and a handful of local wines. A gorgeous, simple place favoured by locals.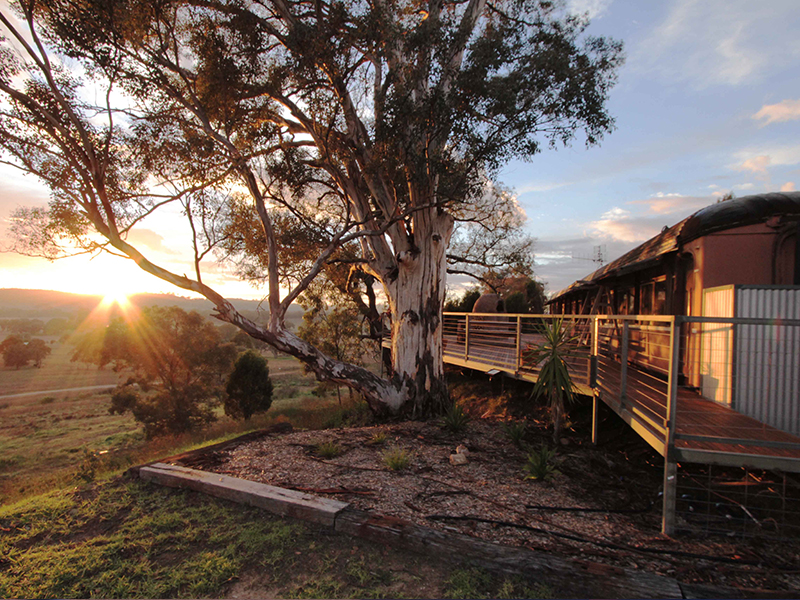 That night we stayed in a 1901 train carriage five minutes out of town. The carriage sits on the Eloura Homestead property, owned by six mates aged in their 30s and 40s who visited Mudgee on a road trip a while back and thought they'd encourage others to do the same by buying a very cute train. It sleeps five people and is super cosy. The view across misty farmland in the morning is just so deep-breath-inducing. And, to be honest, it was really nice to be out in the sticks, and not in town or on a vineyard. If you're going to get out of the city, you should really get out.
Next morning we ate a modern country breakfast, including, YES, JAFFLES!! at Alby and Ester's in town. They do housemade fermented labne, locally roasted coffee and all food is grown in-house or nearby.
PS, this trip my beautiful friends Brad and Rick accompanied me…
OK, after our Munghorn hike, we hightailed it to Lowe Estate Winery to have lunch at The Zin House. This place is my kinda foodie joint. Chef Kim Currie cooks a fixed menu in the restaurant itself – you can stand and chat to her, like you used to with your Mum. There's an open fire, views out across the vineyards and, well, the food…
We started with quails eggs from down the road, homemade olive bread, Pepesaya butter, warm local olives and Lowe's preservative-free red blend.
We moved onto a bunch of other courses, including slow cooked pork with an apple (from nearby Orange), chilli, red onion and fennel slaw. The local cheeses were wonderful.
The next day we headed to Dunns Swamp in the Wollemi National Park. I don't know that I've seen a prettier park.
There are a bunch of hikes here, none particularly taxing. We did another 8km one. Then back through Rhylstone, which is worth a visit.
As always, I share this information in the hope I'll encourage some of you to get together a bunch of mates and head bush on weekends. It really beats malls and shopping and eggs benedict in The Same Old Places. If you want to check out a little more about the region, contact Destination NSW.
Have you been to the area? Want to share some further foodie haunts, tips, walks?