It's kind of funny being asked to explain something that comes as second nature to you. "Um, you just do it," comes the reply from the nuclear scientist who splits atoms for a living.
But given I'm so often hike-bragging (hagging?) all over social media under the pretense of encouraging more people to hike on their weekends and vacations (in lieu of shopping), I feel it's my responsibility to actually break things down for those who are wanting to give it a go, some of you for the first time. Anyone doubting the incredible benefits of hiking it's worth my flagging:
*Research shows that spending time outdoors increases attention spans and creative problem-solving skills by as much as 50 percent.
* Just one hour of trekking can burn well over 500 calories (if calorie counting is your caper).
* Hiking can lower blood pressure by four to 10 points, and reduce the danger of heart disease, diabetes and strokes for those at high-risk.
* Another study found that long distance hiking trips may improve antioxidative capacity in cancer patients.
* And this bit of boffinism shows that using hiking as an additional therapy can help people with severe depression feel less hopeless, depressed and suicidal.
In a semblance of order, here's how I do it:
I make it all about the hike.
Some people travel to a city or region for a museum, or the café scene, or for the wineries. From there they experience other things (great food, sights, smells). When you really want to give hiking a go, go to where the best hike is and build in other experiences from there. It's not a bad formula to adhere to. Great hiking scenery generally attracts great food and culture and other experiences. And like-minded people.
I use hiking as the raison d'etre of my travelling. That and eating.
Research your hike thus:
Google: "Best hikes in [insert name of area]". If you're really happy to travel anywhere in the world for a rippin' hike, check out these:
National Geographic World's Best Hikes 
Independent's Top 50 Walking Holidays
Also check out hiking company websites. They'll outline areas that are great for hiking. You can then research from there. Some I've found over the years:
If in Australia: visit the National Parks site for your state or the WildWalks app and site. I also like these Take A Walk books. Elsewhere, these Sawdays books about slow travel might interest.
Finally, check out my guides:
A slow food and hiking guide to Mudgee, NSW
A slow hike in Dorset, Wiltshire and Somerset, UK
A slow food and hiking guide to Sardinia
A slow food and hiking guide to Provence
A slow food and hiking guide to Andalucia 
From here, turn the hike into an adventure…
…so the travel there is part of the caper.
An example: I found a hike in Ku-Ring-Gai National Park, north of Sydney that I wanted to do. I could get a car and drive there. But better, I found I could train it in and out, with lunch stop-offs (for those interested, catch the train to Mount Ku-Ring-Gai station, do the walk down to Berowra Waters and back up to Cowan station where you can catch the next train back to Sydney).
Another example: The Taronga Zoo to Balmoral beach walk is an amazing romp around the harbour. I make it more of a journey by riding my bike to Circular Quay, catching the ferry to the zoo, hiking to Balmoral, then walking back through the leafy suburbs to the zoo, then ferry and bike home. A spectacular outing.
Also note my comments below about googling "inn to inn hikes".
You'll find most hiking/bushwalking guides will note the closest public transport options. Or use Google Maps to work it out for you.
Circuit routes are best. Return walks feel disheartening.
Incorporate great food. Again, a hike can be given added value by incorporating it into a bit of foodie adventure. I now do foodie/hike trips whenever I head out. Again, I start with the hike, then I look around the area to see what food options exist.
Or I go to some slow living specialists, as I did for my recent Dorset hike and my Spain hike, and ask them to map me out a special route.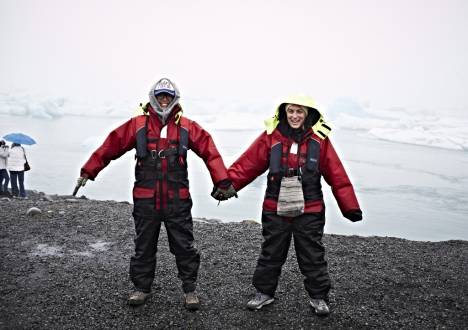 The other way to do it is to google "inn to inn hikes" or "pub to pub walks". They are a "thing". Again, if you don't want to join their led group, you can take "inspiration" from the information on their site and build your own trip in the area.
Incorporate some ritual. For me, it's buying a newspaper and a takeaway tea to have on the train on the way there. I also meditate at the half-way mark on a rock in the sun. So that I can really absorb things.
Use Googlemaps on your phone as a map. I do. If you're heading somewhere with no internet connection, download the route first and make sure you scroll all the way to the end of the walk so it's fully downloaded. The little blue ball will trace your travels along the route, even when there's no signal.
Carry as little as possible. This is possibly the most liberating advice I can give.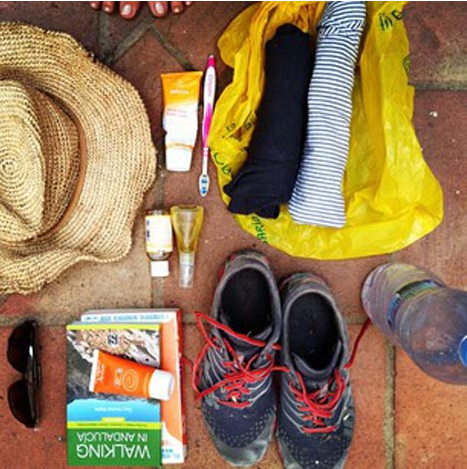 For half-day hikes, I take nothing but my phone (for safety and Instagram bragging!), some toilet paper (for ablutions), a key and $5 (for tea and newspaper), all of which goes down my bra. I drink plenty of water before I leave (2 litres) and then I'll often put my mouth under a garden tap near the start of the walk.
For multi-day hikes, I pack just as minimally. I rinse out my under clothing. I wear the same shoes. I use Jojoba oil for cleansing and moisturizing.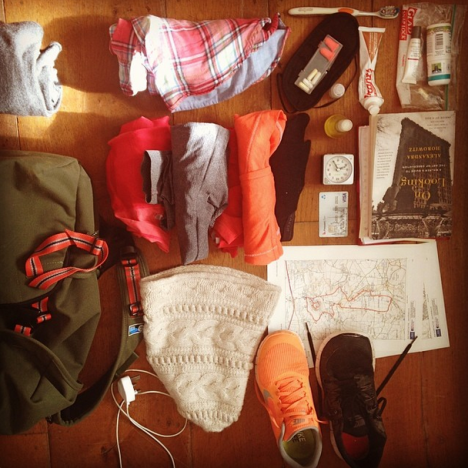 In most cases, I don't carry food. Again, I eat up MASSIVELY in the morning and either factor in a lunch stop or save myself for dinner. I appreciate, however, some need to take snacks.
It's vital to incorporate as much unfussy flow into a hike as possible.
That's about as much as I can muster for now. Feel free to ask me some questions below. Hike on!