If you've been following the My Simple Home series, you'll know I'm really rather committed to keeping my home ecologically and ergonomically minimal and sustainable. I've shared on toxic hazards you should avoid and how to detox your kitchen. Oh, and how to buy a sustainable couch. Which I did finally do!
Today, I'll touch on a few tips for cleaning up your cleaning products… for toxicity and environmental purposes. Plus, the kind folk at ENJO (a planet-friendly cleaning product company that makes microfibre products requiring only water) are kicking in to give away
an ENJO Essential Pack of cleaning gloves, cloths, paste, detergents and floor cleaners – everything you need to clean your floors, bathroom and living areas – valued at $950 
Keen? See the details below.
And just so you know, this is a sponsored post, but as always views are all my own. You'll find my very particular position on sponsored posts and advertising here and further thoughts below.*

How to clean up your cleaning habits
1. Check for eco labels by independent accreditors.  Try  programs like Good Environmental Choice Australia (GECA), Planet Ark, Australian Certified Organics and National Asthma Council Australia's Sensitive Choice. You can read more at Green Lifestyle Mag.
2. Read your labels. Detergents have two major ingredient categories: "builders" to reduce water hardness and "surfactants" to lower the surface tension of water.
Avoid the bad "builders", namely any kind of phosphates, which contribute to the deoxygenation of marine environments, and EDTA, (ethylenediaminetetraacetic acid), which can bind to heavy metals and cause damage to both people and aquatic animals.
Instead, go for products that use safe builders such as sodium citrate.
Avoid these "surfactants": butyl or 2-butoxyethanol, which are toxic when inhaled, and oxalates, which can interfere with hormonal regulation above certain concentrations.
Instead, choose surfactants like alkyl polyglycoside, isopropanol and glycerol.
Here's more on how to know if your green cleaner is really eco-friendly.
3. Use cleaning cloths that go straight in the wash. I'm not a fan of wastage. Disposal Chux wipes drive me mental. And don't get me started on paper towels! I've found this clever all-purpose cloth that does the day-to-day work, and this Kitchen Glove designed with two different sides to remove grease, grime and food residue from your rangehood, bench-tops, splash back area, tiles, stove top, inside your oven 
and microwave. Once you've finished, just pop in the wash. I've come across ENJO a few times in my quest for toxin-free cleaning products. Founder and CEO Barb had a son who was struggling with terrible asthma and she realised her home cleaning products and their chemicals were a big cause of his health issues. She used her life's savings to bring Enjo products to Australia twenty years ago.
4. Add natural, organic essential oils to your cleaning concoctions for different scents. Some oils like lavender, peppermint, eucalyptus, lemongrass, and tea tree oils have antibacterial, antifungal, or insect-repelling properties. (If you're pregnant – stick with eucalyptus, lemongrass and tea tree oils).
5. Ditch disposable, chemical-laden makeup wipes. They're bad news for a host of reasons. Try this Daily Face Off for gentle cleansing and to remove make-up and mascara, with just water!
6. Use what's in your pantry.
Baking soda works as a gentle scouring powder and eliminates odours.
White vinegar is an antifungal that also kills germs and bacteria.
Lemon juice is a pleasant-smelling non-toxic bleach, grease cutter and stain remover.
Olive oil makes a wonderful natural furniture polish.
7. Use a dust-minimising floor cleaner. This floor cleaner reduces dust and airborne pollution, which is ideal for people who suffer from asthma and allergies. The fibres use minimal water, which means floors dry quicker and there's no need for a bucket of chemical slosh.
8. Choose air fresheners that don't, um, pollute the air. Most air freshening products on the market are about 2/3 aerosol propellant and typically include formaldehyde, a known carcinogen linked to allergic reaction. Many contain chemicals that trigger asthma. To avoid these intoxicating air fresheners, look out for pump-spray bottles that contain natural oils rather than synthetic fragrances.
9. Find a good calcium dissolver. This one is a natural bleach, so it's non-toxic. You can use it in the bathroom, laundry and toilet to remove tough calcium, rust and mould.
10. Avoid using sodium hydroxide or caustic soda in drains. If you're cleaning drains periodically throughout the year, you can rely on the abilities of natural drain cleaners to break down organic build up. Read more here.
11. Always dry off your surfaces to prevent bacteria growth. Bacteria grows within 6 hours of cleaning if you don't dry off your surfaces. This is a great one I use in my bathroom.
12. Choose powdered oxygen cleaners instead of bleach. Oxygen bleaches use oxygen instead of chlorine to remove stains and are made from either hydrogen peroxide, sodium percarbonate, or sodium porborate. They won't permanently stain fabrics and don't release the toxic fumes that make regular bleach dangerous.
13. Do some extra research. If you want to double-check your current cleaning products, the EWG's guide to healthy cleaning is a valuable guide to working out how dangerous the chemicals in your cleaning products are, with safety ratings of more than 2000 products.
And a giveaway!
Today we're giving away one ENJO Essential Pack, which includes: 1 kitchen glove, 1 Kitchen Miracle, 1 Kitchen MiniPlus, 2 All purpose cloths, 1 marble paste, 1 bathroom glove, 1 Bathroom Miracle, 1 Bathroom Mini, 1 calcium dissolver, 1 dust glove, 1 Indoor Miracle, 1 Fabric Glove, 1 Laundry Miracle, 1 Floorcleaner, 2 Floor Fibres, 1 laundry bag, a trigger spray bottle, 1 laundry detergent, 1 toilet cleaner, 1 handwash, 1 dishsoap.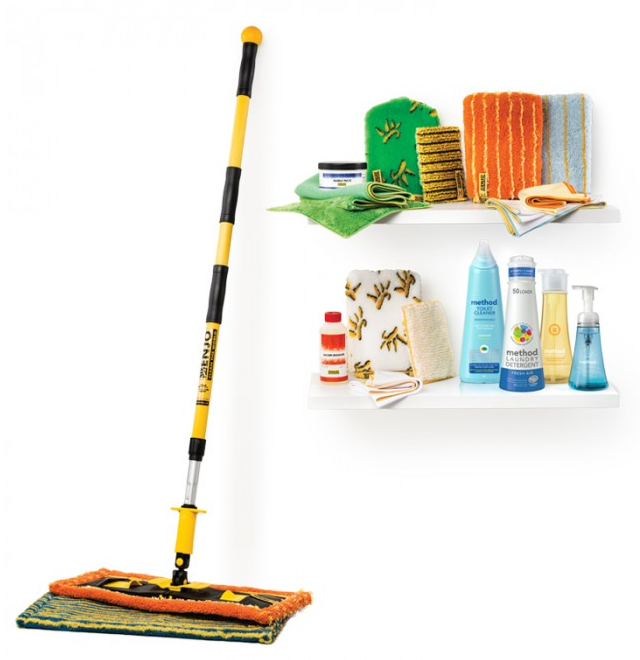 To be in the running to win, simply add your clever green clean tip or trick to the comments below. Winner will be chosen Monday August 25.
* Posts on sarahwilson.com may contain links to sponsors and affiliates with the capacity to receive monetary compensation, which help to support the growth and development of this site. Giveaways are sponsored promotions and will always be stated as such on the post. Books, eBooks and other products that align with my site and ethos may potentially be accepted for review, but please respect my desire not to clutter my life with "stuff" before you send your wonderful product or press release. I am not a medical professional; rather, a wellness advocate, therefore anything written by myself on this site is my own (researched) opinion and is not advice from a trained doctor. Here is a full breakdown of my position on sponsored posts and advertising.