It's become quite a thing…these slow food and hiking guides. I'm glad you like them. From my point of view, if I get 100 people to leave their comfort zone and get out of the city to move and eat real food in regional areas…well, I will die in peace knowing my job is done. This next installment saw me fling south to Tassie. I wanted to see What All This MONA Fuss was about…and to sample some of the incredible food offerings I was hearing about from out of Hobart. I was also itching for a hike. So was my best mate Ragni. So we made it a mate's getaway extended weekend together.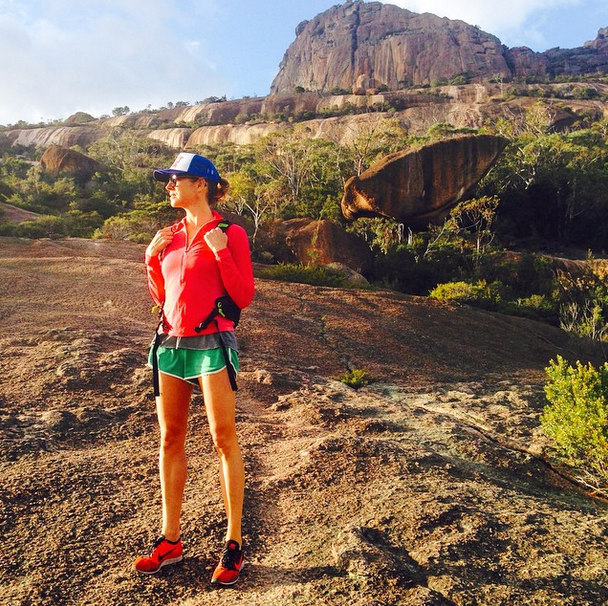 As always, I will tell the story mostly through pictures. You can check out my other hiking shots at the hashtags #sarahwilsonhikes #bushhikes #bushexcursions on Instagram. If you want.
Hobart

Visit MONA. I don't need to bang on too much about the details of this incredible art experience. You can Google all about it. My take is this: my expectations weren't grandiose, so I thought the experience was fabulous. Others, I know, arrive expecting (New York's) MOMA.
And, yes, it was mostly the experience – the ride over in the camo-painted ferry with plastic sheep for seats and staff dressed in combat gear, was part of it. So, too, the fact you never quite know what's art and what's not. (For example, the Chanel and Hugo Boss ads hanging from the ceiling, the Israeli travel promo video at the ticket office, the ugly piles of Coke next to the blood collection unit in the foyer (all of which are, in fact, "art"; owner David Walsh likes exploring failed human projects.) The best bit by far, though, is the commentary by Walsh himself on the ipod you're given by way of crib notes for the tour. They're gold.
The wine bar (as opposed to the posh restaurant opposite) is also really lovely for a feed afterwards. Here's the MONA site.
Stay at Henry Jones Art Hotel. Smack bang in the centre of town and a 3-minute walk to the MONA ferry. Don't waste your time staying elsewhere. Simple, cosy, just-eccentric-enough-to-make-you-not-generic and with big rooms and corridors adorned in great art. Also, the bar downstairs is a ripper and loved by locals. Here's their site.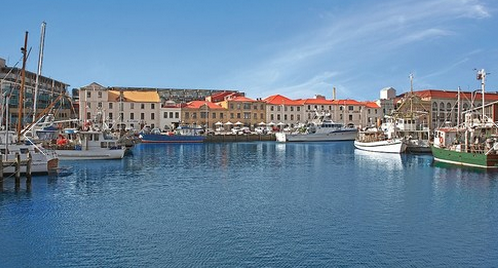 Pigeon Hole Café. Loved this place. Sums up Hobart – quaint, unpretentious and seriously creative. They make all their own breads and their produce is sourced from nearby Weston Farm. (It kind of reminded me of Iceland's culinary scene.) Here's the Pigeon Hole Cafe website.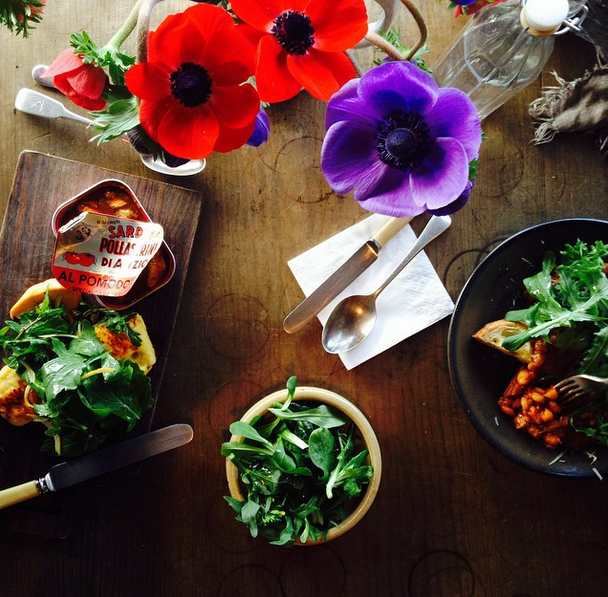 Pilgrim Coffee. Hipster but humble (drip-fed coffee but down-to-earth staff). And a seriously clever menu. Honestly, Hobartians really do things differently – and better – down here. Here's the Pilgrim Coffee Facebook page.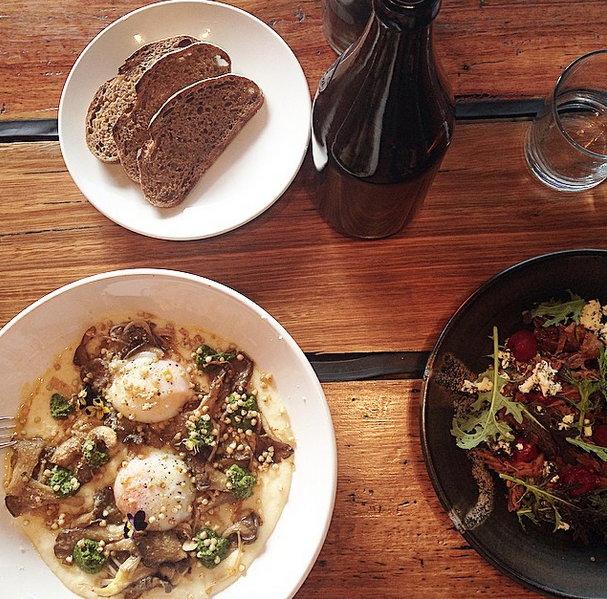 Ethos Eat Drink. We didn't get to eat here because I didn't plan things well enough – they book up super fast. But I wish we had. The menu is fresh each day and fixed – punters are presented with a list of ingredients from the garden by way of menu. You then get given what you're given. I like it. (PS, don't be fooled into thinking Three Japanese across the road is owned by the Ethos crew – not true!). Here's the Ethos Eat Drink website.
Garagistes. Again, badly timed. They close Sunday through Tuesday, so we missed out. But everyone raves about the joint. Check out the reviews for yourself. Here's their site.
You need to know this: Hobart opening hours are odd. Check ahead.
Sidecar. The wine bar compliment to Garagistes, serving all natural wine. But. Again. Closed when I was there. Here's the Sidecar site.
The Standard. A lot of concept and some cranking burgers to back up the promise. Located in a loading dock at the end of an alley way, The Standard asks you to place an order at a dock counter. You can then ingest atop a milk crate with hip-hop tunes to boot. Here's their Facebook page.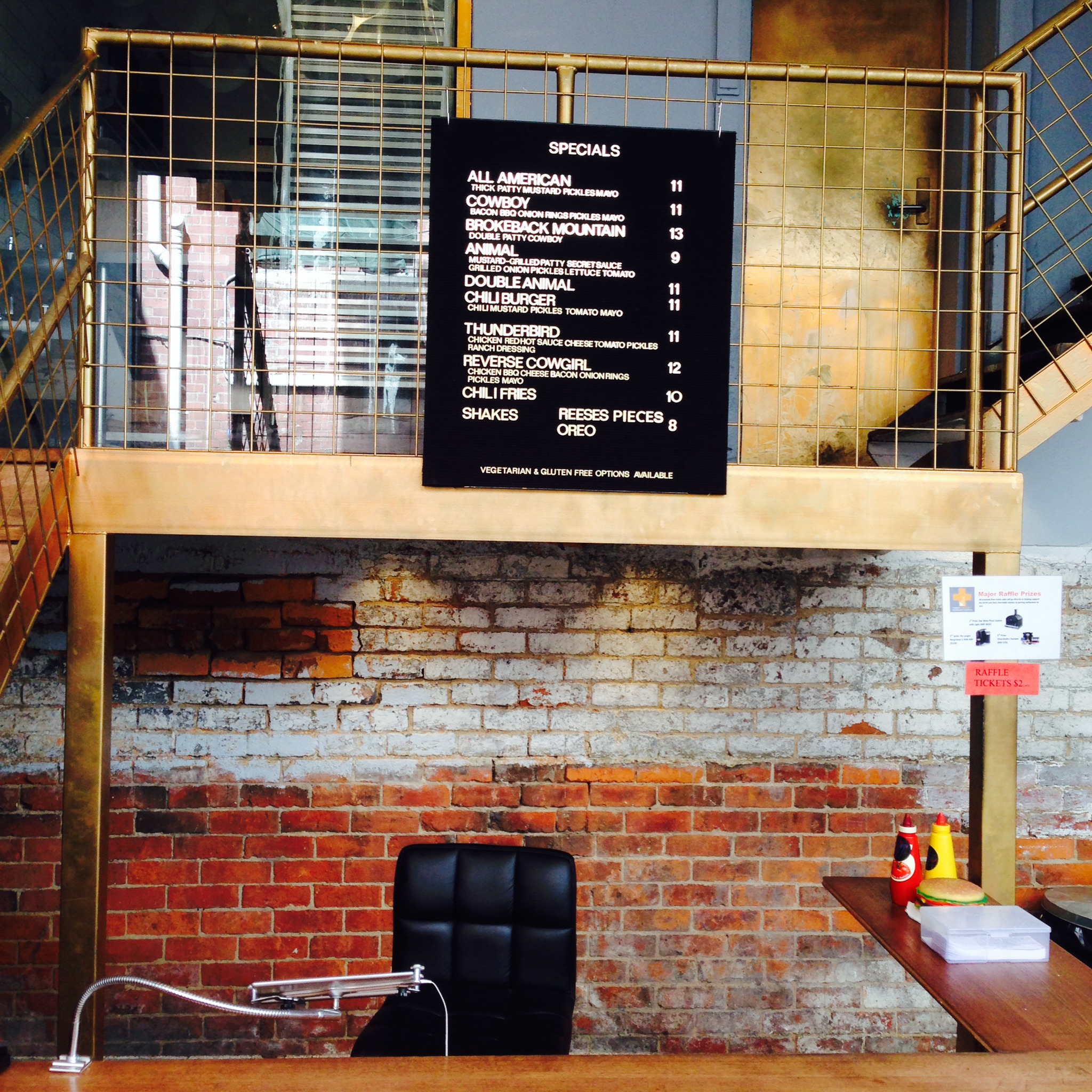 Pollen Tea Room. Sigh. Once again, timings all wrong. This place is closed Wednesdays and Thursdays. Go figure! But a peek through the lovely window revealed a gorgeous sunny space with an outdoor courtyard and a menu that's totally me. Here's their site.
Also, this Battery Point area is worth walking to and wandering around. So pretty.
The Franklin. My mate Charlie from The Topshop in Byron Bay has moved south to join up on this project. It's a no-cutlery affair at the bar, with a restaurant still to come. 100% all natural wines. Timing-wise…it was due to open the day after I left! I walked past and the place looks stunning. Here's the Franklin site. And this great review.
Other folk have also mentioned:
Stefano Lubiana (restaurant and winery). Here's their site.
The Agrarian Kitchen Cooking School (they are 45 mins drive from Hobart and most classes get booked out far in advance). Here's their site.
Freycinet and Wine Glass Bay
A very scenic 2-3 hour drive north of Hobart lands you in the Freycinet National Park and Wine Glass Bay.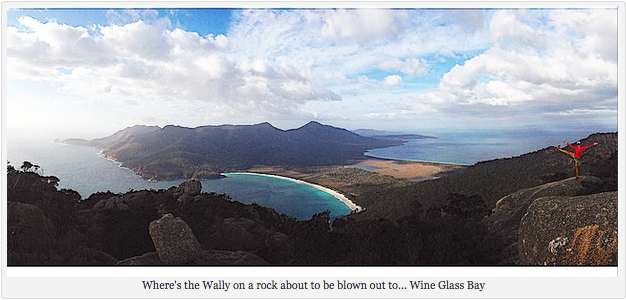 Stay at…
Saffire Freycinet. I'll be honest. This is not the kind of place my mate and I would normally book. We have a history of camping and eating from tins. But I have to say our visit really astounded us. Here's their site.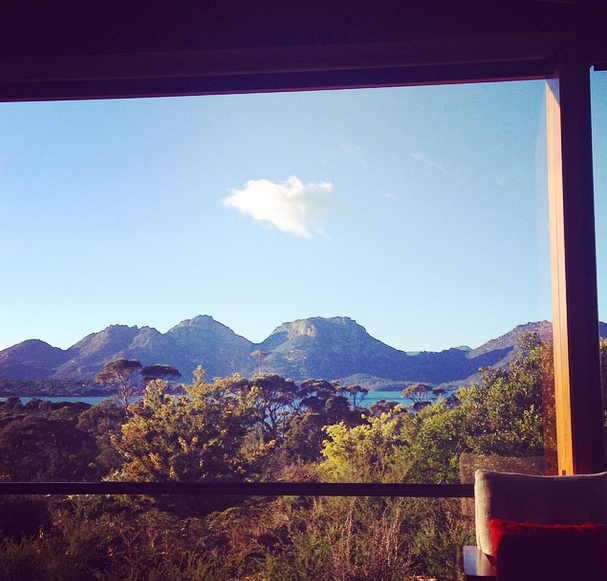 The bottom line is that you land at Saffire and everything is done for you. All is included. All can be organised, and attentively so. And if you're a Hectic Mainland Type with only a few days to do it all, then this can very much suit. It did us.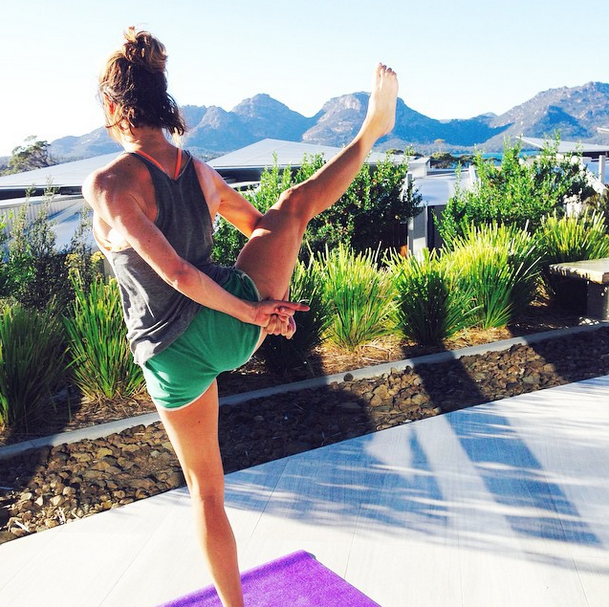 Actually, there are three bottom lines.
The second is this: The food alone (all meals and alcohol are included, too) is worth coming here for. Breakfast is real and healthy and largely sugar-free. Lunch is a buffet with a main of fish. The buffet features roasted carrots, homemade labneh, soaked grains etc. And cheese. And the dinner menu, which changes completely on a 6-day rotation, is clever without being complex. I was really blown away by it all… right down to the staff (the manager hails from Catalinas, the sommelier from various luxury resorts and all staff were able to engage on discussions about where the ingredients came from, natural wines and great hikes in the area!).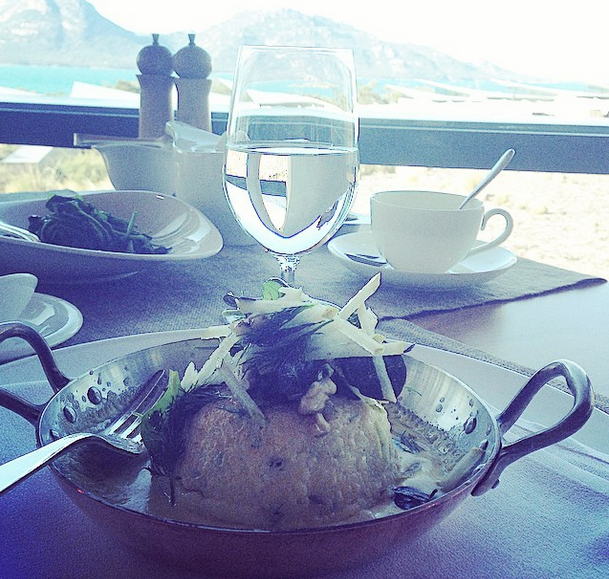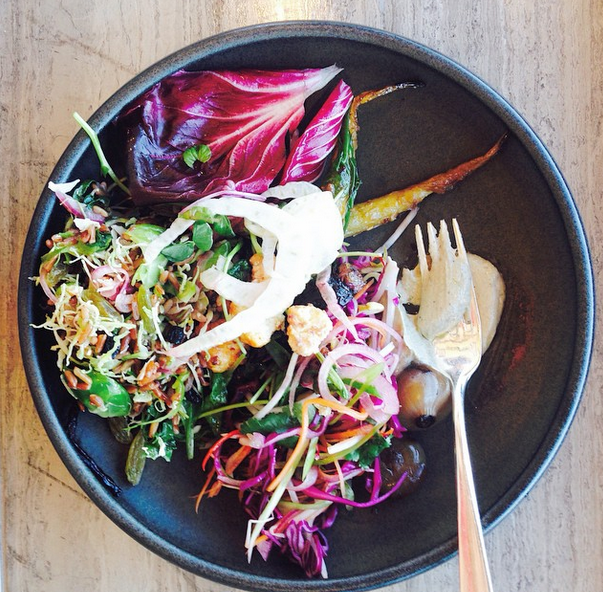 The third: Saffire is planted smack bang amid the beauty and fun. You can't get closer. You're in it. You can see the walks from the dining room and the private access to the water brings you out onto a most stunning beach – the kind you see on @earthpics on Instagram.
We had an amazing time here…we kept pinching ourselves…especially when we found ourselves truly relaxing. There were lots of little touches festooned upon us. These are the things that count. If you can treat yourself and your best buddy some time, do it.
Please note: I did this trip as a part-covered guest of Saffire, however, as always, views are all my own and I communicate this clearly to anyone wishing to host me. You'll find my position on sponsored posts and advertising here.
The Hazards Circuit Walk. A five-minute drive from Saffire (they'll shuttle you there and pick you up and supply packs and snacks), this walk took us about three hours, including a swim and nap on the rocks at Wine Glass Bay. It's a circuit route that takes you through varied terrain and up and down into little bays and mangrove pockets and then up big granite outcrops with views to forever.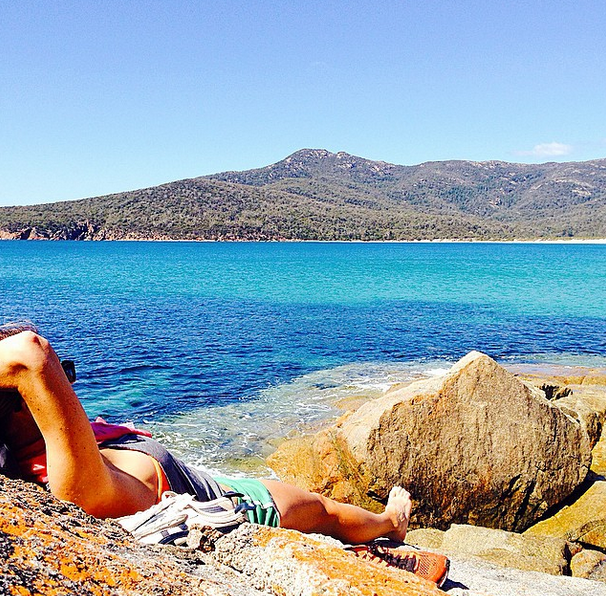 Mt Amos Hike. We did this at sunrise. We ambitiously thought it would be a walk in a (flattish) park. But we can now confirm: This walk is only for the experienced. There are several hairy bits, but the view is astonishing. Do it if your heart is not faint and you like an adventure.
Four days on the Apple Isle was almost enough…but I'm gagging to go back and explore Huon and central Tassie. Feel free to add your own Hobart and Freycinet and Tasmania slow food and hiking tips below…