I'm not sure if you're aware, but the canteen guidelines for schools around Australia are a shemozzle. I'm trying to change them, nationwide, starting in NSW, to reflect the Australian Dietary Guidelines. So our kids aren't left eating Paddlepops and Dim Sims for lunch. Jamie Parker MP, Ryan Parks MP, Dr Kieron Rooney and Rosemary Stanton are joining me in the fight.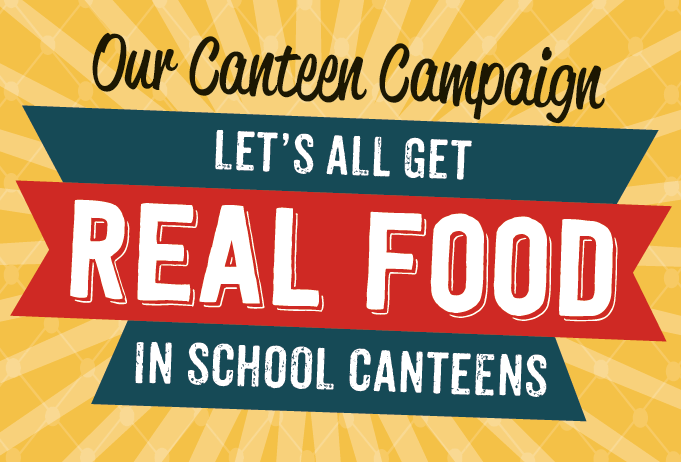 I'd love your help. Here's what you need to know…
The problem:
Current NSW government guidelines for school canteens are a complete mess. For example: Chocolate-flavoured low-fat milk has a "green" ("safe to be consumed daily") rating, while plain, full-fat milk has an amber rating and many schools ban it.
The guidelines are meant to reflect the 2013 Australian Dietary Guidelines. Instead, they contradict them. The Guidelines put sugar in the same category as salt, alcohol and saturated fat. Yet, canteens are able to serve unlimited sugar. For example: Chocolate-flavoured Tiny Teddies (35% sugar) and Paddlepops (20% sugar) are common canteen fare. Some school canteens only serve party pies and ice confections.
To top it off: The current canteen guidelines are not monitored. A Deakin University study found compliance as low as 5% in some states and in NSW – where guidelines are meant to be mandatory – less than 30%.
Our mission:
To get 10 000 hard copy original signatures so the issue can be officially presented to Parliament. Jamie Parker, MP for Balmain, will present the complete petition, which is also supported by NSW Shadow Minister for Education Ryan Park.
The petition calls for an open and public review of the current canteen guidelines to bring them in line with national and global recommendations, to reduce the consumption of added sugar and prioritise the long-term health of our kids.
How you can help:
1. Print off the petition here.
2. Hound friends and family for signatures. Take the forms to your kid's sports activities this weekend, or to Little Nippers and get people to sign while they're waiting around. A captive audience! Or drop forms at your local cafe – we did, and they're totally on board – and ask them to get people to sign while they're waiting for their coffee orders.
Also: Instagram or Facebook a photo of yourself and the form saying something like "I've signed the @iquitsugar canteen petition. Am getting mates to do same. Have you? Details at IQuitSugar.com #IQSCanteenCampaign". We'll be sharing some of these shots on our network.
3. Send it back (Reply Paid), details on the petition.
If you want to follow what we're doing over at I Quit Sugar, check out some of our posts on the topic: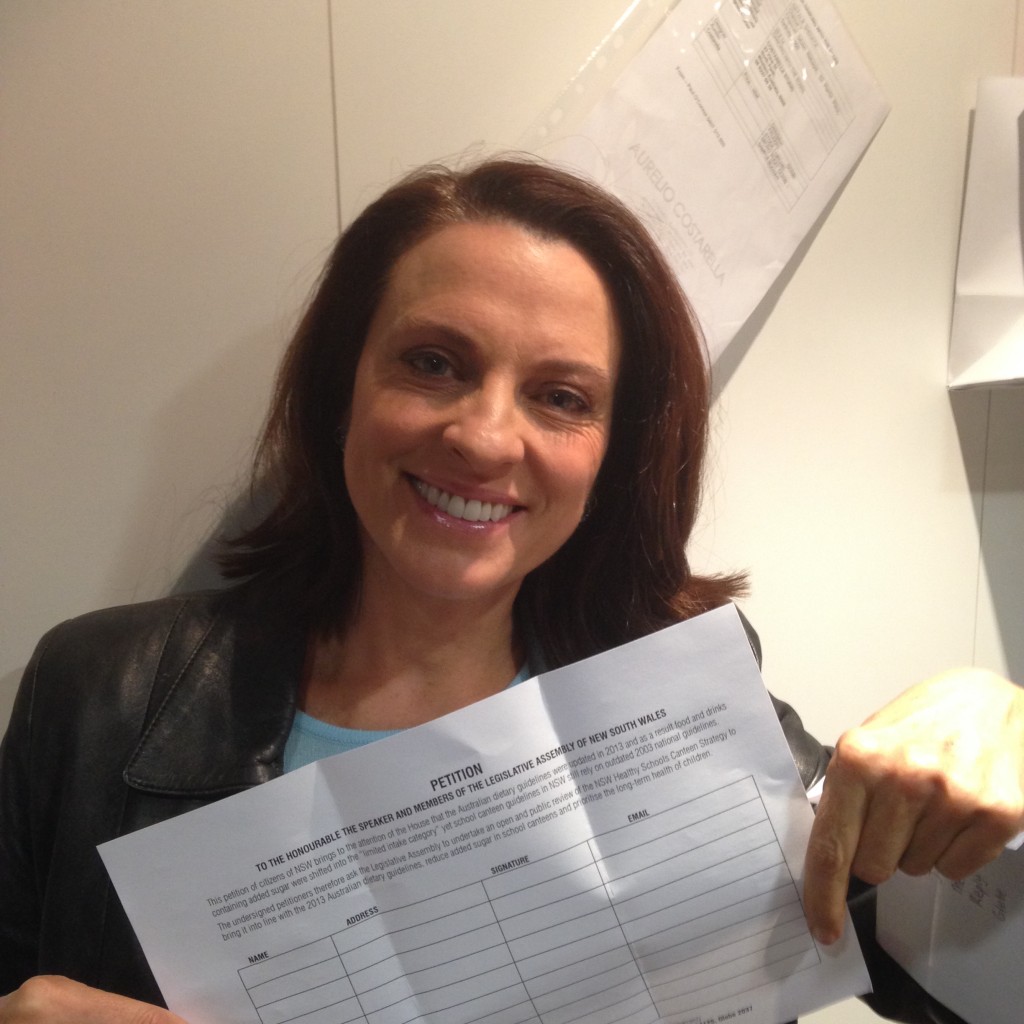 Got more questions? Here's some we get asked a lot.
How much sugar should kids be eating? The World Health Organisation's draft dietary guidelines advise kids should be eating no more than 3 teaspoons of sugar a day. These guidelines are based on the latest, independent and gold-standard science that shows this is as much as kids can handle before it impacts health and behaviour.
What is wrong with the current 'traffic light' system which school canteens follow? They don't match current Australian Dietary Guidelines which recognise that sugar needs to be limited.
Any other examples of parents getting mixed messages about their kids' eating? Yep, just visit a supermarket and check out all the labeling on foods designed for school lunches. Processed food companies are allowed to design their own "madeup" logo saying "Canteen approved" or "Lunchbox approved" and slap them on their products. No independent authority has approved these labels. But parents don't know this.
It should be about choice though? If we're talking about foods that are designed to be addictive and highly alluring (with multi-million dollar marketing campaigns behind them – read more here) then can we really say parents and kids are being faced with a simple, honest choice here? Any parent who tries to get their kid to eat an apple while there's a plate of lollies in front of them knows this. The feedback we're getting from the tens of thousands of parents, nutritionists, dieticians and scientists engaged with us on this is that parents are needing help to manage this situation.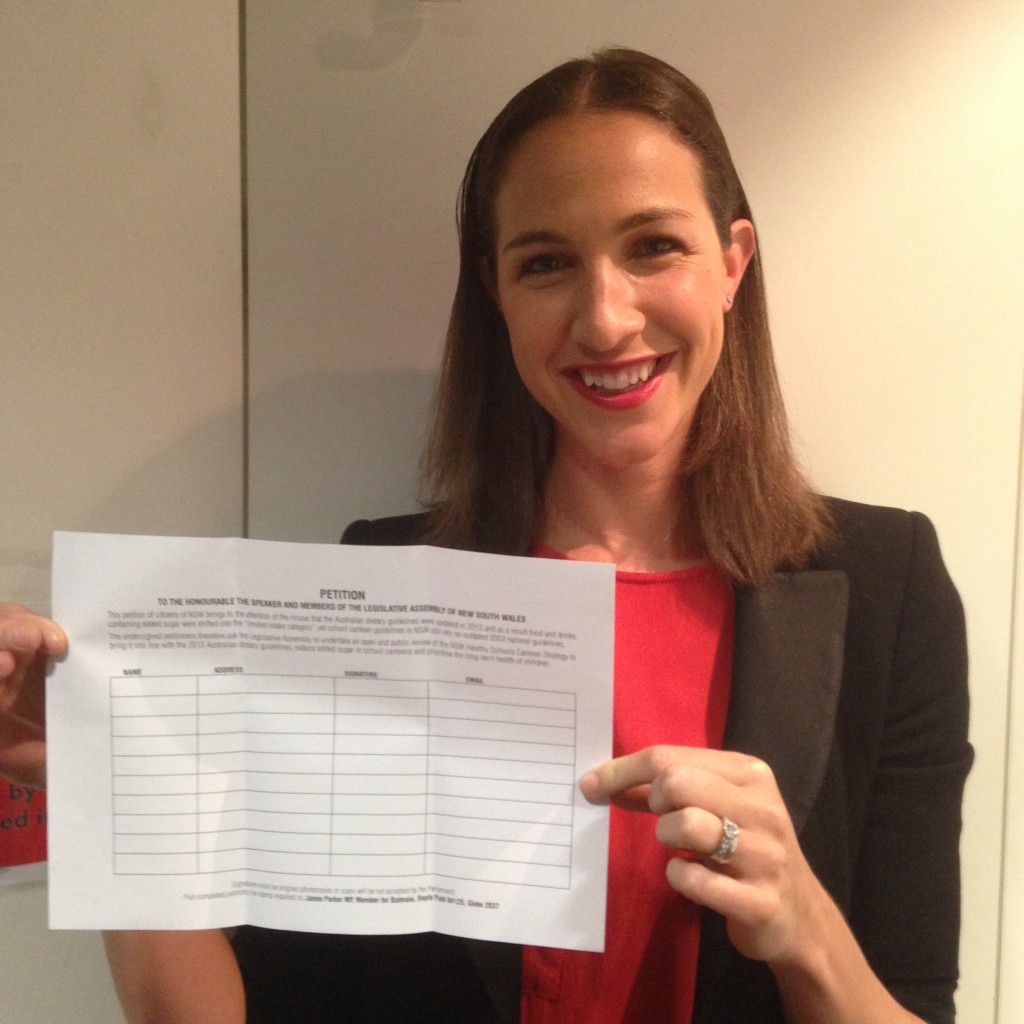 Are teachers supporting your campaign? Teachers are also calling for help managing what kids are eating – it's impacting how they're able to teach the kids in the classroom! Sometimes an issue becomes bigger and more important than the academic pursuit of "choice". Parents and teachers – and kids – deserve our help.
Do you think all sugary foods should be banned from school canteens? We think whole, real food should be served at canteens. Our aim is to nut out – with the leading dietary and school bodies in this country – how this is best orchestrated. However, it's best to avoid bans and restrictive thinking – it's not the way to go about things with kids.
What's so wrong with a Paddlepop occasionally anyway? There's nothing wrong with a Paddlepop as an occasional treat. But parents need to be supported in ensuring treats remain occasional and not a daily thing. Let's remember – we're talking about food served at schools as lunch. Treats should be something parents provide, not schools.
Have you already signed the petition? Got friends and family doing the same? Would love to hear your feedback below.