I'm not sure why it's taken me a while to do a post on coconut milk. It's simple stuff, a few bucks a pop and a super nutritious meal base.
But I know you'll have questions. Like…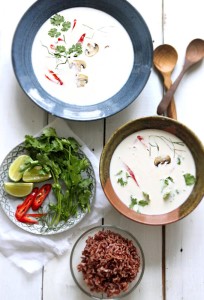 How much fructose is in coconut milk?
Not much; approximately 2-5 per cent. (Just make sure you buy unsweetened versions.) Both the milk and the cream contain fructans, made of a small chain of fructose. So if you're on a FODMAP diet, you'd want to steer clear of more than 1/2 cup of coconut milk or cream. You can read about fructose in coconut water as well.
Is coconut milk or coconut cream best?
Both are good. It's essentially the same thing, with more or less water. Both are made when the coconut flesh (the white part) is grated and soaked in hot water. The coconut cream rises to the top and can be skimmed off. The remaining liquid is squeezed through a cheesecloth to extract a white liquid – coconut milk.
What about the tins?
Well, there's always a risk of absorbing BPA when we're eating tinned food, so the goal is to minimise how much tinned food you consume. Or find brands of coconut milk with no BPA. Try AYAM, Honest to Goodness or Nakula in Australia. Or, even better, make your own! Here's an easy recipe from Wellness Mama.
How is it good for us?
Coconut milk contains lauric acid, which is converted in the body into a highly beneficial compound called monolaurin, an antiviral and antibacterial that destroys a wide variety of disease causing organisms. 
It's full of fibre – from the grated coconut flesh.
It's rich in minerals, giving you at least 10 per cent of your daily recommendation of iron, magnesium, phosphorus and manganese.
Its high manganese levels (87 per cent of your daily value) will also help maintain your blood sugar levels.
A cup of coconut milk can supply your body with nearly a quarter of your daily iron.
You can read more benefits here and here.
In my first book, I Quit Sugar, there's a simple recipe for one ingredient coconut ice cream.
In my second book, I Quit Sugar For Life, there's a recipe for coconut cream frosting.
And if you've got a can or two in your pantry, here's a coconut milk recipe to try.
The Best Coconut Soup, Ever
This recipe comes from Sarah at My New Roots, image above. It's a great way to use up coriander stalks.
Serves  4
2 cans coconut milk (400ml cans)
1 bunch coriander (this recipe uses 10 stems, the leaves reserved for garnish)
6-7 stalks lemongrass
3 shallots
2-4 bird's eye / Thai chilies (to your taste)
50g galangal root (or ginger)
12 kaffir lime leaves
generous handful of white button mushrooms, sliced
4 cloves garlic
juice of 3 limes
3 tablespoons fish sauce
about 1 cup water (depending on the consistency of the coconut milk)
Begin by preparing all the soup's ingredients. Wash the coriander well in a bowl full of water, swishing the greens and roots around until completely free of dirt. Remove the upper portion of the stems, and setting them aside for garnish – we just want to use the roots here. Cut the lemongrass off where the white base portion ends and discard the tops. Pound the lemongrass until they are cracked and open. Slice the shallots. Peel and cut the galangal into chunks and pound it until it releases a little liquid. Tear the lime leaves into smaller pieces. Slice the mushrooms. Peel and smash the garlic.
In a medium saucepan, place the coconut milk, coriander roots, lemongrass, shallots, chilli, galangal, lime leaves, and garlic. Bring to a very gentle simmer and cook for about 15 minutes, with a lid on.
Strain soup through a sieve into another saucepan. Discard all solids. Add the sliced mushrooms, limejuice, fish sauce, and water until it is the right consistency. You want the soup to be light, but still creamy – this is up to you. Bring soup up to a light simmer again just to cook the mushrooms slightly. Do not boil. Season to taste and serve immediately with coriander leaves, a slice of chilli, extra lime and thinly sliced lime leaves. Serve with rice, if desired.
Sarah's new book, My New Roots, is available for pre-order here. It features over 100 vegetarian dishes (mostly vegan), many are gluten-free and some are totally raw. The book includes really easy meals, to those that are more fun food "projects" that require fermentation and such.