Each year, Australians throw out $8 billion of edible food. National Leftovers Day is an initiative of FoodWise, DoSomething's national campaign to reduce the environmental impact of Australia's food consumption aims to change this for the better.
I LOVE coming up with clever ways to use up leftover food. I get pleasure from finding novel ways to stretch a chicken further. So here are some ideas I've come up with for your Christmas leftovers:
Bundle up leftovers and send care packages home with your Christmas guests.
Freeze single servings for when you just don't feel like cooking (and celebrate Christmas all over again!).
Strip the leftover meat from your chicken or turkey carcass and freeze it in 100gm portions for sandwiches or snacks. Or, make stock from the carcasses (add leftover onions, garlic, carrot, celery and herbs) and use the flesh and some fresh veggies to make Chicken soup.
Use leftover greens in smoothies to curb your post Christmas food hangover.
Make a frittata with leftover ham and roast veggies.
If you have leftover stuffing, cut thick pumpkin wedges, scoop out the seeds (dry roast these on a separate tray for a snack) and cook in a moderate oven until nearly soft. Scoop out most of the flesh, mix it with the stuffing until well combined and season to taste. Fill the pumpkin cavities with stuffing mixture, sprinkle with parmesan and some chilli flakes and bake for 20-30 minutes until browned.
Make a breakfast hash meal, throwing a bunch of leftovers in the pan and binding with some egg and avocado.
Add parmesan cheese rind to soup or stock, or when you're cooking risotto or rice. Be sure to pull it out before serving or blending.
Pour leftover wine (!?) and stock into ice-cube trays and freeze. Once frozen you can pop them out and store them in zip-lock bags.
Blend or mash leftover pumpkin to make a puree then add to piklets or muffins for the kids.
If you have leftover berries, make my Berry Omelette.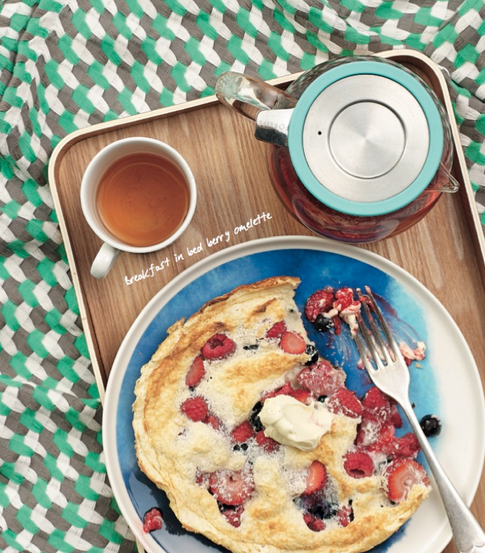 Berry Omelette
1-2 tablespoons rice malt syrup
4 eggs
1 tablespoons butter
1 cup mixed fresh berries
Separate the eggs and whisk the syrup and yolks with a stick blender. In a separate bowl, beat the egg whites until thick and fluffy, then fold into the yolk and syrup mixture.
Melt the butter in a 22cm omelette pan over low heat. Pour in the eggs and sprinkle the fruit over the top. Cook over low heat until the base is golden. Transfer the pan to your oven grill and brown very slightly. The omelette should be firm but a little creamy.
Serve with leftover cream.
Here are some more clever ways to use up your leftovers.