This is a new idea. Not complex. So let's see how it goes. You may remember this wonderful painting (below) I shared on New Years Day. My mate Paul from The Art Park in Byron Bay painted it. Paul is a talent. He used to do the poster art for 80s outfits (an 80s word?) like Beastie Boys and the like. We got talking one day about art and disadvantage – worldly things we're both passionate about – and decided, off the back of this chat, to auction this piece and donate the cash to a charity committed to balancing the life ledger.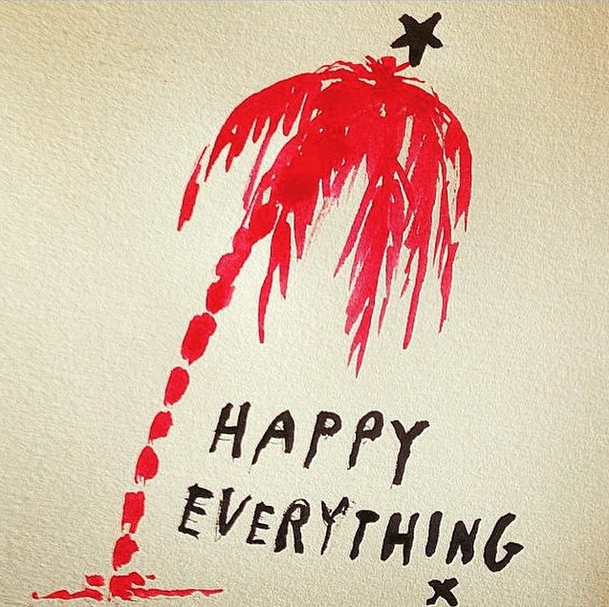 And so it was I stumbled upon The Inside Out Organic Soup Kitchen. Based in Sydney, IOOSK – as they're affectionately known – has been running since 2010. Their mission is to provide wholesome organic foods to those who need it most. They provide free organic meals each Wednesday night at St Canice's Kitchen in Kings Cross. But now, IOOSK is about to launch their IOOSK School for Young Mums with Red Cross – a program that teaches disadvantaged young mums the benefits of cooking good, wholesome food, and they are raising money to ensure that they can get it up and running. Which is where we step in.
If you would like to donate money to the program you can transfer money to the following account:
Account Name: St Canice's Kitchen
The BSB is 062 784. Account number: 535 5005
Please write in description – for Organic Soup Kitchen
This week I will be holding an Instagram auction to sell "Happy Everything" and donate the proceeds to the School for Young Mums.
Here's what you need to know:
The piece of art is 300 x 320 mm.
It's ink on watercolour paper.
RRP $400.
Bidding will start at $300.
The auction will take place from today on my Instagram account.
It will run from 8am (AEST) today until 9am Friday.
Bids are to be made in the comments below the image (on Instagram only, bids on the blog won't count).
Payment must be made within 24 hours of the auction ending or the artwork will go to the next highest bidder.
Auction is open worldwide and I will cover postage to ensure the total bid goes towards IOOSK.
Please share this with your family and friends. To follow Inside Out Organic Soup Kitchen on Facebook, go here.

And if you want to check out more of Paul's works, you'll find them here. Paul also does snap sales of his artwork via his Instagram page so visit him there if you're keen to check those out.