This post has been updated. It's become quite a story. Read to the bottom.
I was recently alerted to this Youtube clip by Kate McCartney and Kate McLennon – a two-chick comedy cooking spoof ensemble. It's friggen funny. And only made more funnier for me because it squarely takes the piss out of me, without being snarky. This is an art rarely exhibited today. My brothers have perfected the art of this over decades, so I know how to spot it when done well.
[youtube]https://www.youtube.com/watch?v=8UZJRR8OHhY&index=3&list=PLZFXeozdia12APH8n9xsVNhd5qallmrz2[/youtube]
Since this is my blog and I get to have at least a second last say, a few corrections for the two Kates:
* My "rich girl hair" (my God, it's true!) was smoothed and glossed by TV makeup artists over an exorbitant amount of time. Just to be clear. I wasn't born with it. Nor a silver spoon (my chip on my shoulder needed to add this one). The photos you use on your shrine to me are from a TV show I did a while back called (have fun with this one!) Eat Yourself Sexy.
* My saccharin smile shits me too. But I find displaying it on publicity shoots maketh for a fast shoot.
* I don't really like quinoa either.
* I hope cancer can be cured by masturbation.
* I. Eat. Fruit. It seems to be something everyone loves to get wrong. But, with my permission, fresh from your shrine, go eat your peach.
* I drink alcohol. Most nights. And don't advise against it. (But moderation kids!)
* Oh, and not to get too tetchy…I was never sacked from a TV show. TV people rarely are. You're pushed into a corner until you either become a smaller person and do what they say or you explode out of the space ranting and flipping birds (internally, so as to not draw the attention of gossip page writers).
* The mason jar and loose up-knots are my favourite touches.
* I still have my personality. Again, that chip talking.
* To answer your question: I hope to die anywhere but on a toilet.
Updated: But it all gets better. This interaction has become a news story with some really lovely dialogue and good humour. Media can get wonderful when it truly connects. (Although Mamamia picked up on it and got snarky, sadly; The Vine, Business Insider and Daily Mail curiously all decided to run stories in the wake of my post on The Katering Show and how it "throws foodie trends under the bus"). The Sydney Morning Herald got the vibe right, contacting the two Kate's for their comment-in-response.  Here it is.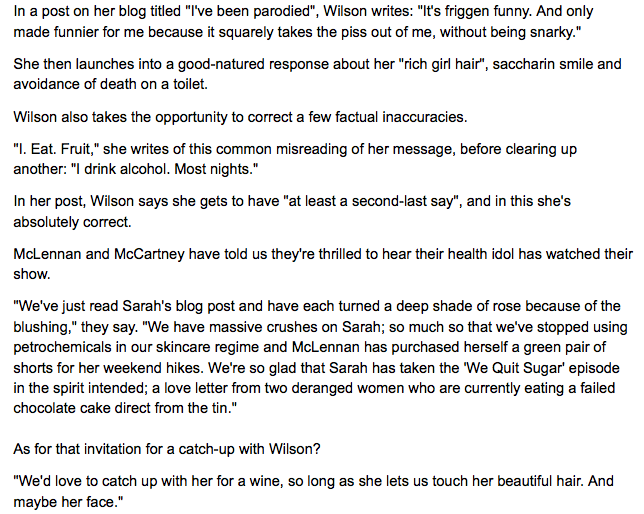 PS Kate n Kate…let's catch up some time. I'll bring wine. Updated in light of the above: Offer still on Kates. My hair is shorter now, and scruffier. If that makes a difference.