You've probably heard of kombucha by now, the fizzy, fermented, gut-healing tea. If you haven't had a go at making it yet, here's my complete DIY guide to everyone's favourite gut health tonic. It's simple, cheap and you can get creative with flavour combinations. I bring some unique tricks to my kombucha approach, too, you'll see below.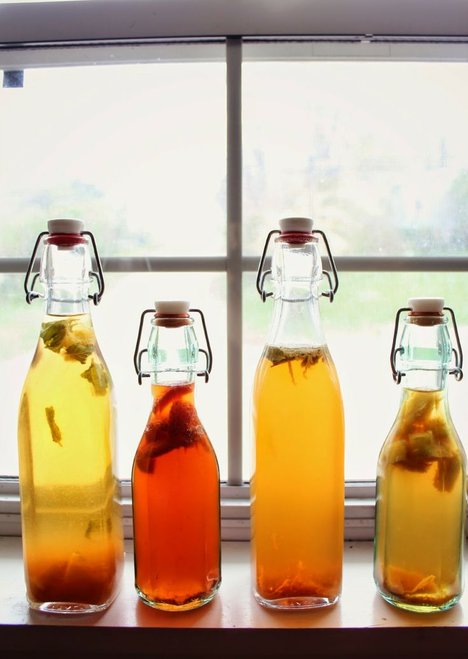 The basics
Check out how to make (almost sugar-free) fermented kombucha and find out why your gut needs you to add kombucha to your wellness routine.
Or, how about my fructose-free kombucha, fermented with rice malt syrup instead of sugar. It takes a little longer to do the trick, and produces a slightly more tart tea, but I much prefer it to the original.
The fun stuff
Once you've completed the initial ferment and removed the SCOBY, you can add whatever extras you like to the brew. Feel free to experiment wildly, or take inspiration from what I have learned in my obsession with this gut-healing regime.
Pimp your kombucha. Here are 11 interesting ways to pimp your kombucha.
Add fruit. My strawberry and vanilla kombucha is a favourite flavour combination. When fruit is added, the sugar from the fruit feeds the yeast in the second ferment, so again, very little sugar remains.
Add warming spices. Make my winter friendly fructose-free chai kombucha with cinnamon and cloves.
Have you discovered a winning kombucha flavour? Feel free to share in the comments below.