I've been obsessively experimenting with fermenting projects at home for a while now. Did you have a go at making kombucha? Like the idea of glass jars brimful of bacteria filling up your kitchen and healing your gut? Look no further. Today, a compilation of my favourite fermented beverage recipes. (And here's my favourite fermented veggie recipes too… just to really keep everything in one place!)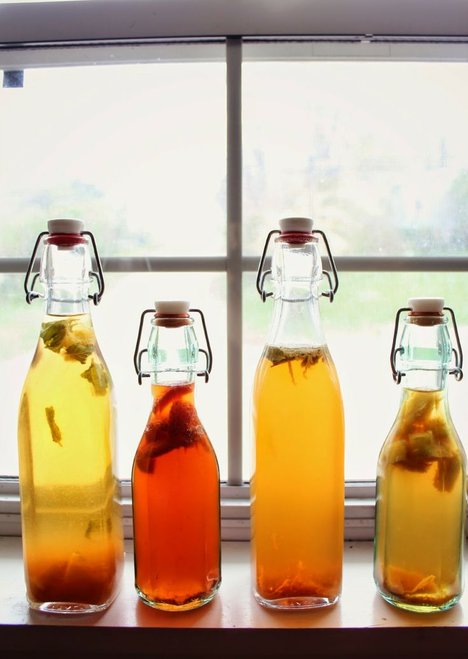 Kombucha. A few week's back I shared my complete kombucha kit. Everyone's favourite gut-health tonic, kombucha is easily made and you can have fun playing around with different flavour combinations too.
Fermented Ginger-ade Soda. Gone sugar free, but crave a "sweet" soft drink/soda especially on hot days? Want a healthy drink to give the kids? Need more electrolytes? My fermented ginger-ade soda ticks all the boxes.
Fermented Turmeric Tonic. This fermented turmeric tonic is bound to pacify pain and cool angry inflammation. Perfect for the inflamed, auto-immune, gut-compromised soul. It also happens to be a great way to get your daily dose of fermented turmeric.
Beet and Turmeric Kvass. A traditional Ukrainian drink, beet kvass is fermented with Lactobacillus bacteria and is a pink probiotic powerhouse punch with a slightly rustic, earthy flavour. My gutsiest guru, Sally Fallon, says: "One 120mls glass, morning and night, is an excellent blood tonic, cleanses the liver and is a good treatment for kidney stones and other ailments."
What's your favourite fermented drink to whip up at home? Please share in the comments below.