Funny moments, like sad songs, say so much. But really only when you're still enough to notice the wonderful connect. In fact, humour, wryness, irony and calamitous coincidence are mostly joyful by virtue of the fact that we're ensconced in stillness when we notice it (and can only notice it when still).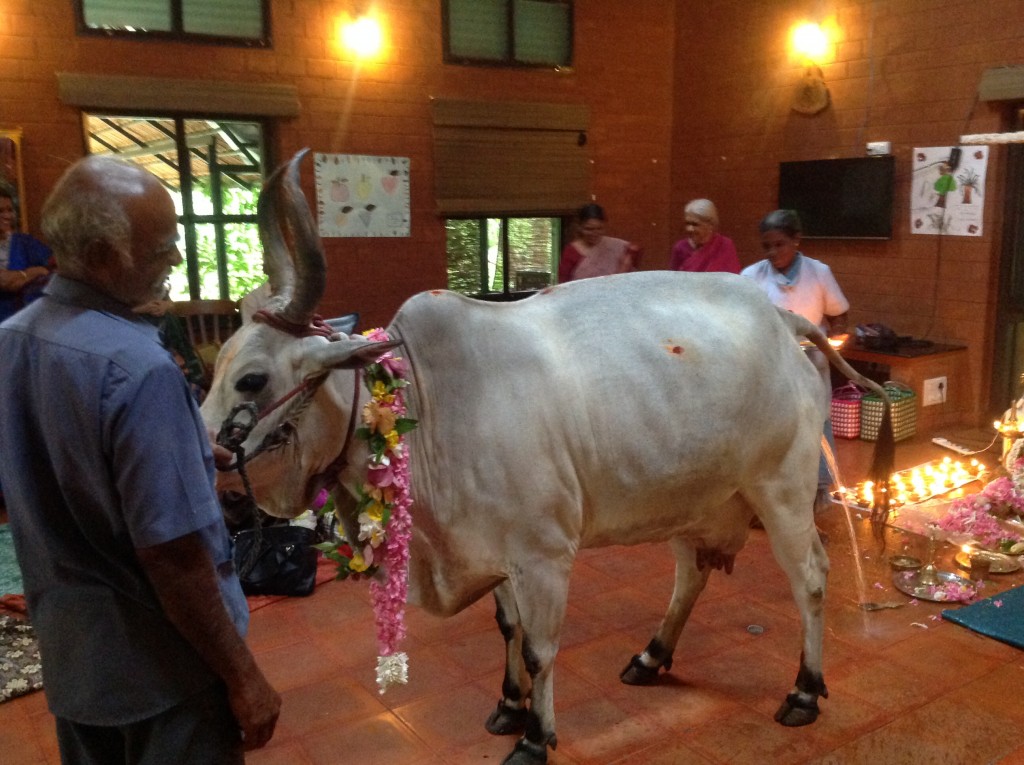 Here's two you might like to get still with from my India stay:
1. The Perfect Cow Puja
One day we did a nine-hour cow puja. This entailed eight hours of chanting and adding flowers to an elaborate shrine of candles and gaudiness from 8am until the climax when the big old cow, that's been waiting outside chewing cud, is led inside to the mud-brick meditation room. It's positioned, with a fair bit of fuss and opining from all involved, to face east with its back to the shrine, its docile face to us. You get the picture. If not, you will have from the photo above.
And. Then.
The blessed cow pissed all over the shrine – the flowers, candles, the guru dude sitting cross-legged on the floor – in this defiant projectile stream backwards. As captured here.
The timing, it was perfect, divine, a lesson. A lesson in what? In finding all coincidences and divine timings hilarious. The chanters did.
2. The beetle and his dog poo
One day (about Day 17 in my confinement) I sat on a bench. The monsoonal rain had abated. I noticed a dog turd on the path in front of me rolling uphill. I looked closer. A beetle the size of a ladybird was, yes, pushing the dried shit uphill. With his hind legs. There wasn't much more to say. So I sat and watched it for an hour, fascinated by how OK with the fruitless task the little beetle seemed to be, and reflected on the perfection of it. And the shit I was pushing uphill. And how my tendency to push shit up hill is really quite OK. And funny.
I filmed the experience. Feel free to watch the little bug push shit uphill yourselves.
[vimeo]https://vimeo.com/134379065[/vimeo]
Anyone who's been to India, I think, knows that the whole experience is a cascade of confronting but funny lessons. Agree?