I gravitate to reads about walking. Especially those that extrapolate the connection between mindful reflection and walking. Hence today's review of What I've Just Finished Reading.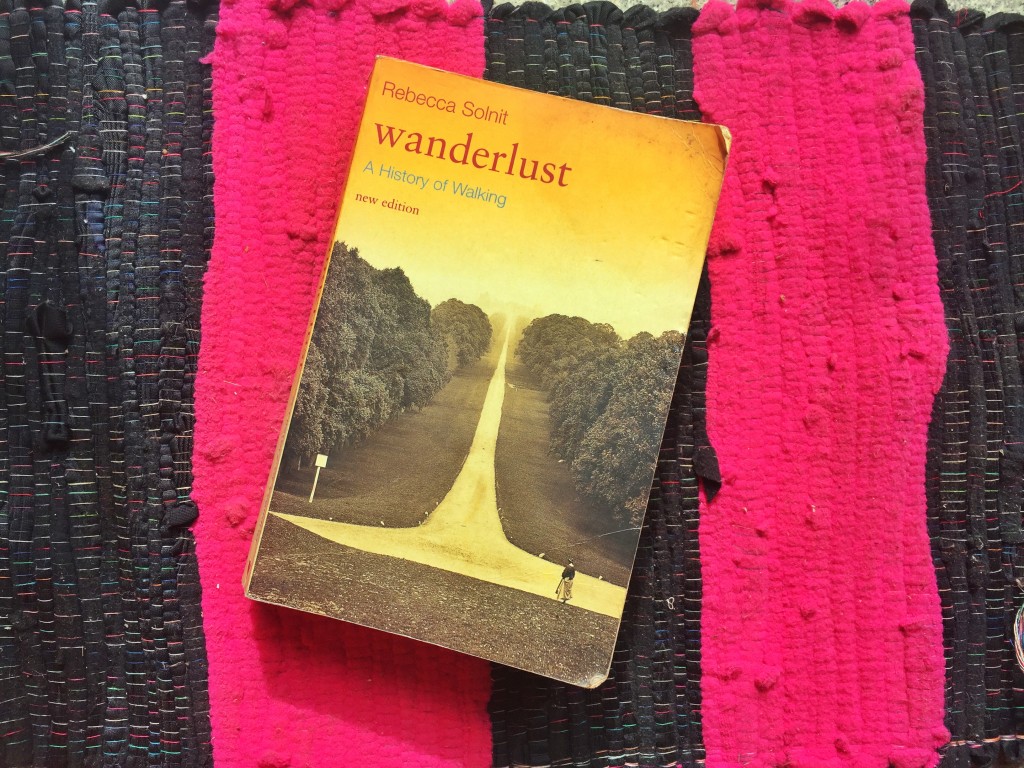 Background to why I read this book: Walking and reflection sustain me through my angst and anxiety. My current theory:
Walking works to the same pace as reflection, thus the former ekes out the latter.
So much in life works too fast for discerning reflection. Most of what we do frazzles us. Walking brings us back to a dignified, even, expansive space.
Hand-writing (journal writing) does the same.
US-based writer Rebecca Solnit touches on these themes in her dense and often feminist treatise on the purposeful stroll. Nicely, I read it during my clinic stay in India, which prescribed no movement apart from a little gentle walking. I found the book in the clinic "library". Of course I did. It was exactly what I needed to read. Life works like that.
The gist you need to know about: Wanderlust is a series of essays that esoterically explores random walking themes that take Solnit's fancy. As she puts it, Wanderlust is "an idiosyncratic path traced … by one walker, with much doubling back and looking around". I like this. I like the fact she gently posits things she finds interesting. It's not a "kitchen sink" dump. Much like walking, it exposes you to what you need right now.
It's a dense read and requires intellectual stillness and fortitude to get through the academic-speak (it ricocheted me back to my German existential lectures in university). Which, is all perfectly consistent with the book's real achievement – to encourage us all to draw down into more stillness and fortitude.
My current theory on this: We need to proactively find more ways to bring us back to ourselves.
A few quotes:
"Walking is a mode of making the world as well as being in it."
and
"Walking is how the body measures itself against the earth."
My favourite bit:
I liked learning about how Søren Kierkegaard's writing was influenced by his walking around Copenhagen and William Wordsworth's around Lake District. And how Walter Benjamin pivots his thinking from his flanneries through Paris. I liked how the whole experience of reading her carefully-placed words got the oft-dormant discerning mind ticking over calmly, like walking does (when feet are carefully placed).
And I liked this angle: that the solitary walker is both in the world (engaged) but also apart from it (got fresh eyes), with the detachment of the traveller, rather than the ties of the worker or member of a group. It kind of sums up my relationship with place and home and freedom and life purpose.
You read it? Liked it? Keen for me to make this kind of "What's on my bookshelf" review a regular thing? Lemme know…