I love seeing meals regenerated from leftovers, cupboard essentials or any scraggy-looking veggies. My new book I Quit Sugar: Simplicious is  dedicated to the art of creating these kind of meals. I call it "perpetual cooking" (a meal should have no start and no end; it keeps going and going). My old mate Anthea Loucas and brilliantly talented editor of Gourmet Traveller magazine gets the gist. She made a torta out of her leftovers last night and shared it on Instagram.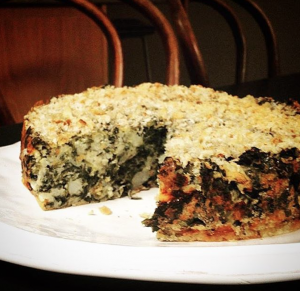 She calls it The Green Power and it uses up hand-picked greens from the back of her fridge. I asked Anthea if she wouldn't mind sharing her recipe with you folk. She kindly has.
Anthea's Green Power Torta
1 kg silverbeet, mustard greens and rocket
3 potatoes
3 eggs
3 cloves garlic (crushed/chopped)
1 onion
1 teaspoon olive oil
1 tablespoon dried chilli flakes
1 lemon rind
sprigs of dill, parsley, and thyme to taste
few grates of nutmeg
handful crumbed fetta
handful breadcrumbs
Blanch silver beet, mustard greens and rocket (any mix of each is fine), cool and squeeze out any moisture and chop finely [or use leftover cooked greens from last night's dinner, or parcooked'n'frozen greens from your freezer – Sarah]. Cook potatoes in salted boiling water. Peel and mash, then set aside [or use leftover mash; see my post on the gut-giving benefits of cooked and cooled and cooked again potato – Sarah]. Cook onion and garlic in olive oil until soft. Add chilli and greens mixture. Toss. In a mixing bowl, add greens mixture, plus potatoes, eggs, lemon rind, herbs, nutmeg and feta. Put into a greased 22.5 cm spring form tin, add a handful of breadcrumbs, a drizzle of olive oil and cook at 180 C for 50 mins approx.
Keep in mind there's no real ingredient specifics here… so no need to run to the supermarket for or potato or some nutmeg. Just use up what you have!
Feel free to share your leftovers ideas with me here or on my instagram. I'll be sure to share.