This jerky recipe from I Quit Sugar: SIMPLICIOUS is seriously easy to make and will leave you feeling a little bit "frontier". It's great for lunchboxes. I fiddled around with this recipe to get a smoky-sweet vibe.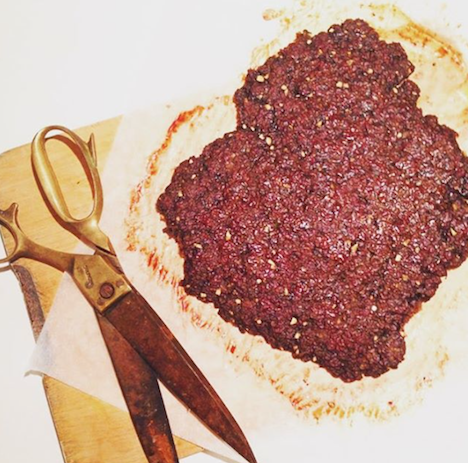 The image above is a photo I took while developing the recipe, my old sewing sheers that have become my kitchen scissors padding things out. Yes, it may not be the prettiest thing I've made, but that's not what this recipe is all about. Trust me, it tastes better than the real thing and beats paying a ton for store-bought stuff! My beef jerky costs just $8 for 700g. For the same amount, store-bought, you're looking at $60. Yep.
Some meaty bits to know…
* I use mince to make this – cheap, accessible, easy to blend flavour in.
* Beef mince is best, ensure it's lean in just this instance!
* Don't worry if your oven doesn't go as low as 70 C. That's dandy, but note the different cooking time.
And while you're at it…
You can also make the Good For Your Guts Garlic recipe (also from Simplicious, which you can find here or at all bookstores) while you've got the oven down this low, so long as you don't mind the meaty flavour. Or make the Homemade Bacon! I encourage readers of my book to multi-purpose an oven that's left on for a while.
Some Beefin' Good Jerky
1 kg beef mince meat
1 ½ teaspoons sea salt
½ teaspoon black pepper
1 teaspoon garlic powder (or 3 cloves garlic, finely minced)
1 teaspoon ground cumin
1 teaspoon smoked paprika
Preheat the oven to 70 C and line two baking trays with baking paper. Use your hands and mix all the ingredients together in a big bowl. Take half the mixture and press it out on the first tray to 5 mm thick (use a rolling pin or bottle). You can work to a neat rectangle (though I like to keep it an organic shape and then break it into shards later). Repeat with the rest of the mixture on the second tray.
Dry for 6 hours in the oven (about 4 hours if using a 90 C oven), pouring the juices into a jug every hour or so. (Keep the jug in the fridge – you can pour it into an icecube tray and freeze for later).
Flip the jerky in the final hour. The stuff is done when you break off a piece, let it cool and it no longer leaks any moisture when squeezed.
Once done, allow the jerky to cool completely on a wire rack, then snap into shards (or cut with scissors) and store in an airtight container in the fridge for up to 2 months.
Have you tried making this jerky? How does it compare to store bought?