Some seriously inspiring Simplicious flow for a Tuesday! Elise at Healthy Family 5 is one of the ambassadors over at the I Quit Sugar 8-Week Program. As you might have guessed, there's five in her family, which is why her latest feat is so inspiring. Check this shit out!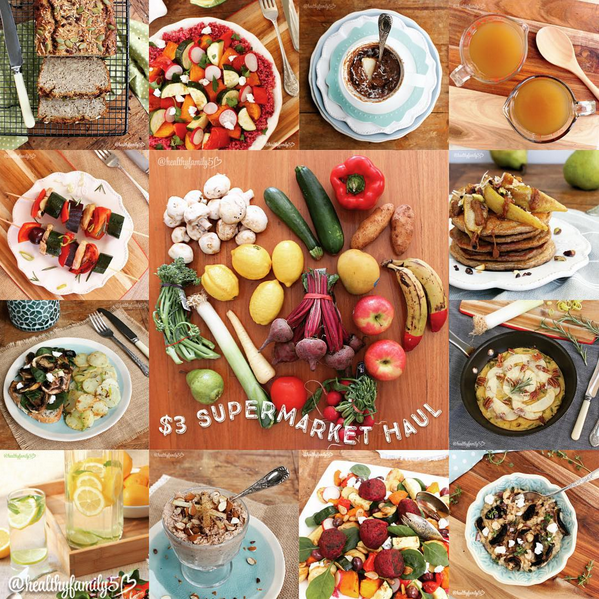 She cooked 10 meals for five people from a $3 supermarket haul.

Elise says:
My local supermarket occasionally sell their "ugly" fruit and veggies for $3 a bag and I just happened to be there when this happened recently. So I challenged myself to make as many meals as I could based on that $3 bag. 
So here's the wrap up, 10 meals and vegetable stock from my $3 supermarket haul. Except for the purchase of chickpea flour for the socca, all meals were made modifying recipes to use items from my pantry and the $3 bag. 
From left going clockwise:

1. Not Quite Banana Bread using the bananas, mango and parsnip (recipe from I Quit Sugar: Simplicious). 
2. Roasted Beetroot, capsicum and zucchini, sliced radish and quinoa salad dressed with a squeeze of lemon.
3. Choc Ginger and Pear Muggin (recipe from Simplicious). 
4. Vegetable Stock – thank you Matt for the suggestion [Matt is our IQS 8-Week Program Coordinator here at IQS HQ. – Sarah]. 
5. Pancakes with caramelised pear.
6. Caramelised Leek, Apple and Rosemary Socca (recipe from Simplicious).
7. Mushroom, thyme and Hazelnut Porridge (recipe from Simplicious).
8. Beetroot & feta balls, based on the BLATT burger patty from the IQS 8-Week Program, added to a roasted vegetable salad.
9. Overnight Apple Pie oats with cinnamon.
10. Lemon water
11. Mushrooms on sourdough with pan fried sliced potatoes.
12. Grilled Beetroot, capsicum, tomato, mushroom and zucchini kebabs. 

Elise adds, "Any scraps not suitable for meals or the vegetable stock went into my compost."
My friends, this is EXACTLY what I aspire to encourage everyone to do. I don't start and finish with one recipe. A meal never should. It should keep going and going – a perpetual recipe – the juices, scraps and leftovers all repurposed into further meals, creating a simple flow where we use every last bit of every ingredient.
Once you start, it's really rather elegant and fun.
How do you flow in the kitchen? Anything you can teach me?