My lovely friend Clare Press, Marie Claire Australia's fashion editor-at-large, has written a book called Wardrobe Crisis. It's about ethical fashion, which, Clare says we often treat as an oxymoron, like "diet butter" or "paid volunteer".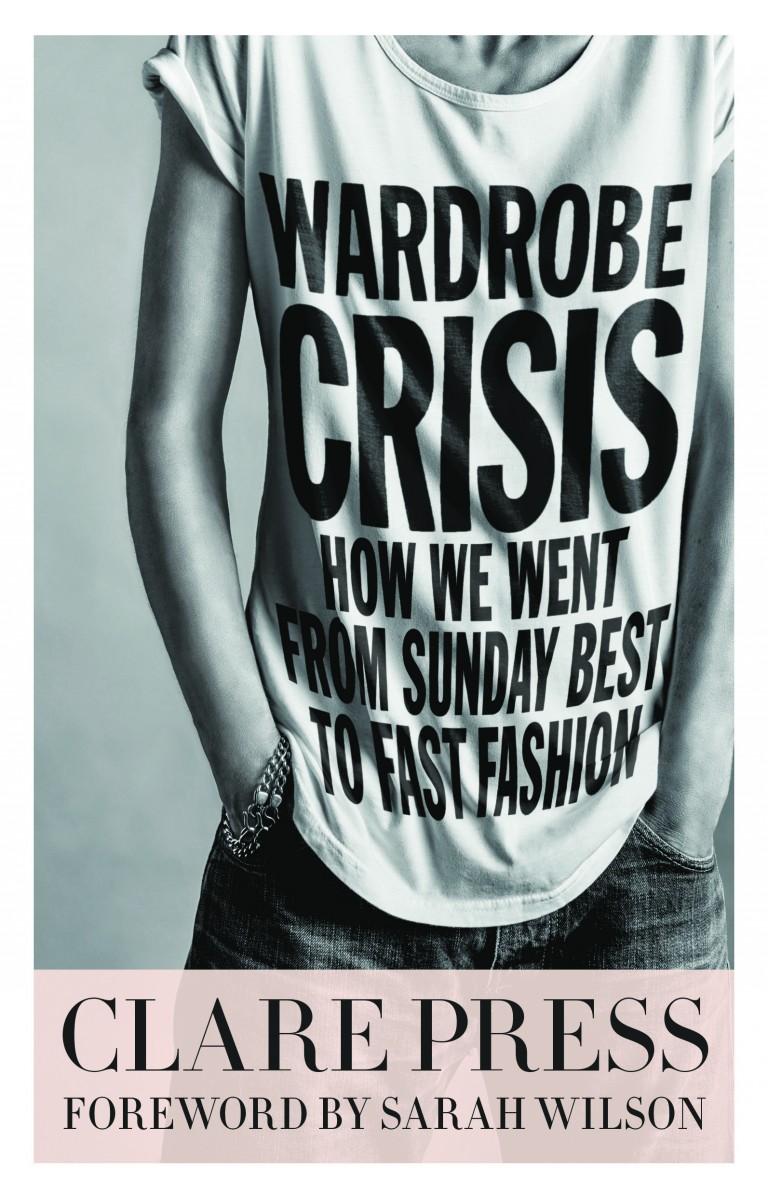 Clare raises stuff we need to know, like: conventional cotton farming accounts for 25 per cent of the world's pesticides use, leather tanneries in unregulated countries pump out wastewater full of heavy metals, the dyeing of denim turns rivers blue, and it's not unusual for factories to incinerate excess fabric or garments that are surplus to sales.
She writes a chapter about my green shorts and my practice of not going to the shops for up to 13 months at a time.
I loved the concept (of a book on all this). I wrote the forward. Then asked Clare if she could share her favourite tips for being sustainably fashionable.
Over to you Presso…
A recent survey found that American women regularly wear just 10 per cent of the clothes they own, yet when confronted by a crazy mess in their wardrobes, more than 60 per cent suspect the answer is to buy more. I'm sure it's a similar story for Aussie women.
Here's a revolutionary idea: how about we stop buying clothes on a whim, and start buying them thoughtfully, carefully, even with a bit of reverence. Here's a few pointers:
People in 88 countries got behind the recent Fashion Revolution campaign, which aims to bring everyone in the fashion value chain together and "help to raise awareness of the true cost of fashion, show the world that change is possible, and celebrate all those involved in creating a more sustainable future".
It's tough stuff to stomach. But good tough. Because now you know.
I'm arguing for a rethink, perhaps even a direct switch, of the terms "cheap" and "expensive". I always scratch my head when I hear people say they "can't afford expensive clothes," before they go out and buy a whole bunch of cheap fast fashion. To them, I say this: 4 x crappy cheap tops adds up to 1 x decent "expensive" one. How many do you need? You do the math.
3. Hire a one-off dress at Her Wardrobe.

Australians dispatch $500 million worth of clothing to the tip each year. Not good. Buy things designed to last. Repair special clothes and accessories that wear out. If you need a dress to wear once, consider borrowing it from a friend, or hiring it from a service like Her Wardrobe.
4. Swap, sell, donate.
When do tire of a good quality fashion piece, launder it carefully and donate it to charity. You can pass great office clothes on to Fitted For Work to help women prepare for job interviews. Want to on-sell designer pieces? Consignment stores, eBay and markets are your friends. Clothes swaps offer guilt-free fun – check out The Clothing Exchange for events in Melbourne and Sydney, or organise your own.
5. Support these brands:
For special stuff, I'm a fan of Italian brand Stella Jean and New York labels Maiyet and Suno, which all have good ethics in their DNA. If I won the lotto I'd invest in a dress by Duro Oluwo. For more accessible prices, try UK brand People Tree. Locally, Celeste Tesoriero and KitX both care deeply about sustainability, Bassike uses 100% organic cotton for their T-shirts, which are made in Australia. Carlie Ballard's beautiful collections are made by an ethical workshop in India. I like Stella McCartney's ideas around trying to be more sustainable every day – she knows she's not perfect, but she's giving it a red hot go.
The Good On You app is free, and easy to use. You can search by brand, store or category (e.g. jeans), to find out how brands rate when it comes to labour, the environment and their treatment of animals.
7. Buy organic cotton only!

Organic cotton means better health for farmers and the land, and for you too. Enough said.
8. Detox your leather…with sneaks from TOMS.

There's organic leather too, although it's not common. While traditional tanning methods use plant-derived tannins, most leather today is chromium tanned. In Europe they tend to recycle these toxic heavy metals but in poorer countries like Bangladesh they're routinely dumped in the rivers. Consider the origins of your leather, choose "natural" (undyed) and "vegetable tanned" where available. Or switch to canvas – that's what shoe brand TOMS uses to make their popular slip-ons, and for every pair sold, they donate a pair to a person in need.
9. Buy "water-less" jeans.
There's some very clever technology currently greening up the denim industry, reducing the amount of water used in the jeans manufacturing processes, and replacing bad old sandblasting with good new laser distressing. Try Levi's Water<Less and Nudie for a start. There's a chapter on denim in my book. Did someone mention my book? Warning, shameless plug ahead…
If you love real paper books, buy it from you local bookstore, and when you've finished it, pass it on to a friend.
It's also available as an ebook, or you can reserve it from your local library (I LOVE libraries).
Let me know what you think of it on Insta and Twitter @mrspress.
Anyone want to share some other ethical/sustainable fashion tips, or ask Clare some questions below?