Yesterday I shared the gist of what kitcheri is all about. Now, here's the recipe I work to, which keeps it as simple as possible.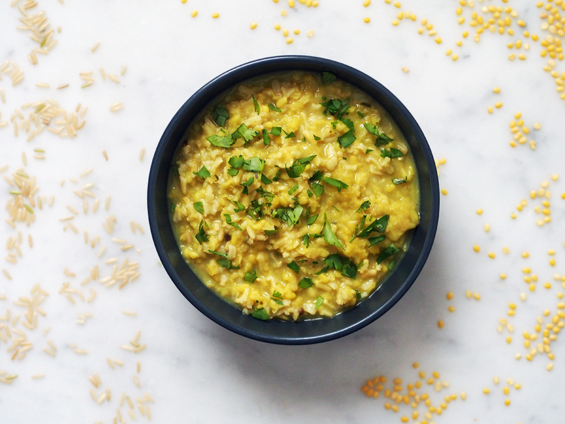 I also have a Nourishing Kitcheri recipe in I Quit Sugar For Life and an Inside-Out Sprouted Kitcheri Loaf inSimplicious. I've also shared the whole deal with Ayurveda healing. And written a post detailing my experience at an Indian clinic.
My Simplicious Kitcheri
1 cup white basmati rice
1 cup of split mung dhal – yellow or green
1 tbls of ghee
1 tbls of Panch Phora spice mix (or mix equal parts fennel seeds, cumin seeds, fenugreek and mustard seeds
8 curry leaves
1 tbls of grated fresh turmeric or 1 tsp of turmeric powder
very big grind of black pepper
½ tsp Asafetida
6 cups of water, boiling
3-4 cups of diced vegetables (zucchini, sweet potato, carrot) or silverbeet. But only choose 1-2 varieties, not all four at once.
1 bunch fresh coriander, chopped
juice of half a lemon or lime
salt and pepper to taste
Soak the rice and mung for 2-plus hours (overnight is cool).
In a big pot heat the ghee over a medium-hot heat and add the Panch Phora. Cook until the mustard seeds start to pop, then add curry leaves, turmeric, pepper, Asafetida and the chopped stalks of the coriander. Stir for a minute or so. Add the drained rice and mung and stir to coat.
Pour over the water. Once boiling, reduce to a simmer and cover. After about 20 minutes add the veggies. Cook for another 10-20 minutes until everything is soft and porridge-y.
To serve, season with salt and pepper, fresh coriander, heaps of lemon or lime juice and a spoon of ghee.
Tried it? Your thoughts?