Two months back I found myself in Symi, a small Dodecanese island near Turkey, via the kindness of a stranger.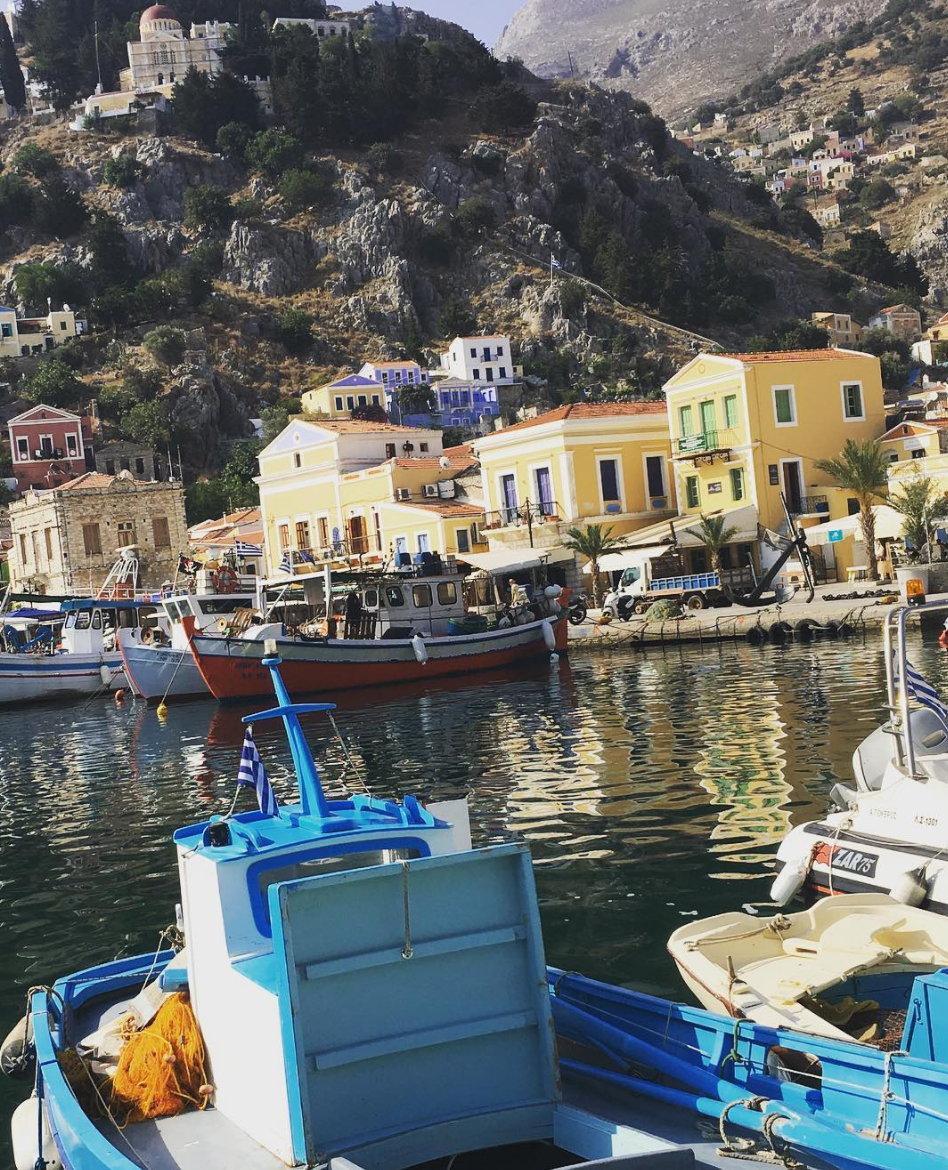 Sinead of @seasoulandsnow reached out on Instagram when she saw I was in Rhodes (how I wound up in Rhodes is a less pretty story). She offered me her holiday home in Symi as she had sensed I was having a pretty rough trot (the unpretty story). She's never met me. She simply cared.
I was (having a rough trot) and so I took the opportunity. Because sometimes it pays to just go where the invitation leads you. And be vulnerable and in need.
I'm supremely glad I did. The place healed me no end. Symi is a truly special place where tourism hasn't mucked with its spirit. There is a distinct sleepy fishing village vibe to the joint. Tour boats arrive from Rhodes during the day and it's a mooring for the bareboating set. But in the evenings, the place is mostly filled with locals.
Let's keep things to the point with this guide. To highlights only.
As with all these guides, I provide information on the stuff I love – the best local, authentic, slow food experiences and hiking ideas. I pretty much only travel to locales that offer these things. I'm a fastidious researcher and feel compelled to ensure the ridiculous lengths taken to find the best experiences wherever I go comes to something.
Where to eat
In the main port…
Trawler's Taverna
…for pork and coriander, superb horta and moussaka and for Nikos' care. The oldest restaurant on the island and seemingly where most of the locals eat.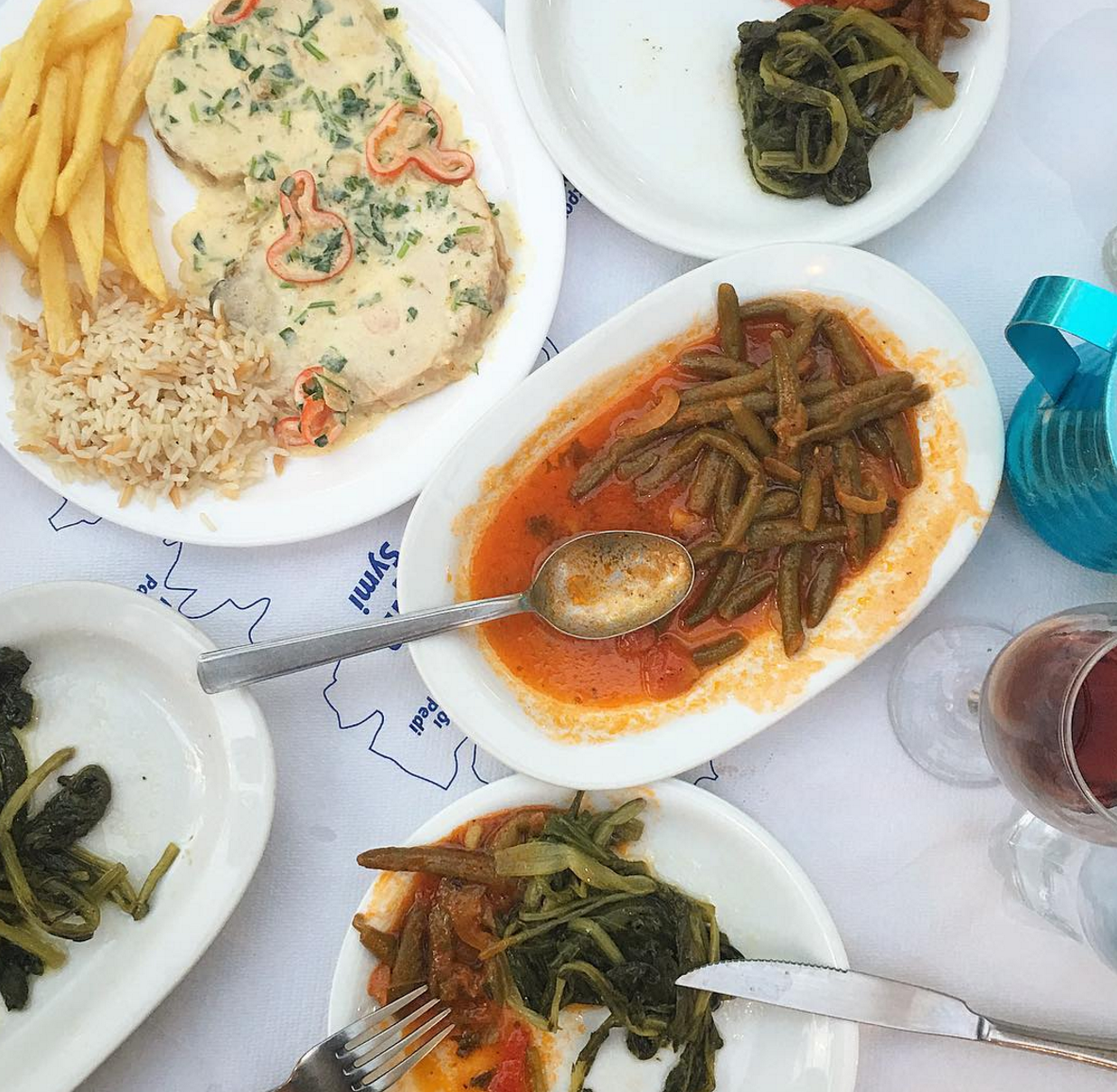 Tholos
Find it on a five-minute walk around towards Nos beach. Go here when you tire of the basic Greek fare (I don't tend to, but you might). They add a delicate dash of something different without getting whacky. Actually, the delicacy and cleverness of the dishes is incredibly impressive. Some of the best Greek food I've eaten, to be frank. Think marinated octopus and stuffed courgettes. Nothing new, but the mix of the spices was.
Manos
A busy joint that seems to be the blockbuster place to go to for flashy seafood offerings. It seems to have a good reputation with the boat-y set. And the walls near the loo are covered in social page clippings from decades ago of Sarah Jessica Parker and other celebs hugging the owner. We ate a big mixed grill platter, including scorpion fish. The staff certainly knew their seafood stuff and were a lot of fun. The best value on the island? I doubt it.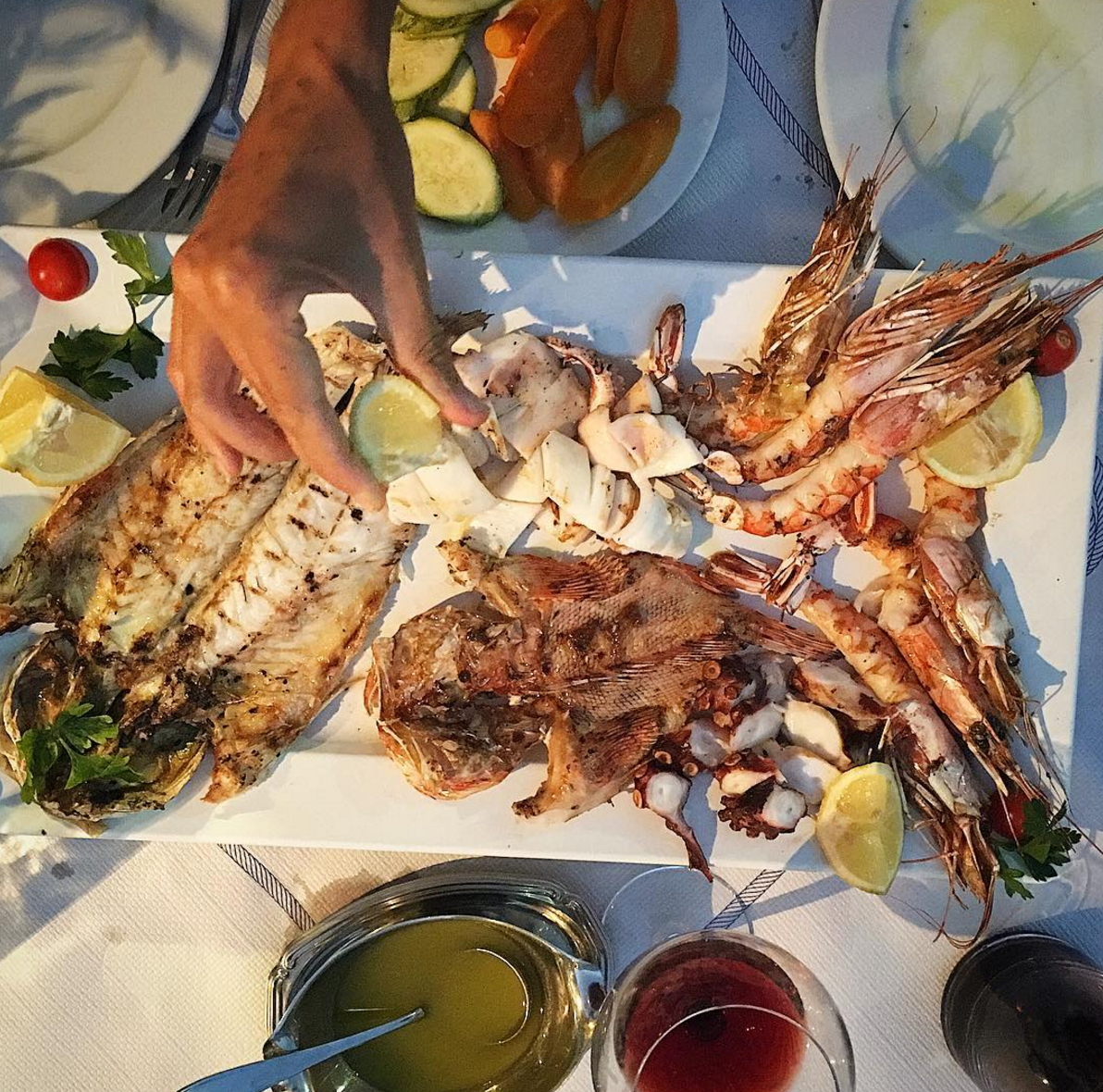 Symi Bakery
For the best spanakopita I've ever eaten. Niko bakes them fresh every morning in the big furnace you can see from the street.
Odyssia
Not far from Tholos, a little away from the main harbor action, which is a good thing. The goat in lemon is amazing. But not much in the way of veggie fare
Tsatsi bar
Not an eatery, a bar. But it has cushions right down by the waters' edge and it's the best vantage point for watching the light soften over the harbour.
Elsewhere on the island…
Dafne at Toli Beach
Grab a moped and head out to this little local hang, mostly for the restaurant. We met the owner (by happenstance) while hiking the day before. We were lost and then we were found, thanks to his help. I know his name is something like "Carminino". But I can't be certain. He's easy to spot. He has big kind eyes and will probably offer to help you with something. Be warned: insurance doesn't cover the road into the beach. We ate moussaka and beetroots with skordalia. Made beautifully by his family.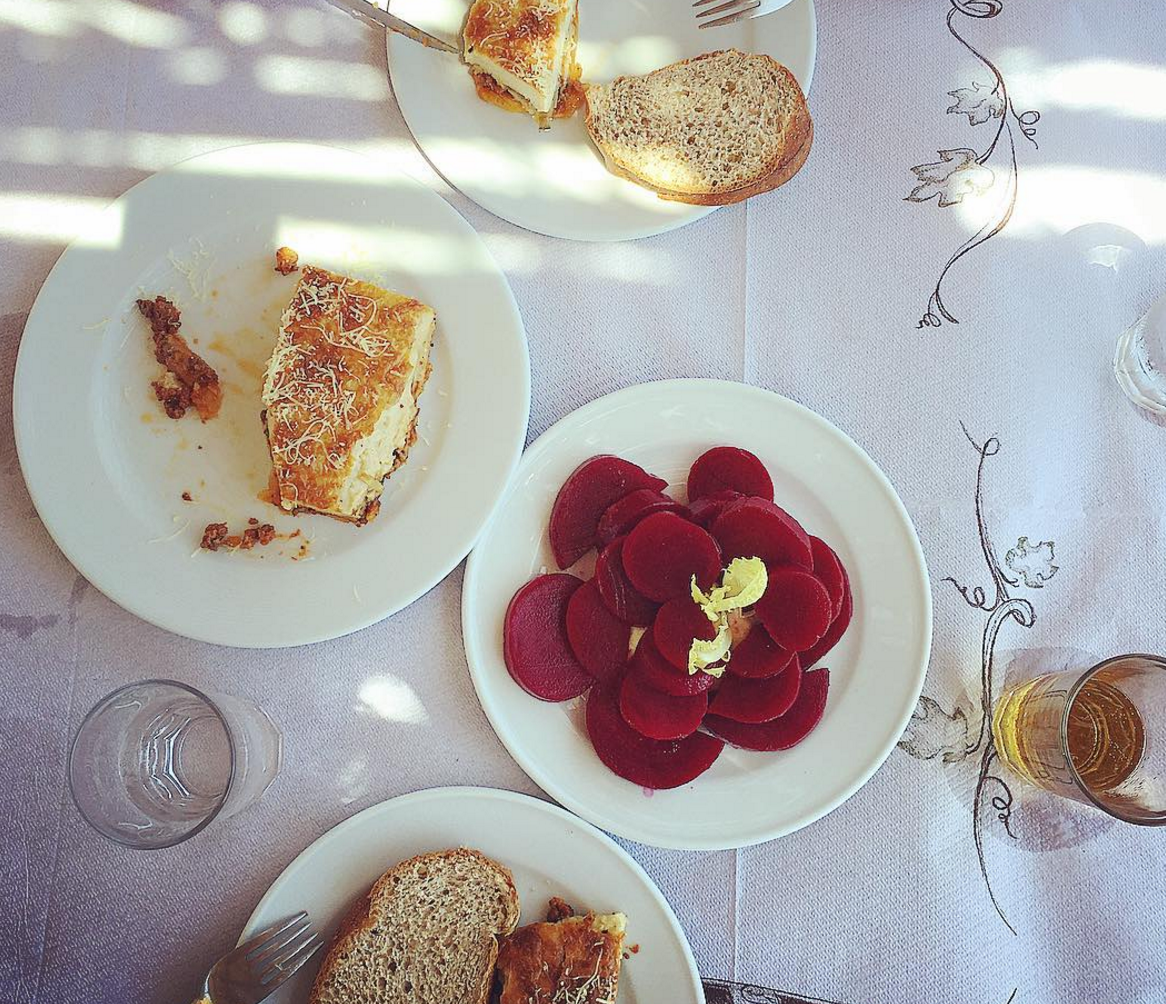 The taverna at Marathunda
A boat goes once a day (11am) to this lovely beach. Spend the day and eat lunch. We had zucchini balls and Greek salad.
And a few words of note…
Dessert – watermelon or cake – always comes gratis at the end of every meal. Honestly, I ate it most of the time. They're small morsels. And when in Greece…
Not all joints have decent vegetable selections. Greek salad is all very well, but not every meal. I've highlighted places that offer greens and other vegetable dishes.
The "espresso" coffee on the island tends to be predominantly Nespresso coffee pods. Drink the filter Greek stuff instead.
Where to hike
Main harbour to Nimborio beach: 25mins
This just goes up and over a small hill, following a path down to a small village to a little beach with a small beachside café where you can recline on the chairs and order a simple salad and coffee. A bit further along is another bay. Walk back along the water's edge past Nos beach (some little tracks lead down to private little beaches/diving rocks) and back to the harbour (passing Tholos and Odyssia). Stop off at Tsatsi for a drink on your way in.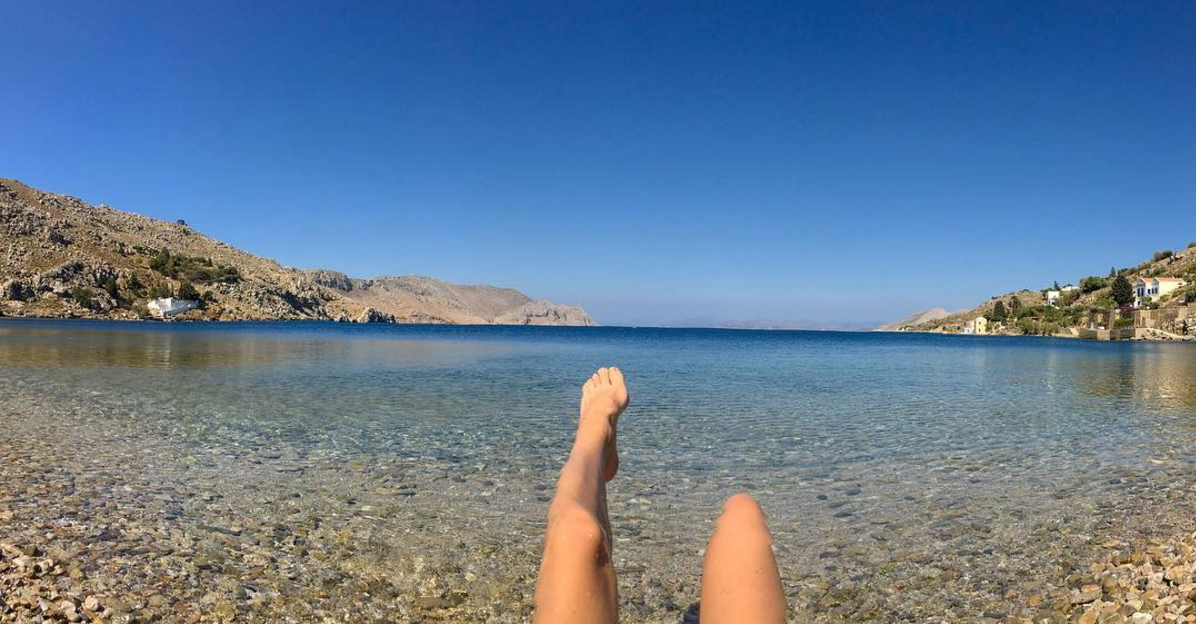 Main harbour to Agios Vasilios and Lapathos beach: 4-5 hours
This is a tough hike, mostly due to the difficulty in finding the markers. The red and blue dots are hard to follow. Take note of the cairns, too. But it's well worth the effort. You hike up out of the harbour to Horio and, really, you have to keep asking directions to Nimoraki (which seems to be a pilgrim trail). You then follow a donkey trail to Ksios and another trail winding down through a deep valley, through a small forest and then down a cliff edge to a very beautiful and secluded beach (only reachable by boat when the winds are right, or by walking). Then it's back out again.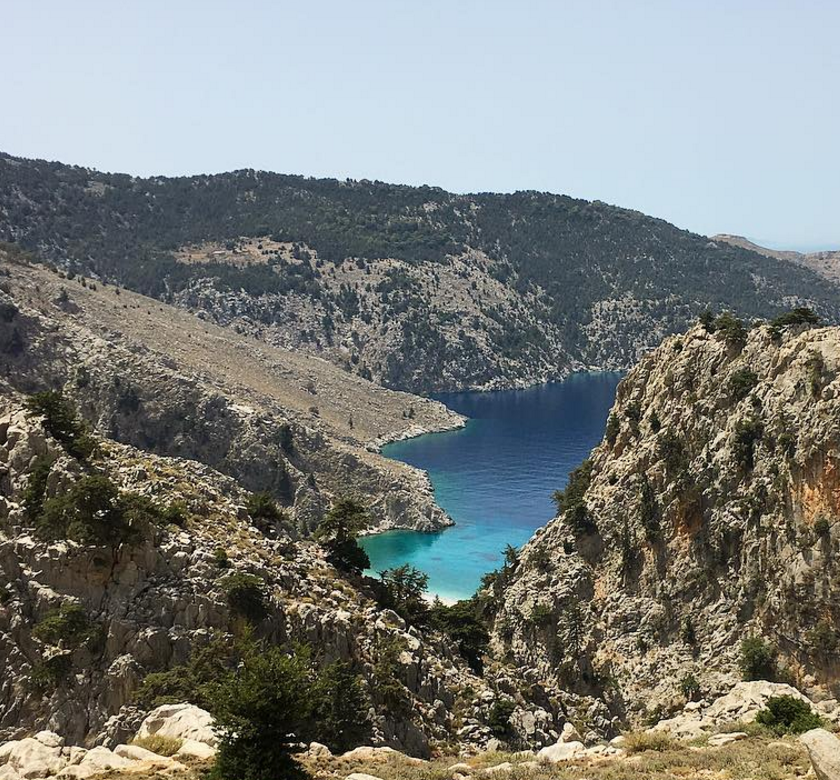 Main harbour to Pedi and Agios Marina loop: 4 hours
Up and out of the harbour to Horio, follow the grim car road to Pedi. Skirt the northern side of Pedi harbour and find the very subtle donkey trail heading out of the village. It's remote up here and I got lost, solo, several times. At the marina I snorkeled for a bit then crossed to the northern side of the beach and found a trail that headed up and west along the ridgeline all the way back to the harbour, passing old mills along the way.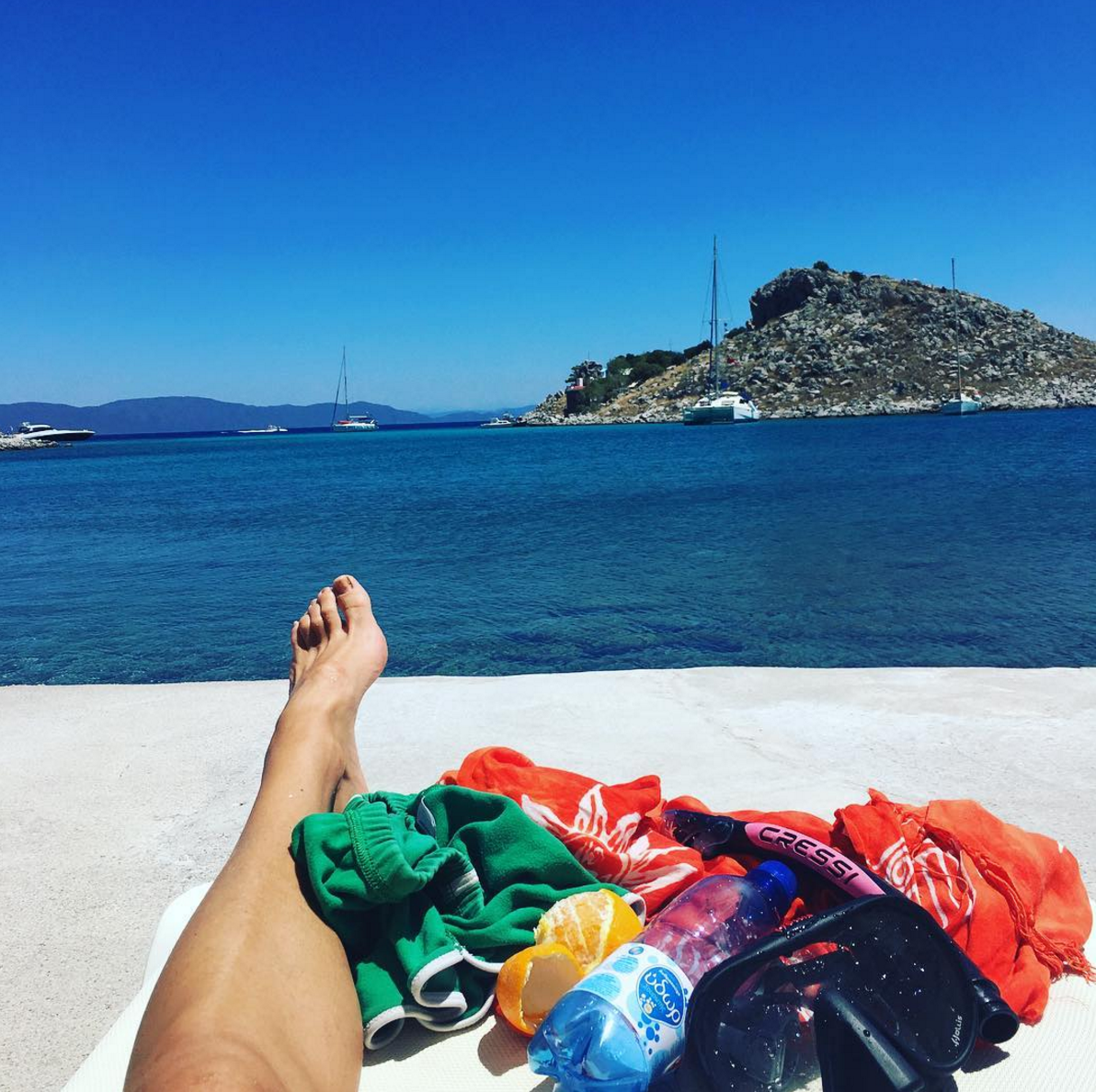 I loved this walk because you get amazing views of the island and the harbour town, and if you take one of the island boats another day, you can see where you hiked and be a bit chuffed with yourself. But it ain't for the precious or unfit.
And a few words of note…
There is only one map in existance that is decent enough to serve as a hiking map. There are very few online sites that help either. In fact, none.
Most of the walks, as in much of Greece, are really hard to navigate, mostly due to lack of use and poor marking.
There is some guy called Hugo (an elderly English guy) who can lead walks for you. I understand he's contactable via Poseiden Boat Tours on the harbour.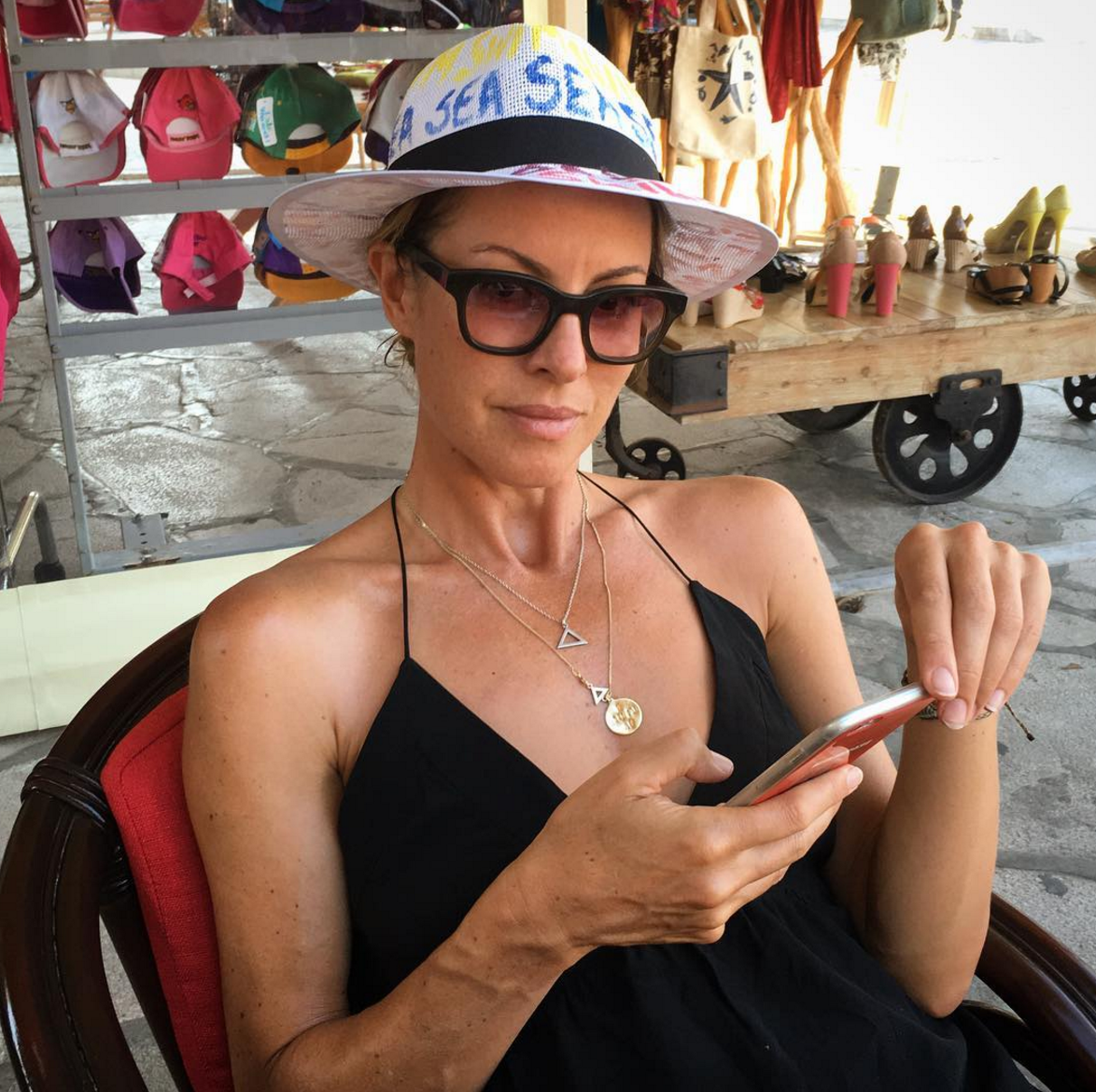 Other stuff
Spago
I have to make mention of Francesca's little shop not far (a few footsteps) from the harbour. She makes handwoven lampshades and bracelets and sells good quality sandals and clothing. You pass her place to head to Nimborio (ask her for directions and say hello from me).
Island boat trips
If you're not a hiker or moped-er this is the way to see the beaches. Most people get on one of these boats every day and drop on and off beaches, heading home late afternoon. Nanou and Marathunda are the best ones to head to.
Sinead's apartment
I loved this little place. It's three stories with two balconies (for a game of chess over Mythos) and sleeps 4-6.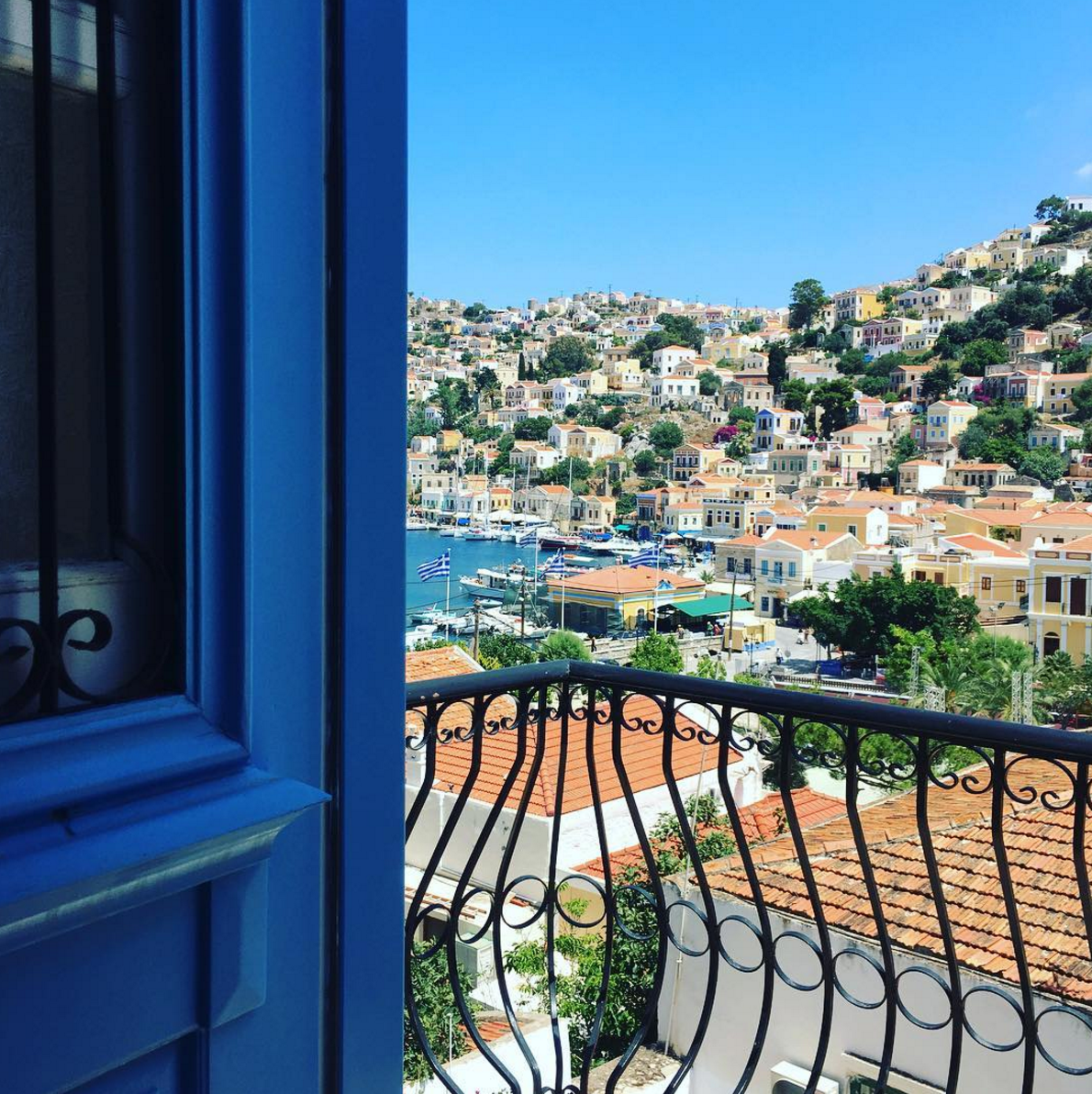 It's simple and very quiet, although literally 40 stone steps from the main action. 
Sinead says:
Villa Margarita is a renovated traditional-style house available for exclusive hire. There's a small secluded courtyard to the front of the house, and a first-floor balcony with stunning harbour views. For anyone seeking privacy and seclusion, this is the ideal place. Close to the harbour, shops and tavernas, too. (The houses in Symi are not typical Greek village houses, but rather two and three-storey neo-classic structures. Greek authorities have placed a preservation order on the whole island to ensure the magical beauty is not lost.)
Contact the delightful Sinead at [email protected] and tell her I send my love.
That's it. Gotta leave you some stuff to discover for yourself…but feel free to ask me (or Sinead…I'll ask her to chime in) any questions.
Feel free to check out my other Slow Food and Hiking Guides, or post additional Symi advice below.