When I turned forty, I wanted to celebrate with my nearest and dearest. But I didn't want to just "chuck a party" with a whole stack of booze and booze-soaking food and…wastage. I wanted it to matter and, so I put it together as sustainably as I could possibly make it. I bought nothing new, used produce that was going to be thrown out and kept as many ingredients as possible within a 100-200km radius of the event.
Recently I read about three couples who did similar, for their weddings. Waste free! This stuff gets me excited.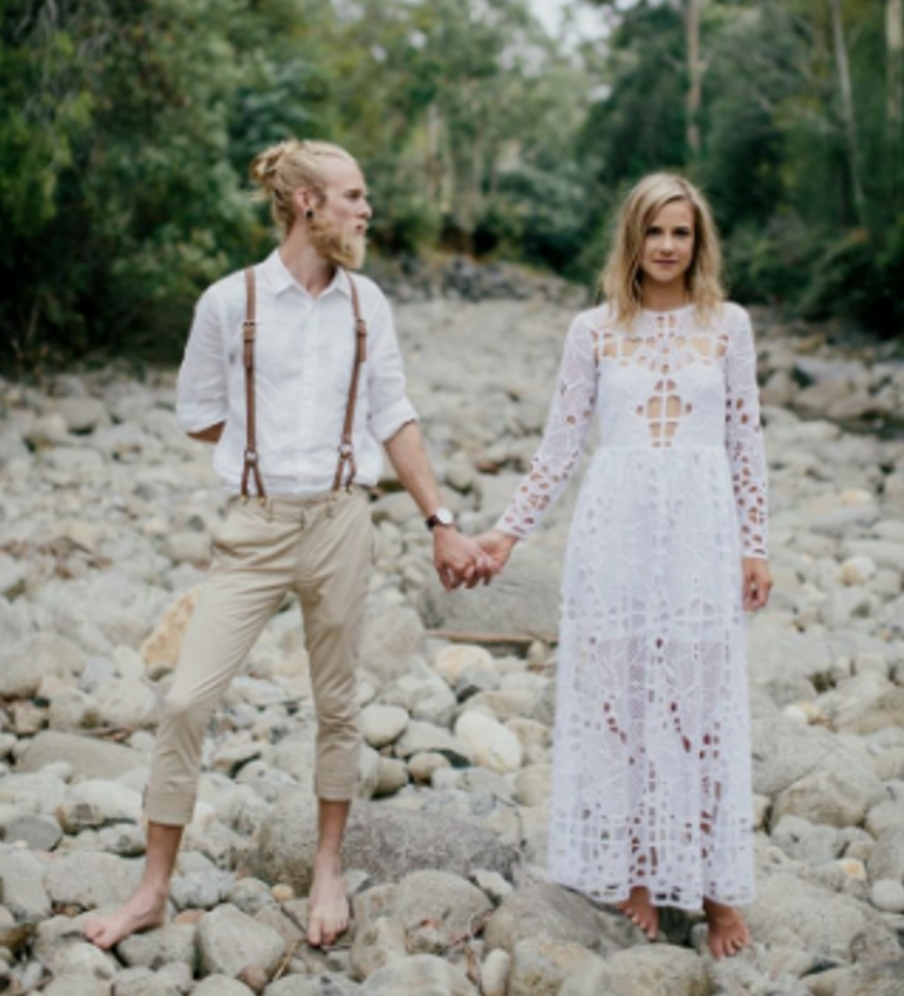 And so below, a list of ways to have a waste-free wedding. If you have a wedding on your radar, that is.
1. For the wedding meal, team up with an organisation that creates meals from food past its "sell by" date that grocery stores and bakeries would have otherwise thrown away.
2. At the end of the event, encourage guests to take home any leftovers.
3. Find your wedding dress on online classifieds website (like Gumtree) for $105. You might have to get a few alterations made, but the previous owner will be glad the dress is going to be used again.
4. Get your wedding rings made from reused metals.
5. Or buy your rings on Etsy. 
6. To save paper, send out your "save-the-date" notes via email.
7. Get your invitations made from recycled paper.
8. Hire recycled tables and chairs for the reception.
9. If you're on a farm-style property, ask them if you can use their wine barrels as bar tables.
10. Aussie couple Kat Kleu and Michael Malon (see feature image) made home-brewed beer for their reception.
11. Get eco-friendly confetti made from flower petals.
12. Collect jars and save them to use for flower and greenery vases.
13. Forage for greenery from a local farm.
14. Use solar-powered fairy lights. 
15. Instead of a regular gift registry, sign up for an online registry which donates money to a charity 0r a research centre etc, for every gift purchased.
And I add a few tips, from my fortieth party. They apply to weddings, too!
16. Avoid disposables. I used a tablewear hire company that wash everything in bulk and cloth napkins.
17. Give your leftovers to guests. Provide containers for this purpose.
18. Don't use bottled water. I used SodaStream instead. It takes 3 seconds to create chilled bubbly water by the litre.
19. Buy loaves of bread and cut as you need it, rather than bread rolls for everyone (which only half the room eat).
If you're not getting married, but do want to host a sustainable, waste free dinner party, here's what I did for my fortieth.
Do you have any more tips to add to the above?