I've been in and out of LA a few times over the years. I'm particular about where I stay when I'm there. Generally I lodge near a canyon so I can hike on arrival (see below)!
I've stayed in Santa Monica twice now, and so I've updated this post accordingly (most recently September 2019). This post is actually a part 2 in a series of three guides to the LA region. I've broken it up this way because each area is best done as a 4-6 day stint. Any less in an area and you get FOMO. Try to venture further afield than the one area and you get the LA Road Ragings.
A few things to note:
I travel to hike and eat, the best way to see a city, me thinks. So this guide really provides a rundown for a mini-break to this effect. Los Angeles is possibly one of the best cities I've come across for hiking and eating and having a wellness mini-break. Oddly, given it's rep as a heaving, smoggy city. Santa Monica and Venice are probably the best hub from which to do this.
One of my passion projects is to encourage people to hike and to engage with nature and regional parts of the world. From time to time I accept partial support to do this from tourist bodies to cover the costs of writing these blog posts. In this case Visit California reached out and connected me with information I required and sponsored the accomodation and meals I'd selected. You can check out my policy on advertising and sponsored posts at your leisure.
Check out more images for this hike on Instagram via #sarahwilsonhikes as well as my "hiking" and "santamonica" Highlights in stories.
Also check out My Hiking and Wellness Guide to West Hollywood and My Hiking and Wellness Guide to Joshua Tree and Palm Springs, California.
You can see my other international hiking, eating, wellness, slow food guides here.
Get a home base
On my latest trip I stayed at the Ambrose Hotel. It's a basic hotel but has won a whole of awards for their sustainability efforts. It was the first hotel in the United States to earn the LEED EB certification and was awarded The Sustainable Quality Grand Prize Award by the City of Santa Monica and has TripAdvisor's Gold Green Leader Certification. They provide bikes and an electric car shuttle service, low flow toilets and water saving faucet aerators and a bunch of other in-house initiatives…although, I'll be honest, they still supply bottled water in rooms and single-use cups next to the coffee machine. Sigh.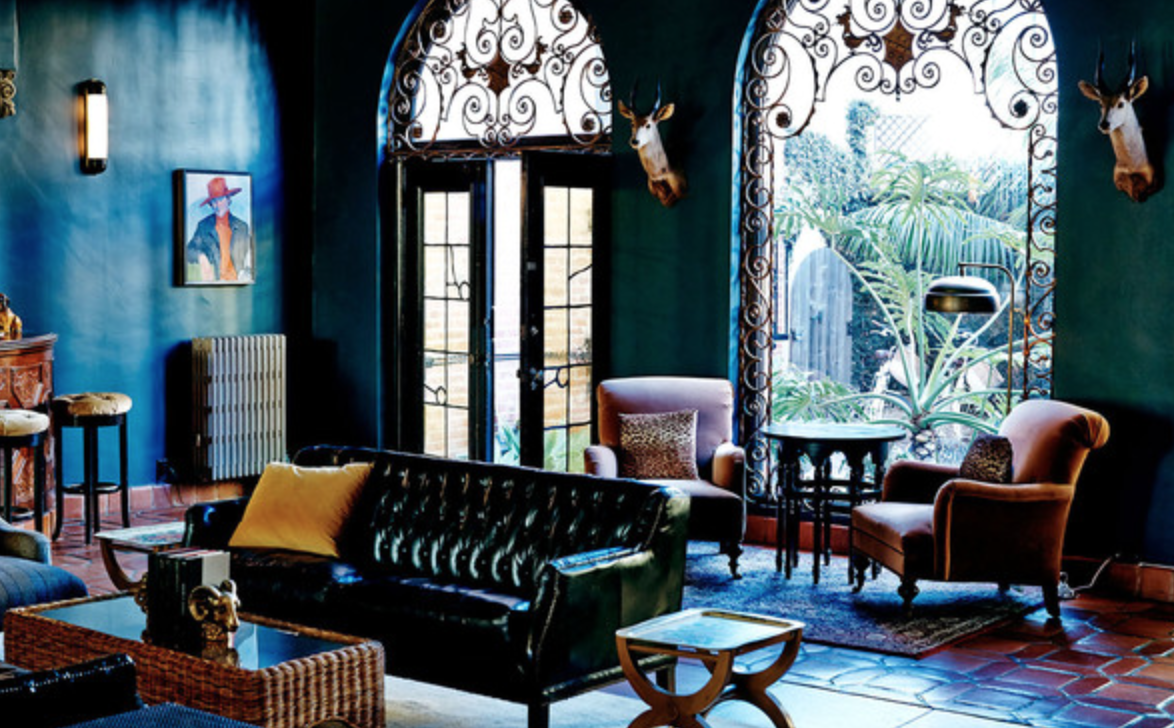 Previously I've stayed with Palihouse, above.The Santa Monica one is in a beautiful building, has bikes you can use for free, beautiful art nouveaux finishes, is two blocks from the beach and 20 minutes ride to all the best bits of Venice. Note: it's faster and nicer to ride than drive. You coast along the beach path, an attraction unto itself. It's also in the best position to drive out onto the freeway to the best hikes in LA, and to the airport.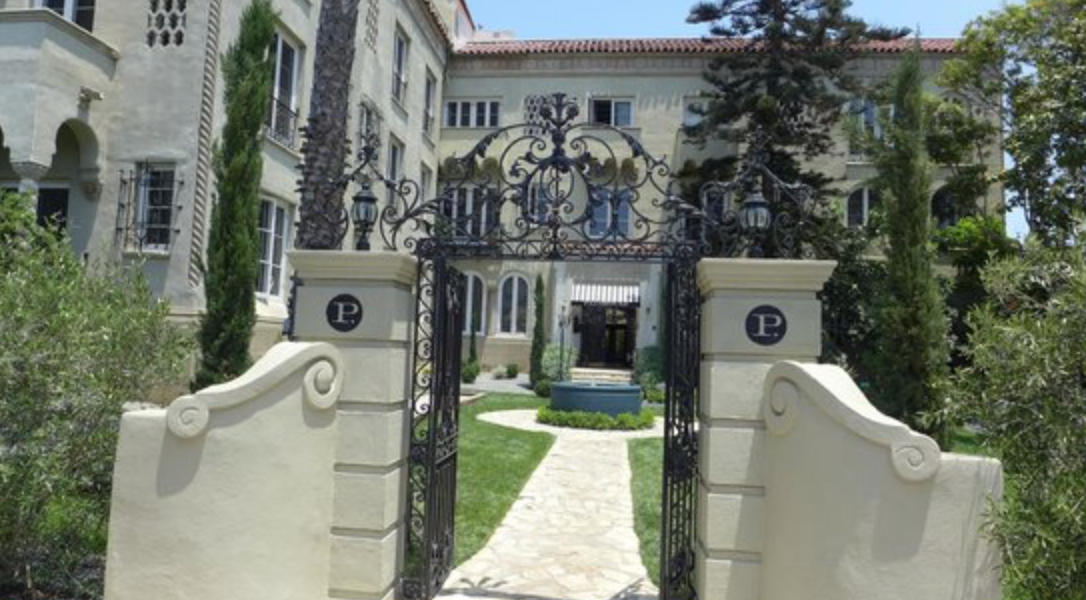 Their dining area/foyer is great for working in, ditto their courtyard. Order the fig, ricotta and pancetta on toast for breakfast. All their food is locally sourced. Oh, and the rooms have fully serviced kitchens.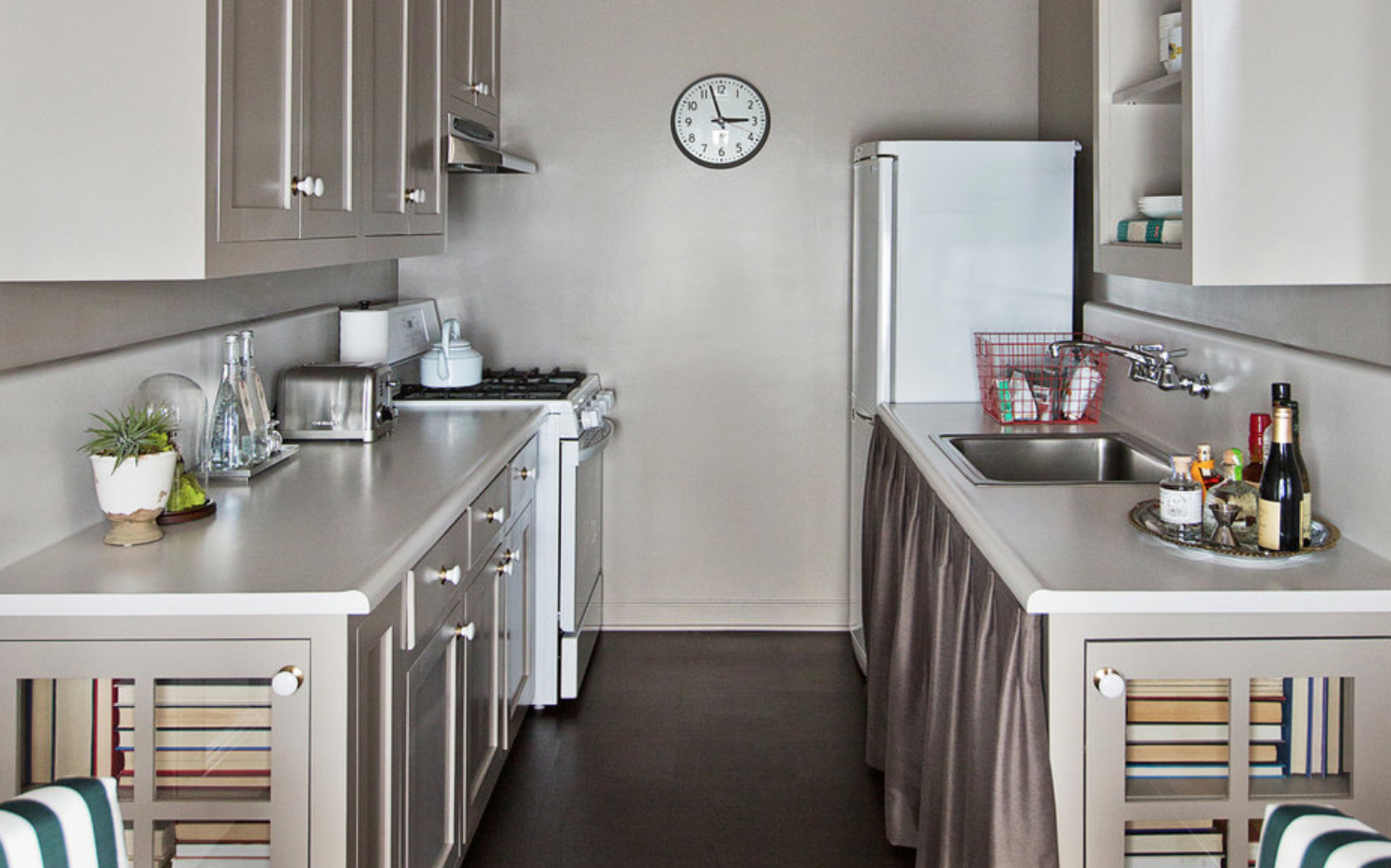 And there are baths in the bathroom. Which is a boon. After a hike.
Head to Topanga for this perfect hike and lunch jaunt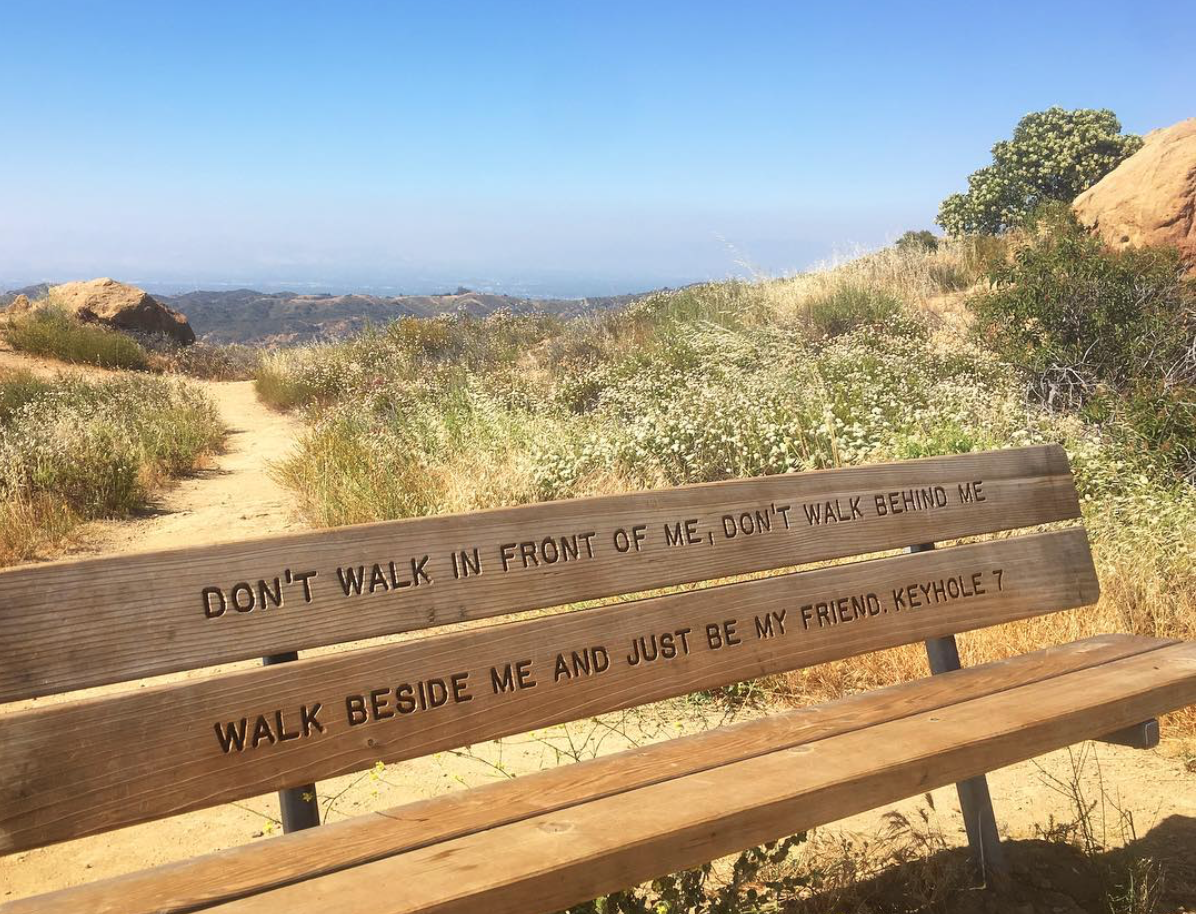 Seriously, some stupendously good hikes are mere minutes from the hotel. Topanga is considered "the world's largest wildland within the boundaries of a major city." Head to the Topanga State Park. Get details and directions here.
From here try the Eagle Rock loop going via There's amazing views, oak groves, meadows and a massive bolder that you can climb atop and get 360degree perspective. I saw deer and lizards and buzzards.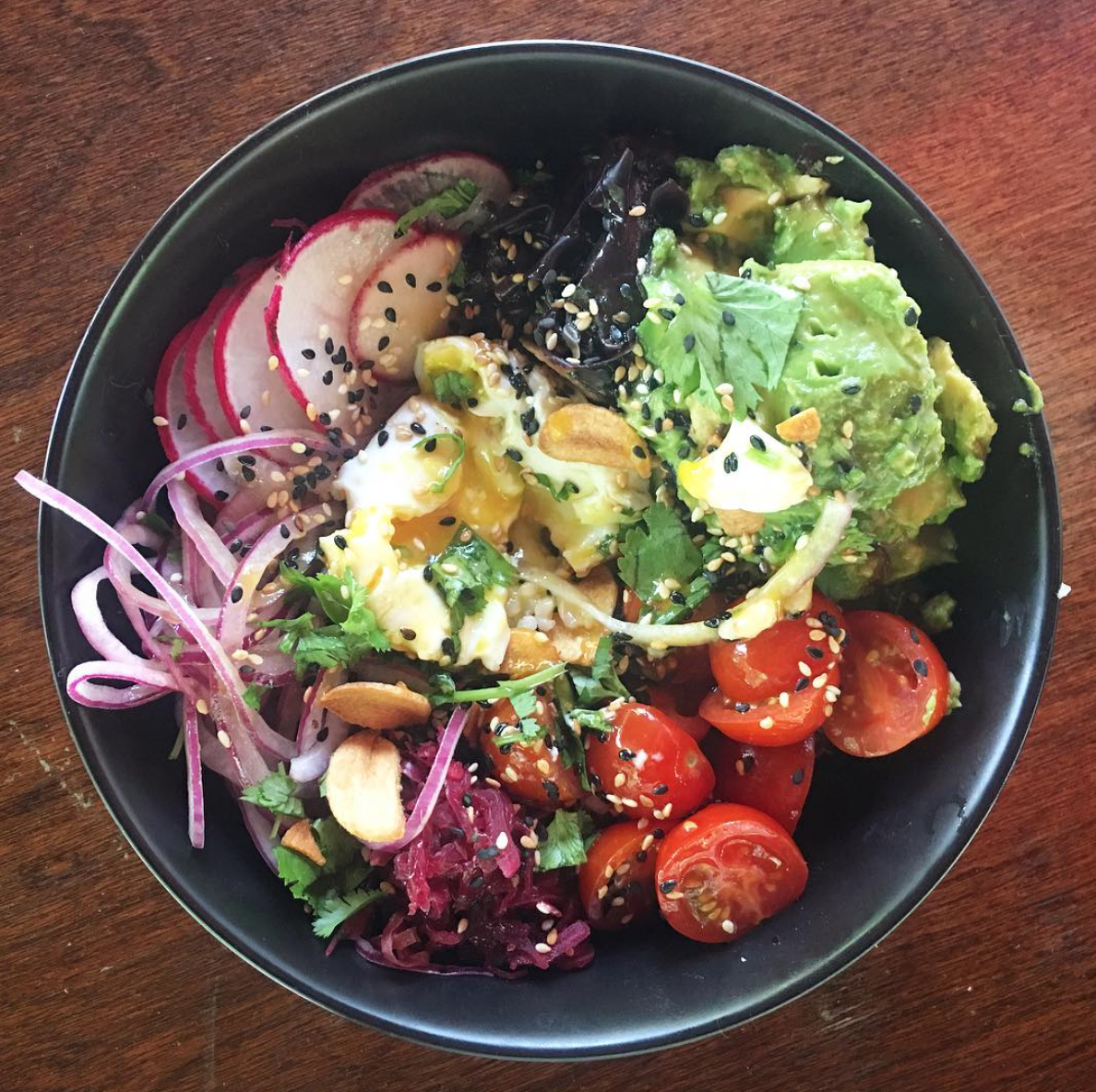 When you're done, you MUST go down the hill and eat at Inn of the Seventh Ray.
It opened in the early 70s and has changed little. Set in a garden by a creek, the space drips in Jasmine vines and chandeliers. I ate the Breakfast Bowl, which has been on the menu since 1972, with a ginger fermented tonic.
Try forest bathing
On my most recent trip, I gave this healing technique a go. I mention forest bathing in my Japan hiking post.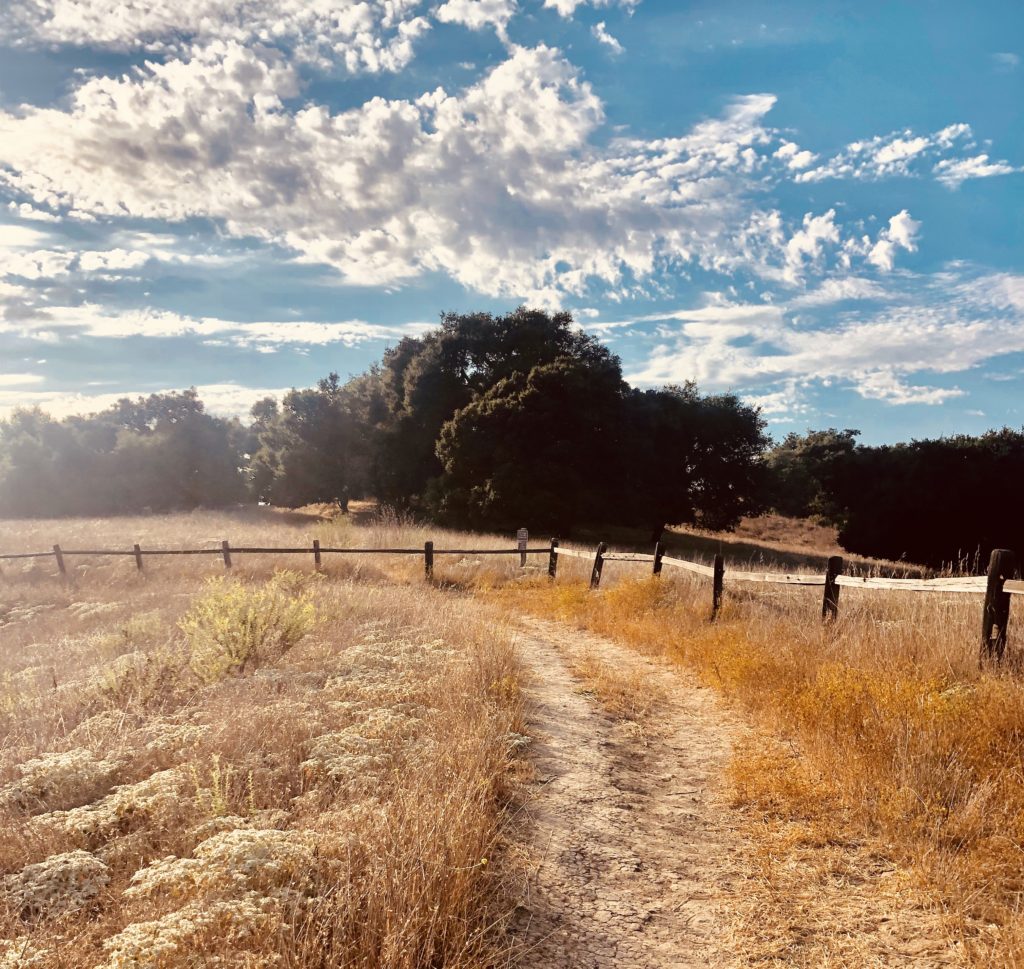 It's taken off big time in LA and Debra from Inside Out Immersion does regular guiding trips up in the canyons and also at the LA Arbortoreum. She incorporates Reiki and cooking and even goat yoga if that's your vibe. And she's a stack of fun. We walked along some gentle trails (above) and I was led through some meditative exercises that saw me get super connected with the smells, the light, the textures. I managed to resolve some stuff that had been broiling in my heart and head with one of the exercises. At the end we had a tea ceremony sitting in the woods as the sun went down. Magic!
Hike some more
I didn't get to do more hikes, but I would if I stayed longer. Palihotel has instructions some walks nearby.
Also check out these links here and here. Temescal and Los Liones hikes look great.
Sustainable eating in Santa Monica
Santa Monica is renowned for it's sustainable efforts. The city has adopted a Climate Action and Adaption Plan, setting a goal to achieve an 80% reduction in community carbon emissions by 2030, also to achieve zero waste through diversion, composting and recycling by 2030.
Plus they've done the most comprehensive single use plastic ban of any city on the West Coast of the United States. Plastic straws are also banned in Santa Monica! There are a bunch of restaurants and cafes that have got on board. I tried a few: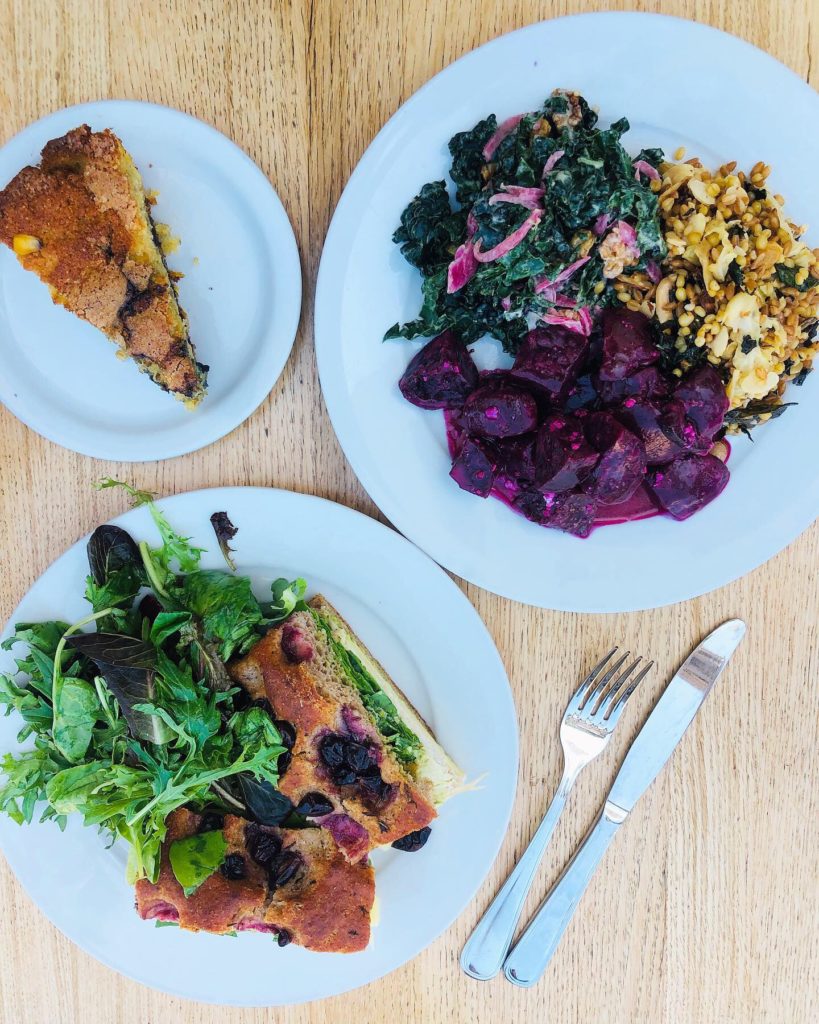 Huckleberry Cafe is great and is famous for its homemade breads.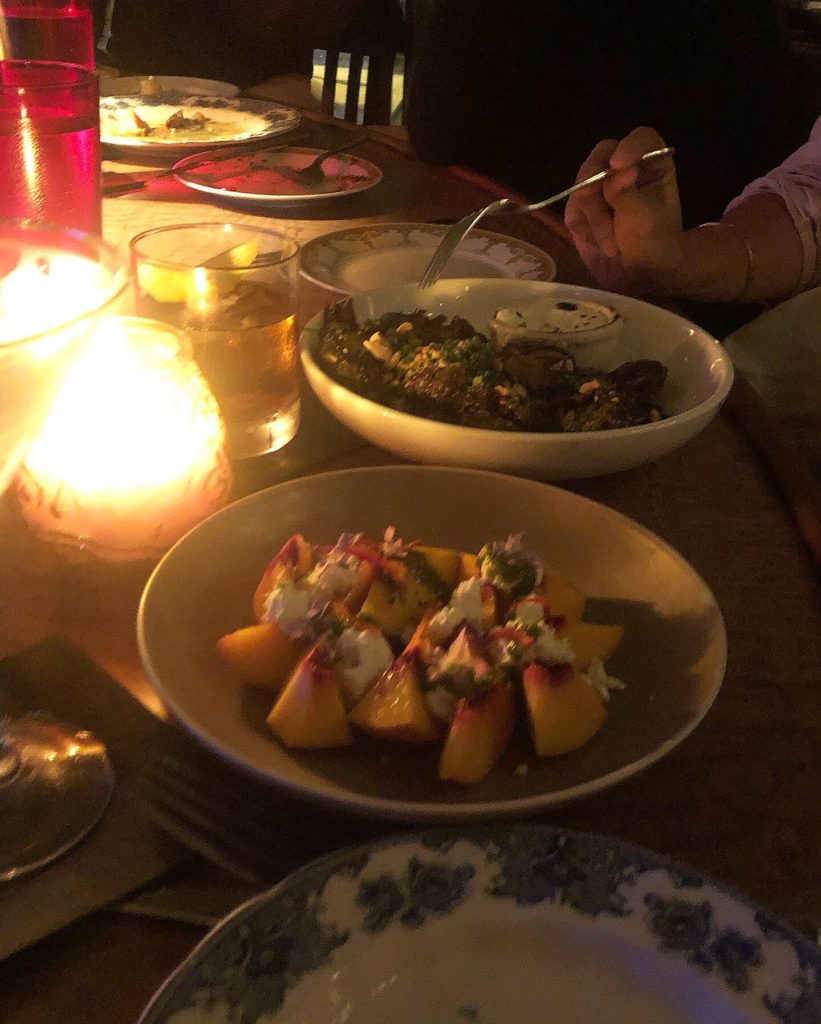 Ingo's Tasty Diner is totally farm-to-table and I have to say I've never eaten such an abundance of wonderful vegetables. Totally my type of joint.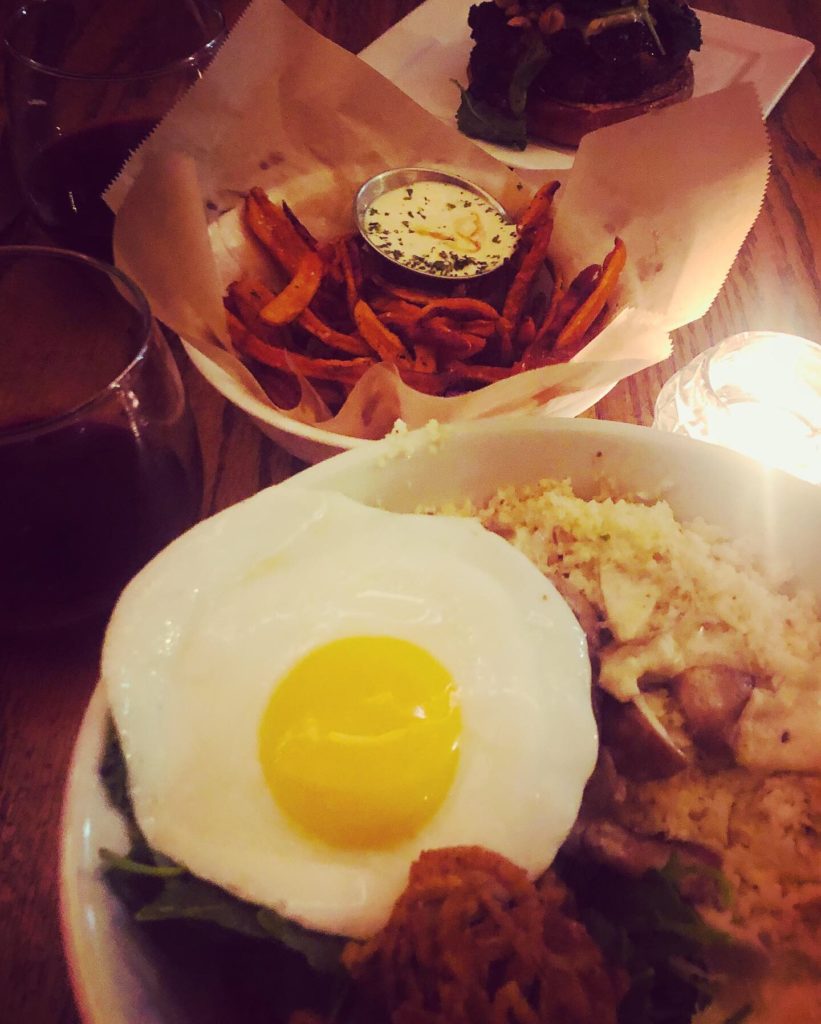 Here's a burger bowl at Pono Burger, a Hawaiian burger joint housed in a wooden bunker near Main St. A fun place that uses all organic, grass-fed meat.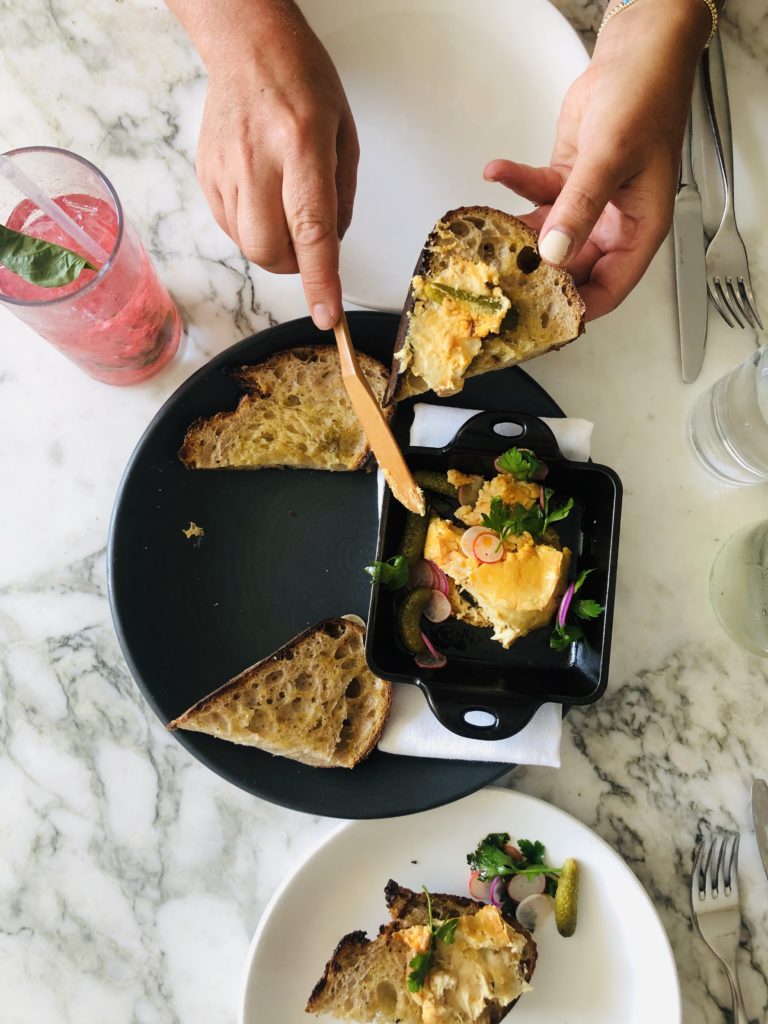 Plant Food + Wine, is in Venice Beach but deserves a mention here…it was recently awarded the Sustainable Restaurant Award by the Sustainable Business Council of LA, being recognized for their eco-friendly measures which include, environmentally friendly chemicals for kitchen and cleaning, using compostable and recyclable carryout containers, bio-dynamic, organic, sustainable practices for wines, energy-efficient dishwasher and appliances. I ate this cashew raclette wth their homemade bread and raw vegetable lasagne. My only feedback would be this: get rid of the plastic straws!
Real food eating in Venice
I ate at Gjelina. It's all I love in a restaurant – real, whole, farm-to-table food; communal table, bar and outdoor area; locals longevity; great wine list. I met a 65-year-old artist and nomad and we chatted about our mutual love of sitting at bars in strange cities.  Go for breakfast if you can't make dinner.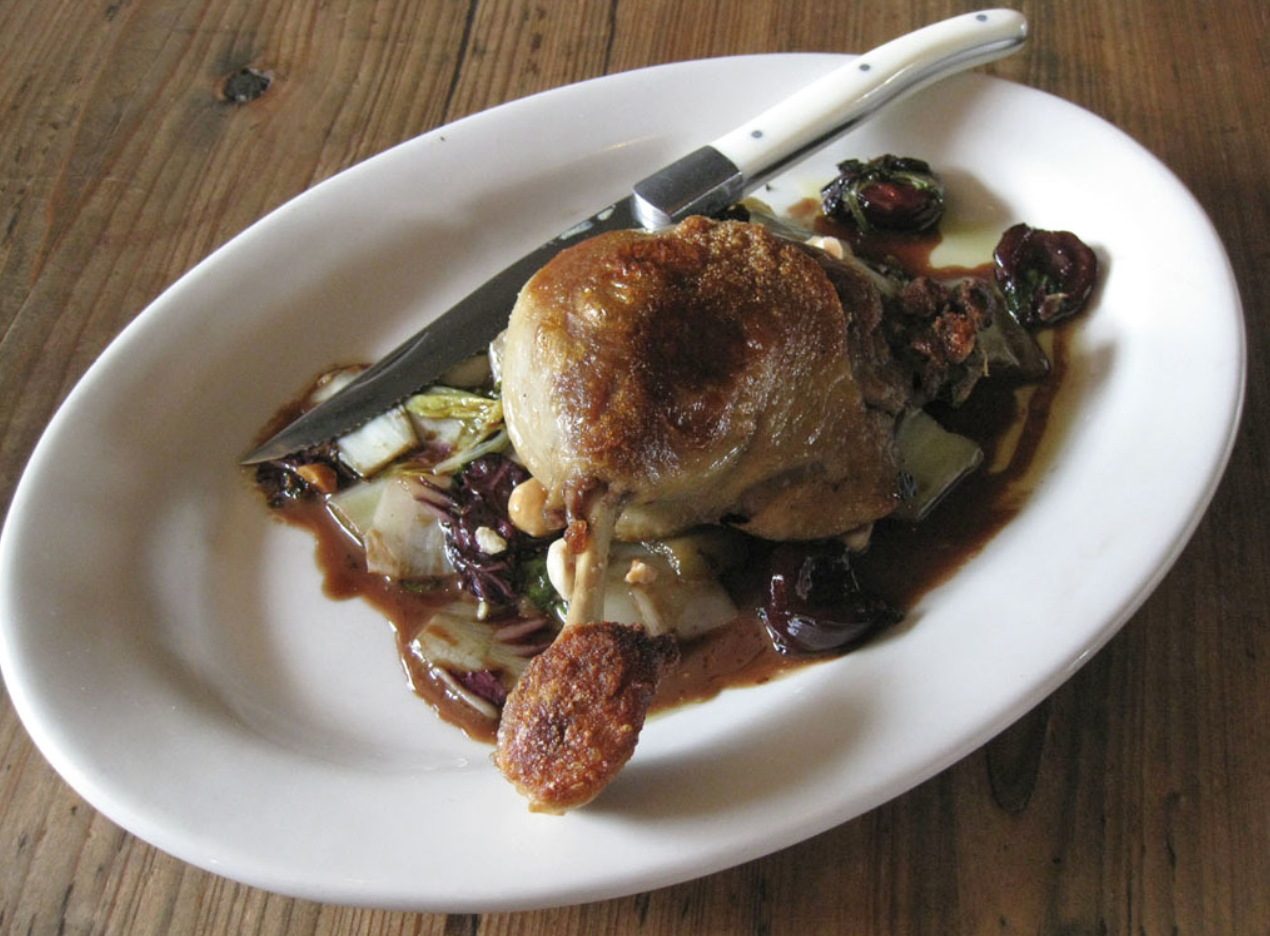 PS I ate the duck with chicory, hazelnuts and cherries…
There are quite a few places on Abbott Kinney you could try. Tom's for coffee, ditto Intelligentsia. Both have wifi.
I also ate at Rose Café with an Aussie contingent of media players. Much the same as above…robust meat and veg options.
Some wellness stuff on the side…
I'm not a facial type, but on my most recent trip I'd been hiking a lot in Sierra Nevada and Ojai and I'd got myself a bit rundown with my thyroid. Wonderfully, an LED facial can really help and so I treated myself to one at Alchemie Spa in Santa Monica, which is built using recycled, renewable and sustainable materials, such as cork, recycled wood and coconut fibre. All products are made in the United States, organic, cruelty-free. Figured you'd want to know such things.
Check out Unplug Meditation's schedule, the world's first drop-in, secular meditation studio.
Or have a vaginal steam, a la Gwyneth Paltrow. Gwyneth espoused its virtues on the socials and got royally slammed. Speaking of which, it entails sitting on a throne and an infrared glow works its magic on your fajoutsa. Yep. True story.