ljuSlovenia is one of if not the most beautiful and bountiful country I've ever visited. It's bound by Austria, Italy, Croatia and Hungary and manages to combine the best of all four nations…in its terrain, food culture and the character and warmth of the people. It's a relative new-comer on the Euro travel trail. The locals are aware of this; the tourism bureau produce postcards with "Greetings from Slovenia…or is it Slovakia" in full recognition of the fact most foreigners get bamboozled by the annexing history of this region.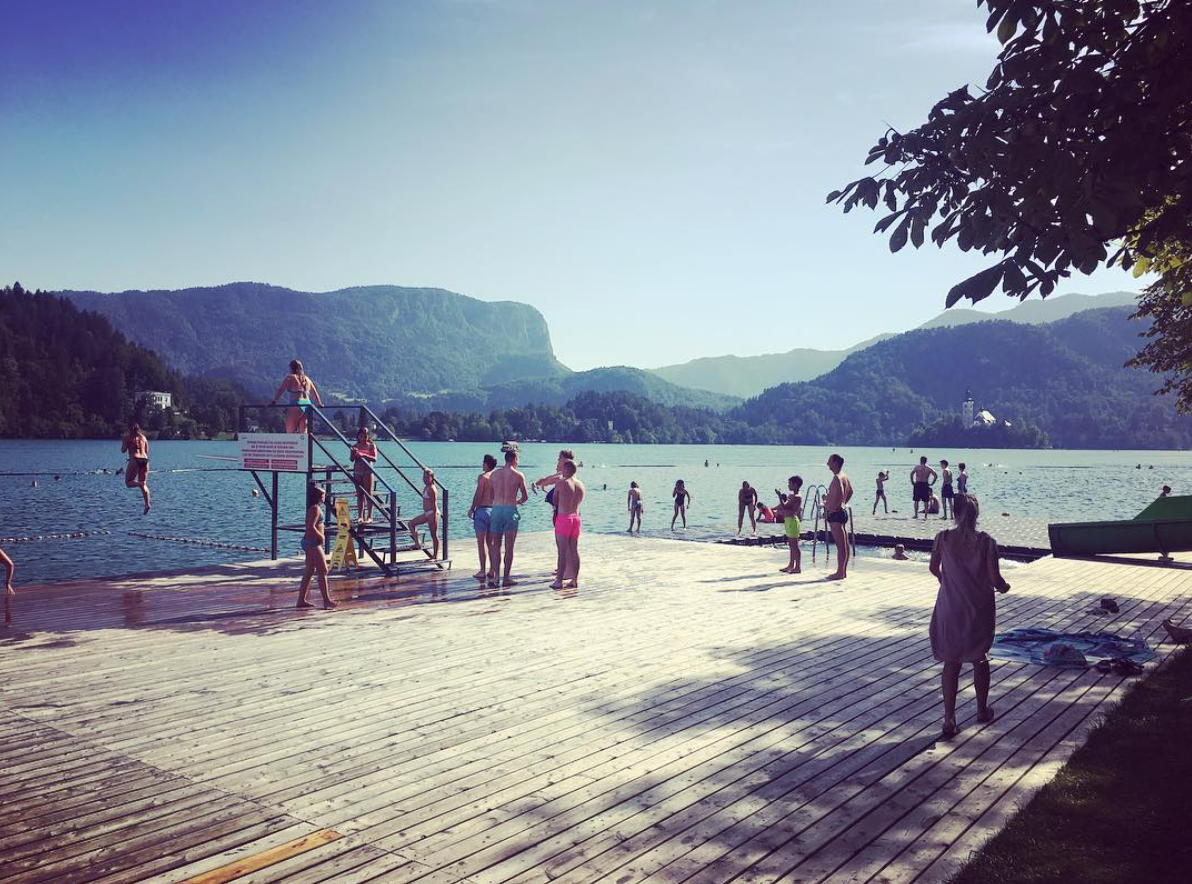 Which brings me to reason #1 for visiting Slovenia…
1. Few know about the place….and there's so much to learn
Most tourists in the area are Italian, Croatian or Austrian, ie neighbours. I came across one Australian, an Irish couple and two British bridal parties (Lake Bled has become a wedding hot-spot for the UK bridal industry). And yet Slovenia has been the site of so much important history. It split from Yugoslavia in 1991. I loved learning about the impact of communism and Catholicism, the politics and philosophy of the nation. Make sure you grab a copy of one of Slavov Zizek's mad philosophical rants as you voyage through the country. It will spark lively conversation with waiters if you do.
2. Ljubljana street wanders and cafes
The capital is a wonderfully preserved Baroque and Habsburg-inspired town, of colourful churches, abundant greenery and cafes. that doesn't allow cars into its centre. It's perfect for the flaneur.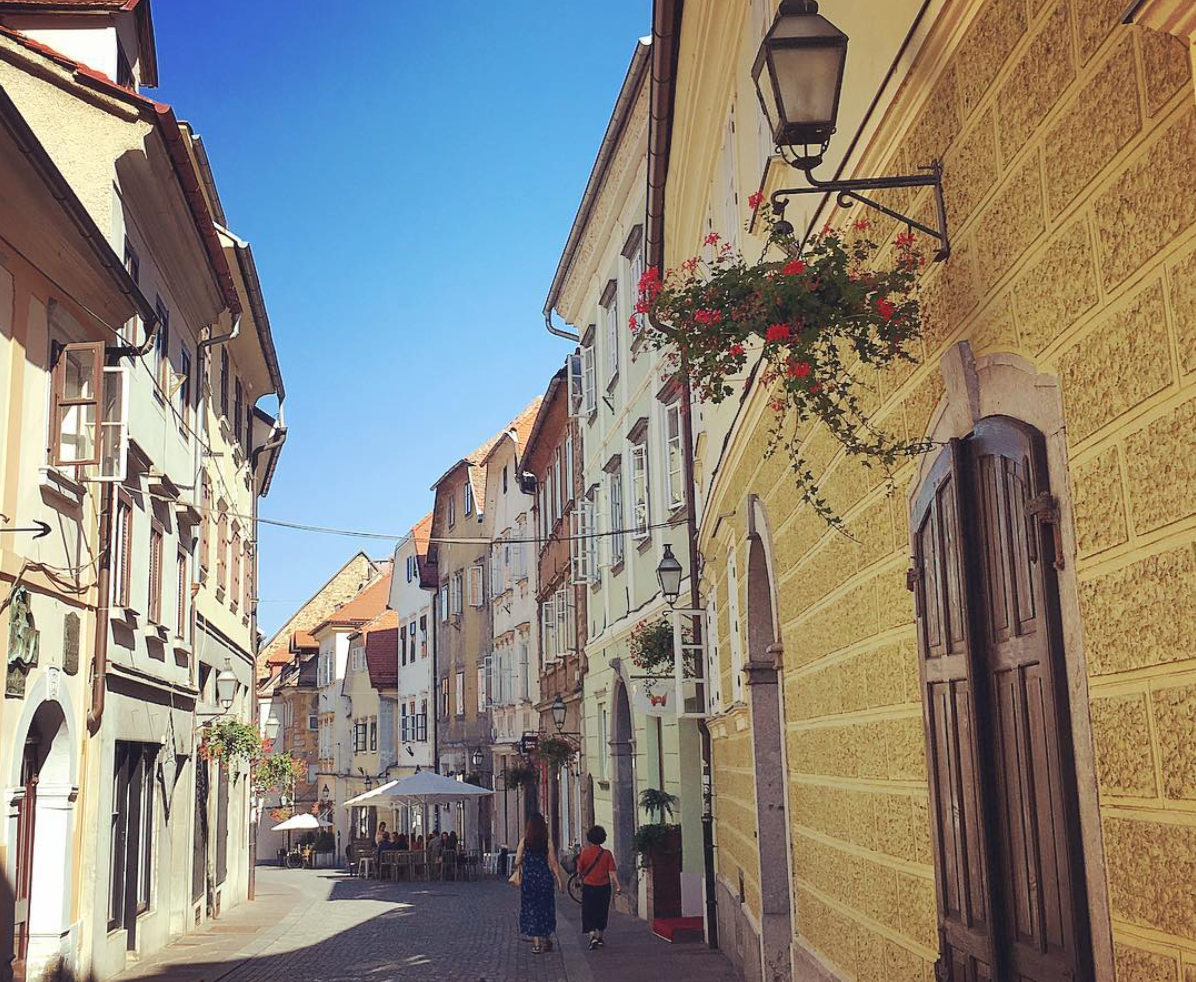 Around Slovenia, cafes are set up for quiet reflection. There are all types, including the world's first cat café (I popped my head in, the place is literally teaming in cats). In Ljubljana I loved:
Café Cokl. These kids take their coffee super seriously and ethically, funds going directly to the farms in South America. They're also 100% bottle free. See below. The outdoor tables are in a perfect position for people watching and meeting eclectic locals.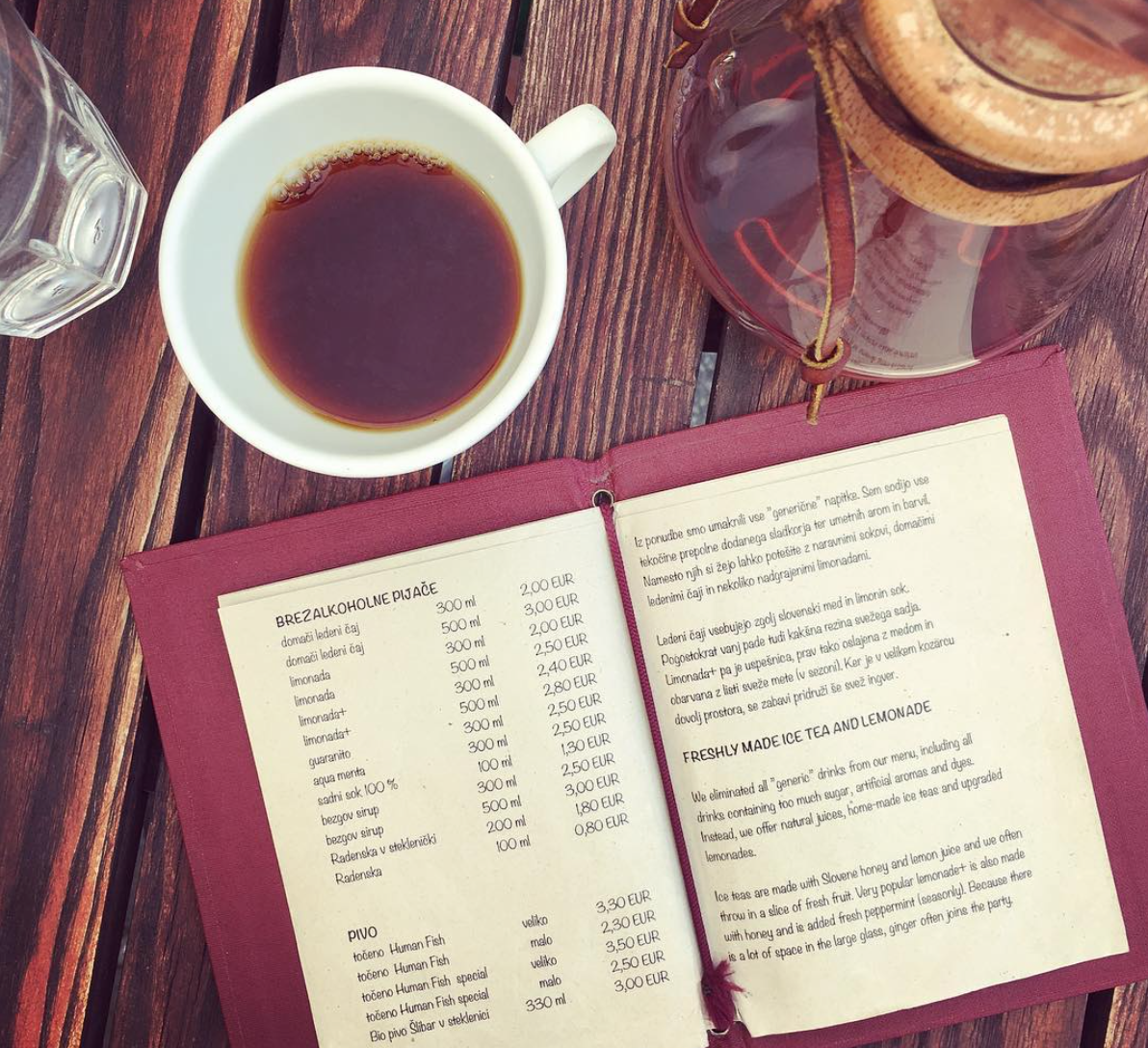 TOZD. They make their soups from food straight from the market opposite.
Cajna Hisa Pod Velbom. A wonderful tea house with a seletion of Ayurvedic options.
The café at the DobraVaga gallery is the most gorgeously Zen place to hang out. They also make amazing quiches – pear, zucchini and blue cheese.
3. The kooky tourism brochures and websites.
I've yet to travel in a country that better caters to outdoorsy, adventure and food-orientated types. Check out the offical tourism body's instagram, for instance. And their website.
In one brochure of really cool stuff (produced by locals) we're advised; "Don't bother learning Slovenian during your stay, as we all know it's a bloody difficult language".
4. They don't do bottled water.
Well, they actively discourage it and are extremely proud of their super clean tap water. Ljubljana has fountains everywhere (and an app – Tap App – for finding them); Lake Bled has signs encouraging tourists not to buy the bottled stuff.
My favourite café in Ljubljana – Café Cokl – doesn't sell any bottled drinks at all. They make all their own iced teas and fizzy drinks.
5. The oddball, but ethical and sustainable stuff you can do in Ljubljana
Museums and galleries are great. But a group of friends worked out that their city contained more interesting stuff to check out, especially for people who really don't know anything about the country and its socialist roots. Nor might be aware that the city won EU Green Capital. CurioCity does a bunch of eco walking tours. I actually joined them on their ethical one (they also do a Lazy Sunday one where you get to be part of what the locals do). We walked around the old city, learning about the history, dropped in on Two Violins a restaurant run by people with mental disabilities (it's one of the most popular in the city in a primo position and the queue for a table can stretch down the street)…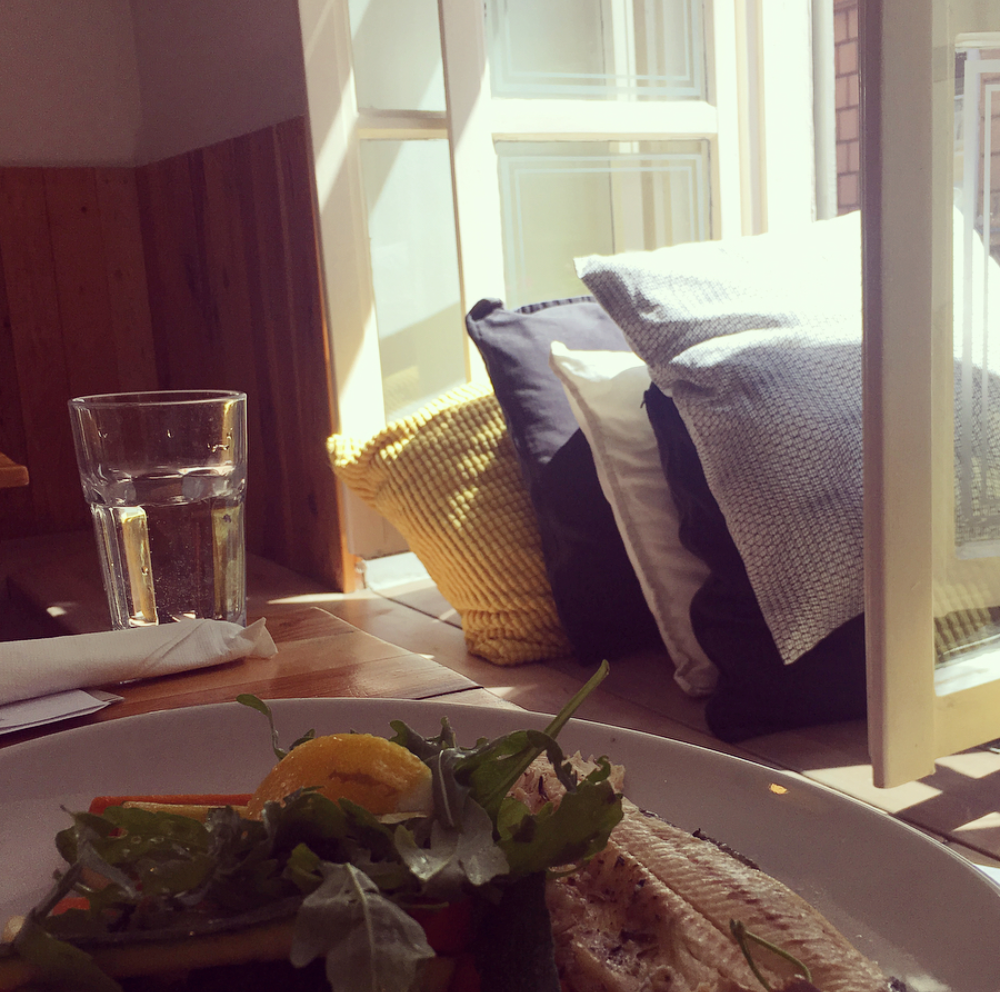 … and had a second lunch at a "Jamie Oliver-esque" place – Gostilna Dela, above – which uses all local ingredients cooked by staff with behavioral challenges. I had trout and a mountain of vegetables. You can also buy the homemade plate your lunch was served on! I also learned about:
The Library of Things. A free library where you can borrow a laptop, a breadmaker, a lawnmower.
The second-hand shops where you pay by the kilo.
The outdoor libraries. They're dotted around the place. You can just sit on the sling back chairs by the river and read the books for free.
The free city bikes.
6. Lake Bled and Lake Bohinj
This picture of Lake Bled should say enough…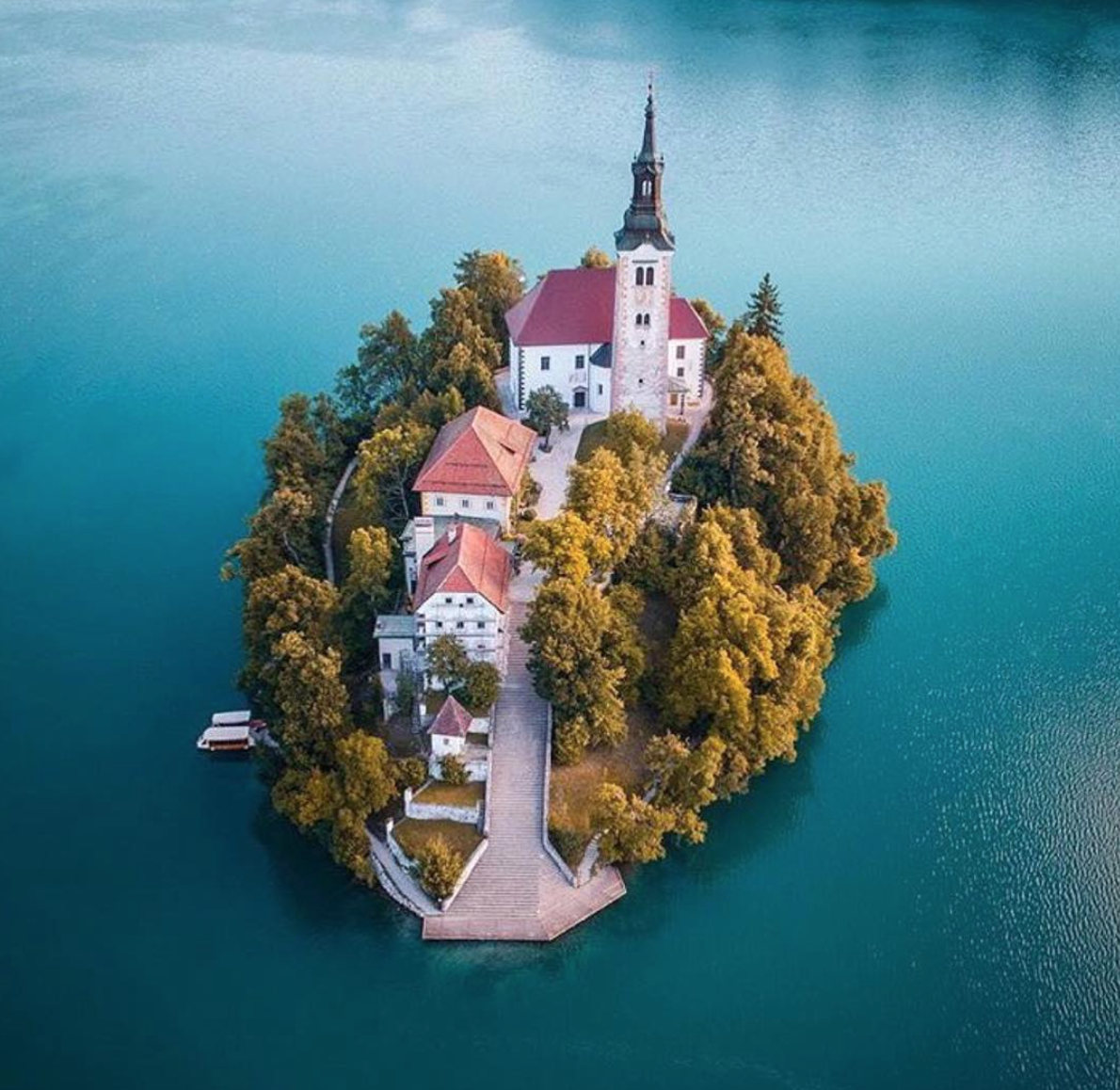 …also the fact the place is teaming in bike and hiking paths. And the lake is a glorious 24C in Summer. Just 10m down the road is Lake Bohnij. Again, I'll let this picture, taken on a Sunday when locals flock to lakes and rivers to picnic (and not shop; see below)…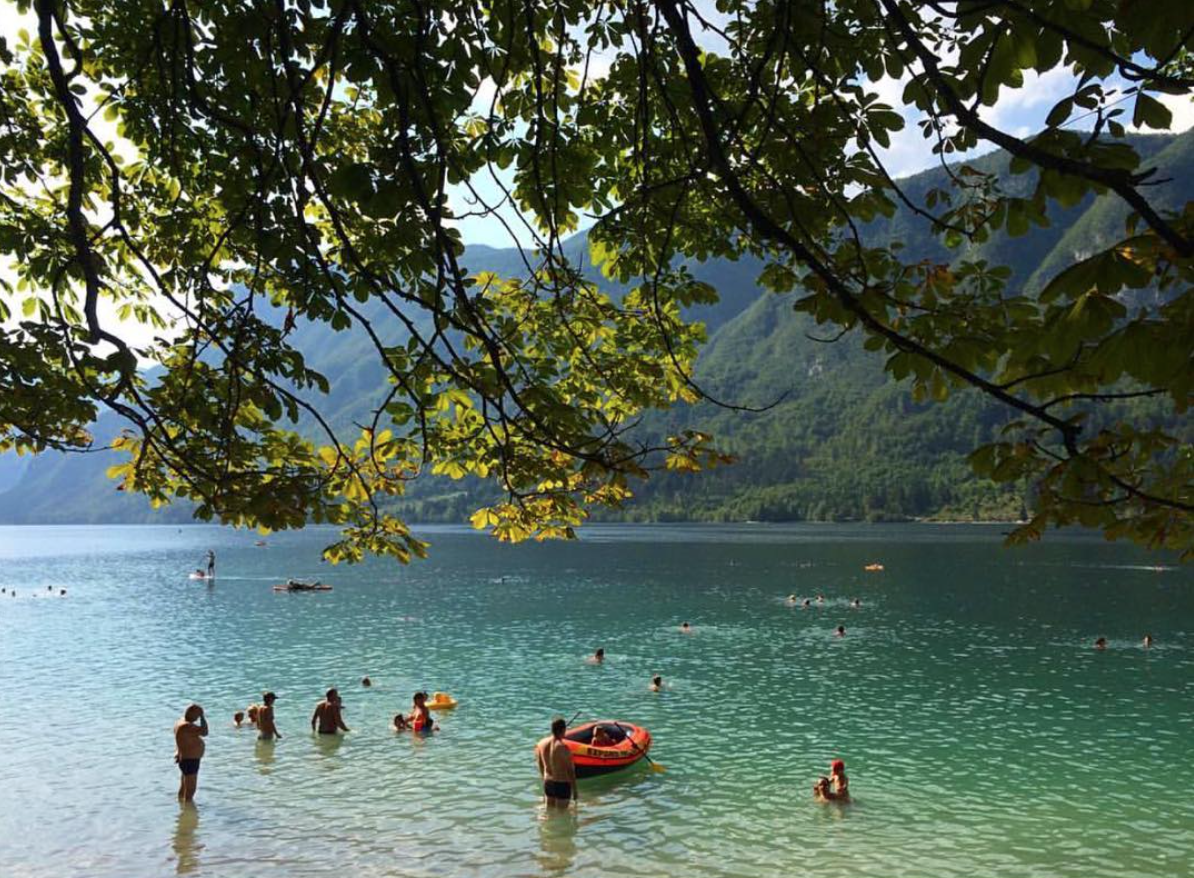 7. The super cool sustainable stuff they do
The raw milk machines. Seriously, dotted around market squares are big machines – much like a Coke vending machine – where farmers drop off their fresh, unapasterurised milk and you pop along with your bottle and get refills.
Subsidised veggie gardens. Seriously, the local governments hand over plots to city dwellers for about 12Euro a year. Families, hipsters, students…they all get into it and there are gorgeous gardens wedged all around the cities.
A recycling program to be in awe of. All around the country, garbage is collected from neat, not-unattractive communal bins that are connected to massive vats underground. Business and residential use the same ones. There's five options – paper, plastic, compost, bottles and …stuff you absolutely can't recycle. You have to pay to use this latter bin!
8. The pork, trout, berries, peaches, buckwheat, sauerkraut, wine, salt…
The restaurant and café culture here is mind-blowing. Even in remote mountain huts in the mountains, where breakfast and dinner is mostly included, the food is phenomenal. I'll be sharing my recommendations in my next post.
9. The biking and hiking
You can hire bikes – mountain, electric and otherwise everywhere. And many cities are closed to traffic – forcing a lot of walking upon everyone. I noted in one of my instagram posts that the locals were all very slim…it's because the walk and ride everywhere. Weekends are spent hiking. Or picnicking and playing by lakes. As a slight aside, there are only four McDonald's in the whole of Slovenia. And the locals tend to boycott Coke.
I'll share more on this in my next post, but for now will flag that the best organization for planning a trip that incorporates biking, hiking (or a combo of both), incredible local food and eco principles is SloTrips.
10. The really just plain weird stuff you can check out in Ljubjana
This is what I enjoyed most about the city – the odd stuff that they've dreamed up for tourists that enables them to engage with the country and the locals.
Outdoor "Escape Room" challenges. Enigmarium sees you run around the city solving some puzzle to the secret of a happy life. You have to do as a group…so I didn't try this one. But it sounds cool.
Poligon. A coworking space and think tank that hosts lectures by journalists and yoga classes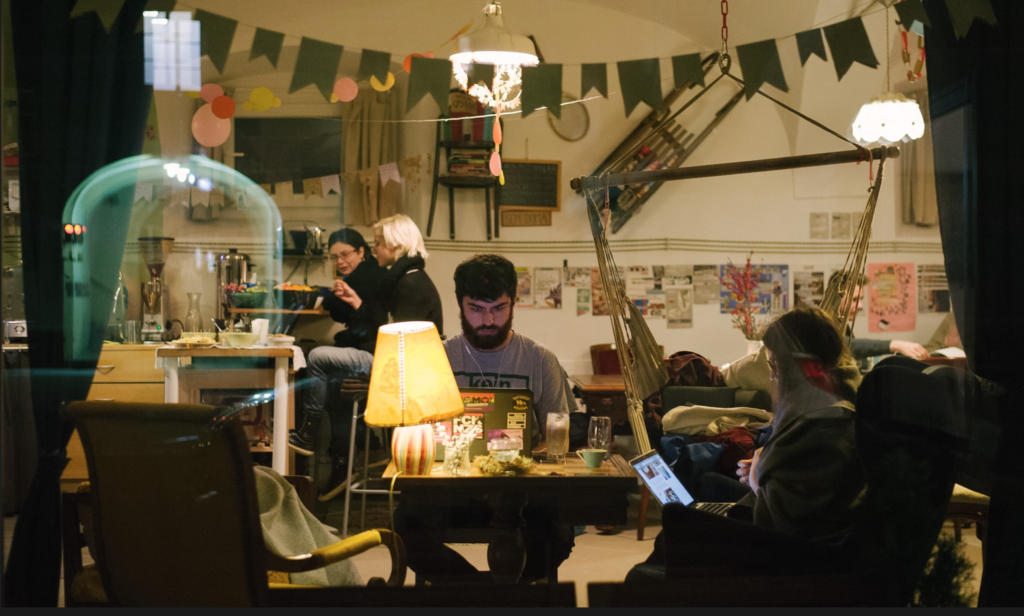 A pay-per-minute café. At Ziferblat café you help yourself to coffee, tea, biscuits, cereal and treat the place like your own home – you just pay for your time there.
A pay-per-kilo art gallery. DobraVaga is a gallery of urban art by young artists who literally sell their stuff by the kilo. It's housed in the old fish market and is a super cool space. See my take on their cafe, too, below.
Meet the locals boardgame nights. Thursday nights at Ziferblat café you can come and hang with cool cats, chat, drink and play chess. Apparently it's really popular.
11. The seaside town of Piran
Slovenia only has 42km of coastline – Italy and Croatia kind of muscled in and took most of it. But the salt town of Piran is truly stunning and worth a stop.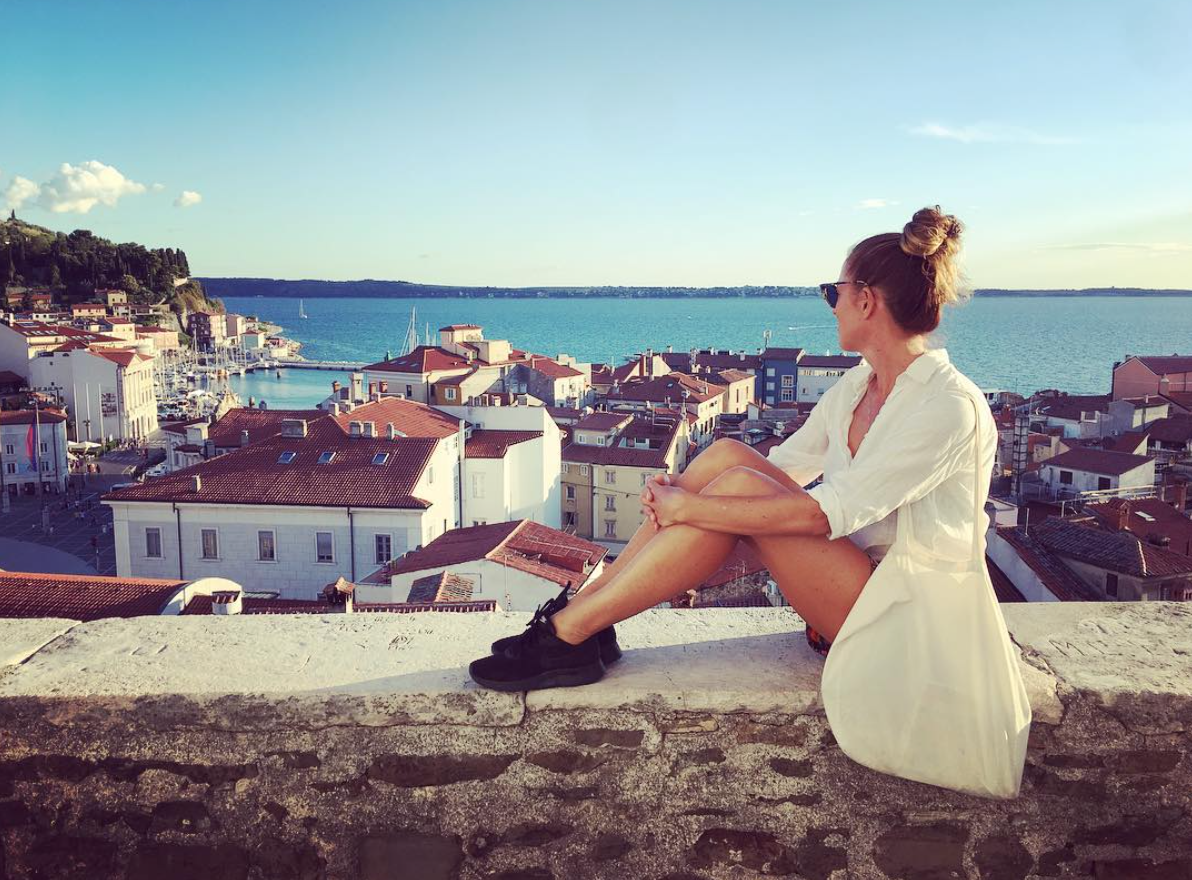 I ate at Casa Nostromo. It's where the locals go.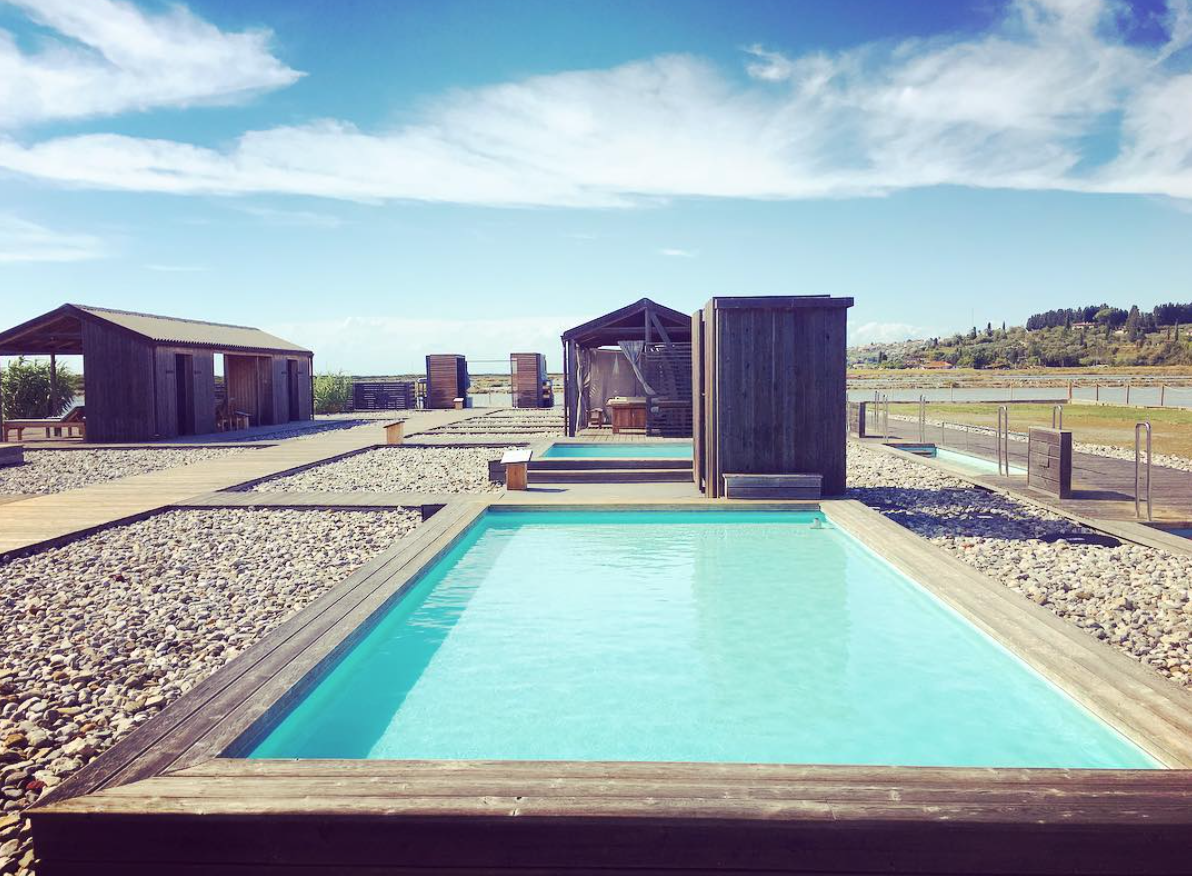 And I checked out the Lepa Vida salt spa and got a sea salt scrub outdoors atop the salt beds. A stunning half-day excursion (I rode a Tourism Information bike to get there).
12. The culture and music…and lack of shopping!!
Every town I visited I attended some sort of free (or very cheap) music concert. And every town featured local shops in the main. Fashion shops are minimal. The tourist shops tend to be local crafts and art.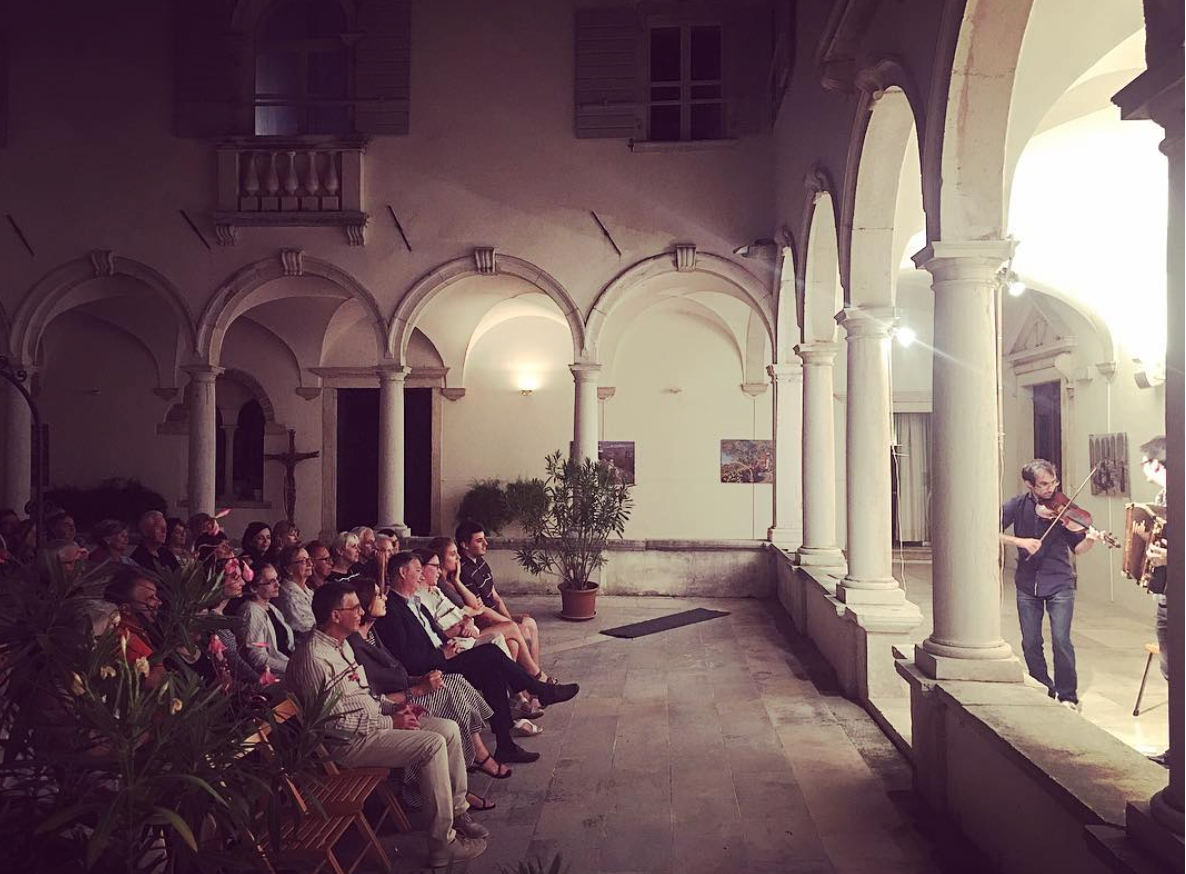 In Ljubljana, there are amazing outdoor jazz cafes, a whole alternative art city within the city (a converted Yugoslav army garrison that's now dripping in graffiti and art installations).
For more information make sure you check out Slovenia Tourism's very cool site. I found it super helpful.
Also follow the hashtags #sarahwilsontravels #ifeelslovenia on instagram for extra inspiration.
Slotrips can help with tour information.
And check out my Hiking and Eating Guide to Slovenia, coming in a few days…