Just in time for Christmas, here's a fun "beginner's" pack of toxin-free makeup…with a bit of a summer vibe. I've put it together in response to tooooo many emails requesting a run-down of Only The Best Stuff That I Recommend. I guess you all want to just cut to the chase. I get it! You also want to know the kit you gift to a loved one is seriously the Real Deal. Tell them from me it definitely is.
The Sarah Wilson Clean Beauty Pack is Only The Best Stuff That I Recommend
I use all (and pretty much only) the products in the pack. It's a full kit.
Irene from Nourished Life also puts her tick to the kit.
The pack contains no nasties. Everything is free from parabens, phenoxyethanol and synthetic fragrances. Of course.
If you or a loved one are delving into all this, cleaning up your pretty act, it's pretty much the best starting point.
The Pack is $28 off, plus free postage in Australia…
…because Irene and I decided to make it such. Get your order in by Dec 18 for Christmas delivery. You can also buy each item separately by clicking on the links below.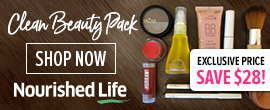 Plus, if you're new to this, you get an extra 15% off
To activate the free postage for this offer, you'll need to log into your Nourished Life account first. It's dead simple to do, and you'll get an additional 15% off.
What's in The Sarah Wilson Clean Beauty Pack
Well, all the stuff below. You can also choose only the items you want. Where relevant, you can choose your shade too, by adding your preferred shade to your order comments.
The cherry one is a great lip tint double-up.
Eco Minerals blush in Uluru 4g jar: $33
I really love this blush powder. The good thing: when I go brown over summer it becomes my mineral foundation. All natural, Australian and you can buy refills for the container for $29. Friends, I used the "Uluru" shade (I'm quite dark), but you can choose yours….just mention which one in the comments.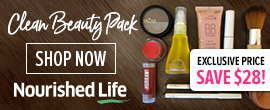 I wash in the Dr Bronner soap (below) when it starts to get old. Doesn't tend to malt.
Jojoba Company Jojoba Oil (30ml glass): $19.95
I include this stuff because I use it for cleansing, moisturizing and for my facial scrub (I mix with salt or sugar from the hotel room). It helps the 100% Pure BB Cream go on nice and smooth, too.
Ere Perez Natural Almond Oil Eyebrow Pencil 1.2g $27 
Because the stuff is not toxic, I also use as a bit of under-eye shadowing. And a lipliner, when my normal one (below) runs out.
100% Pure BB Cream Shade 30 Aglow 30ml: $49.95
I dig this stuff. The best coverage around with 15 SPF from zinc, not nasties. Friends, I use the Tanned one. Also note that Irene got the stuff tested – it actually comes in at 25 SPF according to Australian (strict) standards. I'm reasonably olive, and find this just right. You can choose your shade….just mention which one in the comments.
Ere Perez Avocado Volumising Waterproof Mascara:$32
This is made with almond oil and is really very waterproof. I can ocean swim and emerge with it perfectly intact.
Inika Pressed Mineral Eyeshadow Duo – Choc Coffee: $39
This is an easy and velvety smooth powder and can work up to a heavy smoky eye.
Ere Perez Carrot Colour Pot – Hello: $32
When I wear this people think I've just had sex. Ha! I put on my lips, cheeks and even on my eye socket bone and it gives me a healthy "flushed" glow.
Ere Perez Natural Sesame Lip Liner – Naughty: $26
This is my favourite lip liner. It's a neutral browny-pink and it suits everyone. Easy to apply, and it contains sesame oil to moisturise your lips so you can even wear it alone as a lip colour. I team with just the Hurraw cherry balm.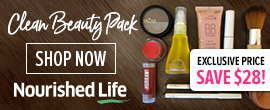 You might also want to read my posts about how to live toxin-free, and why perfume is such an issue, to understand if making the switch is for you. Hope you and your loved ones dig the kit!
And just to emphasise….Get your order in by Dec 18 for Christmas delivery.