As promised, a rundown of my wonderful hike along The Overland Track in central-West Tasmania. It's also known as The Cradle Mountain walk. As some of you might know, I set off on the six-day hike the day after announcing I was closing my business. Timings for Big Things tend to funnel right into the day before you take a holiday, right? The walk, then, was the most incredible salve for me. A symbolic full-stop. A reset. A complete and thorough grounding. The air in this part of Tasmania is said to be the cleanest in the world (the Chinese, literally, bottle it) and the region is one of only two World Heritage Listed parks to tick off all the heritage criteria. May I strongly recommend such an unspoiled, clean and spiritually renewing experience next time you go through a major life crisis/pivot? The nature just seeps in and sets you straight. I promise!
The Overland Track can be done two ways. I, for a change, did the guided, private hut version, which has been run by Tasmanian Walking Co.for over 30 years.
You can also do it unguided, camping or staying in basic public cabins (with bunks and stoves and running water). Please note you still need to book via Tasmania Parks and Wildlife Service.
The walk ends at Lake St Clair, which means you almost MUST turn things into a perfectly rounded off adventure by tacking on a night or two at Pumphouse Point, which juts out spectacularly into the lake. There are a number of walks nearby that you can do, too. Since you have your hiking spirit well in gear.

A few things to note:

Distance covered: 65 km, plus about 20km of side trips
Days required: 6, plus travel days.
Strenuous? Medium to hardish. The huts (both public and private) are spaced at very doable distances. The Tassie weather (you can even get snow in Summer) can make things challenging, which is why the guided, private hut option is actually a very sound idea for this walk. Note that 90 per cent of the walk is extremely well maintained, boardwalks.
Best for? Experienced and fit hikers can challenge themselves by doing the unguided version in 4-5 days, or do the side excursions. Fit-ish novices will find it tough but not impossible, but I'd advise doing the guided version if you're not an experienced camper (this way you don't have to carry tent and food…yes, the guided version serves you up all meals, including a three-course dinner each night!).
Best time? October till early May.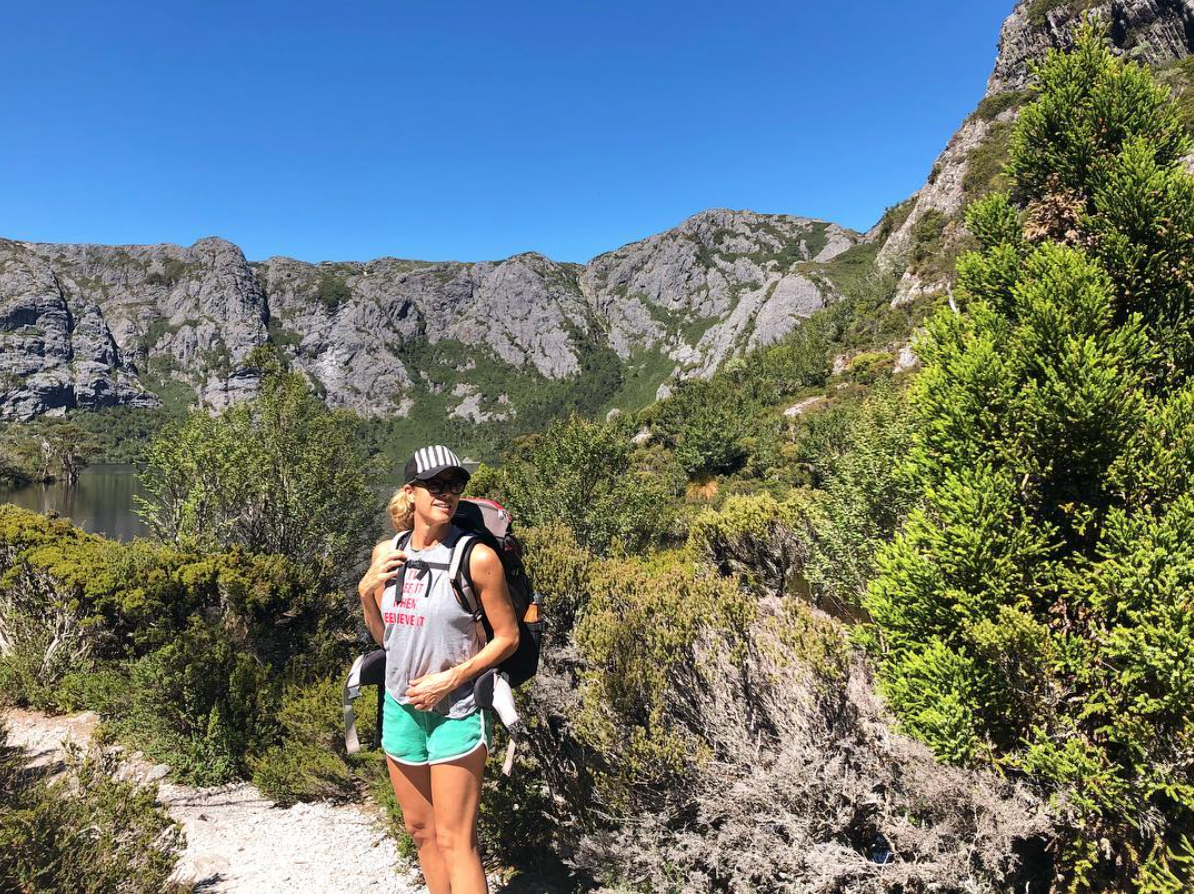 From time to time I accept support from tourist bodies to cover the costs of writing these blog posts and guides. In this case Tasmania Tourism supported my trip when they got wind I was heading south for a hike. They helped coordinate things and sponsored my accommodation. You can check out my policy on advertising and sponsored posts if you want to know.
Check out more images for this hike on Instagram via #sarahwilsonhikes. And for some Tasmanian wilderness porn #tassiestyle.
You can see my other international hiking, eating, wellness, slow food guides here.
The Overland Track: 6 Days
Doing the guided Tasmanian Walking Co. walk goes like this. You fly into Launceston and spend the night here. There are a few great eateries to check out – The Black Cow is great. A bus collects you first thing and takes you out to Quamby Estate, a converted homestead (where you might like to book in for the night, saving the bus trip from Launceston in the morning).
Tasmanian Walking Co.set you up with all gear – pack, waterproof gear, lunch for the first day, park pass etc. They are a super organised lot and send you lists of things to bring from home. You won't have to use your brain much at all on the walk. The two guides who accompany you pretty much take care of everything…even the gags. As a side note, I've rarely met better, more passionate humans than Lauren and Conor who led our guides. They adore Tasmania. This definitely added a layer of richness to the trip.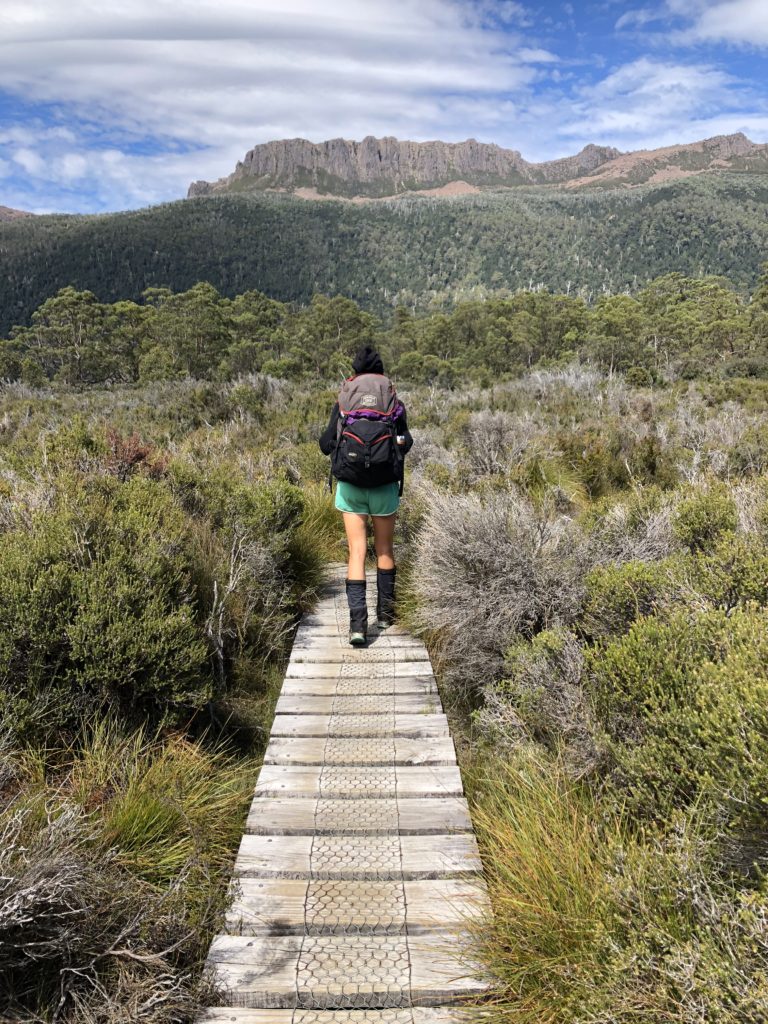 I brought my own green shorts, hired the gaiters.
The hike itself sets off from Cradle Mountain (if you're doing the hike independently, you'll  kick off from here, too. Buses can drop you off at the start).
From here I provide images to tell the rest of the story.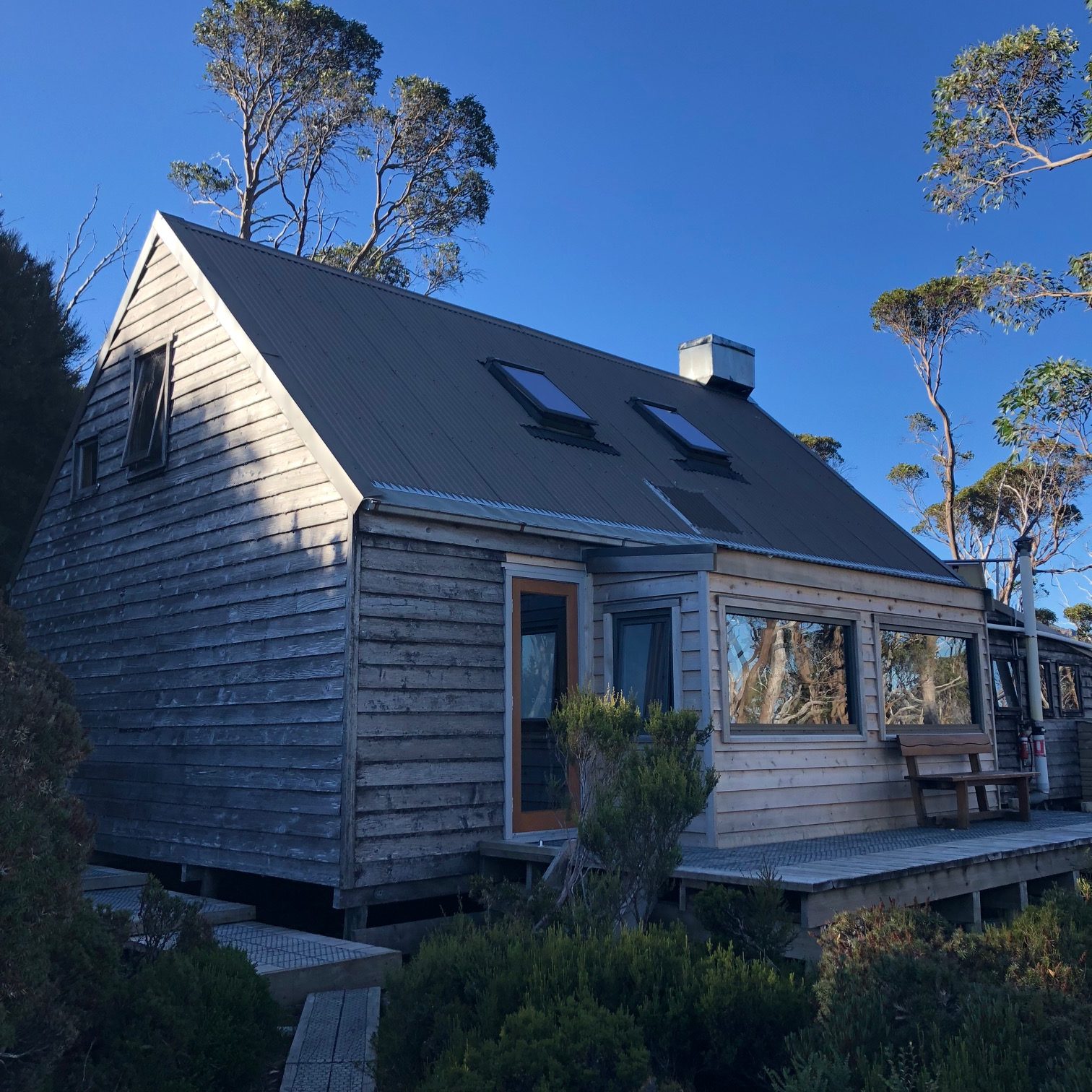 This is a Tasmania Walking Co. cabin…a coupla hundred metres off the track. Everything operates off the grid and they supply foam rollers for sore bums.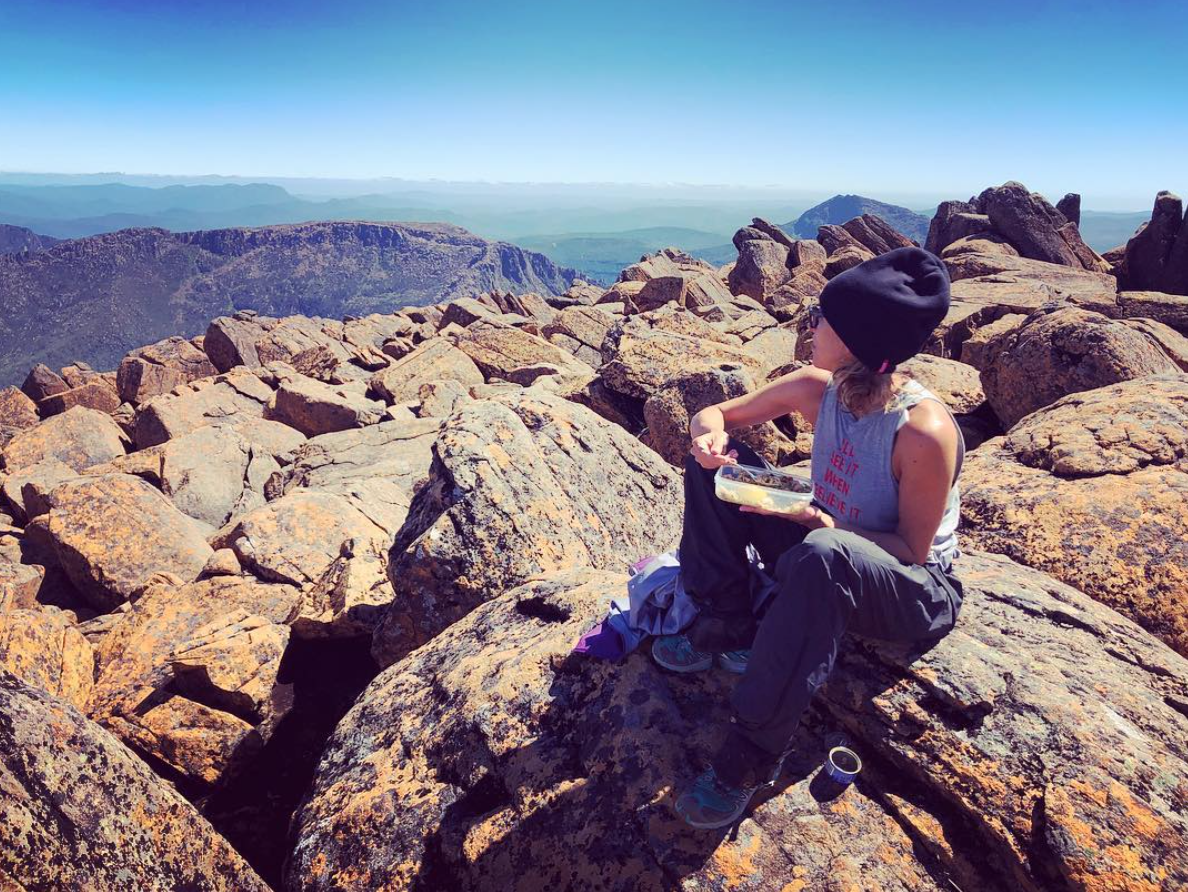 You can opt to do a four-hour side trip up Mt Ossa, the highest point in Tassie. There are only two roads between me and Antarctica in this picture.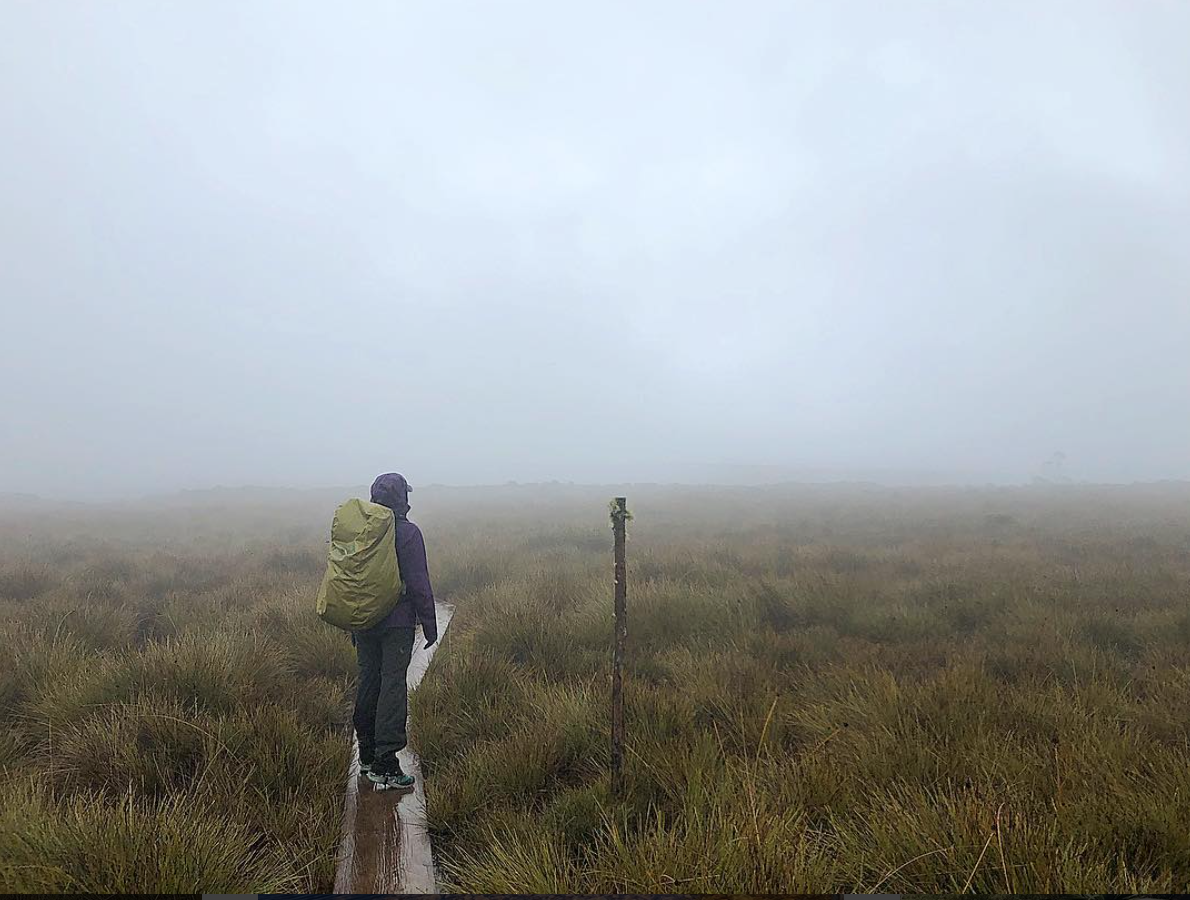 Day 3 it bucketed down, which is normal and quite exciting…especially when there's red wine and a warm bed waiting at the other end. On these kind of days it's quite wonderful to enter Walking Reverie. It's you, the swishing of your Gortex and your cascading thoughts.
You can read some of my thoughts about the wonderful place hiking takes you to, here.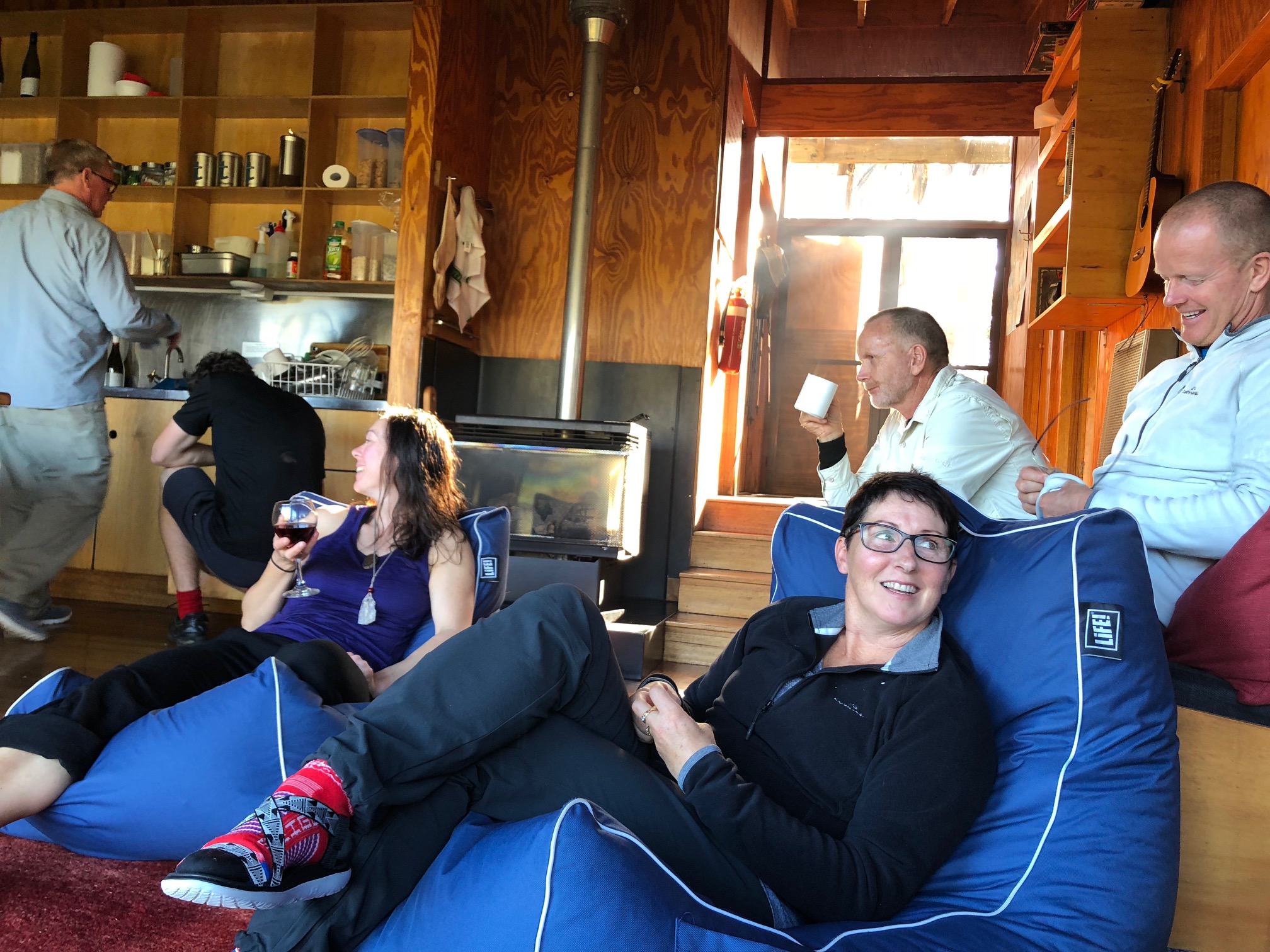 The group include 2 guides and 7 other hikers with lovely life stories. We played board games and laughed deliriously each night. A reminder that humanity mostly just wants to connect. Sometimes you have to get out of mobile range to realise this fully.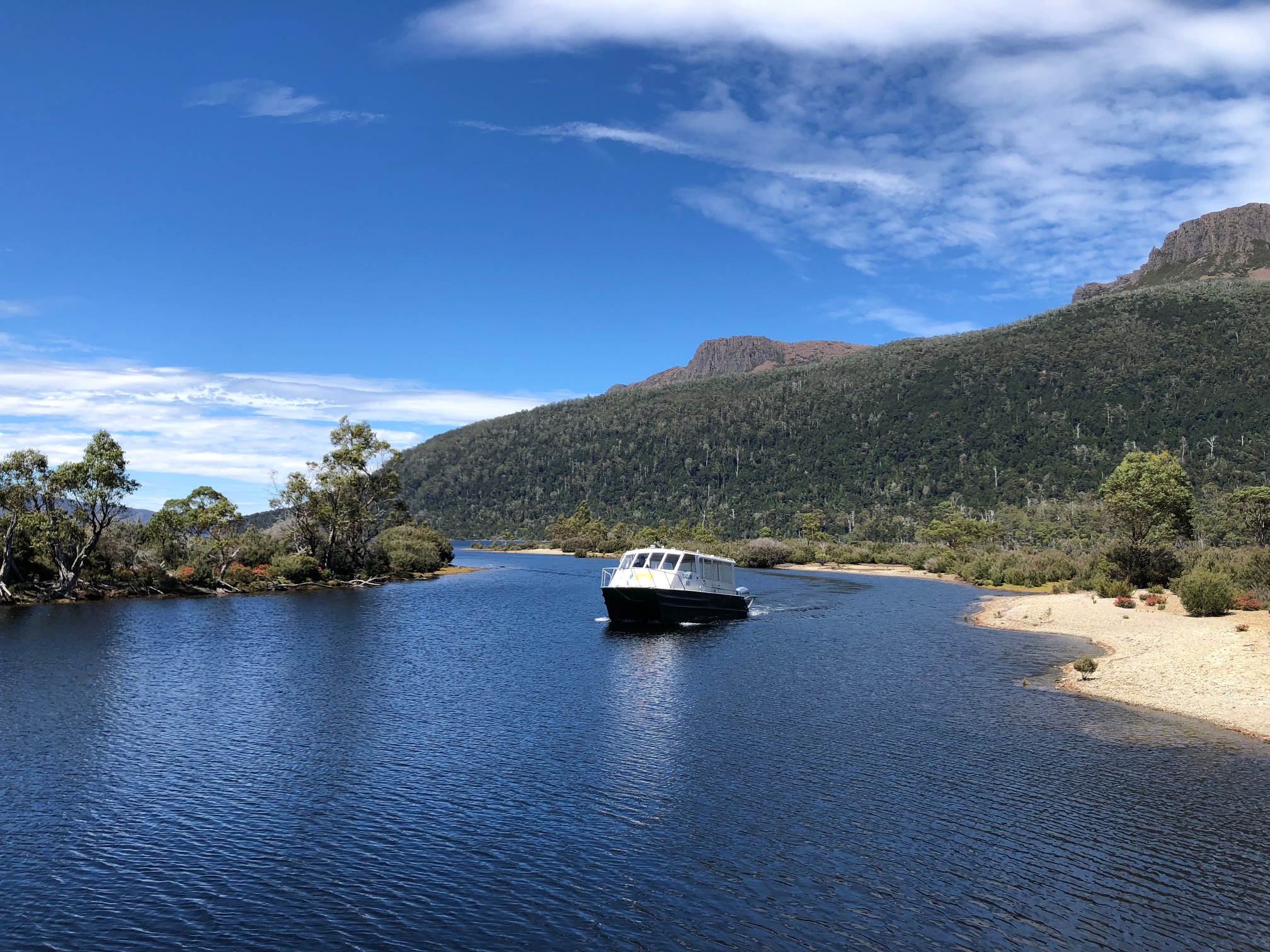 At the end of the hike, we're picked up and taken across the other side of Lake St Clair…
The Pumphouse Point: 2 days
I mean, you can stay as long as you like. Two days was a perfect amount for me, rounding the trip off to a neat ten days, inclusive of travel from the mainland. It gave me enough time to enjoy an outdoor bath, a whiskey by an open fire, a 15km hike nearby, and several hours of reading a book in exhausted silence.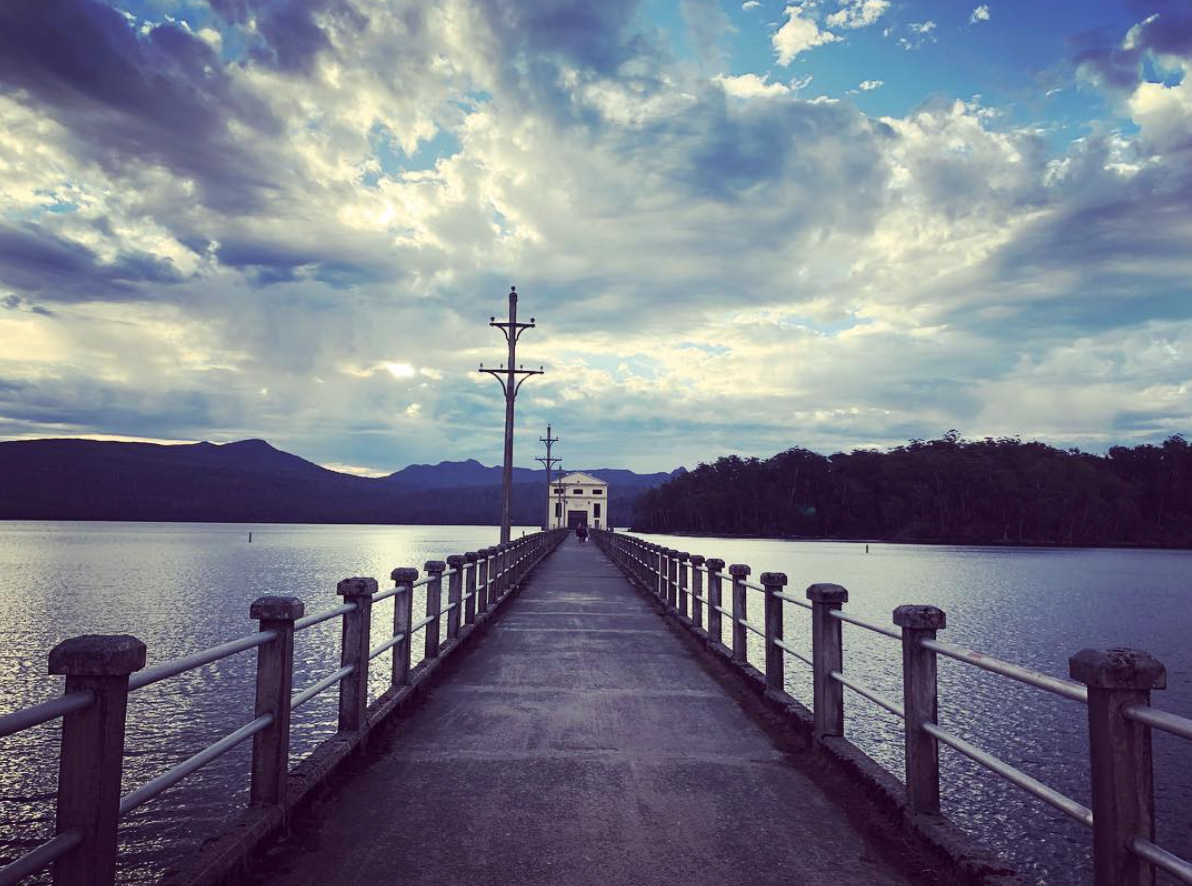 The Pumphouse at the end of a long jetty…stunning in any weather. You can spot platypus from the deck out front.
I'd read about Pumphouse Point several times since it opened just a few years ago. It's an irrigation pumping station plonked on the end of a jetty, a good 100m out into the deepest lake in Australia. It's been converted into a bunch of stunning rooms and a communal dining room, geared at travellers wanting a tasteful retreat in the wilds.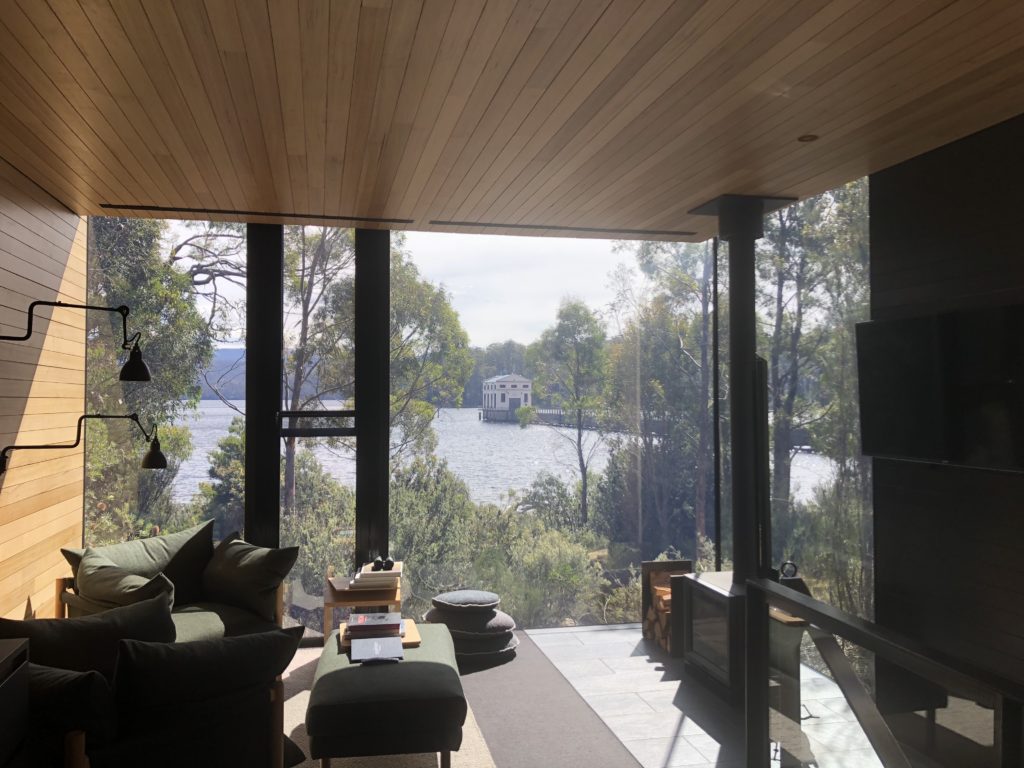 I stayed in the retreat onshore. Happened to be the only room left. It has an outdoor bath.
It's not overdone. There are mindfully sustainable touches everywhere. Tassie wine, whiskey, cheese and bread are on parochially abundant supply. But it has a 95 per cent occupancy. So you can't do an impromptu drop-in.
The epic 10-day trip ends with a two-and-half-hour transfer to Hobart airport. Of course, you'd be savvy to check out Hobart if you have the time. I've done a Hobart and Freycinet guide, too, should you be interested.
Feel free to ask extra questions in the comments below and I'll ask some of the guides and Tassie Tourism kids to help you out over coming days.