Dearest Everyone,
Today I close the business I built over many years, mostly in cahoots with you and the community. So I need to say a final thank you and share The Things You Need To Know.
I can't pretend the success of IQuitSugar.com was all mine. I say this always – the prosperity and momentum stemmed from the support and loyalty and love of a community of strangers. I steered the ship; you guys propelled it. All of you owned this movement.
I owe all of you the biggest of thank yous. I really don't know what else to say. I just consider myself so damn fortunate to have had the opportunity to lead this mad beast. And to know our work is done and that the sugar-is-bad message is now well and truly entrenched. We did it!! But to…
The Things You Need To Know Going Forward
The IQuitSugar.com site shuts down today, May 31. The blog will no longer exist. The supermarket products have been discontinued. But a bunch of things will live on:
The I Quit Sugar Facebook page will live on
This is exciting! You know the IQS Recommends Tick? Well, I'll be continuing this. Going forward you'll start to see products that genuinely help us all shop and eat better. We (Megan Yonson and I) will explain things further soon. Please be aware it will raise money for charity. The new home for everything to do with the tick will be here.
Your recipes will continue to be shared on the I Quit Sugar Instagram
…head on over here to the I Quit Sugar instagram page. A great chick called Steph Lewis will be running this and you'll meet her soon.
You can still do the 8-Week Program
…via my books which you can find in book stores in 46 countries around the world and my ebook.
You can find more recipes… thousands of them… in my ebooks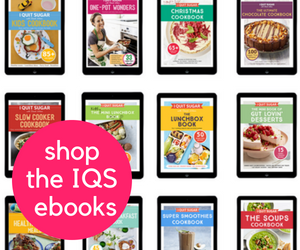 The I Quit Sugar recipes
…can now be found at 28 By Sam Wood.As you know Sam and his crew are the new custodians of the recipes, with all funds going to charity. Read here for a run down of this.
Finally, you can follow my next projects…including my next cookbook that comes out in October (it's zero food waste…and yet, sexy!)
at my website
on Instagram
on Facebook 
on Twitter
I'll be sharing in the next few months how the philanthropic trust I've set up will work and how we can have fun building something big, new and meaningful together, should you still care to join me on the journey.
Journey on!