Hi Everyone,
I write to you today to clear up some confusion. I've been asked across different forums (and in the street!) over the past few months about a supermarket range called No Added Sugar, with many of you thinking they are my products. The range includes a jar of rice malt syrup, a paleo ball mix and a muesli bar mix, etc.
It's easiest for me to answer some of your questions en masse here, given I no longer have a customer service team to answer you individually. I hope you don't mind! I've posted some of your questions that you've sent in and provided the clearest answers I can.
Do you own No Added Sugar?
No, the first I heard of the range was when some of you contacted the IQuitSugar.com customer service team back in May with complaints about the product(s) and confusion about whether they were I Quit Sugar products.  When I took a look I learned they are manufactured by our partner on the I Quit Sugar products  – Future Generation Foods. FGF and IQS decided to end the partnership in September 2017 after FGF told us the products were unprofitable and not working in the market. We (I Quit Sugar) received no profits from the range in two years under the contract.
Below are scans you kindly sent in with the ingredients comparisons for the Paleo Balls (the first scan), Muesli Bars and Protein Balls (for the two ranges).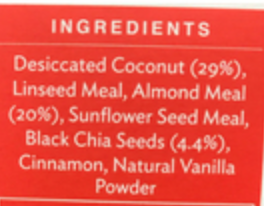 Are they the same products but in new packaging with slightly tweaked ingredient lists?
I have asked Future Generation Foods and they categorically deny that they are. FGF have advised that it is not using recipes in respect of which it has no rights.  Some of you have sent me grabs of both products, indicating your confusion (above). As I say, I was not made aware of the range and am not privy to how the products are made. I can only confirm that I have nothing to do with the No Added Sugar range.
Is your I Quit Sugar range still available in supermarkets?
They shouldn't be. The partnership meant all products were to be run out by March 2018. However, some of you have noted discounted stock is still being sold in supermarkets. I'm afraid I have no ability to answer why this is so and do not make money from these products. I no longer have staff who can manage questions or issues relating to this. I'm sorry.
The No Added Sugar Lemon Bliss Balls don't have the right instructions – can you help me?
Some of you have written in regarding issues with the recipe instructions missing details. I'm afraid I'm not the person who can help you with this.
Is their rice malt syrup yours but with a different label?
I do not know.
Do you endorse the No Added Sugar range?
No.
I hope this clears things up and I'm sorry it took a while for me to respond.
Sarah x