Some of you might have noted I've been doing a bit of hiking and camping lately in Tasmania. A few weeks back I went a degree further afield and travelled across to Flinders Island. Where? What? You've heard of it, right? But no idea where to point to it on a map? I confess that was me. It's a smallish island north east of Tassie, in the Bass Strait, with a population of 800…and with a truly remote, wild, raw vibe. It's largely off the tourist beaten track, but I suspect that's about to shift. That said, the locals are keen to keep vibes wild and raw, a fantasy adventure island for hikers who love insanely fresh food (in mad abundance on the island) and are thrilled to put the kybosh on fancy retreats, massages, cellar doors, pools and hand-held experiences. Sound like your kinda island off an island? Yeah, me too.
A few things to note:
How to get there: We flew into Launceston then caught a charter flight with Flinders Island Aviation to Killiecrankie in the north of the island. I have to say, this flight is part of the adventure. You fly in low over the Strait and the island and get the most wonderful perspective on things. Pete who runs the service also does helicopter flights to remote parts of the island. If you're coming from Melbourne, you can catch a a regional airline flight direct from Essendon (not nearly as fun).
How to get info: Great question. You have to get old-school with Flinders (ain't no Lonely Planet guide), which, again, is part of the adventure. Walking into the pub in the main "town" is a good start. Or by simply booking your trip there – seriously, word gets around and the locals jump to action to help you out. Or by reading this blog. Or, as of very recently, via The Flinders Wharf hub. This launches in March and is a one-stop for buying local food, booking charter flights, excursions, accomodation, having a coffee, a local gin (by an open fire), or a meal featuring local produce at the restaurant. It's in Whitemark, on the wharf, with vast views.
How about hikes? Oh, there are sooooo many, from easy 1-hour hikes to multi-days that traverse the island. The Flinders Wharf sells a bunch of hiking books which features all of them. The locals maintain the tracks, providing cairns and hand-painted signs. If you want to buy the books ahead of your trip, here's the rundown: Flinders Island Tasmania, Len Zell; Climb Northern Tasmania, Robert McMahon & Gerry Narkowicz; Flinders Island and Eastern Bass Strait, Jean Edgecombe; Walks of Flinders Island, Ken Martin.
Bear in mind…You go to Flinders Island for a true adventure. There are few places in the world that still enable – and encourage – this. Also, engaging with locals is part of the deal. Don't be surprised if you find yourself randomly being hauled onto a boat and taken out to catch abalone by a mad fisherman (see below) who thinks you'd really quite love it.
Also bear in mind…Only Telstra mobile phones work on the island. And there is little wifi (hoorah!). The Flinders Wharf, however, has a communal work space with full wifi.
How to get around? Mick and Maryanne from the cabin park rent out fantastic "island" cars (that is, they all come with a roo bar, which you need on the island due to the sheer menagerie-ness of the place).
Best time? Summer is glorious. Bear in mind the island doesn't get as cold as Tasmania due to its position in the Strait. The Food and Crayfish Festival is in April and is a great time to visit if you can get tickets. It's developed a cult following with top chefs around the world, including Austrlians David Moyle, Matt Stone, James Biota, Analiese Gregory, descend on the island to catch and cook crustaceans.
A four-day vist to Flinders Island
I'll tell the story of my stay in pictures. Because they best do it justice. And because my good mate Rob Palmer (he photographs my cookbooks and other projects) was able to come with me (along with his super-cooper wife Sophia and little boy Max) and his work was truly able to do the whole thing justice. (Some of the dodgier pictures are my own.)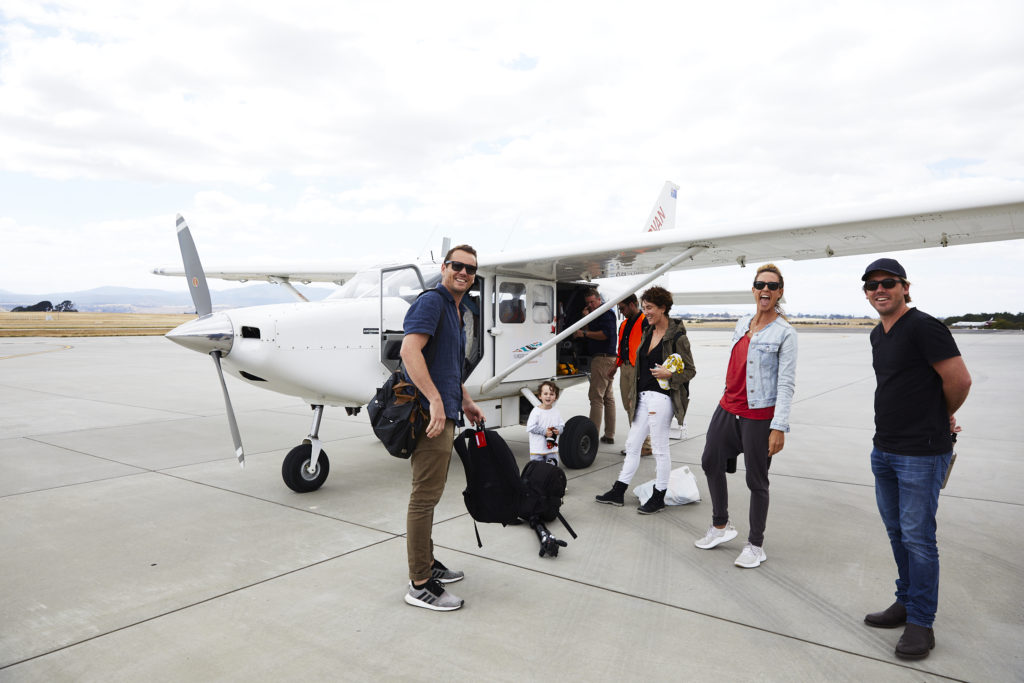 Here's the crew I travelled with (including Tom and Toby who know the island well). We were a party of six and I recommend the island adventure to groups this size. You can be idiots together. It also helps for car drops etc on walks. And for eating a whole cray!
To be clear, the various parties I mention in this post – The Flinders Wharf and Flinders Island Aviation, Tourism Tasmania, as well as Rob –  all kicked in to make this trip possible, gratis. While we were there we photographed content for my next charity project (stay tuned) and all wanted to help out. A very generous gesture.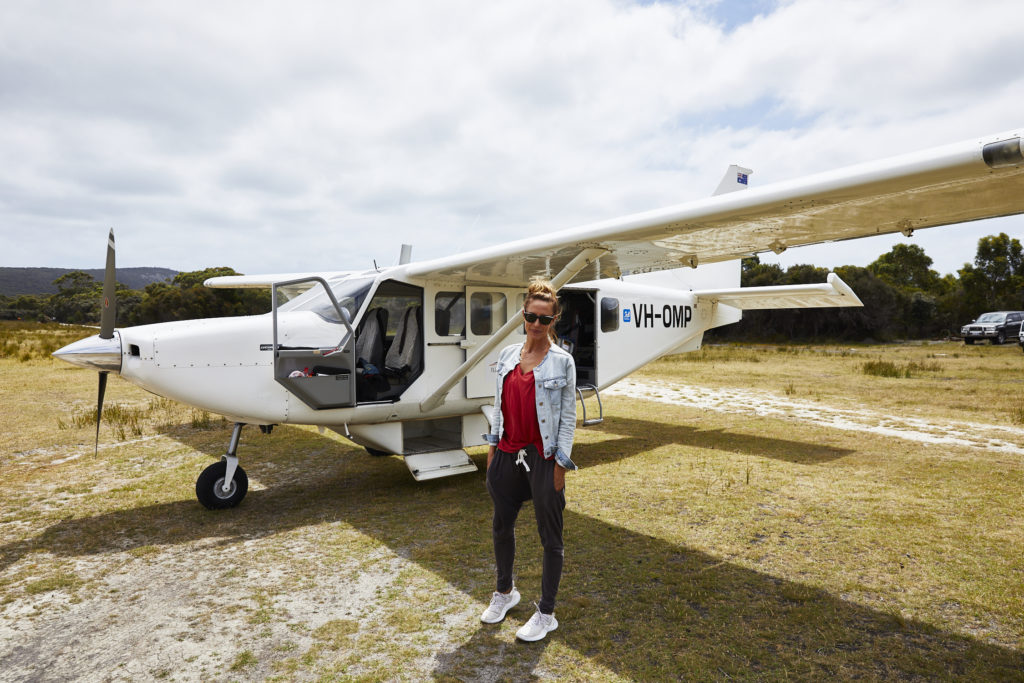 This is where you land in Killiecrankie. It was such a wild experience. Forget theme park rides for adrenal spikes! (I will flag, the route is regarded as extremely safe – the pilots do the run every day, too). Our car had been delivered from the cabin park, ready for us. The whole experience is seamless, mostly because the locals all radio each other, cooperating and helping, always.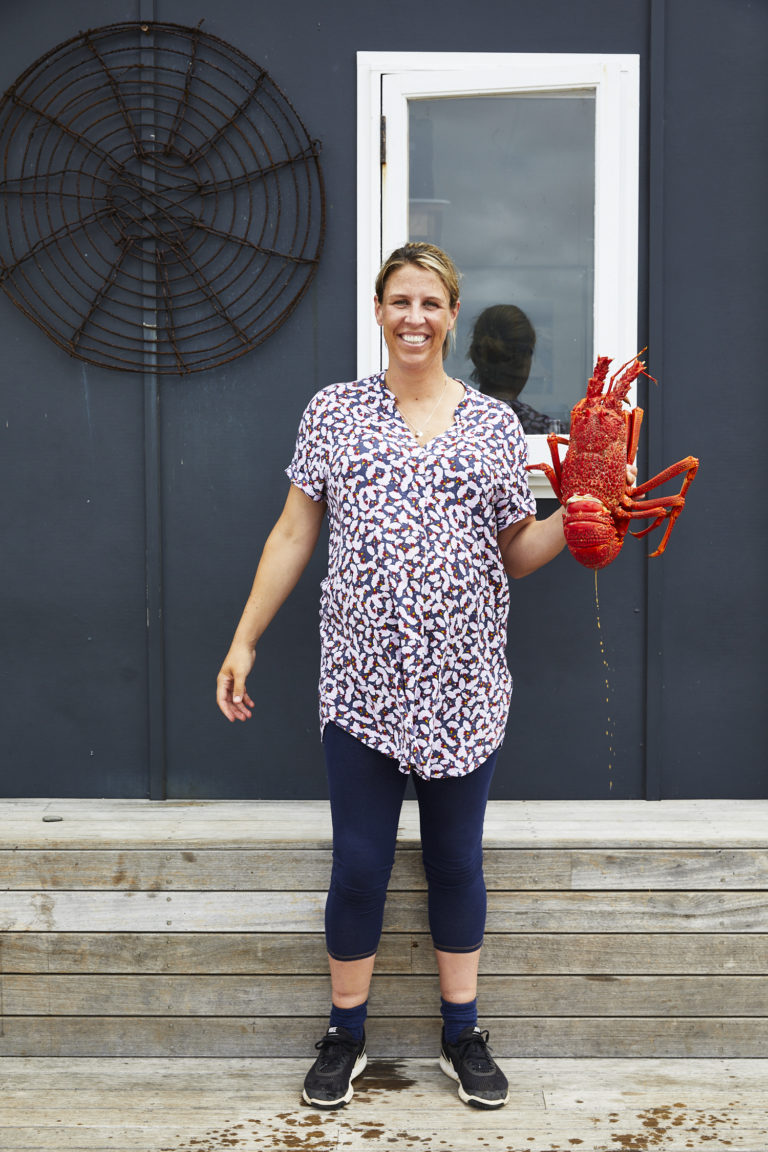 This is Jo from The Flinders Wharf. She is one of my favourite people now. Here she is, 8 1/2 months pregnant and the most energetic human I've ever met. She's holding a cray her husband caught that morning. When we arrived at our accomodation – The Cray Shack, a 4 minute drive from the "airport" on the bay at Killiecrankie – she was ready with lunch…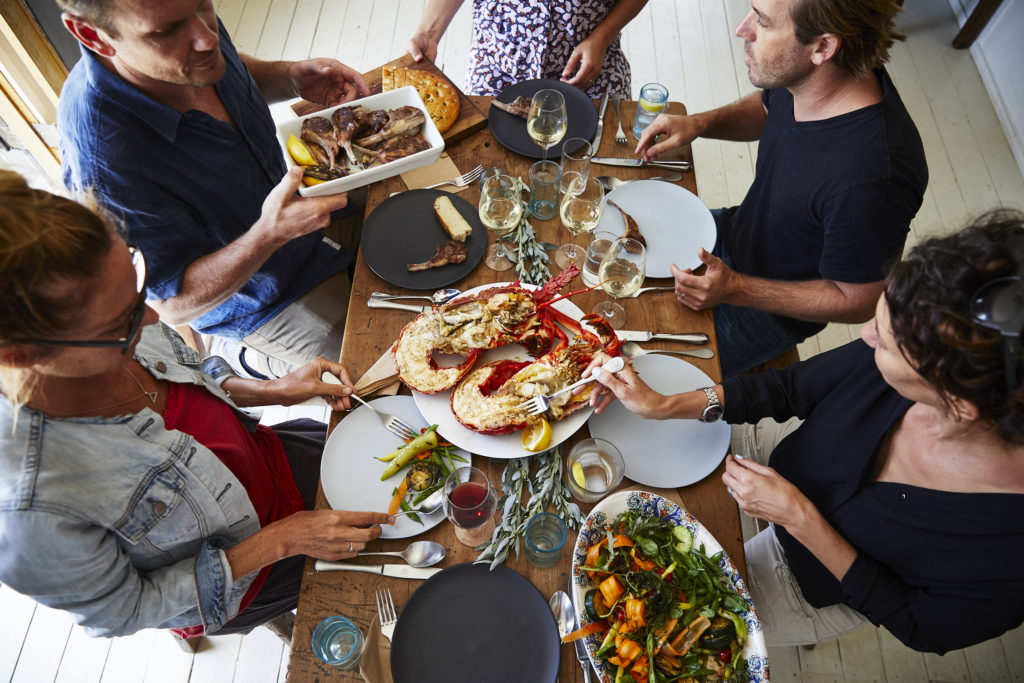 So food on the island goes like this. There is a small IGA, a pub, a tavern, a butcher, the "Condimental" (a cute cottage where you can buy locally made bread, fermented foods and sauces), The Flinders Wharf (for island staples and cafe and restaurant food), foraging and fishing, whatever you can bring from Tasmania…and Jo. She and her team can provide hampers and home delivery in various forms (where you cook for yourself or she can supplier a caterer). We got treated to this (above). Now, you need to know everything on that table is from the island, except the butter, which is from Tasmania. Even the gin and the honey that was served with blueberries for dessert. Check out the range of producers here.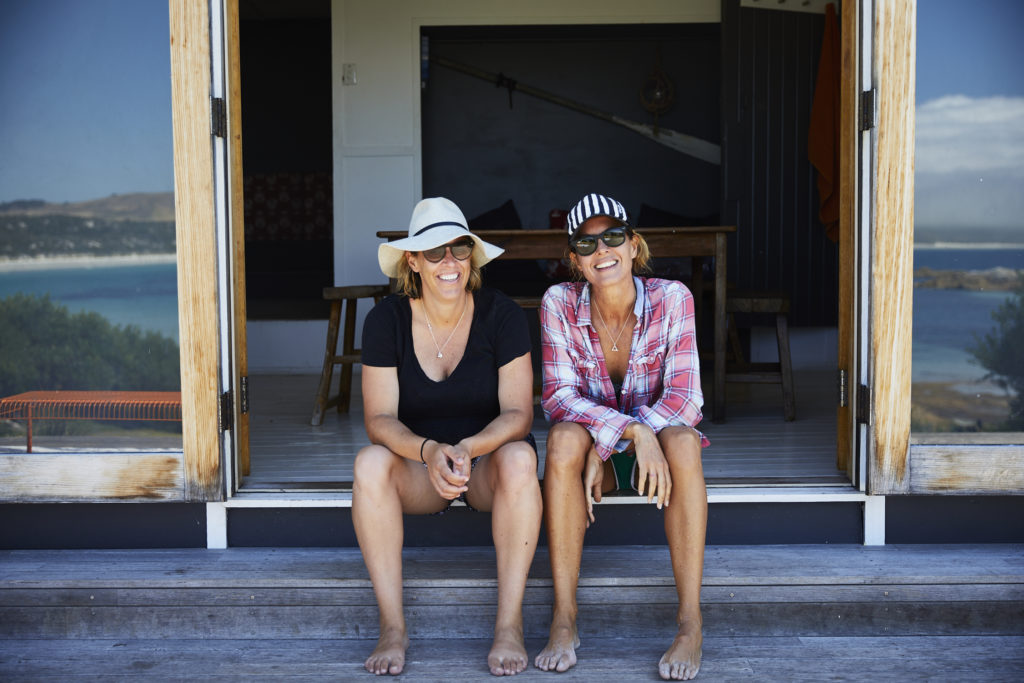 I love this shot of Jo and I sitting on the stoop at The Cray Shack. You can see our view in the reflection in the windows. At night the ocean sounds like it's lapping at your bedroom window, which it almost is.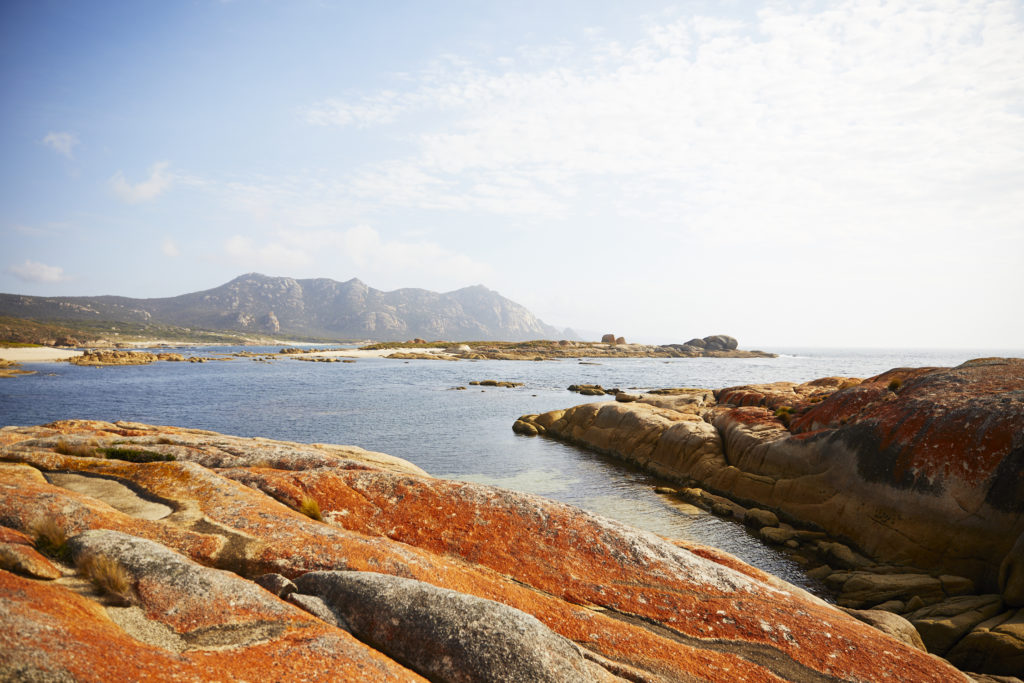 After lunch I went for a hike from The Dock around to Climbers Camp (there are great maps for all hikes that start from The Cray Shack in your little welcome pack). The walk extends all the way back to Killiecrankie – you follow the cairns – if you want to walk through. This walk was about 2 hours and easy-moderate. That orange lichen and the intense blue are the island's signature colours. Mesmerising!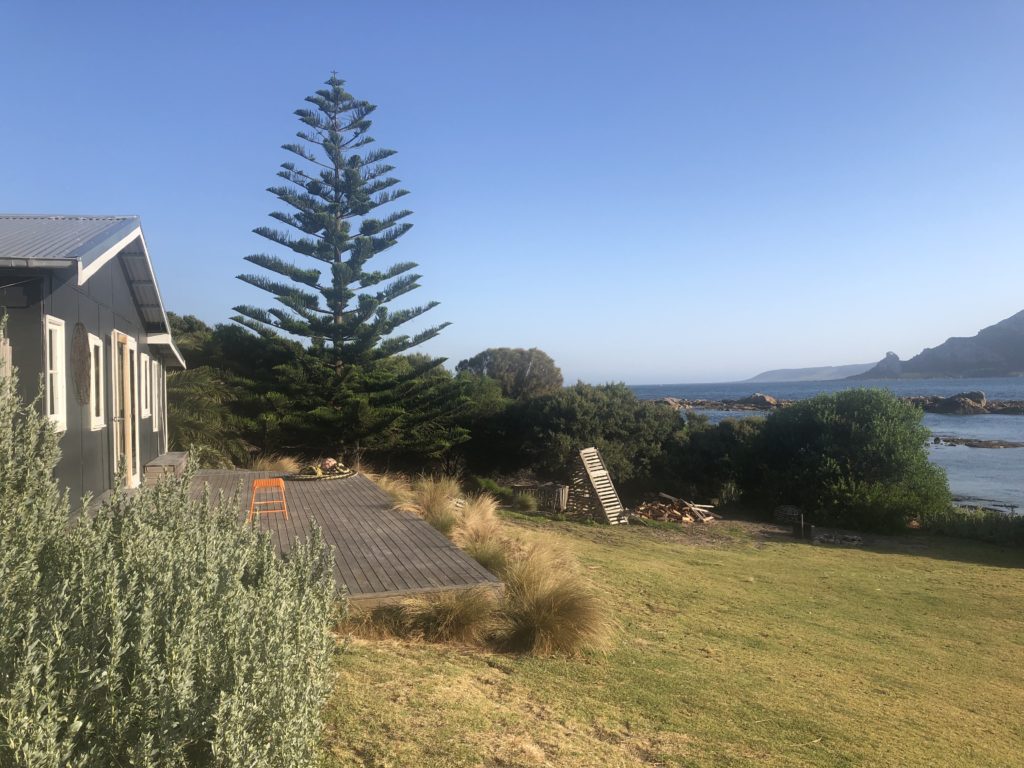 I'll break up things with a quick picture of The Cray Shack. It has three bedrooms and can accomodate six people. If you're a bigger group, you can also rent next door (via The Flinders Wharf, again).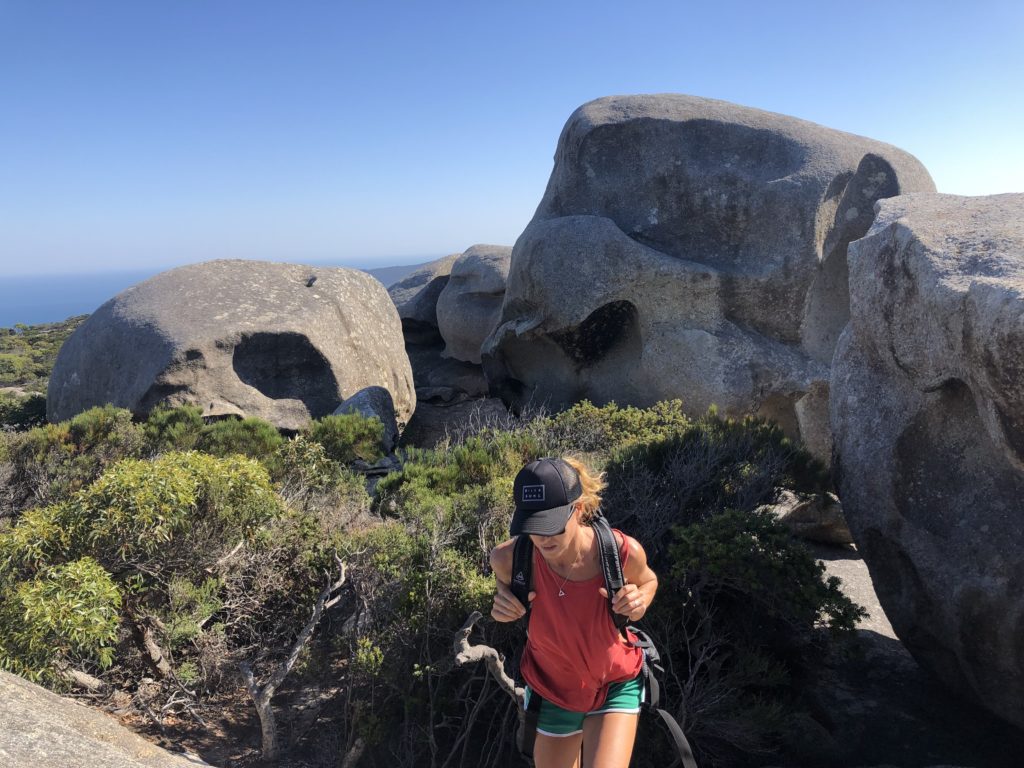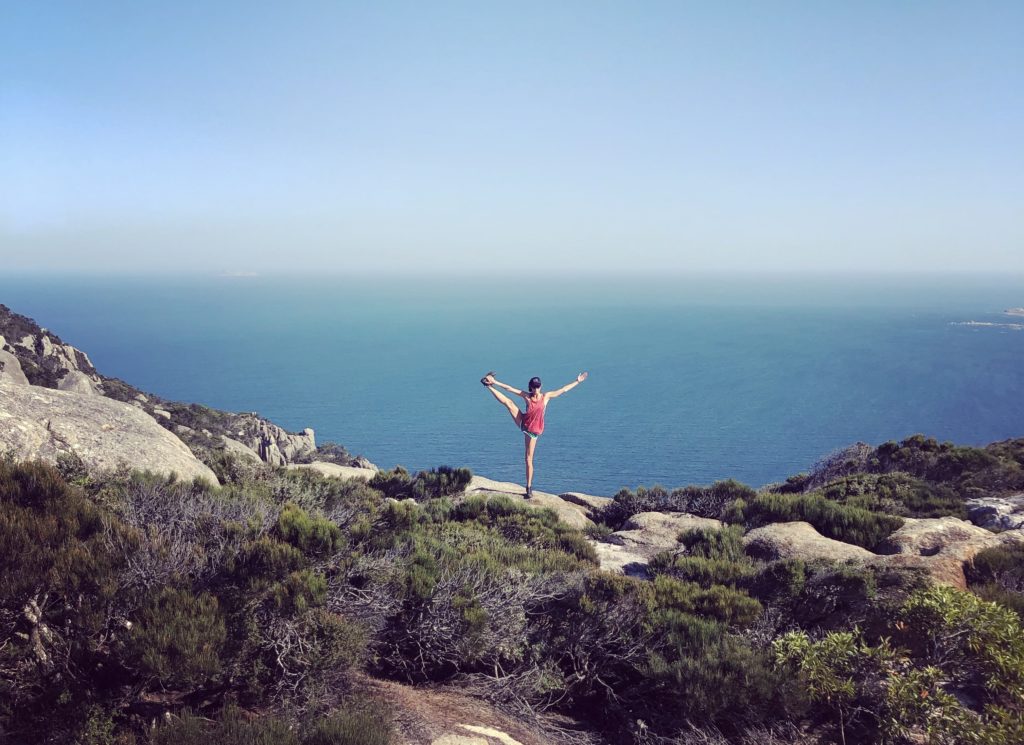 Here's another hike idea. Rob's partner Sophia and I went from the road to The Dock up to Mt Killiecrankie and back down to Diamond Gully where we joined a walk along the coast around to Stacky's Bight beach. It took us about 3 hours and was the perfect mix of rock scrambling, forest, scrub, ocean and view treats.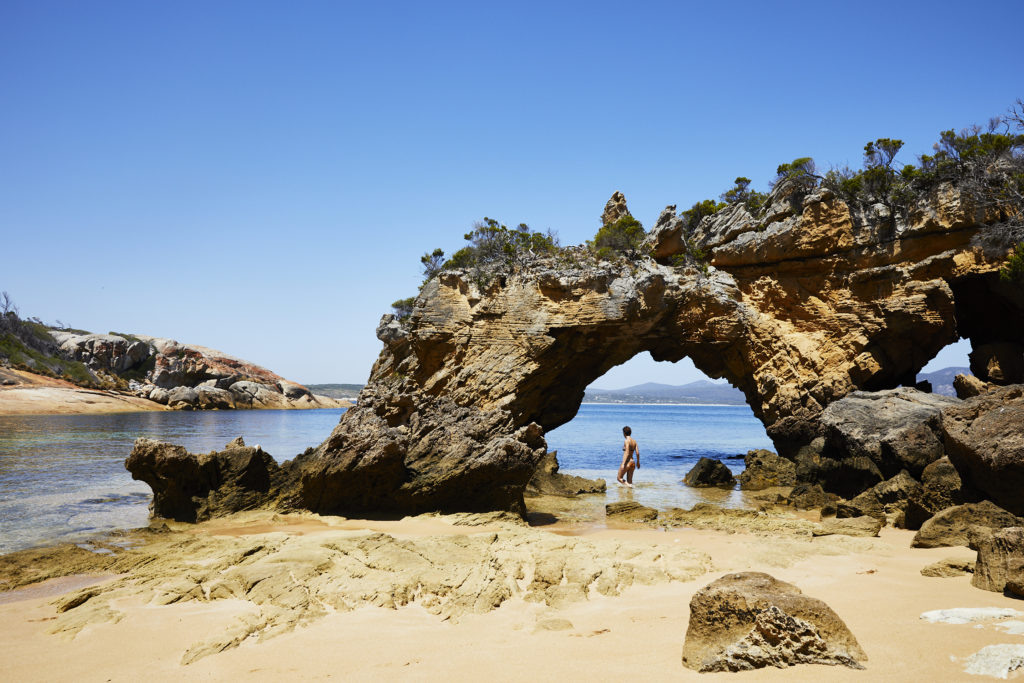 Here on Flinders you have beaches to yourself and the water in February was super warm. All of us found ourselves forgetting where we were. At times it felt like Greece, Corsica…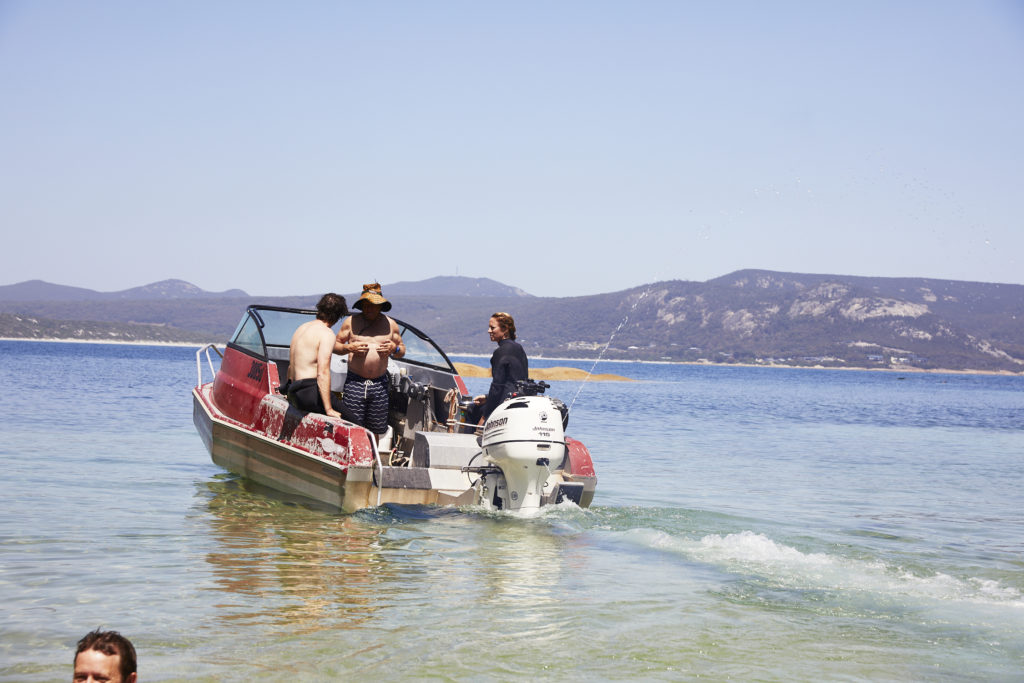 Then. Randomly. Mick (who is one of the locals who can take you out cray fishing, via The Flinders Wharf) arrived and pointed at me and announced I was heading out with him to try find cray. He gave me an old wetsuit and a weight belt and off we went. This is how it works here. We didn't catch one, but my word it was a stunning trip. The water and abundance of fish and the secret coves….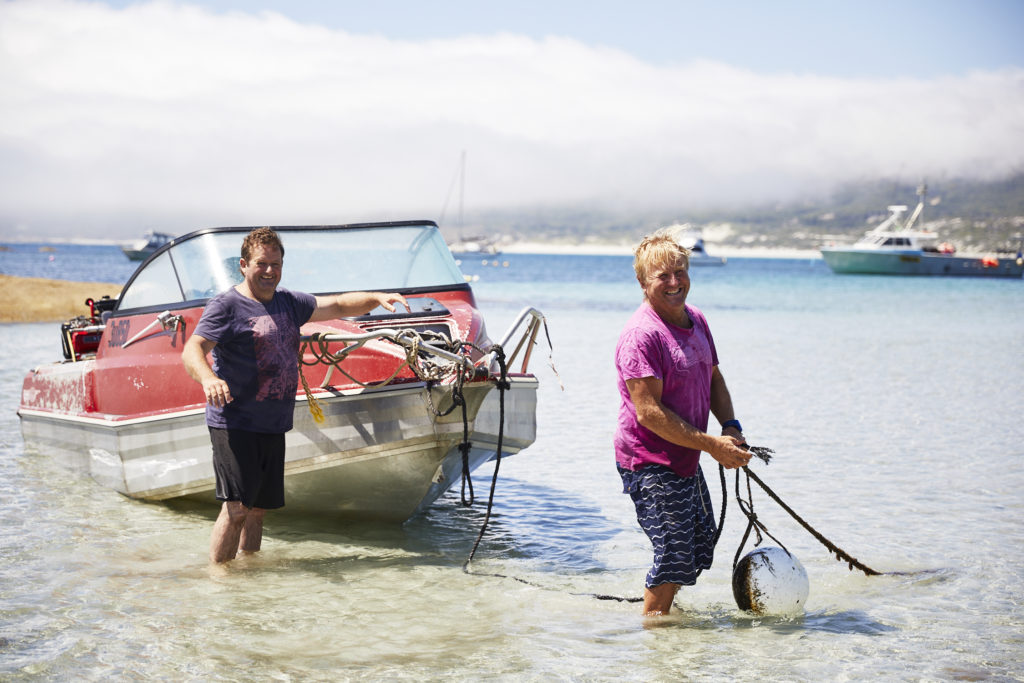 Mick (on the right) again, and his mate Malcolm. He deserves a second mention.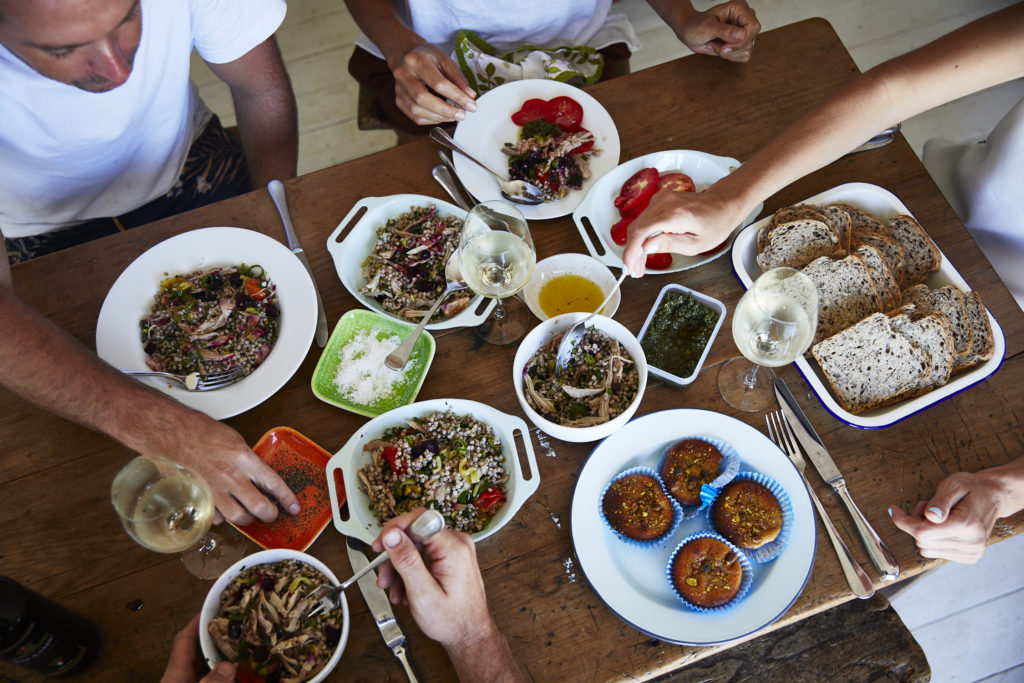 A food drop service from Jo at lunch. Salads and local oil and pesto and bread.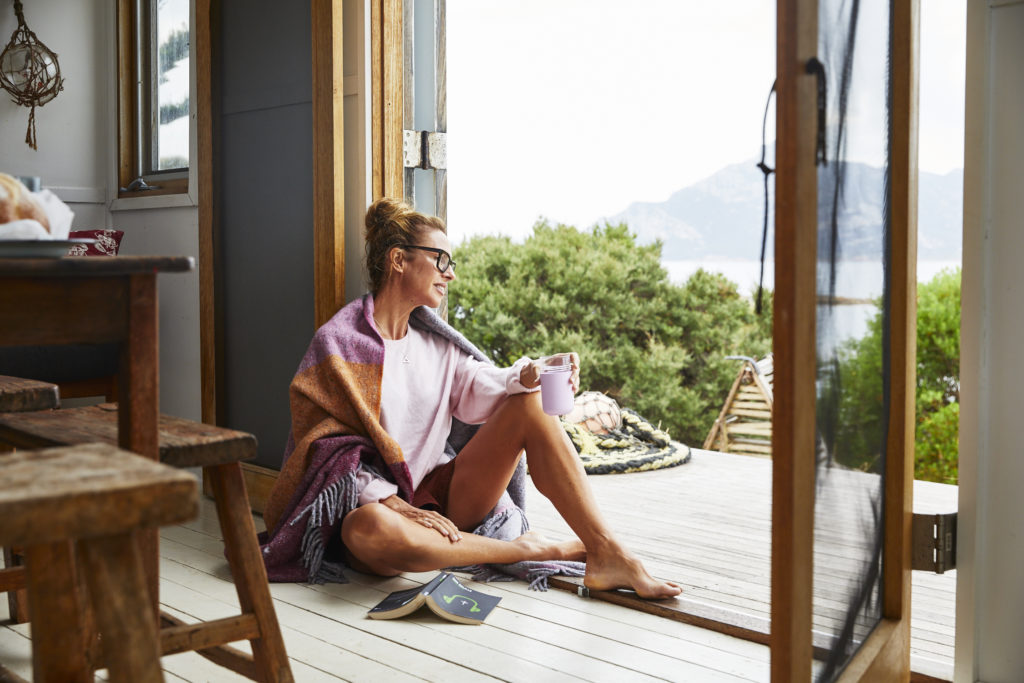 In the afternoon I hung here. In the background you can see Mount Killiecrankie which is where Sophie and I hiked. That blanket? Well, stay tuned on that one!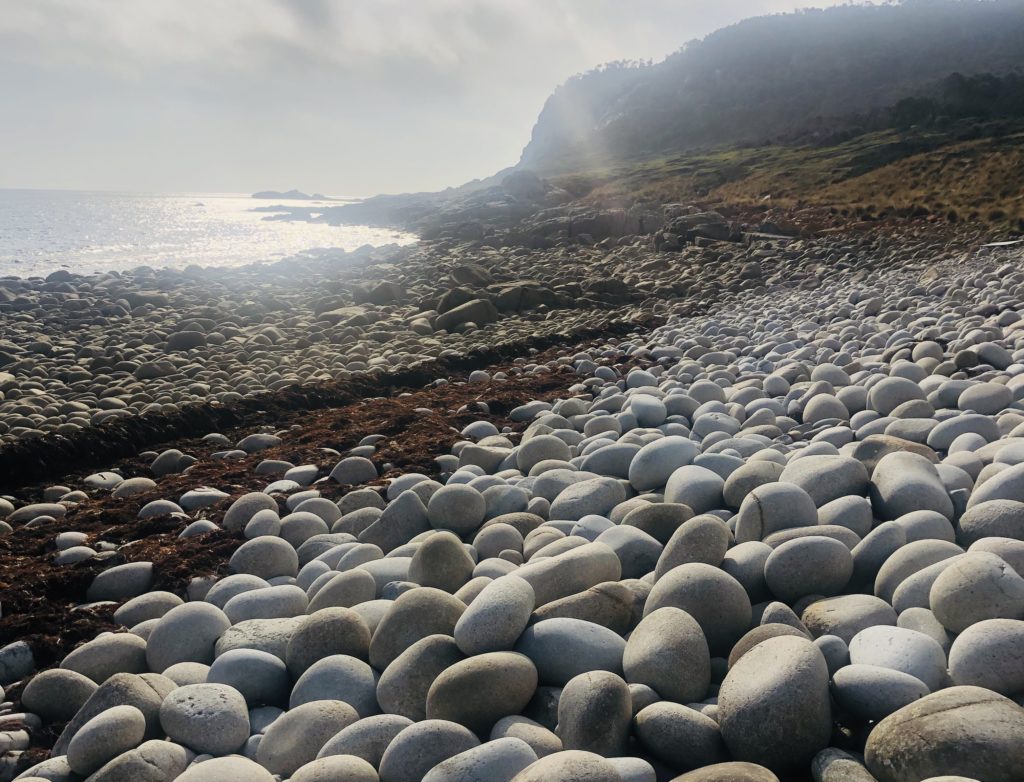 I did a few other hikes, all within a 20 minute drive from the shack. I loved the rock-hopping one that goes from West End around to the appropriately named Egg Beach. The return is back through bush.
Other activities on the island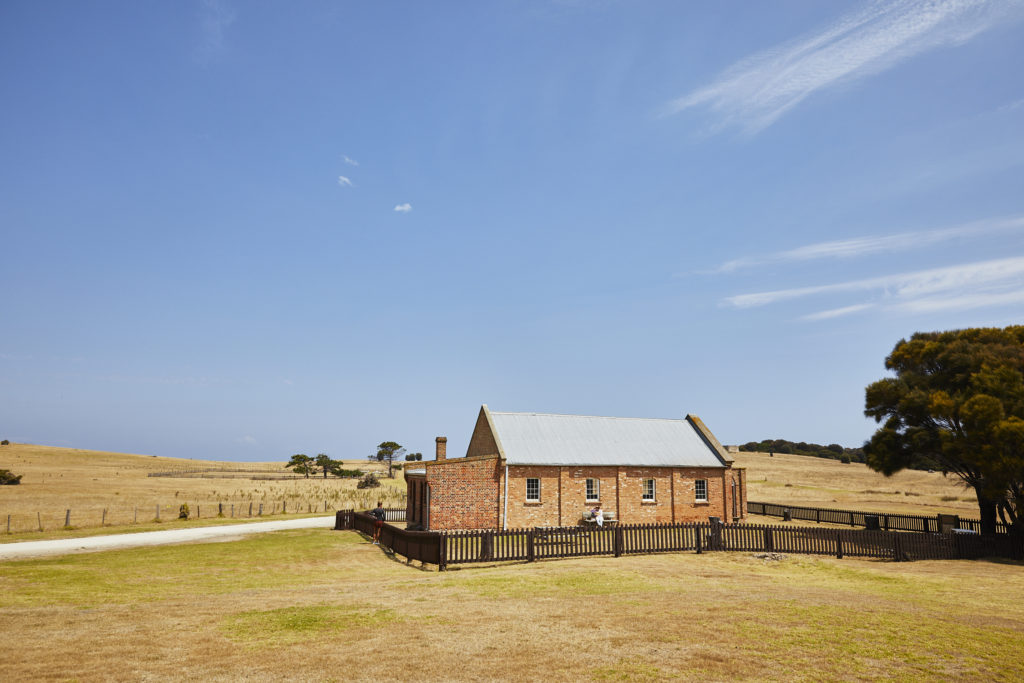 You can go snorkelling or diving via The Flinders Wharf.
There are local foraging and fishing tours – including catching your own cray.
Visit Wybalenna Aboriginal site picture above. This is the last remaining site giving a feel for the Aboriginal history of the island. It is very under-reported that the last full-blood Tasmanian Aboriginal was not Truganini (as commonly thought), but a woman – Fanny – from Flinders. When the massacres took place, some of the First Peoples were deported here, in obscene conditions. Few survived. Fanny did. There is a robust Aboriginal community on Flinders today. Under the tree in the graveyard is lovely place to reflect on all this and I urge all visitors to read up a little more on this part of the island's history.
PS You can read my other hiking, eating and travel guides here.
I think that covers everything. I did a couple of other hikes, all of which are detailed in the materials at The Cray Shack (and are in the books I mention above). The Mount Strezlecki climb is meant to be a highlight and I'll be doing it next time. Because I'll certainly be back. Feel free to ask questions below and I'll invite Jo to chime in (if she's not in the middle of giving birth!).