The Sierra Nevada is a mountainous region on the eastern side of Yosemite in California and about 5 hours drive from Los Angeles.
I say this upfront: it's worth the drive. If you're into hiking and epic scenery and good food. Mammoth Lakes is the hiking (and mountain biking, and skiing) epicentre and a gem of a town to travel to.
My recommendation would be to do a trip out to Sierra Nevada over the course of a week and perhaps incorporate a stop off or two, possibly going via Yosemite.
You could also incorporate a stay in Los Angeles (see my guides here and here) or in Joshua Tree or, as I did, pass through Ojai for some rest on the way back (see my Instagram Stories "Ojai" highlights for accomodation, food and massage tips).
I did the Ediza Lake – Thousand Island Lake Loop, but there are dozens in the area, most of which pan out from Mammoth Lakes. The Mammoth Lakes Welcome Center is fabulous and rents out bear canisters and also hands out the permits (see below). The infamous John Muir Trail and the Pacific Crest Trail (the one Cheryl Strayed did in Wild) both pass through here and to many people's minds these particular stretches feature the best parts of each.
Some other great options in the area you might want to check out: The Agnew Meadow-Tuolumne Meadows hike is best as a one way route; you can secure a ride back to Mammoth Lakes from Tuolumne on YARTS, and then take the public transportation back to the access road to Agnew Meadow; Rock Creek/Mosquito Flats to Mono Pass to Tully Hole to McGee Pass and out MeGee Creek; Cold Water Creek trailhead, Duck Pass to JMT to Red's Meadow to Ediza and back to Agnew Meadow.
It's also possible to do a lot of the walks as individual day hikes, hub-and-spoking from Mammoth Lakes, if camping ain't your thing.
At nearby Big Pine, the North Fork Trail is also meant to be great.
A few things to note:
Distance covered: The Agnew Meadow to Thousand Island Lake to Ediza and back to Agnew meadow loop that I did was 40km or 24 miles, with extra side trips. I did about 15-20 kms or 9-11 miles each day,
Days required: 3-4 days.
Strenuous? Bear in mind you are 10,000- 12,000 ft (3600m) above sea level. Some people do struggle a little with acclimatisation although I didn't notice it all. There is a fair bit of climbing, but it's all pretty manageable.
Permits required? Yes, for most of the trails you will need a back country overnight permit in the parks here. You can apply online in advance here. If there are none left (they tend to issue 12 per day for the different trails), they do issue a handful of "walk in" permits for people (like me) who aren't so organised as to book months in advance. You front up to the Mammoth Lakes Welcome Center at 11am the day before and take a gamble. To be honest, I winged it big time. I was there on the one of the busiest weekends in the summer…and still managed to get hold of one.
The bears? Yep, they're out there. It's mandatory to take a bear canister (a big plastic, sealable tub that you can rent from the Mammoth Lakes Welcome Center). All food and toiletries are to be stored in this at some distance from your tent at all times.
Best time? Autumn (Fall) is wonderful. But Summer is also stunning.
From time to time I accept support from tourist bodies to cover the costs of writing these blog posts and guides. In this case Visit California offered to support my trip when I flagged I had to head to the area for a project for my next book. They helped coordinate things and sponsored my accommodation and food and transport, which covers the costs entailed in writing this post. You can check out my policy on advertising and sponsored posts if you want to know.
Check out more images for this hike on Instagram via #sarahwilsonhikes and in the Sierra Nevada stories highlights. You can see my other international hiking, eating, wellness, slow food guides here.
The Ediza Lake – Thousand Island Lake Loop Track
Day 1: Agnew Meadows to Ediza Lake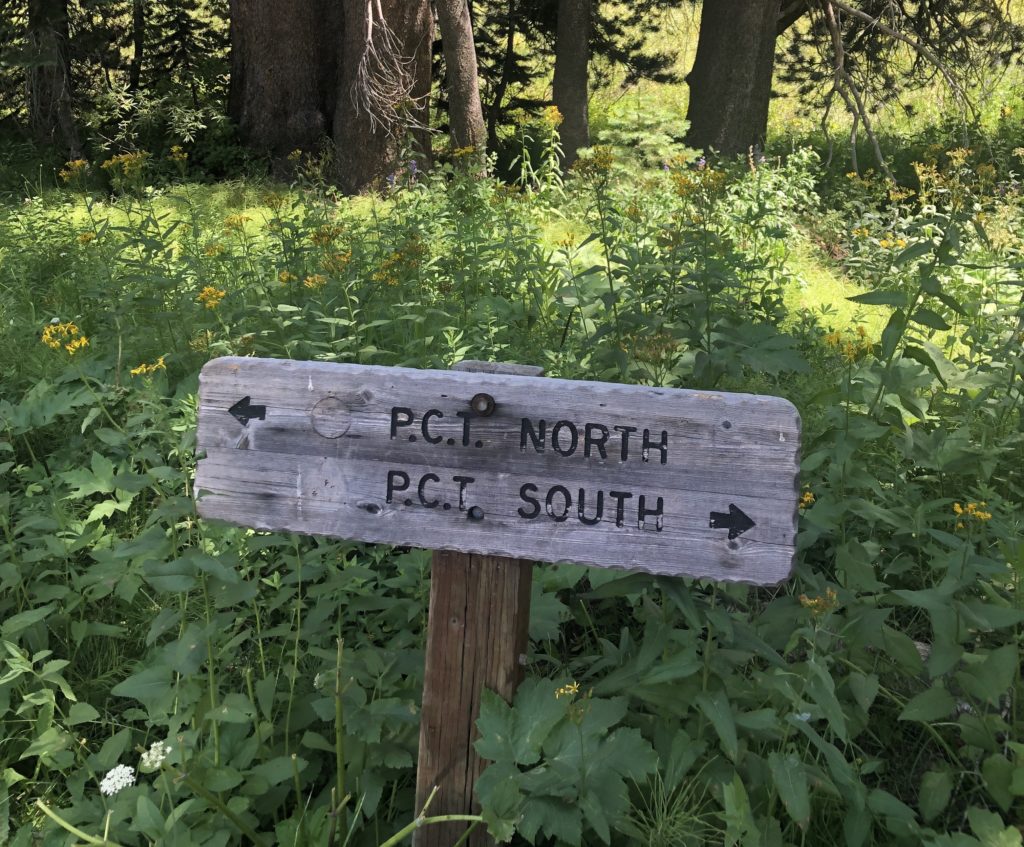 I set out on River Trail from Agnew Meadows. I came across an old-timer doing the whole PCT…he's trail name was Finder. He finds things that people have lost!
I then hiked down into a canyon to Olaine Lake and up to Shadow Lake and the John Muir Trail.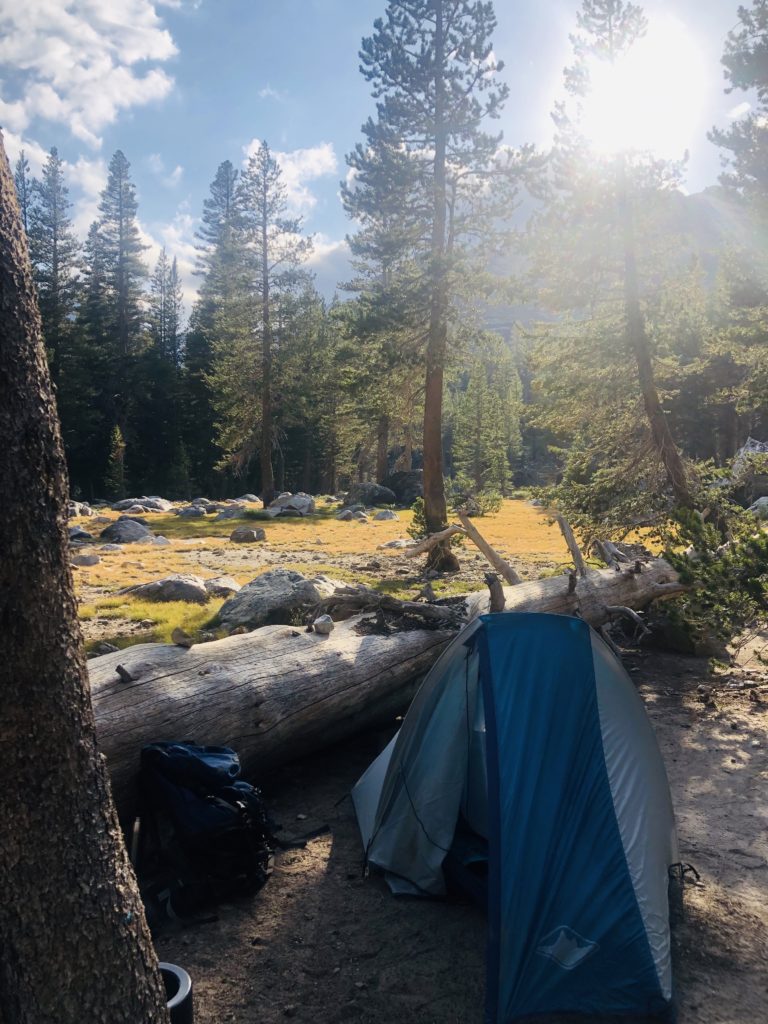 After a swim in Shadow Creek and some lunch on a rock in my undies I climbed up to Ediza Lake. That's it in the main shot above. All the advice says to camp near the west side of the lake (per national forest restrictions), but the bugs are bad in Summer. So I camped off the trail on the way up to Ediza and did an extension to Iceberg Lake. I found a beautiful spot beside a rocky outcrop where I made tea and dinner wtih a view of the snow-peaked mountains.
Day 2 Ediza Lake to Thousand Island Lake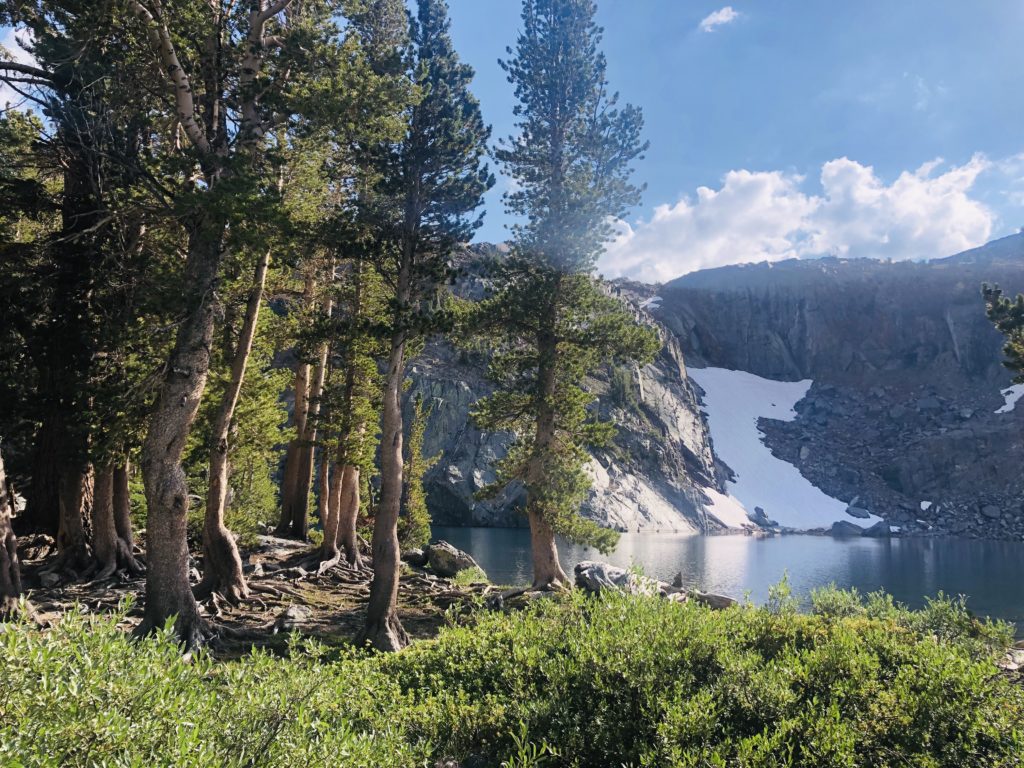 The next day I walked  back down to John Muir Tail and took the trail north over a high pass to Garnet Lake. And then up and over to two smaller lakes, Ruby Lake and Emerald Lake (above), which were both stunning.  Then a final climb to reach the outlet of Thousand Island Lake where John Muir Trail is joined by Pacific Crest Trail.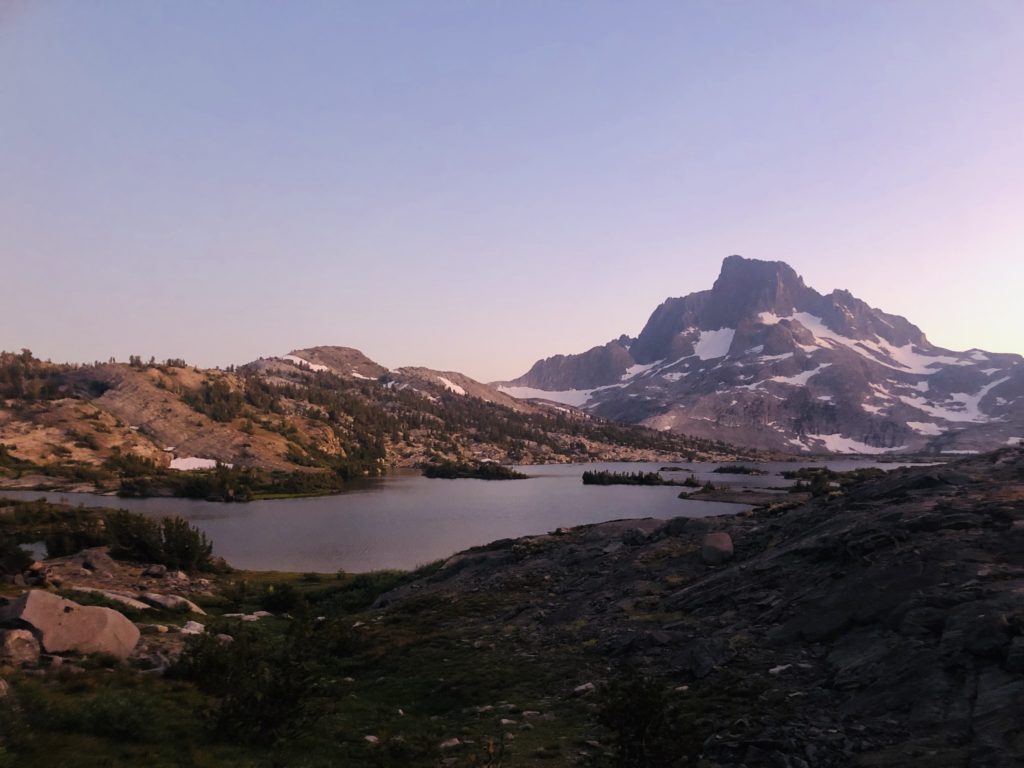 I took the trail along the north shore of the lake (far less mosses than on the south side)  to find a place to camp (at least a quarter mile from the outlet, per regulations). This was my view! I camped here and overnight there was a massive avalanche on the other side of the lake.
Day 3 Thousand Island Lake to Agnew Meadows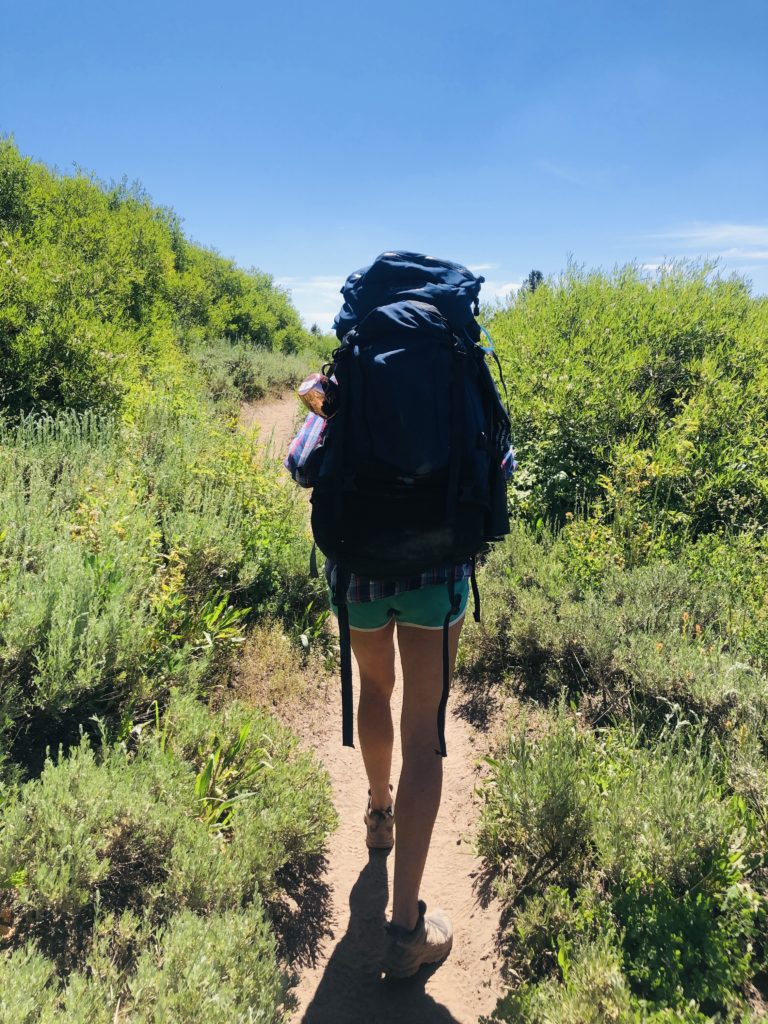 In the morning I took the High Trail out from Thousand Island Lake and crossed a bunch of slopes on the northeast side of a broad canyon to return to Agnew Meadows.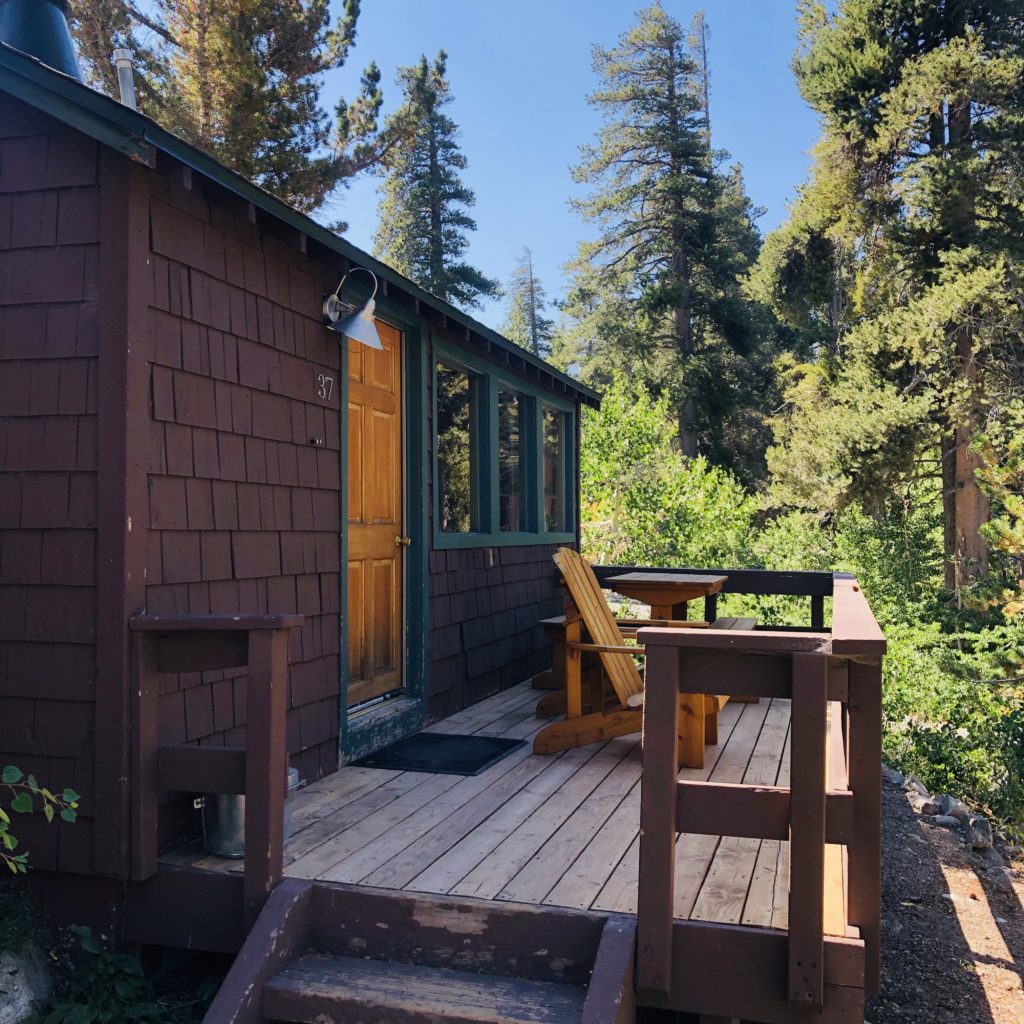 At the end I stayed at Tamarack Lodge. Which is a bunch of very cute cabins with log fires set around a lake. The restaurant here is stunningly good. Even if you don't stay the night, I truely recommend eating here.
What to eat in the area
There are actually a bunch of great eateries in Mammoth Lakes. I loved: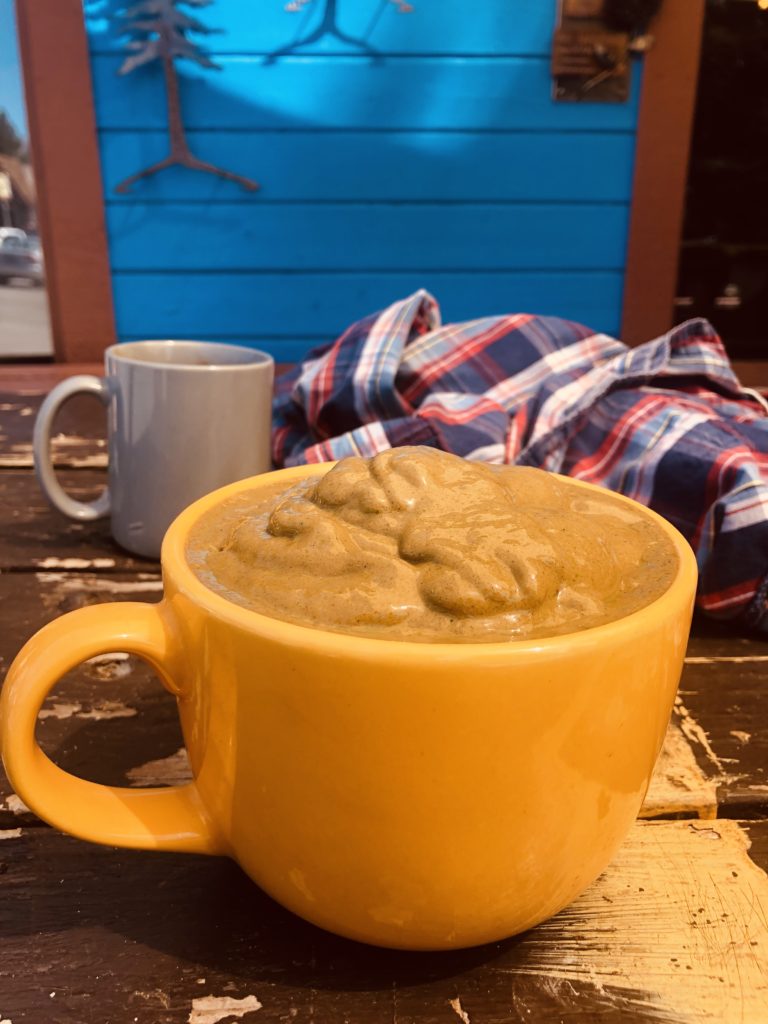 For great coffee and smoothie bowls (I got mine put into a cup rather than a single-use cup) go to Stellar Brew.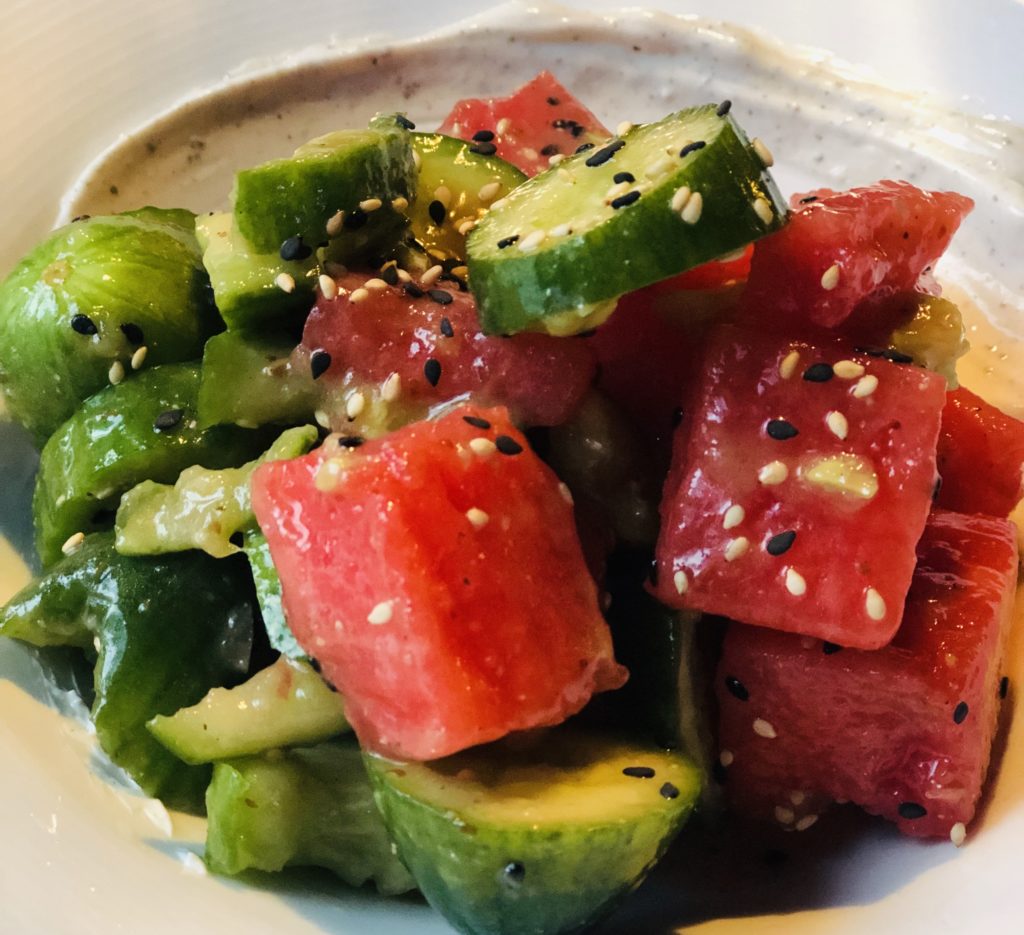 The Lakefront at Tamarack Lodge is high end and very good. That summer salad – watermelon, smashed cucumber, nigella seeds and a tahini paste – above was epic.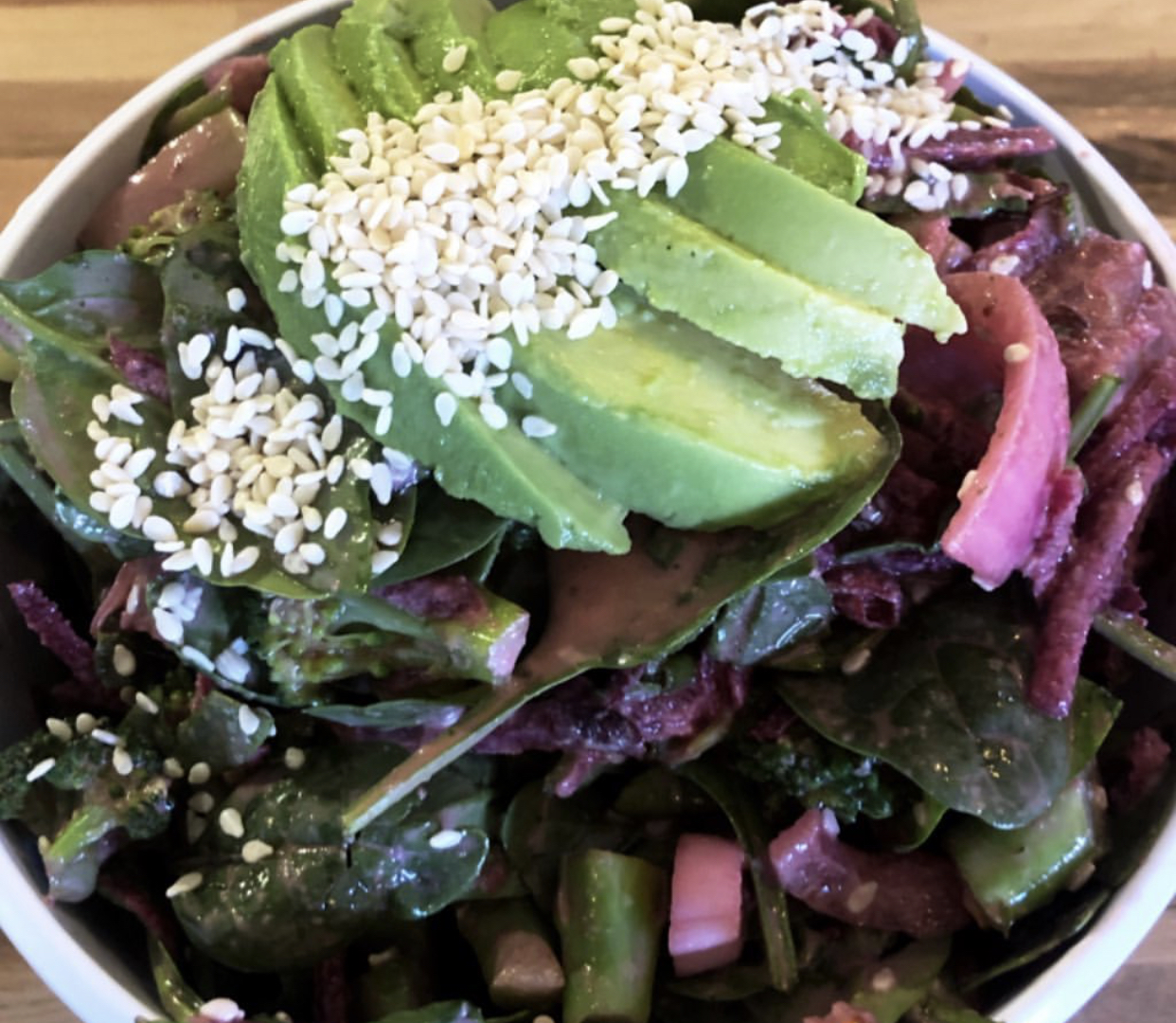 As I say, I've posted a full rundown of the trip, with links etc on my Instagram Stories Highlights which you might find helpful! Or head to Visit California for more!