A four-day pub-to-pub hike that will see you cross the Dorset – Somerset– Wilshire borders. You will enjoy the wilderness by day and then land in civilisation each evening.
Need To Know
Description: Pub-to-Pub Bespoke Hike
Time: 4 Days
Grade: 3 out of 5 – Easy terrain but some long days
Two of my biggest passions are hiking and eating and this hike allowed me to indulge in both. This is a four-day pub-to-pub hike that will see you cross the Dorset-Somerset–Wilshire borders. You will enjoy the wilderness by day and then land in civilisation each evening with a warm bed and traditional authentic British food.

Added bonus: quaint hills, hounds, brambles, bleating lambs, brooks, eccentric folk in tweed ensembles, pints and soup in cosy inns and the whole clichéd shebang!

I particularly liked the fact that the area is not on the obvious tourist list of destinations, but every Brit I spoke to got all misty-eyed when I mentioned I was heading there, adding that it was one of the most beautiful parts of the country (with a solid foodie scene).

Please bear in mind that Foot Trails no longer run my exact trip but they have one very similar called the Wessex Ancient Kingdom Hike.
Hike Details
Distance: Approx 50km
Difficulty: Long days of country ambling.
Map Downloads: The trail originated and was expertly crafted by Foot Trails' in-house team of walking connoisseurs.
Bookings: I suggest booking with Alison and David from Foot Trails who will provide you with a walk-and-explore box, which includes your trail cards, maps, detailed itinerary and more.

Please bear in mind that Foot Trails now run the Western Ancient Kingdom Hike to replace this hike.
Sarah's Top Three Tips
1. Have Alison and David from Foot Trails plan your custom trip! You really can't do this trip without them.

2. Pack the bare minimum. You can see my blog post on what I packed for this trip here.

3. But pack spare socks or shoes. Your feet will get wet and muddy and make lunch stops tricky.
Getting There
Depart from London by train for an easy 2-hour trip to Gillingham station.

For the return, a train runs from Sherborne station back to London (3.5 hours).
From Wild and Precious
"It was a wonderfully moody day and I recall reflecting hard on a question that I continue to pose to myself to this day. Why fling myself off into such solitude? Is this more alone path the right one?"

Buy This One Wild and Precious Life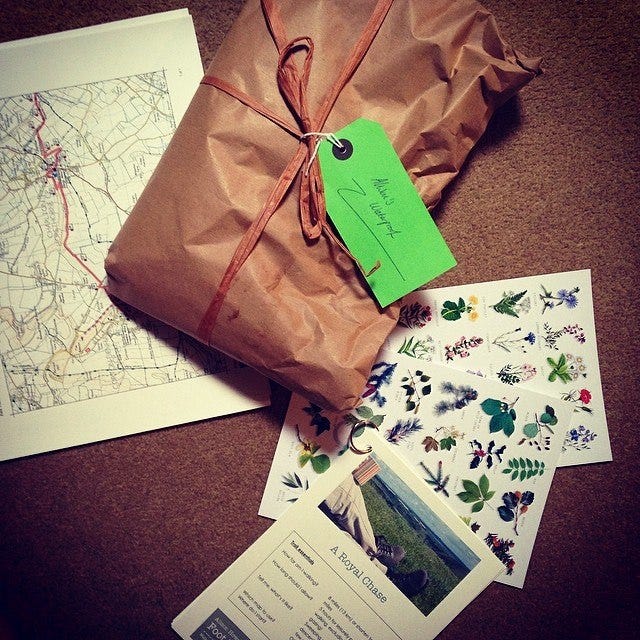 Detailed Itinerary
Day 1 – London to Tollard Royal
2 hours plus a 3-hour side-trip

A 2-hour train trip from London saw me kick off my trip in Tollard Royal a short cab ride from Gillingham station, staying at The King John Inn. The place is as twee as the name suggests and a great base for a few day-walks.

I checked in and did a three-hour jaunt up into the hills, passing through Guy Ritchie's estate and by many pheasants (evoking many James and the Giant Peach memories).

Back at the inn, I settled in by the bar for some seriously local fare,
I ate the devilled kidneys and the lobster.

Day 2 – Tollard Royal to Buckhorn Weston
25km/5.5hours

The next day I packed up my kit and hiked a full day through bluebelled woods and cow-smattered dells and ancient towns dripping in Domesday history.

I saw not a soul – apart from the toffy gents at the pub at lunchtime where I arrived with sodden feet (I spent much of the day squelching through fields in water and mud up to my knees) – until I arrived at the delightfully named Buckhorn Weston.

I took up a position in the window seat at my home for the night, The Stapleton Arms and had some of the best lamb of my life – local and prepared by a future MasterChef contestant (the whole village – read pub – was talking about it, even though it's meant to be a secret).

Day 3 – Buckhorn Weston to Corton Denham
16km/3.5hours

The next day I set off into Somerset. It was a wonderfully moody day and I was chased by cows, sloshed my way through fields and forests. Arriving into Corton Denham after 16 km of blissful but boggy strolling.

The village of Corton Denham is about as idyllic as an English village comes. Staying at The Queens Arms, it drips in ye olde-ness, including a bull's head mounted over the fire pilfered from one of the "Carry On" movies. The menu here is astounding. I could've eaten the whole lot.

The owner casually mentioned that everything on the menu comes from either their farm 10 metres from where I sat or the farm next door. Oh, except the lobster. Which comes from 20 miles away.

Day 4 – Corton Denham to Sherborne
6.7lm/1.5 hours

On the last day the sun rose again I followed the path used by pilgrims making their way to the Sherborne Abbey back in the olden days.

The town is totally Saxon and the Abbey is the final destination – it's where King Alfred's family are buried and the front door and other bits of the building date back to the 7th Century.

Once you have enjoyed the small town you can take a train from the
Sherborne station back to London (3.5 hours) via South Western Railway.
Turn It Into An Adventure!
Alison from Foot Trails personal recommendations
The list below spans the three different counties and are some great ideas (and personal favourites) that people can reach on foot and some require a car.

Reach by Car
Pythouse Kitchen Garden & Cafe
Pythouse Kitchen Garden is an enchanting 18th Century walled garden, restaurant, bar and events venue set in the stunning landscape of South Wiltshire.

Perry Cider Mill
Grown to become one of the UK's most highly respected and awarded cider companies, fiercely independent and proudly at the forefront of the UK's cider revolution.

Reach by foot
Shaftesbury & Gold Hill Museum
Shaftesbury and District's local history museum with an award-winning cottage garden and wonderful views over Thomas Hardy's Blackmore Vale.

Sherborne Old Castle
Sherborne Old Castle is a romantic 12th-century ruin set in beautiful grounds next to New Sherborne Castle.

Montacute House
Montacute is a masterpiece of Elizabethan Renaissance architecture and design. With its towering walls of glass, glow of ham stone and the surrounding garden and parkland, it is a place of beauty and wonder.