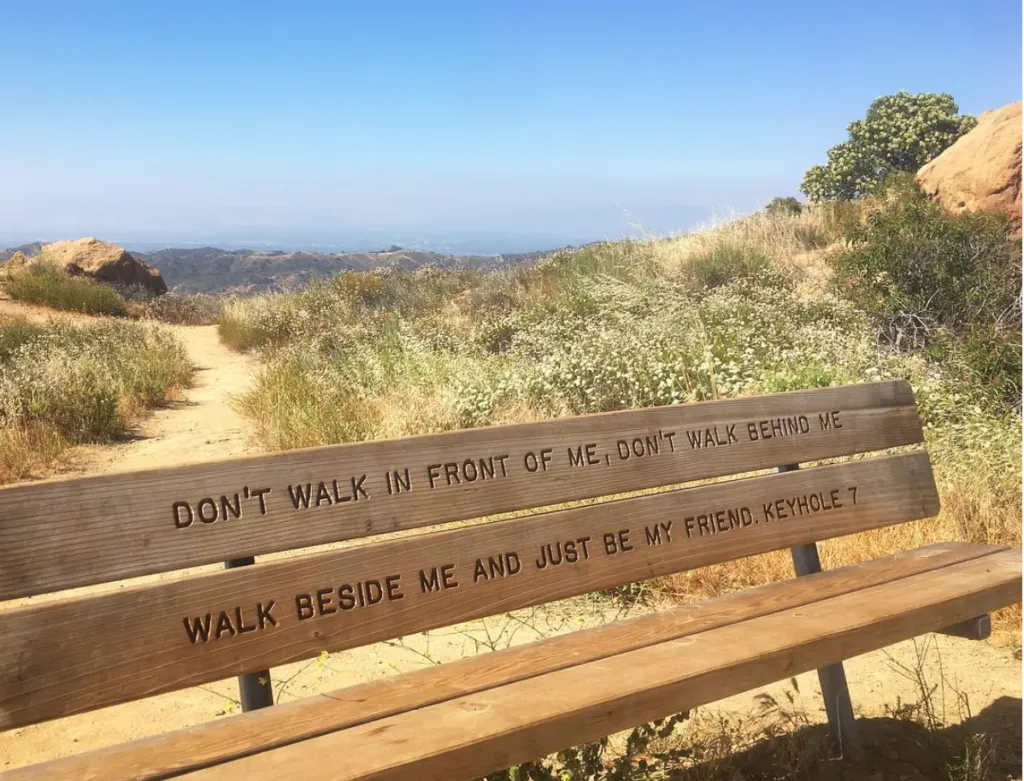 The Eagle Rock hike is one of Topanga State Park's highlights and is only an hour from Venice Beach. It features Sycamore-scattered SoCal topography, with meadows, boulders and some of the best views.
Need To Know
Description: Loop Track
Time: 3 hours
Grade: 2-3 out of 5
Topanga is considered the world's largest wildland within the boundaries of a major city and the Eagle Rock hike is one of its highlights. It features Sycamore-covered SoCal geography, with meadows, boulder formations and outcroppings and some of the best views in the park.

Once you hit the Trippet Ranch trailhead car park, there are some shorter options that head north up the Eagle Rock Fire Road to Eagle Rock as an out-and-back. Or for those looking to lengthen their trip to over 11 miles, start to the southeast at the Santa Ynez Canyon Trail.

I came back and did part of this walk a second time as part of a forest bathing exercise (see below).
Hike Details
Distance: 10.6km.
You can find shorter versions here
Difficulty: Really pretty easy.
Map Downloads: Topanga State Park have a number of maps for the area which you can view here.
Getting There
You'll need to head up the hill from Malibu in a car to Trippet Ranch Trail Head. Stick it into Google. Failing that: From the Pacific Coast Highway, travel north on Topanga Canyon Boulevard, pass the post office at the centre of "town," then turn right on Entrada Road.

Keep to the left at every opportunity until you reach the park's main parking lot.
From Wild and Precious
"I've always immersed myself in the nature around LA. When I travel there for work, I land at 6am and head straight to one of the canyons and tear up the dusty trails that wind above the city.

I like to sweat out the plane grime. Sometimes the heat of the desert behind the canyons drags the ocean air over the city like a thick blanket, and a hike up Griffith Park, Runyan Canyon, Topanga or Escondido can be most surreal. Everything – the gritty flight, the hectic, spaghetti freeways – is fogged out. And it's just you and the sharp, pure light that I (and generations of Hollywood directors) have always loved about LA."

Buy This One Wild and Precious Life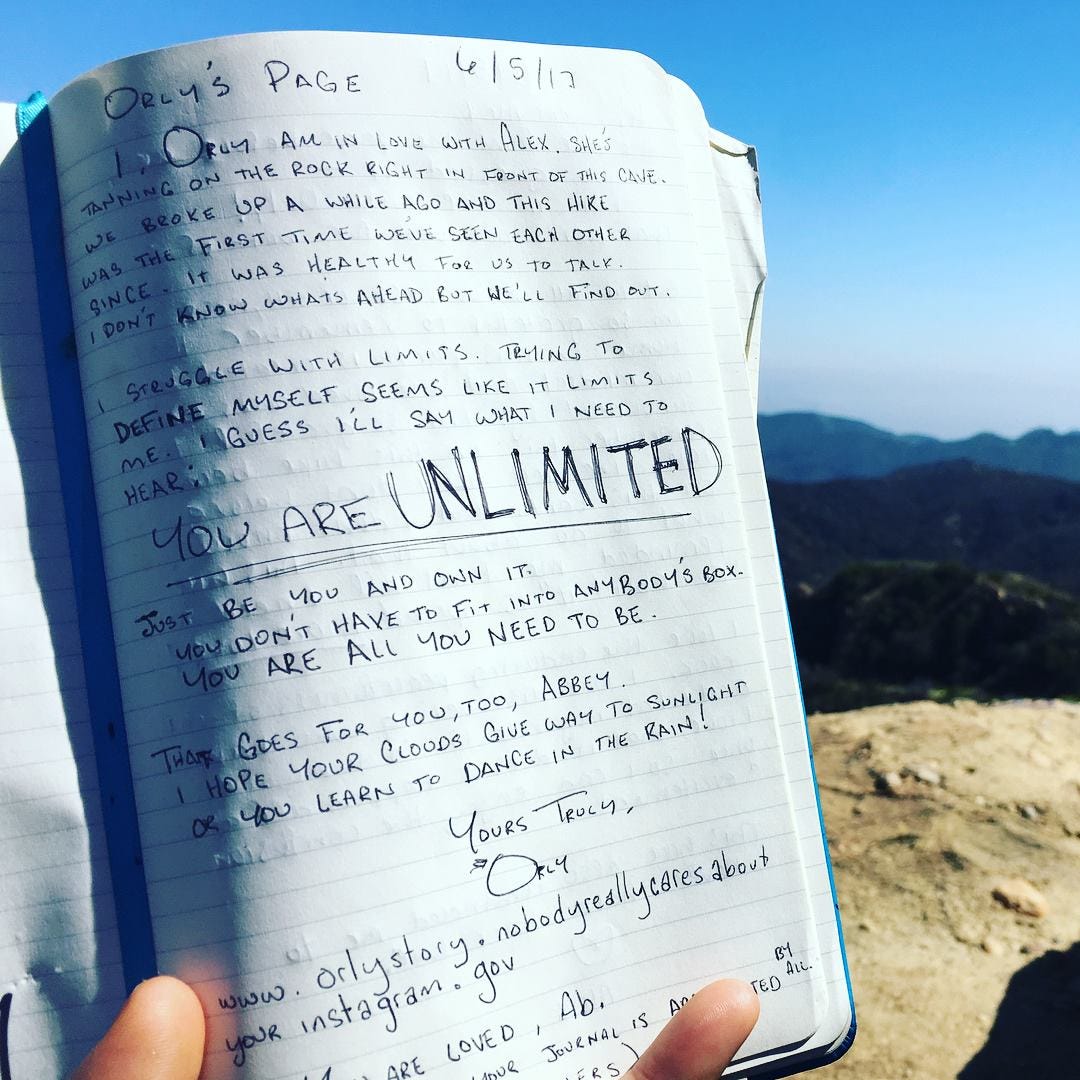 Detailed Itinerary
From the Trippet Ranch Trailhead parking lot, head off on the Eagle Springs Fire Road as it heads east and then north.

The well-maintained trail heads upwards out of the oak groves, passing the Santa Ynez Canyon Trail off to the right (east). Continue upwards along the ridge-line to the Eagle Junction.

From here, head northeast (and downhill) on Eagle Springs Fire Road then a brief uphill section to the Hub Junction, which has a number of hikes heading off from this central point.

However, stick with your northeast vibe on the Eagle Rock Fire Road as it bends back to the west and south toward Eagle Rock, which you'll see from above.

Have a good sit on Eagle Rock. I found a little cave that had a diary inside that different people had written in. I sat for a while and read love letters and beautiful life notes left there by strangers.

Once your'e done, head south as the Eagle Rock Fire Road descends to Eagle Junction. This time, instead of heading down the Eagle Springs Fire Road that you came up, turn right onto the Musch Trail. This is a lovely single track with wildflowers and shaded oak groves.

You'll continue downhill through Musch Camp and then back to Trippett Ranch parking area.
Turn It Into An Adventure!
Enjoy an original breakfast bowl in the canyon
When you're done, you MUST go down the hill and eat at Inn of the Seventh Ray.
It opened in the early 70s and has changed little. Set in a garden by a creek, the space drips in Jasmine vines and chandeliers. I ate the Breakfast Bowl, which has been on the menu since 1972, with a ginger fermented tonic.
Do some forest bathing
The Japanese practice of Shinrin-yoku, or forest bathing, has taken off big time in LA and Debra from Inside Out Immersion does regular guiding trips up in Topanga.

Debra incorporates Reiki and cooking and even goat yoga if that's your vibe. We walked along some gentle trails (above) and I was led through some meditative exercises that saw me get super connected with the smells, the light, the textures.

I managed to resolve some stuff that had been broiling in my heart and head with one of the exercises. At the end we had a tea ceremony sitting in the woods as the sun went down.
Spend time in Santa Monica
Treat yourself to a stay at Palihouse.

It's in a beautiful building, has bikes you can use for free, beautiful art nouveaux finishes, is two blocks from the beach and 20 minutes ride to all the best bits of Venice.

Note: It's faster and nicer to ride than drive. You coast along the beach path, an attraction unto itself. It's also in the best position to drive out onto the freeway to the best hikes in LA, and to the airport. Their dining area/foyer is great for working in, ditto their courtyard. Order the fig, ricotta and pancetta on toast for breakfast. All their food is locally sourced. Oh, and the rooms have fully serviced kitchens.
Sustainable eating in Santa Monica
Santa Monica is renowned for it's sustainable efforts. The city has adopted a Climate Action and Adaption Plan, setting a goal to achieve an 80% reduction in community carbon emissions by 2030, also to achieve zero waste through diversion, composting and recycling by 2030. Plus they've done the most comprehensive single use plastic ban of any city on the West Coast of the United States. Plastic straws are also banned in Santa Monica!

There are a bunch of restaurants and cafes that have got on board, I tried a few:

Huckleberry Cafe is great and is famous for its homemade breads.

Ingo's Tasty Diner is totally farm-to-table and I have to say I've never eaten such an abundance of wonderful vegetables.

Try a burger bowl at Pono Burger, a Hawaiian burger joint housed in a wooden bunker near Main St. A fun place that uses all organic, grass-fed meat.

Plant Food + Wine is in Venice Beach but deserves a mention here…it was recently awarded the Sustainable Restaurant Award by the Sustainable Business Council of LA. Being recognised for their eco-friendly measures which include, environmentally friendly chemicals for kitchen and cleaning, using compostable and recyclable carryout containers, bio-dynamic, organic, sustainable practices for wines, energy-efficient dishwasher and appliances. I ate this cashew raclette wth their homemade bread and raw vegetable lasagne. My only feedback would be this: get rid of the plastic straws!

Also try to get a table at Gjelina. It's all I love in a restaurant – real, whole, farm-to-table food; communal table, bar and outdoor area; locals longevity; great wine list. I met a 65-year-old artist and nomad and we chatted about our mutual love of sitting at bars in strange cities. Go for breakfast if you can't make dinner.