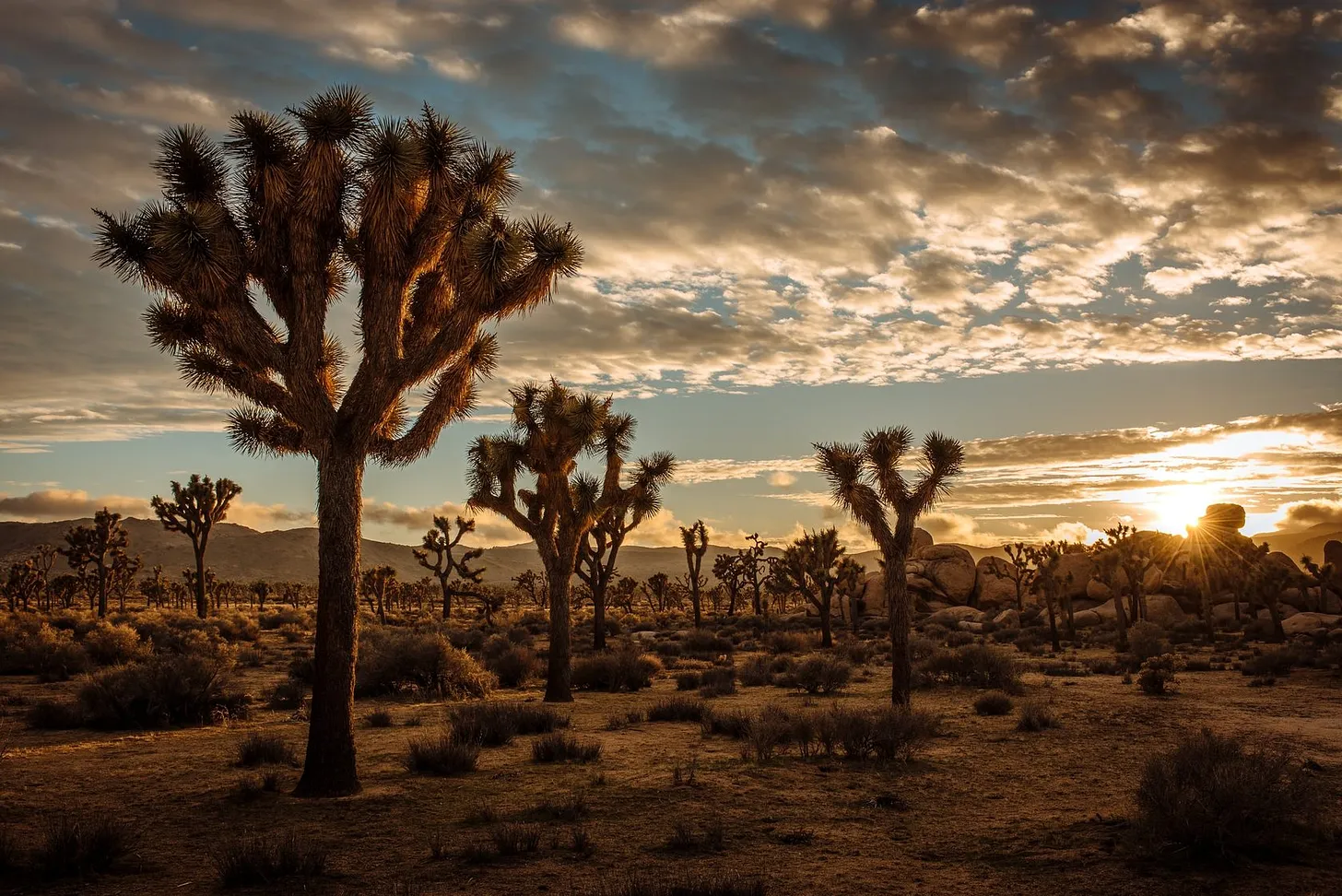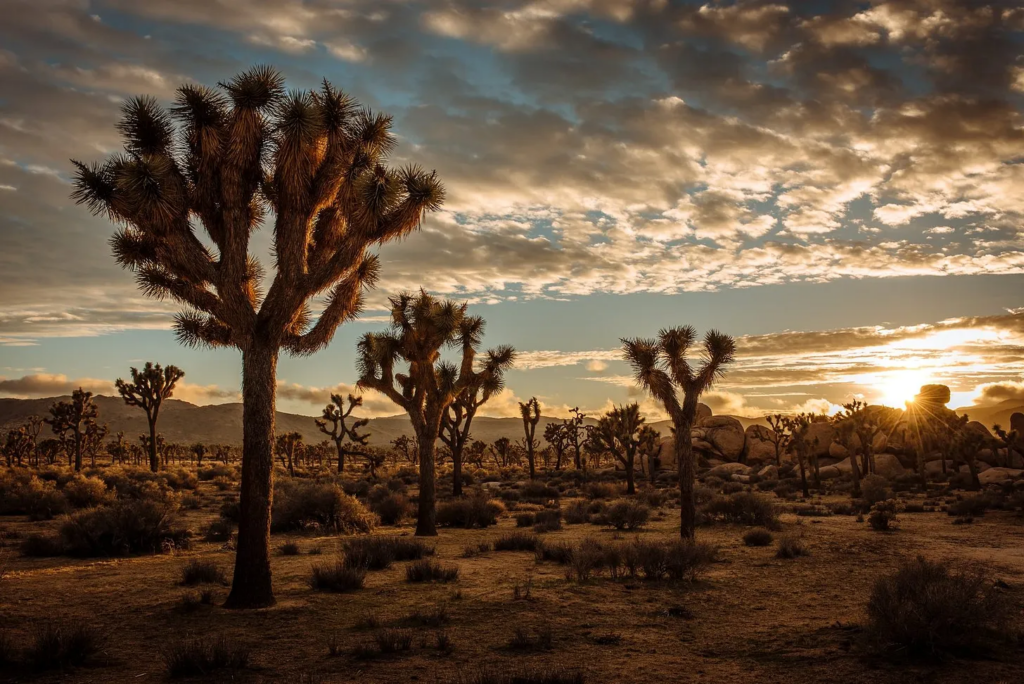 The best way to experience the surreal landscape of the Joshua Tree National Park is to hike it. It's not a massive park, and the hikes aren't long, which surprised me when I got there.
Need To Know
Description: Half-day Hub and Spoke Hikes
Time: From 1 to 5 hours each
Grade: 3 out of 5 – Hot but not hard
The best way to experience the surreal (and over-Instagrammed) landscape of the Joshua Tree National Park is to hike it. It's not a massive park, and the hikes aren't long, which surprised me when I got there. But there are a good two dozen to choose from. The best idea is to come for a few days and do a bunch of hub-and-spoke hikes, basing yourself from a campsite, airstream or frontier-themed motel in town on the edge of the park.

Two distinct desert ecosystems, the Mojave and the Colorado, come together in Joshua Tree National Park and it straddles the transition zone between high and low deserts.

You experience prominent peaks, cactus gardens and ghost towns all in one day. The joint can get crowded with weekend trippers from Los Angeles. However, the crowds mostly come for the mojitos and sunset photos – the trails don't tend to get too busy.
Hike Details
Distance: Hikes vary between 1 to 12 km each
Difficulty: None of the hikes are particularly hard, it's just that they tend to be very exposed and the heat is the main issue. Bring plenty of water and hike first thing in the morning or close to sunset.
Map Downloads: I found this to be a great map for getting the general vibe of the walks within the Joshua Tree National Park.

The National Park Service also provides a great overview of each trail and the time they take, you can view it here.
Sarah's Top Tips
1. Tack this trip onto an LA visit, spend two nights in Joshua Tree and swing back via Palm Springs

2. Start things off at the Parks office at the traffic lights. They'll give you a map and suggest routes. Note that from late May onwards the rangers will advise against long hikes due to the heat.

Hmmm, what can I say. I ignored this advice. I can handle the heat and am fit. If you don't and aren't, go another time of year. It was 39C the days I set out. I did need to drink a lot of water. It was all fine and I mostly had the trails to myself.
Getting There
Rent a car in LA. The drive out to the desert takes a good 2-3 hours.
From Wild and Precious
"For years I'd been busting to check out this protected otherworldly area dotted with those funny looking twisted, prickly trees. I'd seen it on the socials and was sucked in by the sepiatoned, boots 'n' lace vibe of the place. I was in LA for work and figured I could squeeze in a road trip and hike…I arrived mid-morning. It was 39˚C in the shade and there's no shade out there. But I was in a mood and this mood needed to be hiked into the dust, so I went hard."

Buy This One Wild and Precious Life
Detailed Itinerary
There are more than two dozen hikes you can choose from in the park. Check out the full list here. I suggest bunching a few together back to back.

In the one morning, I did the Barker Dam Loop and Hidden Valley routes. Then I did the Ryan Mountain, Skull Rock and Split Rock hikes later the same day.

Walk 1 – Barker Dam Loop and Hidden Valley
3.5km/2 hours

They are only a few km's each and give a good overview of the "Joshua Tree end of the park". Barker Dam is a loop track and showcases some of the cultural history of the early cattle ranchers.
Watch for bighorn sheep. Hidden Valley loops around a lovely boulder-strewn valley.

Walk 2 – Climb Ryan Mountain
5km/1.5 hours

It's about 5km up and back. Not overly steep. At the top you can see the whole park and through to Palm Springs.

Walk 3 – Skull and Split Rocks
2.5km each /1.5 hours each

Heading off from Skull Rock car park you can scoot around via several tracks and around Split Rock as well, a total of about 7km.
Turn It Into An Adventure!
Start off in LA
If you do, check out my hiking and wellness guide to West Hollywood along with my guides to Santa Monica and Venice Beach.
Stay in an eco-minimalist motel
The Mohave Sands on the main road is rather kitsch (and fun) but the noise from the road wasn't grand.

There are a few other options in town, including 29 Palms about 15 minutes out of Joshua Tree near another entrance to the park, owned by the same family for five generations. It's made up of bungalows with kitchens and has a great restaurant using produce from the garden.
Drive 15 minutes out to Pappy and Harriet's
Pappy and Harriet's is in Pioneertown. Which is as it sounds – desolate, raw, barnyard-ridden. It's a biker bar/diner and music venue where famous artists sometimes do impromptu performances. The meat is cooked on a mesquite fire under the stars. I sat out back in the dirt and ate free-range local pork with mac and cheese and broccoli.
Have a full diner explosion breakfast
The Crossroads diner is the real deal. Or join the vegan set with a veggie or smoothie dose at Veggie Sisters across the road.
Swing by Palm Springs on the way back to LA
You can spend a half or full day here and rinse off the desert dust.

The ACE hotel has a good diner for breakfast King's Highway. You can then head out to the pool and observe hip cool kids doing their tattooed thing to free pool-side Wi-fi. A lot of people head this way to do just – and only – this. I recommend doing a day of it only. It's not normally my thing. I'm just not that cool. But it was a way to get some admin work done on my computer.

If you stay the night, here's a bunch of sustainable places to check out.