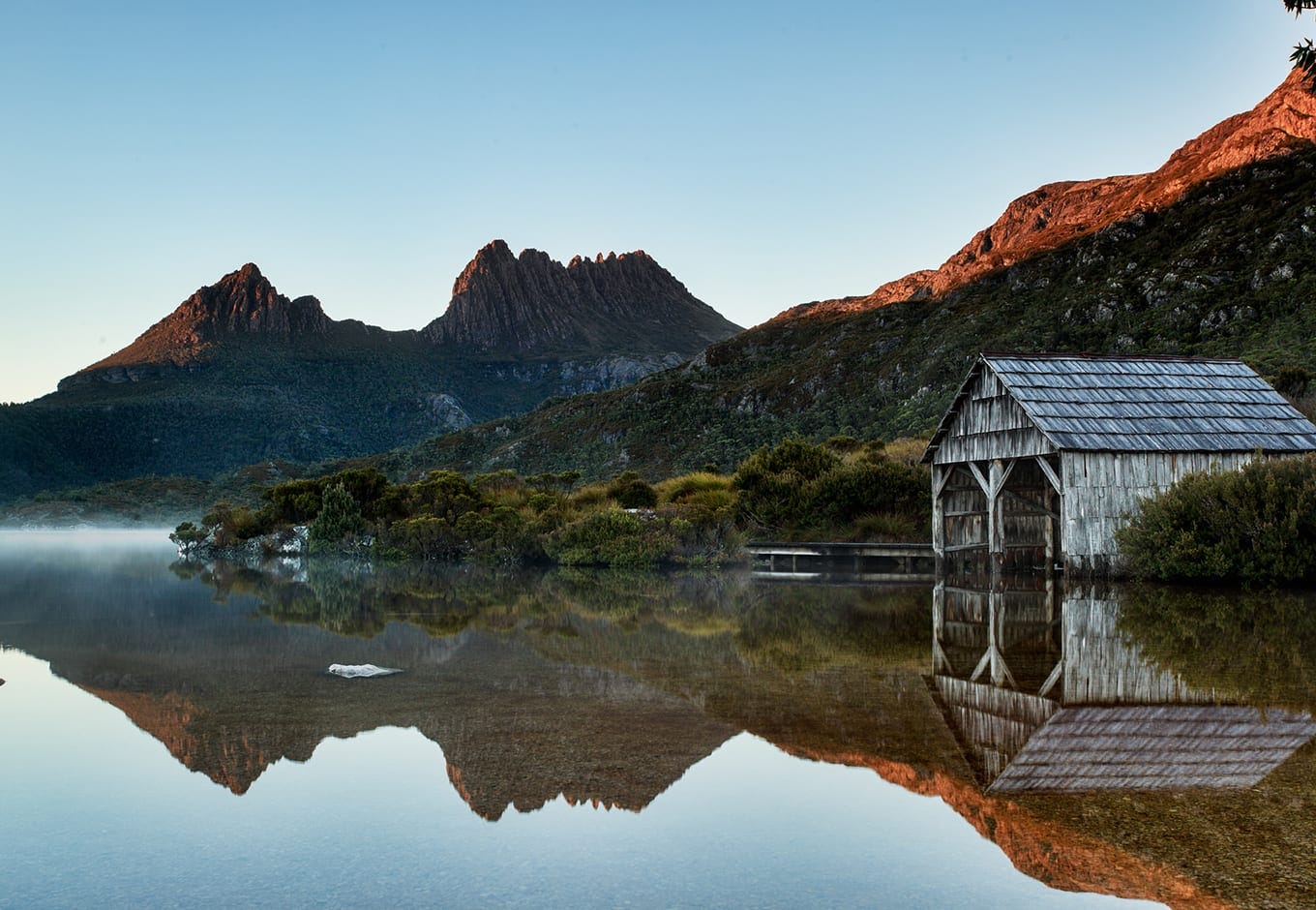 This hike in Central-West Tasmania, also called The Overland Track, is one of the most famous in the world, and it would have to be in part for its pristineness.
Need to Know
Description: Point-to-Point Hike
Time: 7 days
Grade: 4 out of 5 Requires endurance. Weather can make things challenging.
This hike in Central-West Tasmania, also called The Overland Track, is one of the most famous in the world, and it would have to be in part for its pristineness. The air in this part of Tasmania is said to be the purest in the world (Chinese companies, literally, bottle it) and the region is one of only two national parks on the World Heritage List to tick off all the heritage criteria.

Cradle Mountain can be done in two ways

Self-guided: Camping or staying in basic public cabins (with bunk beds in a large communal room, communal stoves and running water).

Guided: Staying in private huts, packs, wet-weather gear, passes, bedding and all meals and snacks provided. Glamping at its best!

I did this hike guided, but provide details for both options below, and explain how to turn the hike into a 10-day foodie and exploration getaway.
Hike Details
Distance: 65km
Add 20km for side trips (recommended).

Add an additional 17.5 km if on the final day, instead of taking the ferry you decide to walk the length of Lake St Clair to the Lake St Clair Visitors Centre.
Difficulty: After a steep climb to Marion's Lookout on Day 1, the main track then remains on alpine plateaus at around 1000m elevation and is gently undulating.

You'll encounter another steep section on Day 4 up to Pelion Gap, the highest point on the track unless you climb Mt Ossa (an optional side-trip).

The huts (both public and private) are spaced at very doable distances if you're reasonably fit.

The Tassie weather, however, can make things challenging (you can even get snow in Summer), which is why the guided, private hut option is actually a very sound idea for this walk.

The good news is, 90 per cent of the walk is an extremely well-maintained boardwalk.
Map Downloads: This is a great map for getting the general vibe of the guided walk.
Bookings: Tasmanian Walking Co runs the hut-to-hut experience and has done so for 30 years and provided a fantastic guided walk.

An unguided version is also an option between 1 October and 31 May (inclusive). You'll need to book online via the Tasmanian Parks and Wildlife Service booking form. Get in early as permits fill up quickly!

You'll also need to walk from north to south (Cradle Mountain to Lake St Clair) and have a current National Parks Pass.
Sarah's Top Three Tips
1. Definitely book in at The Pumphouse Point at the end, if you can.

2. It will probably rain so bring a ziplock for your phone!

3. Do the Mt Ossa side-trip. You won't regret it.
Getting There
I recommend flying into Launceston and flying out of Hobart. You can book a bus with Overland Track Transport from Launceston to Cradle Mountain, Lake St Clair to Hobart.
From Wild and Precious
"It can feel like you're on the Italian coast one minute, in the Canadian Rockies the next. The weather will shift, and I can confuse the spookiness and moss with Iceland…Where we are hiking there is one road between us and Antarctica. We are quite literally at the bottom of the Earth."

Buy This One Wild and Precious Life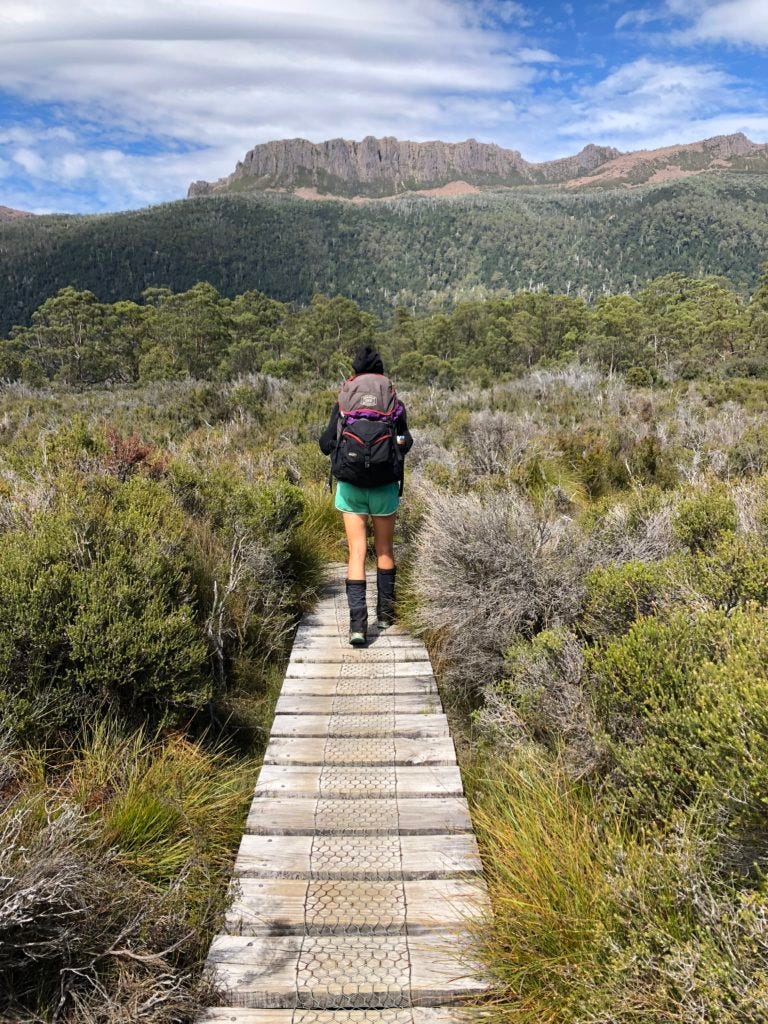 Detailed Itinerary
The details below are based on the distances between huts on the 'normal route'. Distances will be slightly different for hikers walking with the Tasmanian Walking Company, which starts at Waldheim in Cradle Valley.

Day 1 – Transfer, Cradle Valley to Barn Bluff Hut
12km/7 hours

The first day of walking from Cradle Valley is a little demanding. After a gradual ascent to Crater Lake, it's a very steep, short ascent to Marions Lookout. Most of the day is exposed alpine plateau walking.

Day 2 – Barn Bluff Hut to Pine Forest Moor Hut
12km/6 hours

Waterfall Valley Hut to Lake Windermere is a gorgeous stretch of track over alpine heathlands, lakes and tarns.

Lake Windermere Hut has a capacity for 16 people.

Side trip
Lake Will – 3 km, 1 hour return from track junction.
This beautiful alpine lake is a great lunch spot and provides an excellent view of Barn Bluff.
Day 3 – Lake Windermere to Pelion
16.8 km/5-7 hours

A journey through buttongrass plains, myrtle-beech rainforest and eucalypt forest surrounded by distant peaks; Pelion East, Ossa, Thetis, Achilles and Pelion West and the Du Cane Range. Keep an eye out for wombats and ancient King Billie Pines.

Pelion Hut has a sleeping capacity of 36 people.

Side trips
Old Pelion Hut – 1 km, 0.5 hour return from track junction.
Pelion Hut is a charming 1917 historic hut and features an excellent swimming hole for a refreshing plunge!
Mount Oakleigh (1286m) 8 km, 4 to 6 hours return from track junction.
Day 4 – Pelion to Kia Ora
8.6 km/3-4 hours

Day four is full of life. Prepare for beautiful walking through the rainforest and button grass. Keep an eye out for colourful lichen, cushion plants, pencil pines, pandani groves, waratahs and wedge-tail eagles. The track ascends gradually to Pelion Gap, the valley between Mount Ossa and Pelion East and descends to Kia Ora Hut through button grass plains.

Kia Ora hut has a sleeping capacity of 20 people.

Side trips
Mount Ossa (1617m) – 5.2 km, 4-5 hours return from track junction.
A steep and exposed track leads to Tassie's highest peak! Don't attempt this route in heavy rain or snow.
Mount Pelion East (1433m) – 2.4 km, 2 hours return from track junction.
The summit of Mount Pelion East offers up incredible views over Mount Ossa and most of the park's highest peaks.
Day 5 – Kia Ora to Windy Ridge
9.6 km/3.5-4.5 hours

From Kia Ora, the track winds through cool temperate rainforest to the historic Du Cane Hut (1910).

After Du Cane Hut, walk through calidendrous rainforest, King Billy pine, sassafras and myrtle forest to the junction of D'Alton and Fergusson Falls, followed by the Harnett Falls side trip. The final stretch to Bert Nichols Hut winds through sclerophyll forest; keep an eye out for yellow warratah here!

The Bert Nichols Hut sits atop the Narcissus Valley with the phenomenal Du Cane Range as its backdrop.

Bert Nichols Hut has a sleeping capacity of 24.

Side trips
D'Alton and Fergusson Falls – 1 km, 1 hour return.
A beautiful side trip through the rainforest to the Mersey River to reach both waterfalls.
Hartnett Falls – 1.5 km, 1 hour return.
Descend through the rainforest to the Mersey River and the falls. Many great lunch spots along this stretch of track. The attentive hiker will revel in the birdlife along the way!
Day 6 – Windy Ridge to Narcissus
9 km/3-4 hours

A gradual descent will take you ambling down Narcissus Valley through the eucalypt forest and across button grass plains. Take a moment to appreciate the banksia and hakea lining the trail and keep an eye out for platypi at the Pine Valley turnoff.

Before crossing the suspension bridge to Narcissus Hut, imbibe the last patch of rainforest. If taking the ferry to Lake St Clair Visitors Center, use the radio in the hut to reconfirm your booking and walk another 15 minutes down the track to the ferry jetty.

The Narcissus hut has a sleeping capacity of 18 people.

Side trip
Pine Valley Hut – 4.7 km, 1.5-2 hours one way.
If you are an experienced hiker, the Pine Valley Hut is a great base for those eager to explore the nearby Labrinth and The Acropolis.
Day 7 – Narcissus to Cynthia Bay
17.5 km/5-6 hours

An excellent optional addition for the eager hiker! For those who'd like to complete their Overland Track experience by foot, this track makes its way along the shoreline of Lake St Clair through myrtle-beech rainforest to Cynthia Bay and the Lake St Clair Visitor Centre.

If you'd like to savour one last night in the wilderness, rest your head at the small Echo Point Hut 5km for Narcissus Hut.
Turn It Into An Adventure!
Fly into Launceston, Fly out of Hobart
It's a two-and-a-half-hour transfer to Hobart airport. Of course, you'd be savvy to check out Hobart if you have the time.
Stay at Quamby Estate
Quamby Estate is a great place to book a room before your Cradle Mountain hike. The estate is one of Northern Tasmania's most prestigious and historically significant properties. Built in the late 1820s it has endured through almost 200 years of Tasmania's colonial history and serves a mean breakfast.

The Tasmanian Walking Co guided walk leaves from here.
Stay at the Pumphouse Point for two days at the end
At the end of the hike, you almost MUST turn things into a perfectly rounded-off adventure by tacking on a night or two at Pumphouse Point, which juts out spectacularly into Lake St Clair.

I'd read about Pumphouse Point several times since it opened just a few years ago. It's an irrigation pumping station plonked on the end of a jetty, a good 100m out into the deepest lake in Australia. It's been converted into a bunch of stunning rooms and a communal dining room, geared at travellers wanting a tasteful retreat in the wilds. You can spot platypus from the jetty.

It's not overdone. There are mindfully sustainable touches everywhere – Tassie wine, whiskey, cheese and bread, outdoor baths, Tassie whiskey by an open fire. But it has a 95 per cent occupancy. Book!

During the day you can go for bike rides, or do a 15km hike nearby.
Visit the Agrarian Kitchen
Stop off at The Agrarian Kitchen on the way back to Hobart