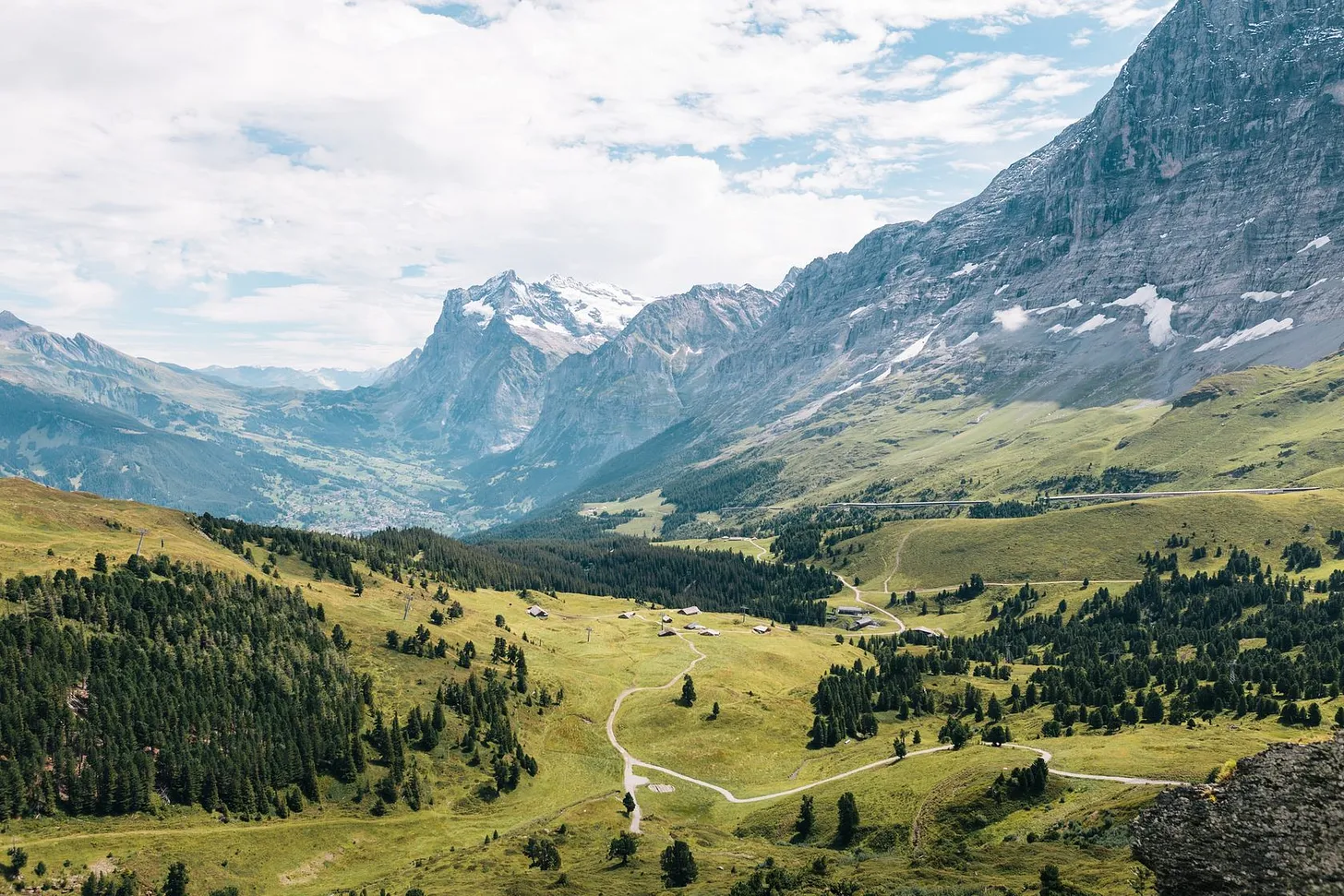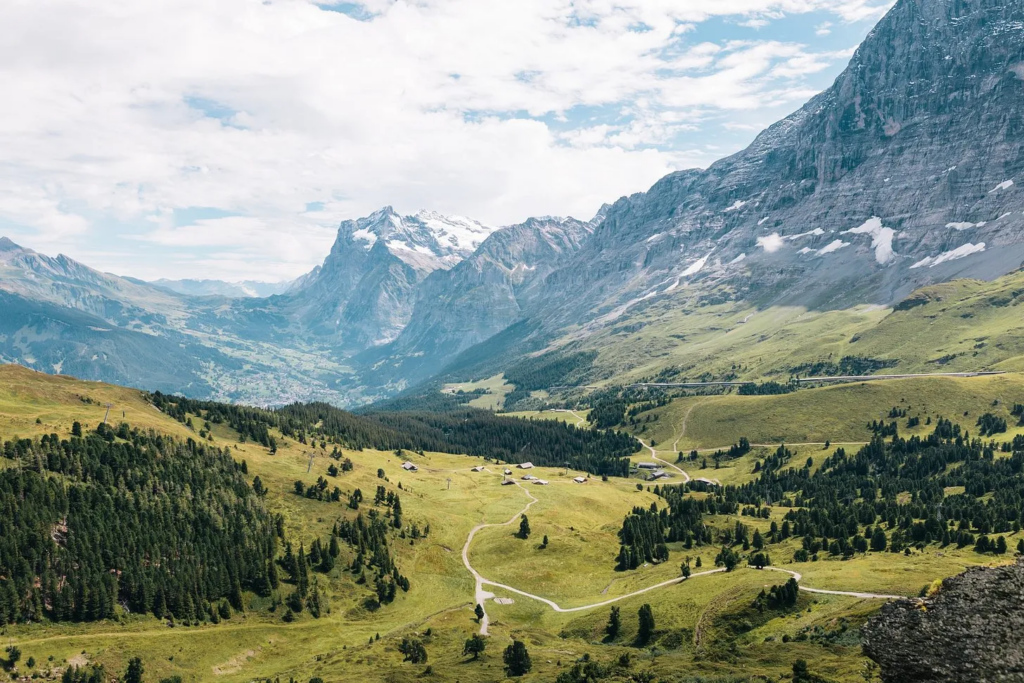 Follow in the footsteps of the children's book character Heidi along one of the many spectacular hikes that spiderweb out from the quaint Swiss Alps hiking hub village of Sils Maria.
Need To Know
Description: Half-day Hike
Time: 3 hours (one-way)
Grade: 3 out of 5 – Some steep bits and tricky navigation
One of the many spectacular hikes that you can do from the quaint Swiss Alps hiking hub village of Sils Maria (and there are many if you're in area!). The walk follows in the footsteps of the children's book character Heidi. Or at least the movie version.

If you're after a Swiss alpine experience, Sils Maria is a perfect hub for exploring glaciers, waterfalls, mountain lakes, larch forests and lush alpine meadows.

For extra wonderful context, it's also the village where Frederich Nietzsche came to write Thus Spoke Zarathustra. He hiked in these same hills to write the book, and his Nietzsche House, now a museum, is located in the centre of the village.

You could easily stay here a week or two and hike every day, stopping off in little villages for lunch, some of which are closed to vehicles (you must hike or come by horse and cart!).
Hike Details
Distance: 15.5 km one way.
Difficulty: Some steep bits and tricky navigation.

Bear in mind you start off at 1104m elevation, which can make breathing a little difficult. You climb an additional 639m.
Map Downloads: I recommend checking out this map.
Sarah's Top Three Tips
1. "Hub-and-spoke" out of the Fex Valley. That is, base yourself in the area for a good week or two and try out the hikes that spiderweb out from the valley. There are countless maps at the visitor centre.

2. Read Heidi by Johanna Spyri.

3. Nerd up on Nietzsche before you arrive. Hiking with Nietzsche was written by John Kaag, who based himself in Sils Maria and details the hikes he did in the area, while reading Nietzsche.
Getting There
Fly into Orio Al Serio International Airport. If you decide to stay at the Hotel Sonne Fex (see below), staff will pick you up on arrival.

Alternatively, when you arrive into Sils Maria, you can walk the goat trail from the centre of town direct to the hotel, approximately 30 minutes.
From Wild and Precious
"The farmhouses along the way have thatched roofs and window boxes bulging with flowers. Gingham curtains tied with bows drape from the tiny windows. The rolling hills are iridescent and sway with buttercups – a veritable Blütenmeer (sea of petals). I'm in Heidi territory"

Buy This One Wild and Precious Life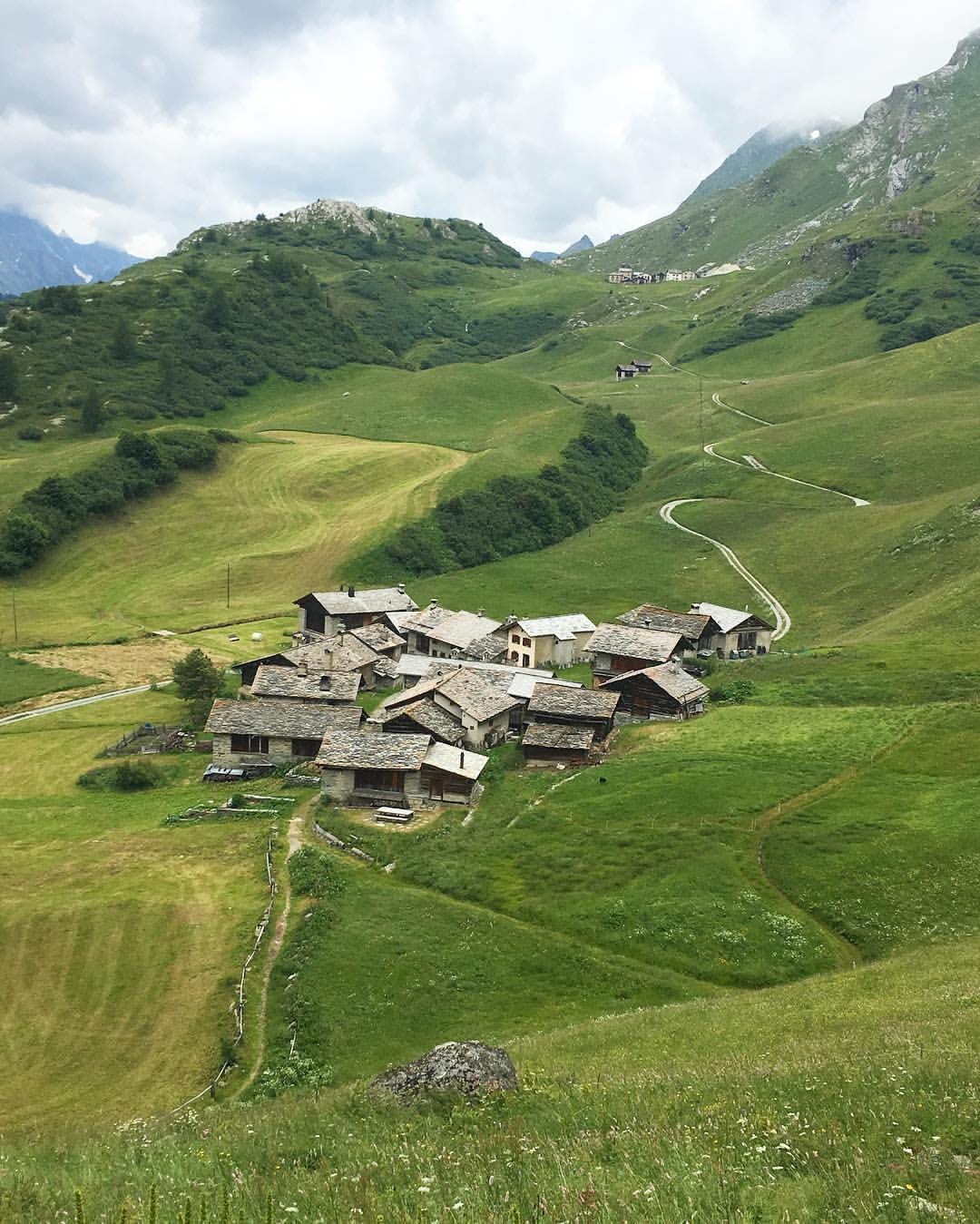 Detailed Itinerary
The start of the walk is Sils Maria Post Office. With your back to the Post Office turn left; cross the bridge over the river and continue straight ahead towards Sils Baseglia and the main road that bypasses Sils Maria. As a short diversion, you can take the footpath on your left that loops around the peninsula. This leads back to the main road before Sils Baseglia.

Cross the main road and follow the footpath signed to Grevasalvas. Turn left onto a track and almost immediately bear left onto a narrower path. You are now on the Via Engadina.

Continue ahead ignoring a path on your right (after 400 metres) and continue to a fork in the path where you ignore the left hand path signed to Plaun da Lej. The path climbs gradually and the scenery improves. You reach a further junction where you turn left and down following the sign pointing to Grevasalva (10 minutes).

Continue through Grevasalvas turning right at a T-junction signed to Blaunca. You are now on a broad track. After just under a kilometre you reach Blaunca where you cross the stream and continue ahead between alpine meadows and then across the hillside. Ignore a footpath on your left (by a bench) and continue for another 100 metres to a path junction. Here you go left following the sign to Pila.

Descend steep steps and turn left at a path junction in the hamlet of Pila. Follow the broad gravel track ignoring the first path on the right but taking the second path on the right some 25 metres further. This leads down to the main road. Turn right and walk into the centre of Maloja.

On arrival in Maloja you have two options – walk back to Sils Maria (6 km) or take the bus which runs every 30 minutes throughout most of the day.
Turn It Into An Adventure!
Stay at Hotel Soone Fex
My observation when I stayed her: "I'm greeted at Hotel Sonne Fex (run by four generations of the same family) with schnapps and a plate of goat's cheese and warm bread. I want to tie my hair in plaits! I want to run through a meadow!"

If you can't get a room, be sure to come for lunch one day and experience the fairytale view, local bread, cheese and beautiful wine, it truly is a magical place.
Hike in the footsteps of Nietzche
Starting at Nietzsche House you can head out on a number of half-day adventures. You can find some extra day hikes to try here.
Biking when you're not hiking
If you are a keen mountain biker, take a cable car up from nearby Corvatsch and ride the various international circuits back down. There is bike hire in Sils Maria.