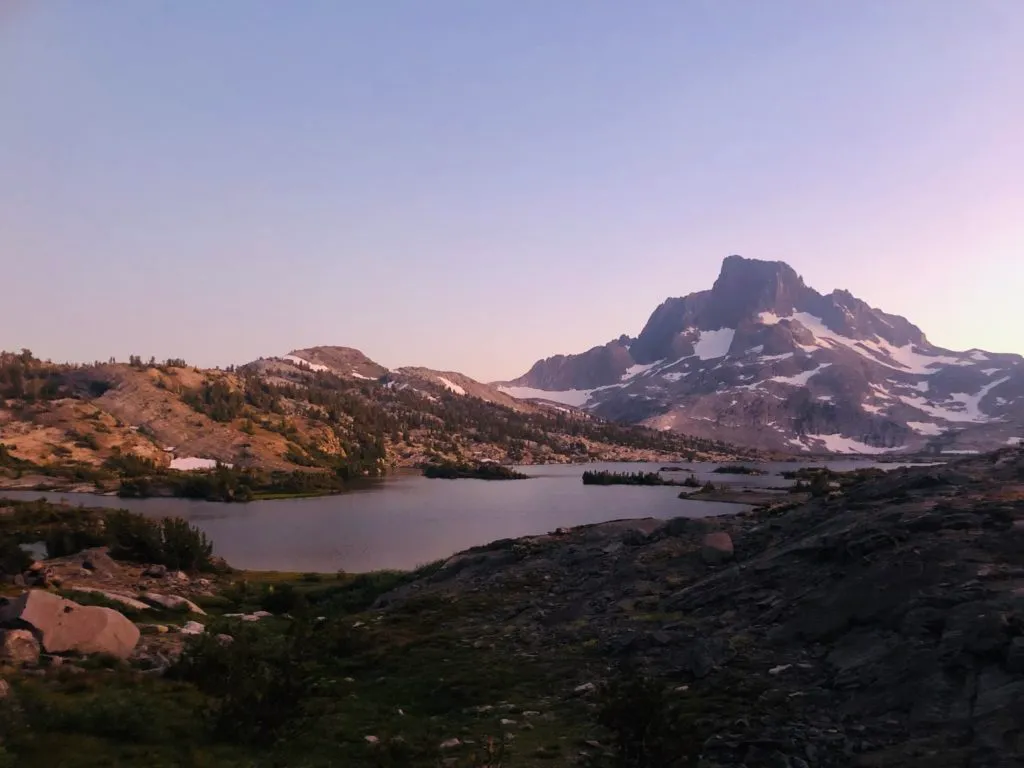 The Agnew Meadow to Thousand Island Lake to Ediza loop is a multi-day adventure and is a great way to experience parts of the stand-out bits of the infamous John Muir and PCT trails.
Need To Know
Description: Multi-Day Loop Hike
Time: 3-4 days
Grade: 3 out of 5 – A fair amount of climbing
The Sierra Nevada is a mountainous region on the eastern side of Yosemite in California and about a 5 hour drive from Los Angeles.
I say this upfront: it's worth the drive. If you're into hiking and epic scenery and good food. Mammoth Lakes is the hiking (and mountain biking, and skiing) epicentre and a gem of a town to travel to.

My recommendation would be to do a trip out to Sierra Nevada over the course of a week and perhaps incorporate a stop off or two, possibly going via Yosemite. The loop that I did, Agnew Meadow to Thousand Island Lake to Ediza was 40km, with extra side trips along the way. I did about 15-20 kms each day. I think it's the best of the dozens of hikes that spiral out from Mammoth.

Something very important to bear in mind: You must get a Back Country Permit for this hike (and for most of the hikes in the area). They get scooped up well in advance (about 12 are issued per day per hike and the are booked out about six months in advance!).
Hike Details
Distance: 40km with extra side trips – I did 15-20 kms each day.
Difficulty: It's important to consider you are 10,000-12,000 ft (3600m) above sea level.

Some people do struggle a little with acclimatisation and there is a fair bit of climbing, but overall it's a great multi-day experience, well spaced and heaps of camping options.
Map Downloads
The Pacific Crest Trail Association provide a number of maps and tools.
Bookings
For most of the trails, you will need a back country overnight permit. You can apply online in advance.

If there are none left (they tend to issue 12 per day for the different trails), they do issue a handful of "walk in" permits for people (like me) who aren't so organised as to book months in advance. Previously you'd get them after 11am on the day before. However…

Note: Post Covid there is an online process for the above. You can learn more here.
Sarah's Top Three Tips
1. Rent a bear canister from the Mammoth Lakes Welcome Centre and store all your food and toiletries in it. Note, a bear canister is mandatory in this area!

2. Stock up for food supplies and for any missing hiking gear at the various thrift stores in town (they stock a lot!). I had to get some extra warm-weather gear. Which brings me to…

3. Bear in mind it gets VERY cold overnight, even in Summer. Bring many thermals.
Getting There
Fly into LA and rent a car for the 5-hour drive.
From Wild and Precious
"I spent four days up there, hiking between lakes – Ediza, Shadow, Iceberg and Thousand Island – pitching my tent at the end of each day. I cooked my gruel in my little camp stove, placed my bear canister 100 metres away and attended to my neurotic bathing ritual in various lakes and streams before
hopping into my tent. Where I lay listening out for bears and avalanches. But mostly just heard silence."

Buy This One Wild and Precious Life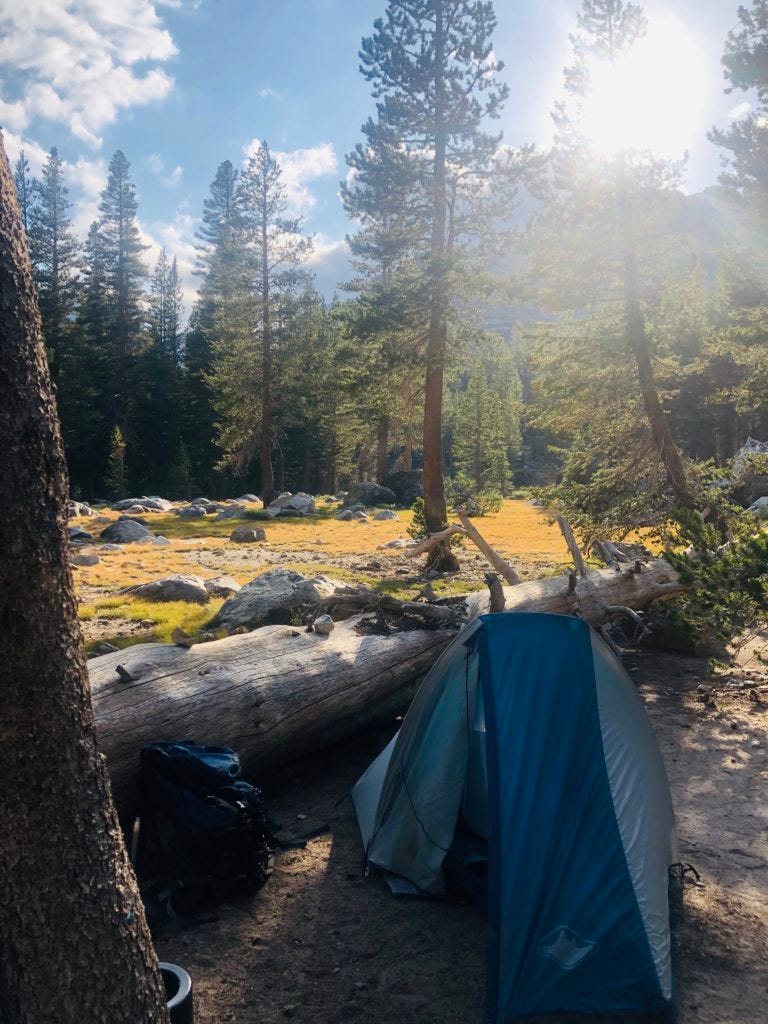 Detailed Itinerary
Day 1 – Agnew Meadows to Ediza Lake

To start, you catch a shuttle from Mammoth Mountain Ski Resort (it's the only way to get to the start of the walk; you park your car near the bus stop) and then set out on the River Trail from Agnew Meadows. I came across an old-timer doing the whole PCT…his trail name was Finder. He finds things that people have lost!

I then hiked down into a canyon to Olaine Lake and up to Shadow Lake and the John Muir Trail.

After a swim in Shadow Creek and some lunch on a rock in my undies, I climbed up to Ediza Lake. All the advice says to camp near the west side of the lake (per national forest restrictions), but the bugs are bad in Summer. So I camped off the trail on the way up to Ediza and did an extension to Iceberg Lake.

I found a beautiful spot beside a rocky outcrop where I made tea and dinner with a view of the snow-peaked mountains.

Day 2 – Ediza Lake to Thousand Island Lake

The next day I walked back down to the John Muir Tail and took the trail north over a high pass to Garnet Lake. And then up and over to two smaller lakes, Ruby Lake and Emerald Lake, which were both stunning. Then a final climb to reach the outlet of Thousand Island Lake where John Muir Trail is joined by the Pacific Crest Trail.

I took the trail along the north shore of the lake (far less mosses than on the south side) to find a place to camp (at least a quarter mile from the outlet, per regulations). I camped here and overnight there was a massive avalanche on the other side of the lake.

Day 3 – Thousand Island Lake to Agnew Meadows
In the morning I took the High Trail out from Thousand Island Lake and crossed a bunch of slopes on the northeast side of a broad canyon to return to Agnew Meadows where you can catch a bus back to your car.
Turn It Into An Adventure!
Spend a bit of time in Los Angeles
I suggest flying into Los Angeles and exploring the city, you can see my guides and recommendations here and here.
Visit Joshua Tree
Incorporate a stay in Joshua Tree, the drive out to the desert from LA takes a good 2-3 hours. You can read about my hiking and wellness guide to Joshua Tree and Palm Springs here
Hike Agnew Meadows to Tuolumne Meadows
This beautiful and famous stretch of the John Muir Trail between Mammoth Lakes and Yosemite is a must. You can read more about the three day hike here.
Stay at Tamarack Lodge
At the end, I stayed at Tamarack Lodge which is a bunch of very cute cabins with log fires set around a lake. The restaurant here is stunningly good. Even if you don't stay the night, I truely recommend eating here.
Enjoy some healthy food
For a good quality pub feed surrounded by locals, I liked The Mammoth Tavern

Great coffee and smoothie bowls (I got mine put into a cup rather than a single-use cup) go to Stellar Brew.

Elixir on the Main Street is great for big salad bowls.