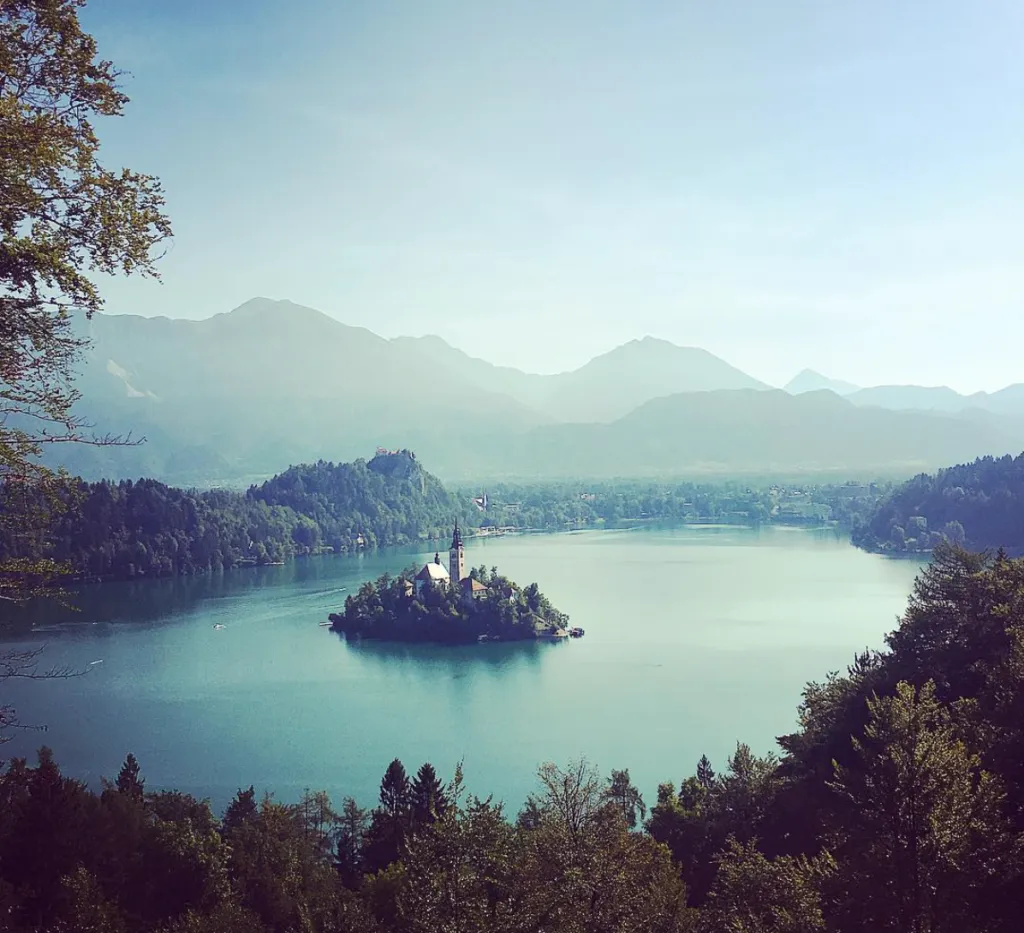 A hiking, biking and rafting extreme adventure over the Julian Alps and down the Soca River, staying in traditional huts each night with some luxury thrown in.
Need To Know
Description: Hut-to-Hut Alpine Adventure
Time: 8 days of hiking, biking and a day of rafting!
Grade: 4.5 out of 5 – Requires navigation and some via Ferrata
Slovenia is a hiker's Disneyland, a foodie's grande boeuf and an eco-warrior's homecoming.

However, working out an epic route that can combine the best of three factors on your own is nigh impossible from afar. I researched for a few weeks and then realised there are too many moving parts to coordinate –particularly when it comes to timing bookings in the mountain huts with transport timetables with reservations at the top restaurants.

I searched "eco solo hiking trips Slovenia" and from the Google fray, I wound up connecting with one very amiable Miha who owns SloTrips.

Miha organised a bespoke adventure trip for me that incorporated all elements in a seamless route over the Julian Alps. He called it the Sarah Wilson Adventure and it combined hiking the best bit of the Alps, the best Gostilna, a bit of via Ferrata (rope work; you are supplied with harnesses and a helmet before heading off), a mountain bike ascent and dinner at a Michelin starred restaurant at the end.

You can contact Miha to have the same trip prepared for you as either self-guided or guided (many have already!!).

Note: I did not get to do the full experience for reasons you can learn about in This One Wild and Precious Life.
Hike Details
Distance: 60km hiking + 60km biking
Difficulty: Miha rates it as 8 on a scale of 1-10.
1 being a stroll, 10 being serious mountaineering for very fit hikers/mountaineers.
Bookings: You can contact Miha directly to get more details. Please note, I was not paid nor sponsored to do this trip with Slotrips.
Getting There
Fly into Ljubljana airport and then catch a bus to Lake Bled where the hike starts from.
From Wild and Precious
"The walk descends into the Soca Valley and meandered up and down beautiful mountain paths with waterfall stop-offs. The terrain is a mix of all the areas that surround Slovenia – the austere beauty of the Tatras and the verdant and neat lushness of its neighbours Italy and Austria.

I slept in the mountain huts and was served big bowls of pork and cabbage soup. In the Soca gorge I jumped into turquoise rivers so clear that the riverbed, metres below, seemed only an arm's length from the surface."

Buy This One Wild and Precious Life
Detailed Itinerary
Miha and I spent several months – in a fun email trail – nutting out THE MOST EPIC adventure ever.

It's a lovingly crafted 33-page itinerary that opens with "Welcome to Slovenia. A country the shape of a chicken, 2 million happy citizens and lots of LOVE. It's in the name: sLOVEnia!"

Very sadly I suffered a health issue days before setting off and had to pull out of the hiking.

Miha insisted I do the trip by car, experiencing the highlights and some of the mountain huts and Gostilna.

Lake Bled to Mount Triglav

You climb up out of Lake Bled for three days through meadows and then up the scree. I was to be kitted out with a helmet and harness for several stretches of Via Ferrata. The overnight stays are in basic mountain huts where food is helicoptered in. You reach the top of Mt Triglav, the highest mountain in Slovenia and festooned on the flag.

Kranjska Gora and Soca River

Next follows several days of riding and hiking, and rafting, up and down through mountain ranges with waterfall stop offs, meadow picnics and overnights stays in the most stunning huts and villages. You pass historic World War ll sites and chapels dripping in battle stories.

Miha provides coordinates for lunch stops at stunning mountain huts where you get served big bowls of pork and cabbage soup and a homemade beer. Miha uses his connections throughout the mountains to have bikes and rafts ready at various points. It all flows effortlessly.

If you're doing your own thing, a hike along the Soca Trail is really worth the visit. I did sections of it (I was kind of allowed to do small walks).

You can contact Miha direct to get more details.
Turn It Into An Adventure!
Spend time in Lake Bled
The trip kicks off here after a day of hanging by the lake. A trip to Slovenia must include this place in the itinerary. There are a bunch of stunning hikes you can do around the lake, such as the climb to Ojstrica. I also swam in the lake each day – it's a very comfortable 25C in summer and you can see to the white bottom!

You can also ride to beautiful gorges and nearby villages, including Lake Bohnij (which features a spiderweb of hiking trials).

I ate at Pension Berc, which is worth the 15-minute stroll out of town.

I had lunch with some journalists at Bled Castle restaurant, which leads the food waste programs in Slovenia. I ate the local buckwheat risotto.

I also ate at Ostarija Peglez'n which is a great little local place for fish and bustle.

The Vila Preseren on the lake does a bunch of deserts made with Stevia…Just saying!
Dine at Hisa Franko
The last stretch of the Soca is done in a raft. You then get back on a bike and meander downhill close to the Italian border and the wine region to dinner at this legendary restaurant – Hisa Franko. You do have to book many months in advance, but Miha was able to advise that they take a handful of 5pm reservations (and got me one such).

I sat outside and enjoyed sourdough made from a starter four years old and fermented in apple peels; fermented cucumber with curry, rabbit liver and peanut butter…and violets; cheese lollipops; lingon leaf wrapped around sheep ricotta and fermented beet. And a glass of Slovenian merlot. Then dinner started…

As the sun set over the meadows with the Dolomites and the Julian Alps in the distance, I moved onto the above dignified feast. Ana Ros and her husband greet all diners and pop in and out all night to check you're ok. It feels like you're dining in their outdoor patio…which you pretty much are. Check out the Netflix Chef's Table episode about the place to get a feel for things.

Miha then checked me into a great place in Smartno, a walled city on a hill declared a cultural heritage monument in the wine region close to Italy.
Eat your way around Ljubiana
You'll probably kick off or finish in the capital. See my Slovenia highlights post to get cafe pointers. Here are few stand-outs:

Strelec is in Ljubljana castle's archer's tower. I hiked to get there (you can take a gondola) and then you climb a spiral staircase to emerge into a stunning place with views over the city. Chef Igor Jagodic – a rising star in Slovenian gastronomic circles – does great stuff with local produce. Lots of tongue and liver and trout and.. cauliflower!

I ate at Biro Bistro in Ljubljana I like this place for their salads and for the location. Gornij trg is my favourite street in Ljubljana. Also check out Crno Zrno, a lovely coffee house, nextdoor.

I also loved Pri Skofu in Ljubljana. Just a five-minute wander out of the main centre on a cobblestoned suburban street is this gorgeous little joint run by women for 25 years and set on a big veggie garden. I had the most delightful meal – beef and Istrian truffles with vegetables and herbs – sitting under the vines in the dappled light. There are a lot of cute touches here – toys for kids, wild herbs from their garden, gorgeous service…