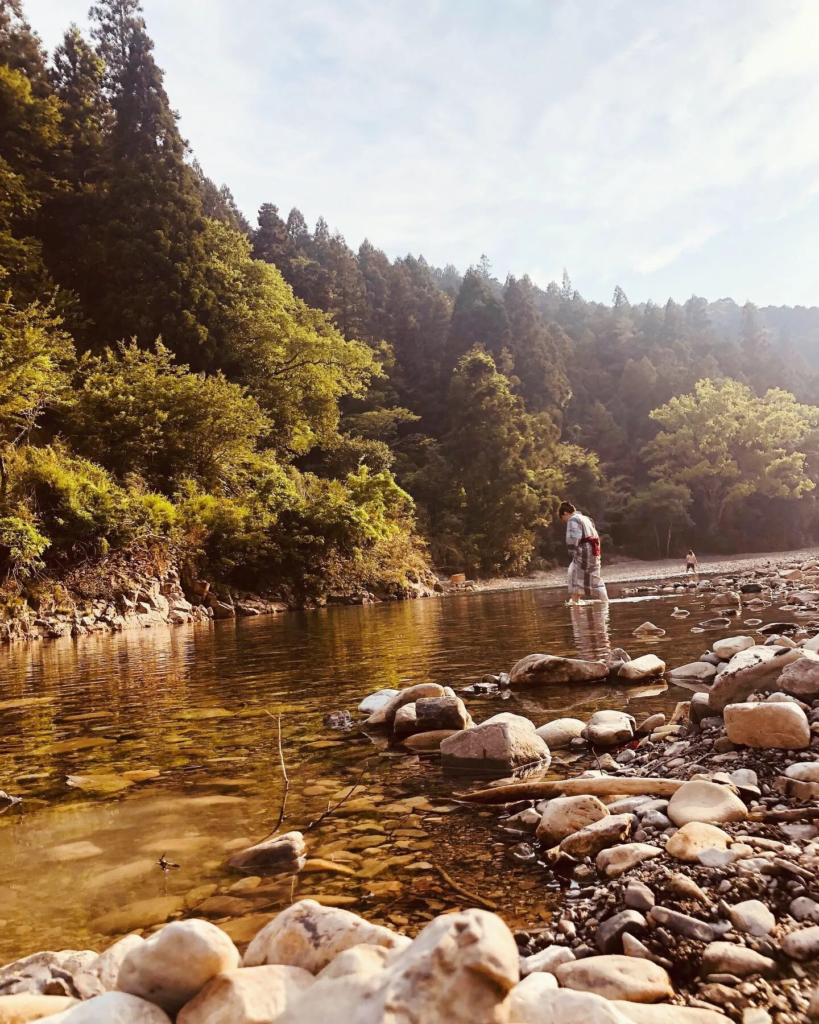 A magical, albeit tough, pilgrimage route that crisscross the Kii Hanto, south of Osaka and Kyoto. It passes through cypress forests, towns untouched by modernity and charming onsen.
Need To Know
Description: Village-to-Village
Time: 5 Days
Grade: 4 out of 5 – Strenuous with lots of big climbs and some long days.
The Kumano Kodo, is an absolutely magical pilgrimage route that crisscrosses the Kii Hanto, south of Osaka and Kyoto.

Emperors and their families and pretty much everyone else from Kyoto walked this route in the 11th century and it's a very sacred area for the Shugendo tradition, a religion of sorts that blends Shinto (nature worship) and Buddhism. Shugendo literally translates as "path of training to achieve spiritual powers" and the Kumano Kodo was used by its followers to train in endurance, an attribute that was seen as a path to spiritual enlightenment and everyday goodness.

The Kumano Kodo can be done as a guided walk with a group or as a self-guided walk via a travel company that books your accommodation and organises transport to and from, or you can just set out on your own. The latter is my usual preference. But in Japan, on these remote hikes, it's dead-set a headache and almost impossible to line up accommodation with the complex hiking legs.
Very few people in the towns along the way speak English.

I chose this particular hike because of its relative remoteness, the forest factor and the fact it's an inn-to-inn, through-hike.
Hike Details
Distance: 54km if you do the 5-day version.
Difficulty: This tour is best suited to an active person who has either enjoyed a multi-day hike before or has some level of fitness to help condition them for all the trail has to offer.

The route is very shaded with plenty of water along the way and well marked. You really only need to carry a day pack with toiletries, water and lunch for the day.
Map Downloads: Oku Japan has provided a great map.

If you decide to book with them, once you arrive in Japan, they will provide you with a personalised itinerary just for you.
Bookings: There are a number of companies offering self-guided walks where you're given an itinerary, maps and all your accommodation is booked ahead and off you go, solo.

I went with Oku Japan because they are a local Japanese company (not a mega brand) and work with the local people to support their villages.
Sarah's Top Three Tips
1. Book the amazing luggage service called Takkyubin. They ship your luggage to the next city you'll be going to at the end of your hike. I sent my main suitcase from Osaka to Tokyo for about $25 and carried my day pack.

2. Bring your own chopsticks for your little lunch boxes each day. It will cut down on some of the relentless packaging.

3. Bring togs for onsen visits.
Getting There
You can fly into Osaka (which has two international airports; from Australia, it's often cheaper to fly here instead of Tokyo), spend a day or two in Osaka, or in nearby Kyoto, and then it's a simple and lovely train trip to the start of the route.

Afterwards, you can catch the bullet train to Tokyo with relative ease (or head back to Osaka/Kyoto).
From Wild and Precious
"I'd been lured this time to Crete, Greece's largest island. In big part because it is harsh and mountainous and threaded with challenging hikes. Also, Crete's wild terrain has spawned heroes since before the gods. I love the Greek heroes and gods, primarily for being so flawed. All Greek myths are told via some big Greek character stuffing something up and being weakened by a force truer than themselves, often The Furies or nature, before fighting their way to victory with an even more heroic truth. "

Buy This One Wild and Precious Life
Detailed Itinerary
Below is my experience taken from my blog post 'A hiking guide to Kumano Kodo, Japan.'

I started my trip near Kii-Tanabe, staying at a little farm the night before setting off (see below). While I was hanging out in the garden at Akizuno Garten in the evening, I noticed a hiking sign for the Kumano Haygake-miche trail. I realised there was no need for me to catch a bus to the start of the hike. I could walk there. It added an extra 5km to the adventure, and the path meandered through orange and plum orchards.

At Takijiri, the real Kumano Kodo hike starts and it pretty much goes up and up from the start for two hours to the first inn of the evening, where I was greeted with a 6-course dinner and the sweetest host who treats you like you're her grandchild.

For 4-8 hours a day the tracks are uncrowded (I'd see 2-5 groups of people a day). And silent. Every day had a different smell from blossoms, pines, cedar, peat.

At the end of your day, you arrive at your inn, after bathing (often in onsen) you change into a kimono and slippers and dine with other inn guests at 6pm. You meet people of all ages, all after a different experience. But hiking always ensures you meet others at your (and their) best.

At most of the inns, you sleep on tatami mats with a wheat pillow. With various retro effects. In the main, they were super quiet. Everyone heads to bed at 9pm.

There are a few onsen where the spring spurts forth in the river. There is little better for swollen feet and a reflective soul at the end of the day.

When I got to the end, I got a bullet train to Tokyo, which was super fun. I'll leave you guys with a quote from Kitsumi: "We hike to practice endurance. We develop endurance to have wisdom. Everything is impermanent, but you can grow wisdom."
Turn It Into An Adventure!
Stay the first night on a little local farm
From Osaka I suggest getting the train to Kii-Tanabe and staying at Akizuno Garten a Japanese-style lodge converted from a former school building and made from Kusunoki (camphor trees).

There's a small restaurant there that serves the local farmers, using all their produce. You are shown how to make your own Bento box the next morning.
End your stay in Tokyo
You can check out my recommendations for eating, walking and staying in Tokyo on my blog here.
Extend your adventure
OkuJapan can provide extra side routes and other experiences to try along the way and experience more of Japans rich culture.