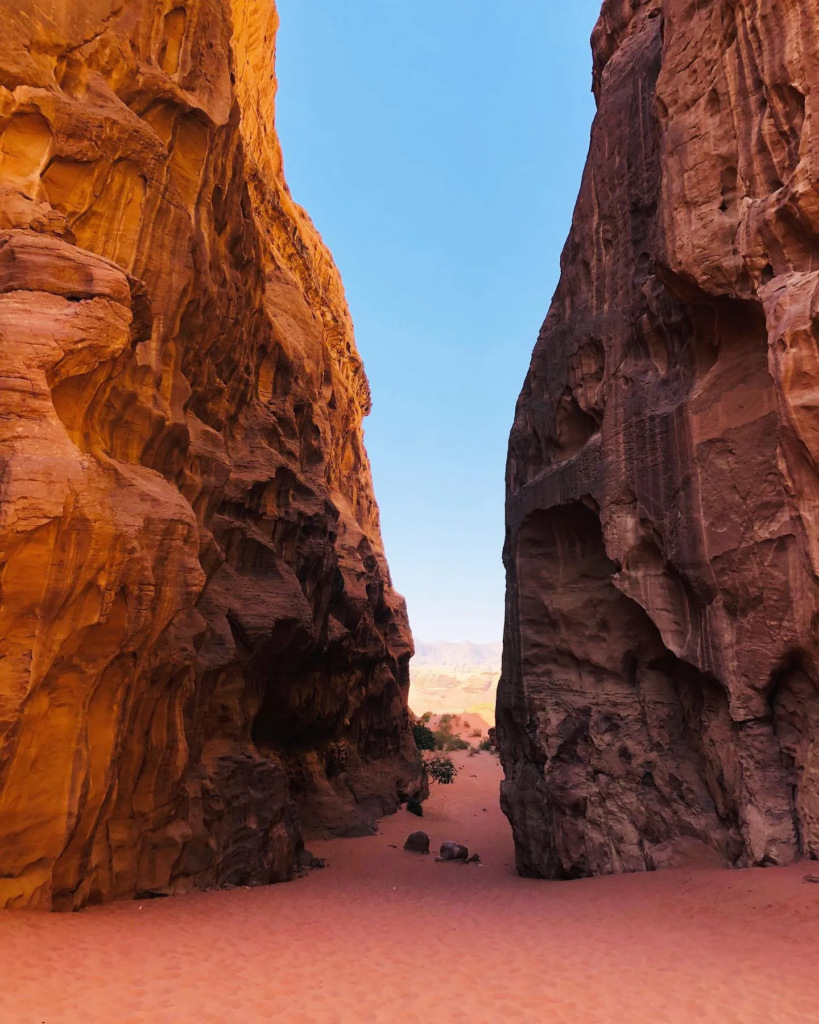 Be led by a Bedouin shepherd through this 60km valley cut into the sandstone and granite rock in southern Jordan. It's a UNESCO World Heritage site and one of the world's most spectacular sites.
Need To Know
Description: Multi-day guided desert hike
Time: 5 days
Grade: 3 out of 5 – Flat, but hot and long days shuffling across the sand.
Wadi Rum is a 60km valley cut into the sandstone and granite rock in southern Jordan. It's a UNESCO World Heritage site and home to several hundred nomadic Bedouin people who run eco-mindful hiking and climbing tours in their valley. Most tourists drive in and out in tour groups for a few hours. But the best way to experience it is to live, sleep and eat in the valley for a good few days with a Bedouin shepherd.

It can be tricky to find a great guide. Let me help you out. I asked around social media and got an introduction to Ali and his uncle Oadh who have lived in the valley for many generations and were one of the first to set up shop as tour guides. My friend Kersti and I were welcomed into their family and led up and around the valley over five days, sleeping under the stars and fed goat and chicken stew over a campfire, in landscape that is fully reminiscent of Lawrance of Arabia, Star Wars, Dune, The Martian and Red Planet, in big part because all of them were filmed here in the Mars-like landscape.

In three words: Bucket list worthy.
Hike Details
Distance: Approximately 50km in sand!
Difficulty: Requires endurance to move across the sand and also heat tolerance. The days are long but broken up with a long siesta in the middle of the day.
Bookings: A multi-day hike can really be done as a guided tour. I can very much recommend Ali and his crew at Wadi Rum Desert Tours.
Sarah's Top Three Tips
1. Ask Ali to organise your cab from Amman. It will be half the price of what your hotel organises.

2. Take a headscarf (or pick one up in Amman) – It's the best sun coverage (draped over your cap, shoulders and neck) and can also be good for covering your shoulders (if you're female) when you visit Ali's relatives' camps.

3. Buy a Jordan Pass. You get it at the airport and it will get you into the heritage sites – Wadi Rum, museums in Amman, and Petra.
Getting There
You'll need to grab a cab from Amman.
From Wild and Precious
"Oadh had a vague destination each day, mostly based on finding patches of shade. Over the five days, we worked our way down the panoramic valley and back up the other side. This was landscape that left us mute. Kersti and I ran out of paltry, hyperbolic exclamations and eventually had to stop marvelling at how every vista looked like the one Lawrence of Arabia came galloping through. It was vast. We were small. End of story."

Buy This One Wild and Precious Life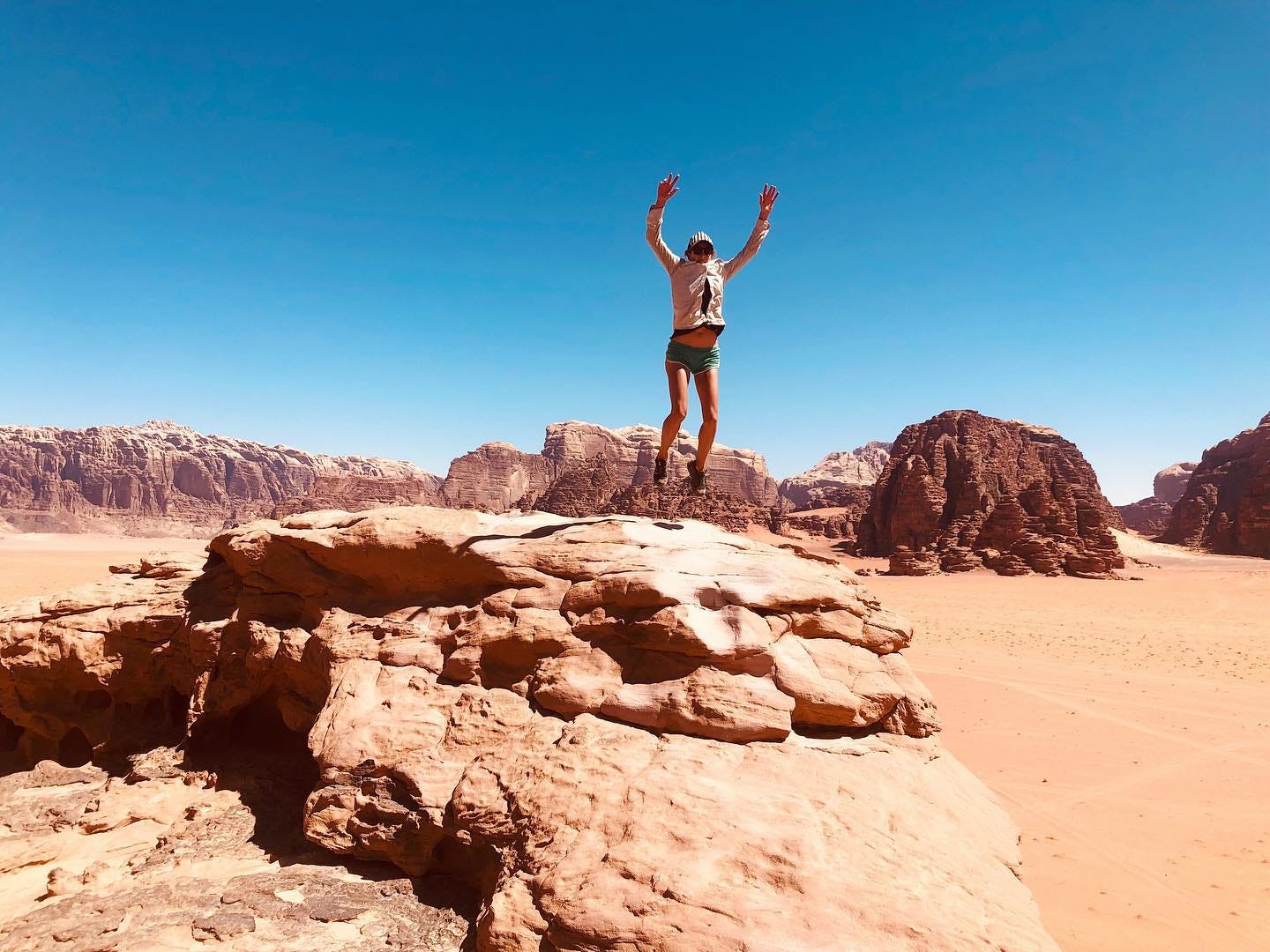 Detailed Itinerary
You won't really need an itinerary as you'll be led the whole way, based on where Ali and Oadh feel there will be the best shade. That said, Ali did email the below to me which outlines the first three days (I've not edited it).

You'll just need to meet Oadh by mid-morning in the village of Wadi Rum, which will mean setting off from Amman early in the morning.

Day One

Starting from Rum village to the Red Sand dune, the Infishieh Inscriptions, we stop for lunch and continue by a nice southern view near Lawrence House (that consists in a simple stone wall , then turn East to sleep in an area called M'Zelge or Mushroom Rock (fantastic sunset view from nearby rocks).

Day Two

We cross a large valley with small rocks (one of them being funny shaped like a "mushroom", and continue south, after seeing a marvellous landscape from the top of an easy small mountain. A narrow canyon and the Burdah arch appear, on the left top of the big Jebel Burdah, (if you want to climb it takes 3 hours up and down)where we stop for the night and sleep.

Day Three

Starting northwest, we walk down and up again, for a beautiful landscape (a whole range of colours ending with Jebel Rum in the dark red-violets !), and down again on the other side, then two narrow siqs, followed by a third one, and west to jebel Um Fruth. Who do not fear the height can climb on it's top, the others take the photo.. We may not be alone there for it's one of the most famous spots of Wadi Rum ! Then we leave everybody for a secret shepherd path who takes us to the top of the jebel, for one of the most amazing views of the white desert. Heading north, we cross the large plain to camp in the Um M'Gur mountain. After the siq Um M'Gur, we go South West, through a wide valley where sand changes colour, to Um Khatha, a group of red mountains in red sand, and stay there for the night. discuss the programme when you here no problem for us.
Turn It Into An Adventure!
Spend at least two days in Amman… and eat!
Hashem is one of the oldest restaurants and the best place to eat falafel and hummus. you sit in an alleyway at plastic tables and douse everything in their olive oil.

Pop into Zajal , an elevated cafe vibe with streetside balconies. Great coffee, creamy hummus and fattoush salad.

At Books@Café, there's a bookstore and retro dining rooms above. The pink sticker on the door — Hate Free Zone — sets the tone.

Have a special night out at Sufra. Sit in the beautiful outdoor garden.
Wander the backstreets in Amman
The city is a spiral of staircases – great glute training for your Wadi Rum hike. There are lots of little renegade cafes filled with young people on laptops, alleyways filled with inspired graffiti and stairwells dripping in umbrellas and lanterns. Allow at least five hours to simply wander and watch.
Visit Petra and The Dead Sea
Both sites kinda have to be seen in a lifetime. We went from Wadi Rum to Petra. Spent a day wandering the site. Next day had a cab drive us back to Amman via the Dead Sea. We stopped off for one hour and did the incredible floating thing (you don't need any longer). Then back in the car to Amman. A 10-day visit in all is perfect.

A tip: When in Petra, be sure to buy some rose and jasmine oil at the little store within the site. It's legit and cheap. Also grab amber and frankincense resin.