A thought or two on MasterChef Finale. And life friction.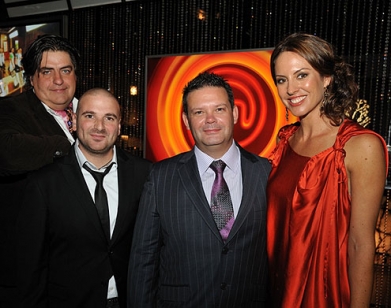 Today I'm off to Hamilton Island to MC the Great Barrier Feast at Qualia, featuring Justin North from Becasse (we first met on MasterChef) and food writer Simon Thompsen (also done a cameo on MasterChef). I'll try to post some tweets about the best flavour combinations. Follow me here. I keep getting asked if I'm watching the finale of MC. Well, rather fittingly I'll be away for the finale of series two. Eating.
A year ago I was sitting in a pub with friends watching the finale, with me up there on the screen with the boys…and Justin North! Can I say this now? It's been a year. I didn't so much enjoy the experience. The whole "hosting" gig. It felt like I was a square peg shoved in a round hole, being pushed against the grain of my being.
When this happens in life – as it does from time to time, to test me – it leaves me in quite the state of friction. Being rubbed the wrong way is not good. I get irritated. Eventually I surge forward into action and find a path with a smoother surface.
Dumb Little Man posted a list of the 7 Reasons Why You're Time Poor this week. I don't always read these kind of things – I'm too time poor – but this jumped out as one of the reasons:
#3 You Have Too Much Life Friction
Life friction. Not good. It literally holds you back like Velcro.
Other life friction is catching a bus that goes a route to work that makes no sense. Find another route. Continuing to work with a client who does your head in and really doesn't pay the bills big time. Drop them. Going to a gym which is on the other side of town because you haven't got around to cancelling your membership. Switch. Wearing shoes that hurt your feet. Donate them.