Everyone has got a little excited about kale. Every time I write about it I get stacks of emails. So I thought I'd post a great kale pesto recipe. Healthy as. And you can freeze it...which I'm radically into right now.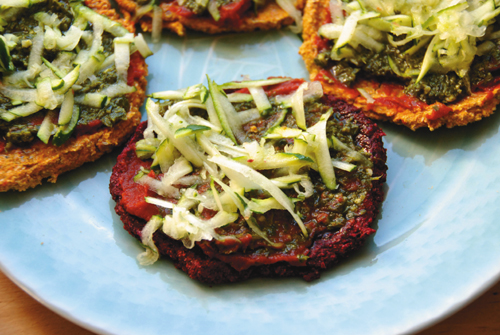 There's a lot of recipes out there. I like this one.
1 bunch kale
2 Tbsp hemp oil
1/2 cup sunflower seeds
2 Tbsp fresh basil
1 lemon, juiced
3 cloves garlic, minced
1/2 tsp Celtic sea salt
Add the ingredients to a food processor and whip with an S-Blade until finely chopped.
This one for quinoa with walnut kale pesto from glutenfree girl also looks good.
And there's this New York Times recipe for pasta with kale pesto and roast pumpkin.
You can freeze it and use it just like you would pesto. Here are some ideas for using Kale Pesto
1. mixing it with goats cheese for a dip
2. putting a spoonful over a grilled white fish
3. putting a spoonful on pasta tossed with butter
4. saute it with other vegetables like brussel sprouts or asparagus
5. eat it on a salad
6. put it in an omelet
Also, try with pecans and nutmeg. Go forth and experiment!