I was quoted in this month's CLEO magazine. I thought it might be of interest to anyone who's thinking of start a blog and is not sure where to start. I know I had noooooo idea when I first decided to launch this one.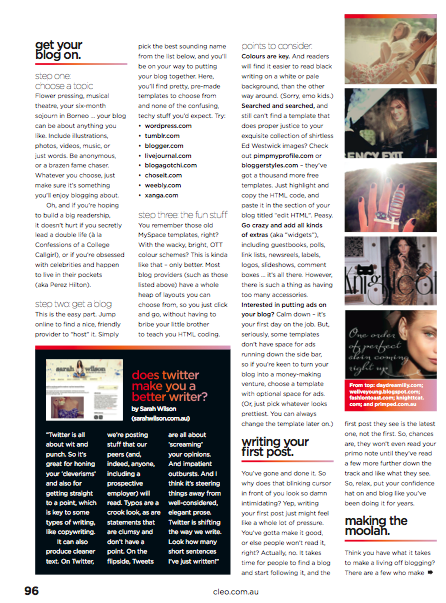 The other advice I would give is:
* Follow really strong bloggers and check out which style you like. You might like a vertical style, or a text only one like Seth Godin's, or a visual one, or a very simple style, like mnmlist.com. I'm quite liking the text-based ones these days…they cut out the bells and whistles and rely on pure, good, substantial content. Which is good. It's the way of the future.
* Many use a standard blogspot or wordpress template. Most blogs will mention which somewhere on the homepage or in the address (if they've used a template). Google "the best free blog templates" and you will find a stack of options to choose from.
* Me, I use wordpress and I designed mine (not from a template)… which can get a bit expensive if you're not careful. I share my office space with some great kids called The Makeroom who design blogs: [email protected]
* Start following a few blogging blogs which post about blogging tricks. Problogger is a great place to start.
* I can also recommend trying the 5-week Online Business Overhaul that the divine Clare Lancaster from Women In Business has built.
* Just start. Enter the fray.
Do you have any other tips that worked for you, that you'd like to share with the crew??