Oh dear. I'm on the cover of Central Magazine this week spruiking Ride to Work Day Oct 13. The "Oh dear" refers to that high-octane sunny expression on my face…and the largeness of the picture.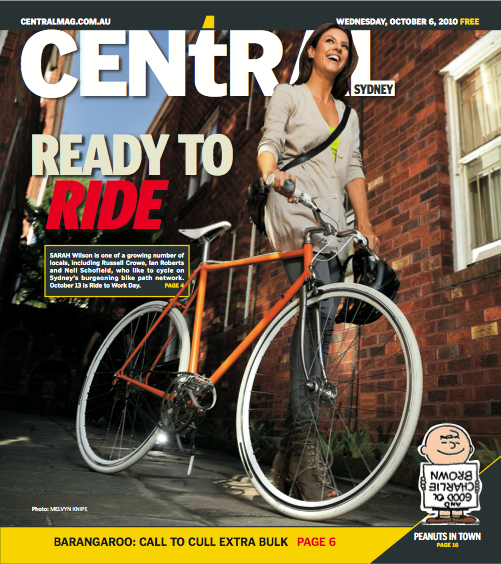 Fortunately, my bike's look spick. And the campaign – I'm totally up for it. If you don't want to read the full story, the highlight of my eloquent rant about why it's good to ride to work, is this:
You experience more of life on a bike. You feel it, you smell it, you are totally engaged with the day and your surroundings. You have to be, to remain safe. So you notice great stuff – expressions on people's faces, the smell of jasmine as evening approaches, great shop signage.

Plus, you are in synch with time and space. How so? If you need to get 8km across town, you are alive to the time it takes and the distance travelled. The value of this is that you remain aware of traversing through the day. When you get in a car you shut yourself off from all the natural pace and flow. And you get impatient and angry and frustrated that things aren't closer and people aren't moving faster. Does that make sense?

Nothing. Gets. Me. More. Uptight. Than being shut up in a car, stuck in traffic. Trapped. Rubbing up the wrong way of time and space.
And so, good updates and things to do as you get ready to ride to work:
* Ride to work and eat breakfast… Wednesday 13 October 2010   7am-9am,  Hyde Park South and Union Square, Pyrmon. Free breakfast, bike checks, massages, cycling maps and more. Ph: (02) 9265-9333. I'll be there!
* Sydney Council is offering free cycling confidence courses before National Ride to Work Day on October 13. But them run every  Saturday and Sunday at Sydney Park regardless. A few of you asked about these… if you're in Victoria, I believe Bicycle Victoria offer them, too.
* This free RiderLog iphone app is pretty cool. And important. It logs all your routes and sends your anonymised data to the Bicycle Network for statistical and road planning purposes.